Britain's Underage Muslim Marriage Epidemic
"Forced marriage is probably the last form of slavery in the UK." — Nazir Afzal, Chief Crown Prosecutor for Northwest England.
More than a dozen Muslim clerics at some of the biggest mosques in Britain have been caught on camera agreeing to marry off girls as young as 14.
Undercover reporters filming a documentary about the prevalence of forced and underage marriage in Britain for the television program ITV Exposure secretly recorded 18 Muslim imams agreeing to perform an Islamic marriage, known as a nikah, between a 14-year-old girl and an older man.
Campaigners against forced marriage -- which is not yet a crime in Britain -- say thousands of underage girls -- including some under the age of five -- are being forced to marry against their will in Muslim nikahs every year, and that the examples exposed by the documentary represent just "the tip of the iceberg."
The documentary, entitled "Forced to Marry," was first broadcast on October 9 and involves two reporters posing as the mother and brother of a 14-year-old girl to be married to an older man. The reporters contacted 56 mosques across Britain and asked clerics to perform a nikah. The imams were specifically told that the "bride" did not consent to the marriage to an older man from London.
Although the legal age for marriage in Britain is 16, according to Islamic Sharia law girls can marry once they reach puberty. The imams who agreed to marry the girl openly mocked the legitimacy of British law, reflecting the rise of a parallel Islamic legal system in Britain.
One of the Muslim clerics who agreed to perform the underage marriage is Mohammed Shahid Akhtar, the imam of the Central Jamia Masjid Ghamkol Sharif Mosque in Birmingham, the second-largest mosque in Britain with a capacity of more than 5,000 worshippers.
On being informed that the girl did not want to get married, Akhtar replied: "She's 14. By Sharia, grace of God, she's legal to get married. Obviously Islam has made it easy for us. There is nothing against that. We're doing it because it's okay through Islam."
The documentary also shows Akhtar expressing his contempt for British marriage laws: "You've got the kaffirs [non-believers], the law, the English people that ... you know, you can't get married twice but, by the grace of God, we can get married four times."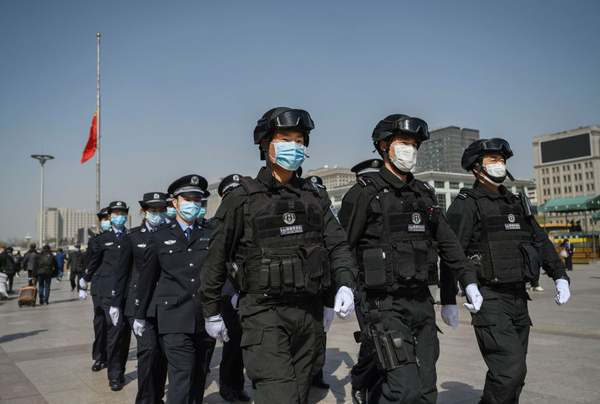 The imam of Birmingham's Central Jamia Masjid Ghamkol Sharif Mosque (pictured above) agreed to perform the marriage of a 14-year-old girl against her will.
Another cleric who agreed to marry the 14 year old girl is Mufti Shams al-Huda al-Misbahi, who preaches at the Jamia Masjid Kanzul Iman Mosque in Heckmondwike, a town near Leeds in north-central England.
When the undercover reporter, posing as the brother of the girl to be married, says, "She's not willing now, but she will be," Misbahi responds: "If you make her willing, she will be willing." He is then filmed saying that he would perform the marriage without providing an official marriage certificate valid under British law. "We'll make everything okay by Islam. We'll write down and put it in our records." Misbahi goes on to tell the undercover reporters that the girl will be able to live with her new husband after the ceremony.
Misbahi is a senior Muslim cleric who has worked with the West Yorkshire Police as an advisor on community cohesion, a British concept that refers to the integration of Muslim immigrants within a multicultural society. Before being caught on camera advocating forced marriage, Misbahi had publicly condemned the practice for many years.
Another imam at the Al Quba Mosque and Shahporan Islamic Center in Manchester was filmed saying: "I can get you someone to do the nikah for you, that's not going to be a problem."
The documentary includes an interview with Nazir Afzal, Chief Crown Prosecutor for Northwest England. "Forced marriage is probably the last form of slavery in the UK," he says.
In an interview with the Yorkshire Post, Aneeta Prem, founder of the Freedom Charity which educates children about forced marriage, said: "I think whoever is involved in this, you are talking about child abuse and exploitation and it is something we need to stop. People are too culturally sensitive when dealing with this, they are worried about offending particular groups. We have to say it's immoral and illegal and stamp it out. I think what we are hearing about is the tip of the iceberg, it is a huge problem."
At least 250 children are known to have been subjected to forced marriage in Britain in 2012, including a two-year-old girl who is believed to be the country's youngest victim of the practice.
The statistics were provided by the British government's Forced Marriage Unit (FMU) as part of an ongoing effort to create a law that would criminalize forced marriage in England, Wales and Northern Ireland. The custom is already illegal in Scotland.
Overall, the FMU said it gave advice or support related to nearly 1,500 cases of forced marriage during 2012, although experts say the vast majority of forced marriages in Britain go unreported. A study produced by NatCen Social Research, a British think tank, estimates that the real number of forced marriages in Britain probably exceeds 8,000 per year.
Most of the instances of forced marriage in Britain involve Muslim families from South Asia, particularly Pakistan, India and Bangladesh. Many of the cases involve Muslim children who are taken abroad by their parents and forced to marry against their will. During the 2013 summer holidays, for example, an average of five girls were believed to have been taken out of Britain every day to be forcibly married abroad. Forced marriages also often involve horrors such as kidnapping, beatings and rape.
Prime Minister David Cameron has compared the practice of forced marriage to modern day slavery and has said people should not "shy away" from addressing the issue because of political correctness. "For too long in this country we have thought, 'Well, it's a cultural practice and we just have to run with it,'" Cameron said. "We don't. It's a crime."
In May 2013, Cameron submitted a bill to Parliament that would make forcing someone to marry a specific criminal offense. The measure is part of the Anti-Social Behavior, Crime and Policing Bill slowly working its way through the House of Commons, the lower house of the British Parliament.
To be sure, not everyone in Britain is in favor of making forced marriage a crime. According to a research document published by the House of Commons Library on September 16, 2013, some campaigners on the issue are worried that victims could be deterred from coming forward because they will not want to risk relatives going to prison. Others argue it may lead to youngsters being taken overseas at an earlier age to be put through forced marriages. Still others question how allegations of forced marriage would be proven to the criminal standard of proof: beyond reasonable doubt.
Another reason why Britain is taking so long to outlaw forced marriage involves multicultural sensitivities. Many promoters of British multiculturalism say the move to criminalize forced marriage will unfairly single out Muslims.
A journal article entitled "A Civil Rather than Criminal Offence? Forced Marriage, Harm and the Politics of Multiculturalism in the UK" argues that the reluctance in Britain to criminalize forced marriage is due, in part, to the influence that multicultural ideals have had on current British approaches to the practice.
The article also attributes the British preference for civil remedies rather than criminal legislation to the tendency of the state to conceptualize the harms of forced marriage principally in terms of a violation of choice, rather than as a matter of long-term violence against women.
The question arises as to whether, by adopting such an approach, the state may be giving rise to a two-tier system of rights, in which minority group women are afforded a lesser protection of their human rights, as a result of their racial or cultural background.
Back in 1999, former Labour Party Home Office Minister Mike O'Brien criticized the lack of action on the problem forced marriages. "Multicultural sensitivity is no excuse for moral blindness," he said.
Fast-forward to 2013. In an interview with the Sunday Times on October 6, Jasvinder Sanghera, an activist who has been instrumental in the decades-long campaign to criminalize forced marriage in Britain, sums it up this way: The issue has become "wrapped up in this moral blindness of cultural sensitivity."
Soeren Kern is a Senior Fellow at the New York-based Gatestone Institute. He is also Senior Fellow for European Politics at the Madrid-based Grupo de Estudios Estratégicos / Strategic Studies Group. Follow him on Facebook.
Related Topics: United Kingdom | Soeren Kern receive the latest by email: subscribe to the free gatestone institute mailing list
Reader comments on this item
| | | |
| --- | --- | --- |
| Title | By | Date |
| Accommodation is a serious mistake [168 words] | Richard S. | Oct 21, 2013 20:12 |
| Something's missing [64 words] | Abu Nudnik | Oct 19, 2013 09:46 |
| The Riot Act [46 words] | Colin Jones | Oct 18, 2013 11:26 |
| Then do something about it [44 words] | Melvin | Oct 16, 2013 18:51 |
| "Culture" and "civil remedies" arguments are irrelevant [165 words] | Serge Barou | Oct 16, 2013 12:59 |
| Rape [15 words] | Newspaniard | Oct 16, 2013 04:14 |
| Cultural sensitivity pushes morality behind popularity [98 words] | Eric Levine | Oct 16, 2013 03:22 |
| Who's Sovereign? [42 words] | John L. Romjue | Oct 15, 2013 19:53 |
| Let's reverse the situation = your answer [39 words] | Barry | Oct 15, 2013 19:21 |
| Sharia allows marrying much younger girls [218 words] | Joe Carey | Oct 15, 2013 15:23 |
| ↔ Sick people, sick religion. England should remove any chance of this happening. [80 words] | Bmac | Oct 17, 2013 07:24 |
| Most telling comment [55 words] | Gee | Oct 15, 2013 14:14 |
| Cowardly crime [74 words] | Shoshana Rubin | Oct 15, 2013 13:49 |
| Comment on" Britain's Underage Marriage Epidemic" [107 words] | Jen Schiller | Oct 15, 2013 11:43 |
| One law for all [202 words] | Valhalla | Oct 15, 2013 10:08 |
| ↔ One law or one religion? [234 words] | Ephesian | Oct 15, 2013 15:26 |
| ↔ So True [195 words] | Valhalla | Oct 15, 2013 18:27 |
| ↔ One religion, one law [340 words] | Ephesian | Oct 16, 2013 02:49 |
| ↔ This is what awaits the West [15 words] | Candace | Oct 16, 2013 03:08 |
| ↔ To Ephesian: [20 words] | Serge Barou | Oct 16, 2013 13:15 |
| ↔ Abolish it! [179 words] | Ephesian | Oct 17, 2013 03:21 |
| ↔ When the fun starts [39 words] | Valhalla | Oct 17, 2013 10:46 |
| ↔ We can't do nothing. [157 words] | Valhalla | Oct 17, 2013 11:16 |
| ↔ Our children.... [223 words] | Ephesian | Oct 17, 2013 12:34 |
| ↔ Standing up against Sharia is a Feminist Issue [155 words] | Charis | Nov 8, 2013 22:59 |
| Underage Marriage [98 words] | Docky Wocky | Oct 15, 2013 08:59 |
| ↔ It's a little rich [111 words] | Serge Barou | Oct 16, 2013 13:30 |
| ↔ Ground Zero Mosque [66 words] | Docky Wocky | Oct 16, 2013 13:45 |
| ↔ Wholeheartedly agree with you [7 words] | Serge Barou | Oct 16, 2013 18:58 |
| Sharia Law [74 words] | Graham Swift | Oct 15, 2013 08:03 |
| ↔ Sharia Law? [55 words] | Docky Wocky | Oct 15, 2013 13:24 |
Comment on this item
Subscribe To Mailing List
Tweets by @GatestoneInst
Latest Articles
by Khaled Abu Toameh
To understand what drives a young Palestinian to carry out such a deadly attack, one needs to look at the statements of Palestinian Authority leaders during the past few weeks.
The anti-Israel campaign of incitement reached its peak with Abbas's speech at the UN a few weeks ago, when he accused Israel of waging a "war of genocide" in the Gaza Strip. Abbas made no reference to Hamas's crimes against both Israelis and Palestinians.
Whatever his motives, it is clear that the man who carried out the most recent attack, was influenced by the messages that Abbas and the Palestinian Authority leadership have been sending their people.
by Richard Kemp
Would General Allen -- or any other general today -- recommend contracting out his country's defenses if it were his country at stake? Of course not.
The Iranian regime remains dedicated to undermining and ultimately destroying the State of Israel. The Islamic State also has Israel in its sights and would certainly use the West Bank as a point from which to attack, if it were open to them.
There can be no two-state solution and no sovereign Palestinian Arab state west of the Jordan, however desirable those things might be. The stark military reality is that Israel cannot withdraw its forces from the West Bank.
Fatah leaders ally themselves with the terrorists of Hamas, and, like Hamas, they continue to reject the every existence of the State of Israel.
If Western leaders actually want to help, they should use all diplomatic and economic means to make it clear to the Palestinians that they will never achieve an independent and sovereign state while they remain set on the destruction of the State of Israel.
by Louis René Beres
The Palestine Liberation Organization [PLO], forerunner of today's Palestinian Authority, was founded in 1964, three years before Israel came into the unintended control of the West Bank and Gaza. What therefore was the PLO planning to "liberate"?
Why does no one expect the Palestinians to cease all deliberate and random violence against Israeli civilians before being considered for admission to statehood?
On June 30, 1922, a joint resolution of both Houses of Congress of the United States endorsed a "Mandate for Palestine," confirming the right of Jews to settle anywhere they chose between the Jordan River and the Mediterranean Sea. This is the core American legacy of support for a Jewish State that President Obama now somehow fails to recall.
A sovereign state of Palestine, as identified by the Arabs -- a Muslim land occupied by "Palestinian" Arabs -- has never existed; not before 1948, and not before 1967. From the start, it was, and continues to be, the Arab states -- not Israel -- that became the core impediment to Palestinian sovereignty.
by Timon Dias
It looks as if this new law is meant to serve as a severe roadblock to parties that would like to dismantle the EU in a democratic and peaceful way from within.
A rather dull semantic trick pro-EU figures usually apply, is calling their opponents "anti-Europe."
Most Shared
Most Viewed