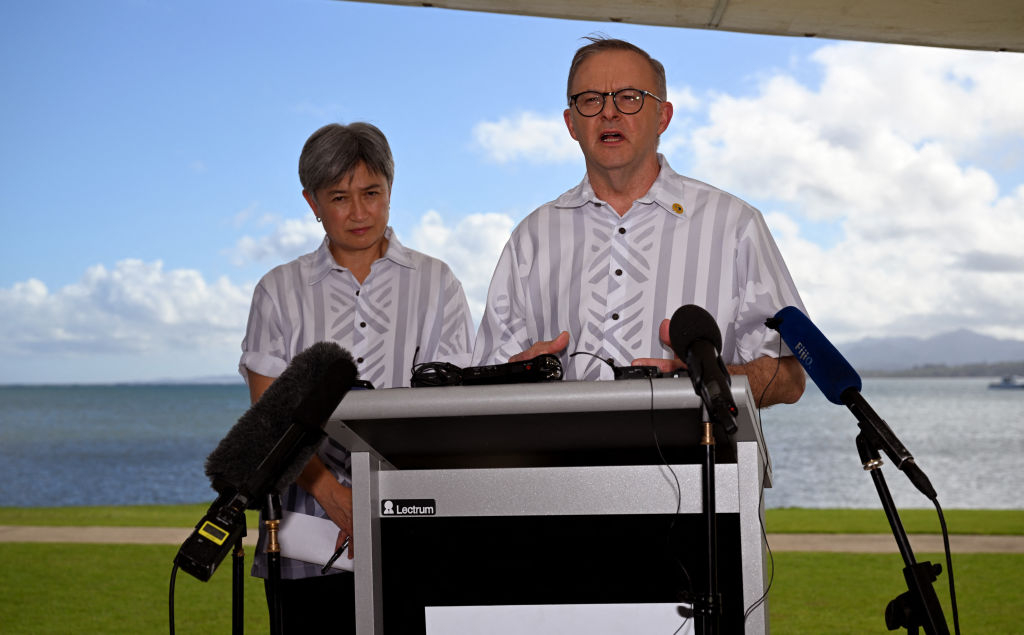 Australia's new Labor Party government has signaled that it will maintain the hardline policies toward China pursued by the previous conservative government and expand security ties with the United States. Australian Prime Minister Anthony Albanese (R) and Foreign Minister Penny Wong speak during a press conference at the Pacific Islands Forum in Suva, Fiji on July 13, 2022. (Photo by William West/AFP via Getty Images)
Australia's new Labor Party government has signaled that it will maintain the hardline policies toward China pursued by the previous conservative government and expand security ties with the United States.
Australia's fraught relationship with China was a key issue in the May 21 election and the Labor Party was said to have won due in part to hopes that a new left-leaning government could improve bilateral ties.
Those hopes have been dashed by China itself. On July 8, in the first high-level meeting since China froze bilateral relations in 2019, Australian Foreign Minister Penny Wong met with her Chinese counterpart, Wang Yi, on the sidelines of the G20 summit in Bali.
Wang blamed the previous government for the break-down in ties and warned the new government that it must "take concrete actions" to adopt a "correct understanding" of China. He then handed Wong a list of four demands the new government must meet to "recalibrate" the relationship: 1) do not treat China as a rival; 2) seek common ground; 3) do not do the bidding of the United States; and 4) build public support for China.
Australian Prime Minister Anthony Albanese replied: "Australia doesn't respond to demands; we respond to our own national interests."
Since taking office, the Albanese government has shown that there is a strong bipartisan consensus in Australia about the threat posed by China and that the new prime minister will not fundamentally alter the hardline position held by the previous government.
May 24. In his first appearance on the world stage as prime minister, Albanese met with leaders from the United States, Japan and India at a meeting of the Quadrilateral Security Dialogue (Quad) in Tokyo. He reaffirmed Australia's commitment to the Quad: "We have had a change of government in Australia, but Australia's commitment to the Quad has not changed and will not change." He also pledged to work more closely with Indo-Pacific nations to counter China's growing influence in the region. Moreover, Albanese reaffirmed his commitment to AUKUS, a trilateral security pact between Australia, the United Kingdom and the United States to develop a nuclear-powered submarine capability for Australia.
May 26. In her first bilateral visit as foreign minister, Wong traveled to Fiji, where, in a speech to the Pacific Islands Forum Secretariat, she promised that Australia would pay more attention to the views and needs of the Pacific Island countries, whose leaders have long complained of being ignored by Canberra. Wong's diplomacy was instrumental in the May 30 decision by ten Pacific Island countries to reject a sweeping security and trade deal with China. Fiji, an archipelago of more than 300 islands, instead signed on to the Indo-Pacific Economic Framework (IPEF), an alternative pact led by the United States.
June 24. Australia, Japan, New Zealand, the United Kingdom and the United States established Partners in the Blue Pacific (PBP), a new initiative aimed at boosting economic and diplomatic ties with Pacific island nations. The move is part of an effort to counter China's growing influence in the region.
June 28. In an interview with Australian Financial Review, conducted en route to Spain for the NATO Summit in Madrid, Albanese said that the Chinese government, when thinking about Taiwan, should learn the lessons of Russia's "strategic failure" in Ukraine. He added that the so-called special relationship between Russia and China had "reinforced the implications for the world beyond just what is happening in Russia and Ukraine." He elaborated:
"This is about whether, in an international rules-based order, you will see a sovereign nation such as Ukraine invaded in such a brutal, illegal way by a country that is a permanent member of the United Nations Security Council."
Albanese added:
"The resistance of Ukraine has brought democratic nations closer together which have a shared commitment to rules-based, international order, whether they be members of NATO, or non-members such as Australia."
July 6. Wong, in her first major foreign policy speech, delivered in Singapore, called on China to exert its influence on Russia to end the war in Ukraine. "Exerting such influence would do a great deal to build confidence in our own region," she said. "The region and the world is now looking at Beijing's actions in relation to Ukraine." Wong also called on China to exercise restraint in its dealings with its own neighbors.
July 12. Australia's new defense minister, Deputy Prime Minister Richard Marles, in a speech to the Washington, DC-based Center for Strategic and International Affairs, reaffirmed that "there is no more important partner" to Australia than the United States, and that the U.S.-Australian alliance has become a "cornerstone" of Australia's foreign and security policy. He then listed some of the challenges posed by China:
"A military buildup occurring at a rate unseen since World War II; the development and deployment of new weapons that challenge our military capability edge; expanding cyber and gray-zone capabilities which blur the line between peace and conflict; and the intensification of major-power competition in ways that both concentrate and transcend geographic confines. These trends compel an even greater Australian focus on the Indo-Pacific.

"For the first time in decades, we are thinking hard about the security of our own strategic geography; the viability of our trade and supply routes; and above all the preservation of an inclusive regional order founded on rules agreed by all, not the coercive capabilities of a few. In particular, we worry about the use of force or coercion to advance territorial claims, as is occurring in the South China Sea, and its implications for any number of places in the Indo-Pacific where borders or sovereignty are disputed."
Marles added that his "first priority" will be the trilateral partnership with the United States and the United Kingdom under AUKUS:
"For a three-ocean nation, the heart of deterrence is undersea capability. AUKUS will not only make Australia safer; it will make Australia a more potent and capable partner. That the United States and the United Kingdom have agreed to work with Australia to meet our needs is not only a game-changer; it illustrates why alliances help reinforce, not undermine, our country's national sovereignty."
Australia has long been a vocal critic of China's human rights abuses, especially the repression of ethnic Uyghurs, as well as the crackdown on democracy in Hong Kong, its threats against Taiwan, its aggressive actions in the disputed South China Sea. China is also accused of meddling in Australia's political process. In June 2018, the Australian Parliament passed a package of laws aimed at preventing foreign interference in the country.
Bilateral relations reached a new low in September 2020, when then-Prime Minister Scott Morrison called for an independent international inquiry into the COVID-19 outbreak. China retaliated by imposing sanctions on the imports of Australian goods.
In April 2022, China signed a security pact with the Solomon Islands. A leaked draft of the agreement indicates that China intends to establish a military presence in the South Pacific.
In June 2022, a Chinese fighter jet intercepted an Australian surveillance plane in international airspace over the South China Sea. The Chinese jet then released small pieces of aluminum which were sucked into the engine of the Australian plane. Australia's defense ministry said it had "for decades undertaken maritime surveillance activities in the region" and "does so in accordance with international law, exercising the right to freedom of navigation and overflight in international waters and airspace." Defense Minister Marles added that Australia will continue its legal operations in the South China Sea:
"This incident will not deter Australia from continuing to engage in these activities which are within our rights at international law, to ensure that there is freedom of navigation in the South China Sea because that is fundamentally in our nation's interests. This is a body of water which is deeply connected to Australia."
The Editorial Board of the Australian Financial Review, in an essay — "Albanese Government No Soft Touch Under China's One-Way Pressure" — wrote that the tone of Beijing's rhetoric remains aggressive:
"The tone of Beijing's message — along with the presumed right to issue one-sided diktats demanding Australia take 'concrete action' to correct its attitude and behavior — remains much the same. All the blame for the problems in the relationship are placed at Australia's feet. This, of course, ignores the reality that assertive China has changed.

"All this is underlined by the attempt to pin the 'root cause' of the deteriorating relationship on the former Coalition government's 'irresponsible words and deeds' — such as Malcolm Turnbull's legitimate decision to protect Australia's sovereignty by banning China-owned Huawei from participating in the 5G network build.

"A closed one-party state — that would never allow a foreign company near China's critical technologies — expects one-sided reciprocity and openness from Australia. China would also reject out of hand any similar attempt by another country to meddle in its domestic politics and foreign policy as a precondition for better relations.

"If China genuinely seeks a reset of the relationship, it should take the first concrete action itself and withdraw the unwarranted trade punishment against Australia's grain, beef, and wine exports — not make this conditional on improved political relations on its terms first."
In an article — "Plus ça Change: The New Australian Labor Government's Foreign Policy Agenda" — Thomas Wilkens, Senior Fellow at the Australian Strategic Policy Institute, concluded:
"The new government's continued emphasis on the Quad and AUKUS will likely disappoint Chinese observers who hoped that Labor may downplay these groupings, given their perceived role as instruments designed to respond to China's growing power and assertiveness, out of deference to Beijing. While many commentators have viewed the change of government as an opportunity to 'reset,' or at least improve, dire bilateral relations with Beijing, the new Labor government indicated that 'fixing' the relationship is a high priority, but it will not occur at the expense of close cooperation with fellow democratic allies and partners, whom Albanese praised as 'like-minded friends.' Indeed, given the parlous state of bilateral relations over the past few years, such a task appears 'a difficult one,' as Mr. Albanese himself indicated....

"PM Albanese comes to the premiership at a fraught time both in terms of the deteriorating regional security environment and the economic challenges that Australia will face in the coming period. When considering Labor approaches to foreign policy, it must be remembered that the core aspects of Australian external relations, famously characterized by Allan Gyngell as (i) support for the rules-based international order, coupled with (ii) the US-alliance, and (iii) Asian engagement, have enjoyed bipartisan consensus. Only in select policy spheres such as climate change and nuclear weapons are significant partisan divergences apparent.

"Thus far, all has been quite predictable — plus ça change, plus c'est la même chose (the more things change, the more they stay the same.)"
Soeren Kern is a Senior Fellow at the New York-based Gatestone Institute.