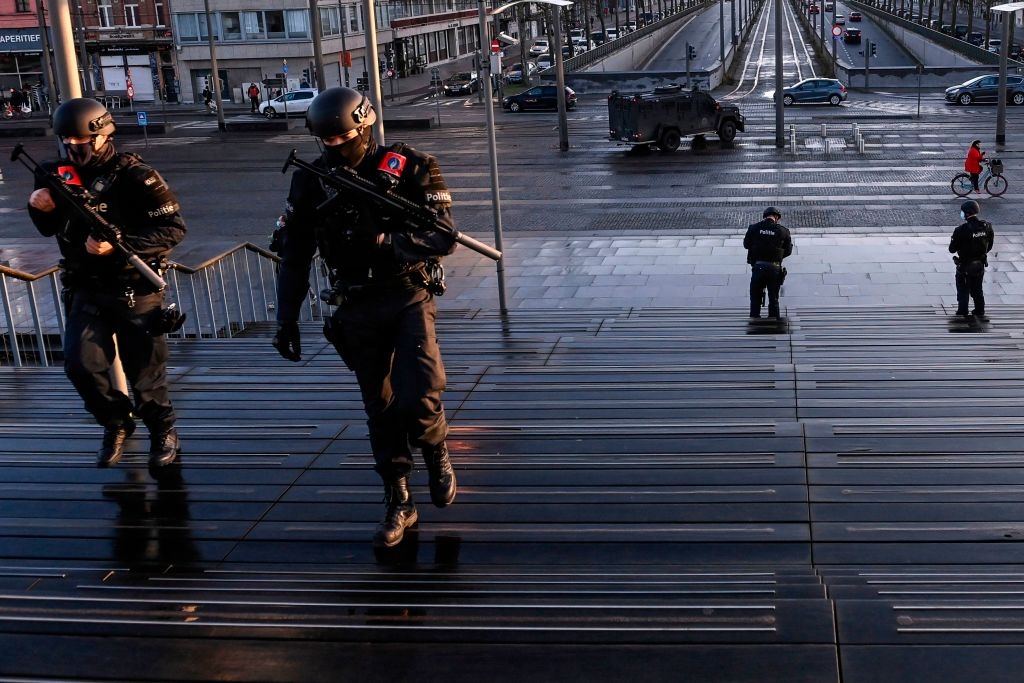 A Belgian court has temporarily prohibited the Belgian government from exchanging an Iranian diplomat convicted of terrorism for a Belgian citizen being held in Iran on dubious charges of espionage. Iran is suspected of holding Olivier Vandecasteele hostage to force Belgium to release Assadollah Assadi, who is serving a 20-year prison sentence in Belgium for masterminding a plot to bomb a rally of the National Council of Resistance of Iran, which took place near Paris in 2018. Pictured: Police guard the courthouse during Assadi's trial in Antwerp, on February 4, 2021. (Photo by Dirk Waem/Belga/AFP via Getty Images)
A Belgian court has temporarily prohibited the Belgian government from exchanging an Iranian diplomat convicted of terrorism for a Belgian citizen being held in Iran on dubious charges of espionage.
The court's ruling represents a potential blow to a controversial new prisoner exchange treaty, which critics say will embolden the Iranian government to step up its practice of taking foreigners hostage to pressure Western countries into making concessions.
On July 20, after months of heated debate, Belgian lawmakers voted 79 to 41 (with 11 abstentions) to approve the "Convention between the Kingdom of Belgium and the Islamic Republic of Iran on the Transfer of Sentenced Persons." The Belgian government said the agreement, the first of its kind in Europe, is the only possible way to free Olivier Vandecasteele, a 41-year-old Belgian aid worker who has been held in solitary confinement at Tehran's notorious Evin Prison since his arrest on February 24.
Iran, for its part, is seeking the release of 50-year-old Assadollah Assadi, an Iranian diplomat who is serving a 20-year prison sentence in Belgium for masterminding a plot to bomb, outside Paris in June 2018, a rally of the National Council of Resistance of Iran (NCRI), an exiled opposition group. At least 25,000 people attended the event. The plot was foiled at the last minute by Belgian, French and German police.
In February 2021, a court in Antwerp ruled that Assadi, who was attached to the Iranian mission in Austria, where he served as an Iranian regime agent under diplomatic cover, was guilty of terrorism and that his status as a diplomat did not grant him immunity from prosecution for criminal acts.
Prosecutors, who sought the maximum 20-year sentence, said that Assadi smuggled explosives for the planned bombing aboard a commercial airliner from Iran to Austria. He was arrested while on holiday in Germany, where he did not have diplomatic immunity, and was then extradited to Belgium.
Three accomplices, all Iranian-Belgian dual nationals, were given prison terms of between 15 and 18 years for their roles in the plot and stripped of their Belgian citizenship.
The ruling marked the first trial of an Iranian official for terrorism in the European Union since Iran's Islamic revolution in 1979. Iran's foreign ministry insists that Assadi's arrest and prosecution are illegal and violate the 1961 Vienna Convention on Diplomatic Relations. In a statement, Foreign Ministry spokesman Saeed Khatibzadeh said:
"The Islamic Republic of Iran reserves the right to employ all possible legal and diplomatic means to protect Mr. Assadi's rights and hold accountable the governments that have violated their international commitments."
Iran is suspected of holding Vandecasteele hostage to force the Belgian government to release Assadi.
On March 11, less than three weeks after Vandecasteele's arrest, Belgian officials secretly negotiated the prisoner exchange treaty with Iran. Belgian Justice Minister Vincent Van Quickenborne said that Belgium has a "moral duty" to secure Vandecasteele's freedom. "If the bill is not fully approved, the threat to Belgian interests and certain Belgian citizens will increase," he warned. "I weigh my words: there are human lives at stake." He said that any of the 200 Belgians still in Iran "could be next to be locked up."
Critics have warned that the treaty could set a dangerous precedent by encouraging Iran to take innocent people hostage and use them as bargaining tools.
After the Belgian Parliament approved the treaty, the NCRI and several people who were civil parties to Assadi's trial took immediate legal action to prevent Assadi's transfer to Iran. The Brussels Court of First Instance dismissed the lawsuit, but the plaintiffs won their case on appeal.
On July 22, the Brussels Court of Appeals issued an order which prohibits, until further notice, the Belgian government "from proceeding, by any means whatsoever, with the transfer of Assadollah Assadi" until the prisoner exchange treaty can be challenged in court.
The treaty has angered those who argue that it would grant impunity to Iranian agents such as Assadi and have accused the Belgian government of caving in to "odious blackmail." It has been variously described as: "frightening appeasement," "a green light to terrorists," and "very short-sighted," "dangerous," "outrageous," "a sign of weakness," "a stunning mistake," and "a deal with the devil."
President-elect of the NCRI, Maryam Rajavi, said in a statement:
"The Iranian Resistance strongly condemns the endorsement of the shameful deal with the clerical regime and considers it the highest incentive for the religious fascism ruling Iran to step up terrorism and to use hostage-taking as much as possible....

"The treaty was endorsed despite facing not only the widespread and unified opposition of Iranian refugees, Belgium opposition political parties, and human rights lawyers and associations but also some parties and parliamentarians who are members of the government coalition, who attempted to remove it from the parliament's agenda, and who called it a stigma that would prompt the clerical regime to commit further terrorism in Belgium and Europe."
The NCRI said that Assadi should remain in prison. Farzin Hashemi, deputy chair of the NCRI foreign affairs committee, noted that hundreds of people would have been killed if the plot had succeeded. He added:
"The experience of the past four decades has shown that making concessions to a terrorist regime will only embolden it and endanger the lives of more innocent people."
In a July 6 letter to the Belgian Parliament, 20 members of the European Parliament warned that that the treaty "gives a green light to the religious fascism ruling Iran to continue its criminal activities and terrorism on European soil." They added: "Such an agreement will result in more crimes and assassinations in Europe, and unless we all take a firm stand, this will not be the last of these deadly terrorist plots."
Ramesh Sepehrrad of the US-based Organization of Iranian American Communities (OIAC), in an interview with Al Arabiya English, agreed:
"If the Belgian government proceeds with this treaty, Iran's regime will further turn Europe into a roaming ground for its terrorists, targeting not just Iranian dissidents but others also, as Tehran is essentially being told that it won't pay a price."
Indeed, the Belgian treaty with Iran might well have immediate consequences for other European countries.
On July 14, for instance, a court in Sweden sentenced 61-year-old Hamid Nouri, a former Iranian prosecutor, to life in prison for war crimes in connection with the mass executions of political prisoners in Iran in 1988. Nouri was arrested after flying to Sweden in 2019 and was tried under the principle of universal jurisdiction. Iran is now threatening to execute Swedish-Iranian Ahmadreza Djalali, a scholar of disaster medicine, who was arrested during a business trip in 2016 and sentenced to death the following year on dubious charges of spying for Israel.
In an opinion article — "Belgium's Prisoner Swap Deal will only Encourage Iranian Terrorism" — published by Politico, Iran experts Cameron Khansarinia and Kaveh Shahrooz warned that Brussels is paving the way for more Europeans to be taken hostage:
"Assadi had plotted his terrorist attack while serving as an Iranian envoy in Vienna, and the Islamic Republic likely has many other such operatives across Europe. With the knowledge that prisoner swaps are an easy option, Tehran will now instruct more "diplomats" and other operatives to engage in terrorism.

"The regime will come after Iranian human rights activists and opposition figures living abroad even more brazenly than before. These activists fled Iran seeking safety. Now, they'll have to live in fear of the long, and increasingly muscular, arm of the regime in every corner of Europe — with already a macabre record of killings in Germany, France and Switzerland....

"The Belgium treaty will only intensify the already troubling pattern of kidnapping for ransom. In recent months alone, news of the Iranian regime's flagrant abuse of European citizens has been constant: A Swedish academic, a French tourist and a German national have all been taken hostage, and face mistreatment and possible execution in Iran....

"Though the Belgian government claims it signed the treaty because it had done "everything it could" to free its citizen, that is simply false. Supplication and spinelessness aren't the only options available to Europe.

"In the face of hostage-taking, Europe should be bold. When Tehran takes a European hostage, that country — and, perhaps, others acting in concert — should begin expelling Iranian diplomats. If the situation continues, it should declare the Iranian ambassador persona non grata and close the embassy as well. Adopted by Germany in the 1990s, this approach was very effective at temporarily curbing Iranian terrorism in Europe.

"Additionally, any European country whose citizens are kidnapped should remove the families and affiliates of Iranian officials from their country.

"Then, it should confiscate the regime's assets in Europe too. European countries hold billions of euros affiliated with the Islamic Republic and its officials, and those funds should be frozen and confiscated, returned only when European hostages are released and hostage-taking ceases.

"Finally, Europe must recognize that, ultimately, the only sustainable path to having a stable relationship with Iran is to support the Iranian people's democratic aspirations. Otherwise, such steps are merely kicking the proverbial can down the road."
Soeren Kern is a Senior Fellow at the New York-based Gatestone Institute.