Muslims Demand "Right of Return" to Spain
Observers say that by granting citizenship to all descendants of expelled Muslims, Spain, virtually overnight, would end up with the largest Muslim population in the European Union.

"Is Spain aware of what might be assumed when it makes peace with some but not with others? Is Spain aware of what this decision [not to include Muslims in the return] could cost?... Does Spain have alternatives to the foreign investment from Muslims?" — Ahmed Bensalh, Morisco-Moroccan journalist.

"Persecution of Jews was just that, while what happened with the Arabs was part of a conflict. There is no basis for comparison." — Jose Ribeiro e Castro, Portuguese lawmaker who drafted Portuguese law of return.
Muslim groups are demanding Spanish citizenship for potentially millions of descendants of Muslims who were expelled from Spain during the Middle Ages.
The growing clamor for "historical justice" comes after the recent approval of a law that would grant Spanish citizenship to descendants of Sephardic Jews expelled from Spain in 1492.
Muslim supporters say they are entitled to the same rights and privileges as Jews because both groups were expelled from Spain under similar historical circumstances.
But historians point out that the Jewish presence in Spain predates the arrival of Christianity in the country and that their expulsion was a matter of bigotry. By contrast, the Muslims in Spain were colonial occupiers who called the territory Al-Andalus and imposed Arabic as the official language. Historians say their expulsion was a matter of decolonization.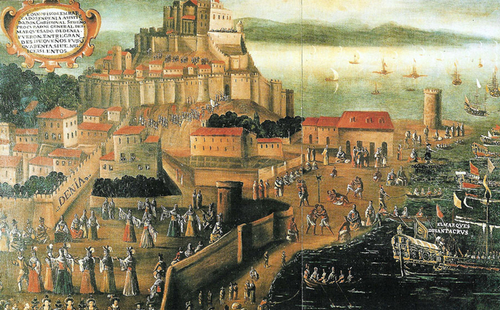 "Expulsion of the Moriscos at the port of Dénia", by Vincente Mostre.
In any event, the descendants of Muslims expelled from Spain are believed to number in the millions—possibly tens of millions—and most of them now live in North Africa. Observers say that by granting citizenship to all of them, Spain, virtually overnight, would end up with the largest Muslim population in the European Union.
Much of the Iberian Peninsula was occupied by Muslim conquerors known as the Moors from 711 until 1492, when the Moorish Kingdom of Granada surrendered to the Catholic Monarchs of Spain (Isabella I of Castile and Ferdinand II of Aragon), in what is known as the Christian Reconquest.
But the final Muslim expulsion from Granada did not take place until over a century later, beginning in 1609, when King Philip III decreed the expulsion of the Moriscos.
The Moriscos—Moors who decided to convert to Catholicism after the Reconquest rather than leave Spain—were suspected of being nominal Catholics who continued to practice Islam in secret. From 1609 through 1614, the Spanish monarchy forced an estimated 350,000 Moriscos to leave Spain for Muslim North Africa.
Today, up to five million descendants of the Moriscos are living in Morocco alone; there are millions more living in Algeria, Egypt, Libya, Mauritania, Tunisia and Turkey.
In a recent essay published by the Morocco-based newspaper Correo Diplomático, the Morisco-Moroccan journalist Ahmed Bensalh wrote that the "decision to grant Spanish citizenship to the grandchildren of the Hebrews in Spain in the fifteenth and sixteenth centuries, while ignoring the Moriscos, the grandsons of the Muslims, is without doubt, flagrant segregation and unquestionable discrimination, as both communities suffered equally in Spain at that time. The decision could also be considered by the international community to be an historic act of absolute immorality and injustice...This decision is absolutely disgraceful and dishonorable."
Bensalh then went on to threaten Spain: "Is Spain aware of what might be assumed when it makes peace with some and not with others? Is Spain aware of what this decision could cost? Has Spain considered that it could jeopardize the massive investments that Muslims have made on its territory? Does Spain have alternatives to the foreign investment from Muslims if they ever decide to move that capital to other destinations due to the discrimination against Muslims?"
Bensalh is one of many Muslim journalists, historians and academics who are demanding that Spain treat Moriscos the same way it treats Sephardic Jews.
Consider Jamal Bin Ammar al-Ahmar, an "Andalus-Algerian" university professor at the Ferhat Abbas University in Sétif in northeastern Algeria. Al-Ahmar has been engaged in a six-year campaign to persuade Spanish King Juan Carlos to identify and condemn those who expelled the Muslims from Al-Andalus in the fifteenth century. Al-Ahmar is also demanding that millions of descendants of the Moriscos expelled from Spain be allowed to return there.
In a letter addressed to the Spanish monarch, Al-Ahmar calls for a "full legal and historical investigation of the war crimes that were perpetrated on the Muslim population of Andalusia by the French, English, European and papal crusaders, whose victims were our poor miserable people, after the collapse of Islamic rule in Andalusia."
The letter speaks of "the injustice inflicted on the Muslim population of Andalusia who are still suffering in the diaspora in exile since 1492."
Al-Ahmar wants the Spanish monarch to apologize "on behalf of his ancestors" and to assume "responsibility for the consequences" this would entail. He says it is necessary "to identify criminals, to convict retroactively, while at the same time to identify and compensate victims for their calamities and restore their titles." This process would culminate with "a decree that allows immigrants to return to their homes in Andalusia, and grant them full citizenship rights and restoration of all their properties."
The Moroccan historian Hasan Aourid believes Spain has a policy of "double standards" vis-à-vis the Moriscos. Aourid—who recently wrote a novel, entitled "The Moriscos," to "remember the tragedy of those expelled from Al-Andalus"—told an audience at the Casablanca International Book Fair that Spain cannot become "reconciled with itself without recognizing its Moorish dimension" and asked if "the suffering was lower for Muslims than for Jews."
The Association for the Historical Legacy of Al-Andalus, a group dedicated to reviving the memory of the Muslim presence in Spain, says the Spanish government should treat Muslims and Jews the same way. By failing to offer Spanish citizenship to both groups, Muslims would become victims of "selective racism," said the president of the association, Bayib Loubaris.
Spain is unlikely to concede to these demands anytime soon. While few deny there are potentially millions of descendants of Moriscos living in North Africa today, the challenge lies in reconstructing reliable genealogies to determine legitimate heirs.
The issue of who is a Morisco and who is not will be a topic for discussion at a major international conference—"The Descendants of the Andalusian Moriscos in Morocco, Spain and Portugal"—to be held in Tangier from April 4-6, 2014.
But even if such genealogies could be compiled, calls to naturalize the descendants of expelled Muslims are sure to be opposed for another reason: the fact that the expulsion of the Muslims was part of a war to end the occupation of Spain by North African invaders.
Jose Ribeiro e Castro, a Portuguese lawmaker who drafted Portugal's law of return for Sephardic Jews, puts it this way: "Persecution of Jews was just that, while what happened with the Arabs was part of a conflict. There is no basis for comparison."
Soeren Kern is a Senior Fellow at the New York-based Gatestone Institute. He is also Senior Fellow for European Politics at the Madrid-based Grupo de Estudios Estratégicos / Strategic Studies Group. Follow him on Facebook and Twitter.
Related Topics: Spain | Soeren Kern receive the latest by email: subscribe to the free gatestone institute mailing list
Reader comments on this item
| | | |
| --- | --- | --- |
| Title | By | Date |
| What injustice are we talking about? [69 words] | E Feder | Apr 5, 2014 15:13 |
| Incredible ignorance of historical facts [167 words] | Amras | Feb 27, 2014 11:29 |
| ↔ Expulsion of Jews and Muslims from Spain [33 words] | Diana Rodriguez-McEwen | Mar 19, 2014 23:30 |
| Spanish have a schizophrenic attitude to al-Andalus and North Africans know when they see an opportunity to enter the EU. [468 words] | Boabdil | Feb 26, 2014 14:12 |
| No basis for comparison [45 words] | DavidE | Feb 24, 2014 15:47 |
| Why were they evicted ? [77 words] | TSH | Feb 24, 2014 15:41 |
| Return of Pagan faiths to Mecca and Medina [20 words] | Pagan | Feb 24, 2014 08:11 |
| Islam retaking Europe should be a bad joke [101 words] | Defend Europe | Feb 23, 2014 11:05 |
| Islam is the enemy of humanity [20 words] | Crusaders were right | Feb 23, 2014 10:35 |
| Just say no! [99 words] | Ephesian | Feb 23, 2014 08:36 |
| Muslim Spain [31 words] | Anonymous | Feb 23, 2014 07:01 |
| A crucial difference [80 words] | Jacob Arnon | Feb 22, 2014 15:06 |
| Return of Muslims [2 words] | Fritz Kohlhaas | Feb 22, 2014 14:31 |
| Turn it round [93 words] | Doppleganger | Feb 22, 2014 13:19 |
| What utter modern PC nonsense [103 words] | Don | Feb 22, 2014 10:04 |
| No debt to Muslims [248 words] | R Scott Stewart | Feb 22, 2014 07:34 |
| Spain [Andalusia] [38 words] | Lutz Barz | Feb 22, 2014 03:29 |
| National suicide [47 words] | Pongidae Rex | Feb 21, 2014 14:44 |
| If they are entitled to Spain, then I'm entitled to a large chunk of Yorkshire [71 words] | Robert | Feb 21, 2014 13:57 |
| Scourge of the West [17 words] | Dave | Feb 21, 2014 12:37 |
| No to Muslims [36 words] | Joseph A. Nagy, Jr | Feb 21, 2014 12:35 |
| Spain did well in expelling them [62 words] | Peter | Feb 21, 2014 09:37 |
| Muslim trouble makers [56 words] | Glenn | Feb 21, 2014 09:33 |
| Which Muslims should claim a right to return to Spain? [164 words] | Ravkarp | Feb 21, 2014 08:30 |
| Stop The Madness [59 words] | Joe Smith | Feb 21, 2014 06:17 |
Comment on this item
Subscribe To Mailing List
Tweets by @GatestoneInst
Subscribe To Mailing List
Latest Articles
by Salim Mansur
What we are witnessing is Israel engaged in a struggle against Hamas, against Palestinians, against Arabs, against Muslims, and against an expanding body of opinion in the West that is less and less inhibited from displaying the rancid anti-Semitism behind its support for those who openly call for another Holocaust for the Jews.
Gaza was returned to the Palestinians in 2005 as a test for building trust.
This verse [31:27 ] means that no one Muslim should claim that he has a monopoly over the reading of the Quran, for that would amount to reducing the majesty of God to the smallness of man.
The sound of battle is louder than the call to prayer.
by Khaled Abu Toameh
Evidently Abbas has reached the conclusion that unless he hurries up and declares his support for the Palestinian "resistance" in the Gaza Strip, his people will march on his office and force him to quit. Abbas's fear of a revolt has driven him into the open arms of Hamas and Islamic Jihad.
Another reason for the unexpected change in Abbas's policy might be the promise of financial aid he received from Qatar -- an enemy of Egypt's al-Sisi, but the largest funder of the Muslim Brotherhood and Hamas.
Abbas know that if he wants to survive, he will have to be on the side of the radicals.
by Lawrence A. Franklin
There is no change in U.S policy toward Israel that will win any true allies in the Middle East, despite what Arab leaders claim. They often assert that if only we would solve the Palestinian-Israeli problem first, relations would improve. This is a tactic. These leaders employ it simply to divert Western officials from making demands on them, instead of on Israel. The reality is that most Arabs view the U.S., its European allies and Israel with ineradicable contempt.
Most Shared
Most Viewed