Iran's Two-faced Regime Exposed Again, but is Anyone Paying Attention?
Translations of this item:
According to UN Security Council Resolution 1747, Iran is banned from trading in or sending weapons across, international borders. Yet, as the latest arms shipment intercepted by Israel shows, Iran systematically violates this resolution. Will diplomats prefer to look the other way?
In recent days, Israel's intelligence services and navy intercepted a cargo ship in the Red Sea, off the coast of Sudan and Eritrea, which was found to be carrying an Iranian weapons delivery to terrorists in the Gaza Strip.
Iran's attempt to get 40 powerful medium-range rockets, 180 mortar rounds, and nearly half a million bullets to Gazan terror groups like Islamic Jihad would have affected the security of millions of people in southern and central Israel.
The shipment serves as the latest example of the dangerous, destabilizing and violent foreign policy pursued by the Iranian regime.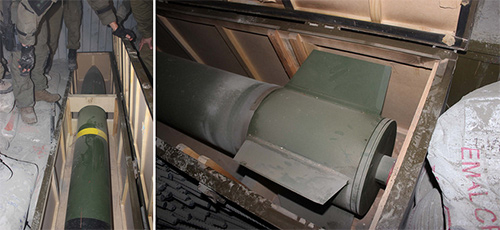 Israeli naval commandos inspect one of the missiles found aboard the Klos-C cargo ship, which was found to be smuggling missiles from Iran to the Gaza strip, via Sudan, March 5, 2014. (Image source: Israel Defense Forces)
Under the leadership of Supreme Leader Ayatollah Khamenei, Iran is pursuing two utterly contradictory tracks when it comes to its dealings with the world:
On one hand, Iranian President Hassan Rouhani continues to engage the international community in a diplomatic process over Tehran's nuclear program. He has achieved many successes in a charm offensive designed to rebrand his country as a reasonable and more moderate international player.
Simultaneously, the Islamic Revolutionary Guards Corps (IRGC), and its overseas special operation unit, the Quds Force, are strengthening, financing, and arming terrorist organizations all over the Middle East.
With thousands of operatives active throughout the region and beyond, the Quds Force is following an ambitious program to arm Hezbollah, the murderous Assad regime in Syria, Shi'ite armed organizations in Iraq, and fanatical armed groups in Gaza.
A second function of the Quds Force is to subvert Sunni states that stand in the way of the Iranian agenda for Middle Eastern hegemony.
Iran is stirring up Shi'ite unrest in the Gulf state of Bahrain, supporting Houthi rebels in Yemen, and arming Sudan's repressive government.
In addition, the Quds Force promotes the spread of Khomenist ideology in an effort to "export" the Islamic Revolution as far and wide as possible.
The Quds Force, headed by a mastermind named Qassem Suleimani (who answers directly to Khamenei), uses banks and front companies to pay for and manufacture weapons, before attempting to transit them to proxies.
According to UN Security Council Resolution 1747, Iran is banned from trading in, or sending weapons across, international borders. Yet, as the latest arms shipment intercepted by Israel demonstrates, Iran systematically violates this resolution.
The Quds Force is a part of the IRGC, a vast organization that has some 130,000 members among its ranks. Its goal is to ensure the survival of Iran's Ayatollah regime. The IRGC is a parallel military power – it has its own air, ground, and navy forces, separate from the Iranian military.
When the regime feels the need brutally to suppress internal dissent, it can call the Basij (a volunteer paramilitary force that receives orders from the IRCG) and its two million volunteers to the streets of Iranian cities.
But Ayatollah Khamenei is now trying a new way of keeping the streets free of protesters by allowing Rouhani to pursue talks with the West. This, Khamenei evidently hopes, will put a lid on growing disquiet over the country's economic troubles, many of them caused by international sanctions.
At the same time, he is permitting the IRGC and Quds Force to continue their global terrorism exportation program -- an effort combatted around the clock by Israel's intelligence agencies. The intercepted weapons ship is just one of many arms transfer attempts being blocked by Israel.
Israeli defense officials describe these efforts as a "war between wars;" today, this mostly covert battle is a central component in maintaining Israeli security.
Israel's efforts rely on a range of classified intelligence means, and are highly impressive, but cannot stop all of the weapons Iran is sending to the region.
Will the international community take note of the latest example of Iran's attempt to put deadly weapons in the hands of war criminals in Gaza, who target Israeli civilians indiscriminately? Or will diplomats prefer to look the other way?
Related Topics: Iran | Yaakov Lappin receive the latest by email: subscribe to the free gatestone institute mailing list
Reader comments on this item
Comment on this item
Subscribe To Mailing List
Tweets by @GatestoneInst
Latest Articles
by Khaled Abu Toameh
Many Arabs and Muslims identify with the terrorists' anti-Western objectives ideology; they are afraid of being dubbed traitors and U.S. agents for joining non-Muslims in a war that would result in the death of many Muslims, and they are afraid their people would rise up against them.
Many Arab and Muslim leaders view the Islamic State as a by-product of failed U.S. policies, especially the current U.S. Administration's weak-kneed support for Iraq's Nuri al-Maliki. Some of these leaders, such as Egypt's Abdel Fattah al-Sisi, consider the U.S. to be a major ally of the Muslim Brotherhood. Sisi and his regime will never forgive Obama for his support for the Muslim Brotherhood.
Also, they do not seem to have much confidence in the Obama Administration, which is perceived as weak and incompetent when it comes to combating Islamists.
by Peter Martino
Scottish independence would be a disaster for NATO, putting the UK nuclear deterrent in jeopardy. It would also put into question national borders all over Europe, including Catalonia, Belgium, France's Brittany and Corsica, Italy's South Tyrol -- and Ukraine.
Russian Foreign Minister Sergei Lavrov warned in 2008 that Kosovo's independence "would be the beginning of the end for Europe."
Crimea's recent secession from Ukraine was justified with a reference to "the Kosovo precedent," which Putin pointed out, "our Western partners created with their own hands."
by Soeren Kern
Portugal, like Spain, also figures prominently in a map produced by the jihadist group Islamic State [IS] that outlines a five-year plan for expanding its Islamic Caliphate into Europe.
"Holy War is the only solution for humanity." — Abdu, Portuguese jihadist.
"Every time these jihadists groups mention the recovery of al-Andalus, they are also referring to Portugal. Jihadists do not believe in national divisions, but in the existence of a single Muslim community that embraces the entire Iberian Peninsula." — Miguel Torres Soriano, Spanish terrorism expert.
by Alan M. Dershowitz
President George W. Bush's announcement in 2001 to support the creation of a Palestinian state offered a unique opportunity to Palestinians to end the violence and begin building a new future. Hamas's response came a few weeks later, when it fired the first Qassam rocket into the Israeli town of Sderot, population approximately 20,000.
It was only after Hamas's coup in June 2007, and the heavy rocket attacks that followed, that Israel imposed more extensive sanctions on Gaza. Palestinian rocket attacks against Israeli civilians were not a response to Gaza's increasing isolation, but the cause.
The sanctions imposed on Gaza -- not only by Israel, but the world -- were the direct result of Hamas's refusal to meet the international community's basic, reasonable demands: stop terror, recognize Israel, and respect previous agreements. Hamas and its fellow terrorist organizations deny the right to live in peace.
The Goldstone Report not only falsified the past; it had a negative influence by encouraging Hamas to repeat its own double war crimes: firing rockets at Israeli civilians from behind Palestinian human shields -- and killing and kidnapping Israeli civilians and soldiers through its terrorist tunnels.
by Burak Bekdil
Last June, Turkey's own Frankenstein, who went by the name of ISIS, attacked the Turkish consulate compound in Mosul, and took 49 Turks, including the consul general, hostage.
The hostages are still in captivity. So is Turkey.
For each [Islamic] sect, the other is "not even Muslim."
Most Shared
Most Viewed