Palestinians Condemned for Visiting Nazi Death Camps
Translations of this item:
"We have politicized everything except for the embezzlement of public funds. Is it okay steal millions of dollars from the people but not okay to have an academic study mission?" — Reader, Al Quds.

It now remains to be seen if Professor Dajani and his students will be punished upon their return to the West Bank for daring to "sympathize" with the suffering of the Jews.
A visit by Palestinian students to Nazi death camps has stirred controversy among Palestinians, with some condemning it as a form of "normalization" with Israel.
Some 30 Palestinian students from Al-Quds University and Bir Zeit University in the West Bank arrived at Auschwitz-Birkenau last week to learn about the Holocaust.
The visit is being led by Mohammed Dajani, professor of American Studies at Al-Quds University, who also heads the Wasatia movement of moderate Islam.
The visit to the Nazi camps has angered some Palestinians, prompting Al-Quds University to distance itself from the tour. The university and its outgoing president, Sari Nusseibeh, had often been criticized for promoting "normalization" with Israel.
In a statement, Al-Quds University announced that it had nothing to do with the Auschwitz-Birkenau visit.
The university said that this was a private visit by Professor Dajani and the students. "They do not represent the university," the statement said. "Professor Dajani is on leave and was not entrusted by the university [to arrange the visit]."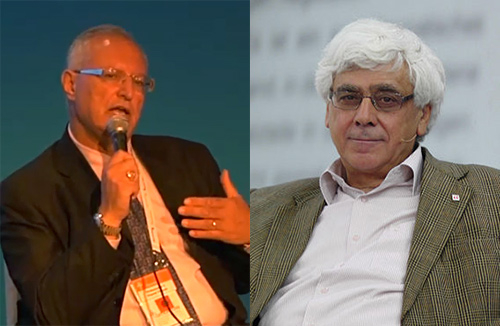 Mohammed Dajani, professor of American Studies at Al-Quds University (left), and outgoing president of the university, Sari Nusseibeh. (Image sources: Dajani - Presidential Conference YouTube video; Nusseibeh - Wikimedia Commons)
Al-Quds University went on to emphasize that it remains committed to a 2009 decision by its administration to cut off all ties with Israeli universities.
The Palestinian students travelled to the Nazi death camps as part of a joint program on "Reconciliation and Conflict Resolution" with the Friedrich Schiller University in Jena, Germany, and Ben-Gurion University in the Negev.
As soon as "anti-normalization" activists learned about the visit, they launched a scathing attack on the professor and students on social media.
"I don't understand how the [Palestinian] students accept normalization [with Israel]," wrote a Palestinian journalist from Ramallah on his Facebook page. "This professor is the king of kings of normalization."
The leading Palestinian daily, Al-Quds, which reported about the controversial visit, triggered a debate among readers about the effectiveness of such tours.
The paper later had to delete some reader responses that accused the professor of treason and collaboration.
One reader commented, "The visit should be seen in the context of attempts to scrap the Palestinians' history and culture. Suspicious Western parties believe that there is a need to change the Palestinians' mentality not through politics, but by brainwashing generations and teaching them big lies and fabrications such as the Holocaust and the suffering of Jews so that they would accept the theft of their land."
Another reader remarked, "Our enmity is not with the Jews and no one can accuse us of being anti-Semites. Our enmity is with the Zionists who usurped our land. But can anyone deny that the Zionists exploit what happened to the Jews in Germany and elsewhere to justify what they did in Palestine and seek the world's sympathy?" Finally, some of us have joined the chorus of weepers."
But there is also good news. Many readers came to the defense of Professor Dajani and the students who visited the Nazi camps to learn about the Holocaust.
Responding to the criticism, one reader wrote, "Frankly, these responses are theatrical. Academics went on a tour and that's all. There's no need to politicize an insignificant visit."
Another reader who voiced support for the visit said, "We have politicized everything expect for the embezzlement of public funds. Is it okay to steal millions of dollars from the people and not okay to have an academic study mission?"
Palestinian columnist Abdullah Dweikat expressed regret over the visit and called on Palestinian academics to stop the "pilgrimage" to Nazi death camps. "I felt pain over the visit by Palestinian university students to Auschwitz-Birkenau," he wrote. "Yes we are human beings who reject genocide. But our humanity rejects any attempt to bypass the suffering of our people, who are being slaughtered every day at the hands of the occupiers. Wouldn't it have been better had our professors and students visited Yarmouk refugee camp [in Syria] or refugee camps in Lebanon to see the real suffering?"
The Palestinian Authority [PA] has neither endorsed nor opposed the visit to the Nazi death camps. The PA leadership is obviously afraid of being part of the controversy that has risen over the visit.
Hamas, on the other hand, has expressed strong opposition to teaching about the Holocaust in Gaza Strip schools run by the United Nations Relief and Works Agency [UNRWA].
Hamas said that teaching the Holocaust was a "crime against Palestinians."
It now remains to be seen if Professor Dajani and his students will be punished upon their return to the West Bank for daring to "sympathize" with the suffering of Jews.
Related Topics: Palestinian Authority | Khaled Abu Toameh receive the latest by email: subscribe to the free gatestone institute mailing list
Reader comments on this item
| | | |
| --- | --- | --- |
| Title | By | Date |
| Can peace be partitioned and unavailable without reconciliation [74 words] | Tawil | Apr 4, 2014 17:01 |
| Of course, they protest [59 words] | Shoshana Rubin | Apr 3, 2014 19:44 |
| What a waste of money [45 words] | Bart Benschop | Apr 3, 2014 02:25 |
| ↔ The start of a new chapter [74 words] | Lisa | Apr 4, 2014 19:41 |
| The Wasatia movement and "moderate Islam"....best of luck with that! [194 words] | Steven Buckley | Apr 2, 2014 05:27 |
| He's got guts [47 words] | Gnarlodious | Mar 31, 2014 23:24 |
| Of course they'll be punished... [131 words] | Objective Observer | Mar 31, 2014 20:42 |
| Al Quds U - normalization and Hamas supporters. [76 words] | Lynne T | Mar 31, 2014 14:09 |
| Step back - count to ten - and think again [99 words] | Samer | Mar 31, 2014 12:08 |
Comment on this item
Subscribe To Mailing List
Tweets by @GatestoneInst
Latest Articles
by Burak Bekdil
The Turkish government "frankly worked" with the al-Nusrah Front, the al-Qaeda affiliate in Syria, along with other terrorist groups.
The Financial Task Force, an international body setting the standards for combating terrorist financing, ruled that Turkey should remain in its "gray list."
While NATO wishes to reinforce its outreach to democracies such as Australia and Japan, Turkey is trying to forge wider partnerships with the Arab world, Russia, China, Central Asia, China, Africa and -- and with a bunch of terrorist organizations, including Hamas, Muslim Brotherhood, Ahrar al-Sham and the al-Nusrah Front.
Being NATO's only Muslim member was fine. Being NATO's only Islamist member ideologically attached to the Muslim Brotherhood is quite another thing.
by Samuel Westrop
British politicians seem to be trapped in an endless debate over how to curb both violent and non-violent extremism within the Muslim community.
A truly useful measure might be to end the provision of state funding and legitimacy to terror-linked extremist charities.
by Soeren Kern
"My son and I love life with the beheaders." — British jihadist Sally Jones.
Mujahidah Bint Usama published pictures of herself on Twitter holding a severed head while wearing a white doctor's jacket; alongside it, the message: "Dream job, a terrorist doc."
British female jihadists are now in charge of guarding as many as 3,000 non-Muslim Iraqi women and girls held captive as sex slaves.
"The British women are some of the most zealous in imposing the IS laws in the region. I believe that's why at least four of them have been chosen to join the women police force." — British terrorism analyst Melanie Smith.
by Khaled Abu Toameh
"Armed robbery in broad daylight." — Palestinians, after Hamas "seized" $750,000 from Gaza bank.
Fatah accused Hamas of "squandering" $700 million of financial aid earmarked for the Palestinian victims of war. Fatah wants to ensure that the millions of dollars intended for the Gaza Strip will pass through its hands and not end up in Hamas's bank accounts. Relying on Fatah in this regard is like asking a cat to guard the milk.
The head of the Palestinian Authority's Anti-Corruption Commission revealed that his group has retrieved $70 million of public funds fund embezzled by Palestinian officials. Arab and Western donors need to make sure that their money does not end up (once again) in the wrong hands. Without a proper mechanism of accountability and transparency, hundreds of millions of dollars are likely to find their way into the bank accounts of both Hamas and Fatah leaders.
by Mudar Zahran
"If Hamas does not like you for any reason all they have to do now is say you are a Mossad agent and kill you." — A., a Fatah member in Gaza.
"Hamas wanted us butchered so it could win the media war against Israel showing our dead children on TV and then get money from Qatar." — T., former Hamas Ministry officer.
"They would fire rockets and then run away quickly, leaving us to face Israeli bombs for what they did." — D., Gazan journalist.
"Hamas imposed a curfew: anyone walking out in the street was shot. That way people had to stay in their homes, even if they were about to get bombed. Hamas held the whole Gazan population as a human shield." — K., graduate student
"The Israeli army allows supplies to come in and Hamas steals them. It seems even the Israelis care for us more than Hamas." — E., first-aid volunteer.
"We are under Hamas occupation, and if you ask most of us, we would rather be under Israeli occupation… We miss the days when we were able to work inside Israel and make good money. We miss the security and calm Israel provided when it was here." — S., graduate of an American university, former Hamas sympathizer.
Most Shared
Most Viewed