European Dual-Use Exports to Iran Continue Apace
The illegal transfer of dual-use equipment to Iran continues unabated, due to lax enforcement and the failure of European governments to keep pace with the growing number and sophistication of actors involved in security-related trade with Tehran.

"Iran continues to seek items for its prohibited activities from abroad by using multiple and increasingly complex procurement methods, including front companies, intermediaries, false documentation and new routes." — Confidential U.N. Panel of Experts
Spanish police have arrested four individuals suspected of attempting to export to Iran industrial machinery that could be used to make weapons of mass destruction.
The machinery involves so-called dual-use equipment—products and technologies that can be used for both civilian and military applications.
Although the European Union bans the export to Iran of certain dual-use machinery and technology that could be used to aid Iran's military program, loopholes abound and enforcement remains patchy.
More than a dozen EU countries have supplied Iran with dual-use technologies in one form or another in recent years, and much of that trade was lawful and in compliance with export control regulations, research shows.
But the illegal transfer of dual-use equipment to Iran continues unabated, due to lax enforcement and the failure of European governments to keep pace with the growing number and sophistication of actors involved in security-related trade with Tehran.
Where there have been arrests, those cases are believed to represent only the tip of the iceberg of the illegal trade in dual-use items, analysts believe.
In Spain, the four suspects—an Iranian and three Spaniards—were arrested on April 1 for secretly trying to export to Iran industrial equipment and technical blueprints that could be used for making missile parts or enriching uranium, according to a statement released by Spain's Civil Guard on April 7.
The Iranian, a 47-year-old male, was arrested in Palma de Mallorca on Spain's Balearic Islands and is being detained on preliminary charges of contraband in dual-use material, belonging to a criminal organization and money laundering.
The three Spaniards—all from the same family—are a father, in his 70s, and a son, in his 40s, who were arrested in Tarragona, in eastern Spain, and a daughter, in her 40s, who was arrested in nearby Barcelona. All four face the same charges, which carry potential prison terms of about 10 years.
The police investigation, also known as Operation Terracotta, began in 2013 when the Civil Guard discovered that two Leifeld dual-use metal-forming machines had been illegally imported into Spain from Britain. According to the Civil Guard, the three Spanish suspects were administrators of the offending import firm who attempted to hide the true destination of the equipment by waiting for an optimal time to secretly forward the shipment to Iran.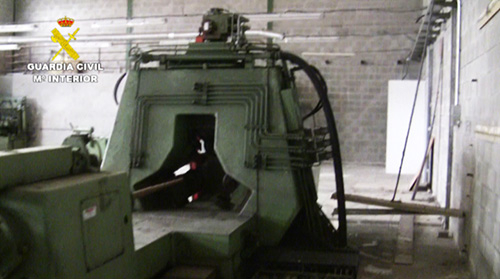 Dual-use industrial equipment, intended for illegal export to Iran, seized by Spanish police on April 1, 2014. (Image source: Civil Guard of Spain)
In addition to the two machines, police seized documentation about the sale and export of dual-use equipment, as well as a large amount of computer data that is still being analyzed, according to the Civil Guard. Police also confiscated the equivalent of 10,000 euros ($14,000) in euros and Iranian rials that were earned from contraband.
This is not the first time that Spanish police have arrested individuals for illegally exporting dual-use materials to Iran.
In January 2013, police arrested two individuals in the Basque Country and seized a truck carrying 44 nickel and chromium alloy valves that were intended to be used for Iran's nuclear program. A company—Fluval Spain—was also accused of using front companies in the United Arab Emirates for the triangulation of shipments and payments channeled through banks in third countries in order to disguise Iran as the final destination of the equipment, according to the Spanish Interior Ministry.
Spain continues to be an active exporter of dual-use equipment to Iran (as well as to countries like China, Cuba and Venezuela). Despite enhanced EU sanctions against Tehran over its nuclear program, Spanish dual-use exports to Iran reached 31 million euros ($43 million) in 2012, up from 17 million euros in 2011, according to statistics published by the Spanish Defense Ministry.
Nor is Spain the only European country profiting from the legal and illegal dual-use trade with Iran.
In July 2013, an exposé published by the Reuters news agency reported that Iran was importing weapons grade alumina—used for making missile components and centrifuges for enriching uranium—from several European countries, including Belgium, France, Germany, Italy, Hungary and Slovenia.
In May 2013, it emerged that Switzerland-based commodities giants Glencore Xstrata and Trafigura were engaged in alumina-for-aluminum swap deals with Iran that skirted international sanctions. In March 2013, Reuters reported that Glencore had supplied thousands of tons of alumina to an Iranian firm linked to the country's nuclear program.
In neighboring Germany, the multi-billion euro bilateral trade relationship with Iran continues unabated, despite ongoing questions over Tehran's nuclear program.
In December 2013, the Tel Aviv-based newspaper Haaretz reported that it had obtained a list from late 2012, showing the names of 136 German companies doing business with Iran. One company on the list, Bomafa Armaturen GmbH, is a maker of high-pressure valves and specialty valves for use in nuclear power stations. Another German company, Gemu GmbH & Co. KG, is a leading manufacturer of valves, instrumentation and measurement systems.
In July 2012, the Jerusalem Post reported that it had obtained an uncensored list from late 2011, showing hundreds of German and Iranian enterprises in a flourishing trade relationship. According to the Post, one company on the list, the Baden-Württemberg-based engineering giant Herrenknecht AG, was suspected of delivering to Iran heavy tunneling equipment—some of which has the capability of drilling down to depths of 6,000 meters (19,700 feet)—that could be used to build more underground nuclear facilities.
In February 2014, police in Bonn arrested a German-Iranian man suspected of supplying Iran with components for use in its missile program. Federal prosecutors accused Dr. Ali Reza B., 62, of providing Iran with dual-use equipment worth nearly 230,000 euros ($315,000) in 12 deliveries from 2011 to 2013. The items were manufactured in Germany and prosecutors allege the suspect delivered the items through a front company in an unidentified neighboring Arab country to avoid embargo restrictions.
In November 2013, a court in Hamburg found four men—one German and three German-Iranians—guilty of smuggling 92 German-produced specialized valves for use in Iran's Arak plutonium reactor and arranging the shipment of 856 nuclear-usable valves from India to Iran in 2010 and 2011. The case is believed to be the largest known breach of dual-use restrictions on Iran.
Other examples abound:
In Belgium, the Energy Ministry launched an investigation into two companies over allegations they illegally provided Iran with zirconium powder, a mineral used in the reactors of nuclear power plants and which can also be used in making nuclear bombs.
In Britain, a British businessman attempted to export 361 dual-use electrical switchgears to Iran via a company in Dubai. In Ireland, a father-son company smuggled more than 100 million euros ($137 million) in U.S.-made military equipment to the armed forces of Iran. In the Netherlands, four individuals were arrested for exporting dual-use goods to Iran without the necessary export permits.
In Finland and Norway, Iran has been accused of trying to obtain advanced missile technology for possible use in delivering nuclear weapons. In Sweden, an individual was found guilty of knowingly trying to export dual-use technology to Iran, where it could be used as part of nuclear arms production.
For every dual-use related arrest and prosecution, however, many more illegal transfers are believed to remain undetected. This is due to a mix of bureaucratic and legal snafus and lax enforcement, as well as to the failure of many European governments to adequately understand the deceptive methods used to conceal the illegal trade in security-related goods to Iran, according to a recent study on penalties and prosecutions of dual-use offenses in Europe.
A confidential U.N. Panel of Experts that was leaked to the media sums it up this way: "Iran continues to seek items for its prohibited activities from abroad by using multiple and increasingly complex procurement methods, including front companies, intermediaries, false documentation, and new routes. These require additional vigilance and expertise on the part of states in order to identify suspicious transactions."
Soeren Kern is a Senior Fellow at the New York-based Gatestone Institute. He is also Senior Fellow for European Politics at the Madrid-based Grupo de Estudios Estratégicos / Strategic Studies Group. Follow him on Facebook and on Twitter.
Related Topics: Iran | Soeren Kern receive the latest by email: subscribe to the free gatestone institute mailing list
Comment on this item
Subscribe To Mailing List
Tweets by @GatestoneInst
Latest Articles
by Khaled Abu Toameh
"Armed robbery in broad daylight." — Palestinians, after Hamas "seized" $750,000 from Gaza bank.
Fatah accused Hamas of "squandering" $700 million of financial aid earmarked for the Palestinian victims of war. Fatah wants to ensure that the millions of dollars intended for the Gaza Strip will pass through its hands and not end up in Hamas's bank accounts. Relying on Fatah in this regard is like asking a cat to guard the milk.
The head of the Palestinian Authority's Anti-Corruption Commission revealed that his group has retrieved $70 million of public funds fund embezzled by Palestinian officials. Arab and Western donors need to make sure that their money does not end up (once again) in the wrong hands. Without a proper mechanism of accountability and transparency, hundreds of millions of dollars are likely to find their way into the bank accounts of both Hamas and Fatah leaders.
by Mudar Zahran
"If Hamas does not like you for any reason all they have to do now is say you are a Mossad agent and kill you." — A., a Fatah member in Gaza.
"Hamas wanted us butchered so it could win the media war against Israel showing our dead children on TV and then get money from Qatar." — T., former Hamas Ministry officer.
"They would fire rockets and then run away quickly, leaving us to face Israeli bombs for what they did." — D., Gazan journalist.
"Hamas imposed a curfew: anyone walking out in the street was shot. That way people had to stay in their homes, even if they were about to get bombed. Hamas held the whole Gazan population as a human shield." — K., graduate student
"The Israeli army allows supplies to come in and Hamas steals them. It seems even the Israelis care for us more than Hamas." — E., first-aid volunteer.
"We are under Hamas occupation, and if you ask most of us, we would rather be under Israeli occupation… We miss the days when we were able to work inside Israel and make good money. We miss the security and calm Israel provided when it was here." — S., graduate of an American university, former Hamas sympathizer.
by Ben Cohen
Now, with the Islamic State's self-proclaimed caliphate having captured key oil wells in the Middle East this year, foreign oil has become an even more lethal financial weapon-of-choice for those seeking to destroy democracy and further escalate the War on Terror.
That President Barack Obama failed even to mention oil as a critical factor in the war against IS during his speech to the nation on September 10, is an omission both revealing and dangerous in terms of how his administration wants to depict the stakes involved in this latest confrontation with the jihadis.
by Lawrence A. Franklin
One Pakistani recruiter of child suicide bombers describes these children as "tools provided by God."
Another Muslim cleric in a madrassa [Islamic boys' school] describes child suicide bombers as "a gift from Allah that we have an unlimited number willing to be sacrificed to teach Americans a lesson."
Using children as suicide bombers will stop when... they stop "condoning the killing of innocents."
by Denis MacEoin
"No religion condones the killing of innocents." — U.S. President Barack Obama, September 10, 2014.
"Islam is a religion of peace." — U.K. Prime Minister David Cameron, September 13, 2014.
"There is a place for violence in Islam. There is a place for jihad in Islam." — U.K. Imam Anjem Choudary, CBN News, April 5, 2010.
Regrettably it is impossible to re-interpret the Qur'an in a "moderate" manner. The most famous modern interpretation by Sayyid Qutb (d. 1966), the Muslim Brotherhood ideologue, leads the reader again and again into political territory, where jihad is at the root of action.
If they deviated from the true faith -- as we are seeing in the Islamic State today -- "backsliders," like pagans, were to be fought until they either accepted Islam or were killed.
In India alone, between 60 and 80 million Hindus may have been put to death by Muslim armies between the years 1000-1525.
Most Shared
Most Viewed