UK: Jihadists as "Charity Workers"
The full truth is a bit more chilling, Sharif and his wife are supporters of ISIS, the leading Al-Qaeda-aligned group in Syria. Al Jazeera reports that in areas under ISIS control, "men [have]... been beheaded, their heads mounted on spikes. Children...slaughtered." Other posts found on the couple's Facebook pages include videos glorifying jihadi fighters; praise for late Al Qaeda leaders such as Abdullah Azzam and Anwar Al-Awlaki; and calls for an Islamic state.
The British media continues to label British Islamist volunteers who support jihadist movements in Syria as "charity workers."
In December, the BBC aired a documentary about aid convoys to Syria, but – as reported by Gatestone Institute – neglected to inform viewers of the convoy volunteers' support for jihadi "martyrs," Al Qaeda operatives and extremist preachers.
Although the UK Charity Commission subsequently started an investigation into these charities, the failure of the media to research their interviewees continues to impair efforts to tackle the abuse of British taxpayers' charitable initiatives.
On April 1, Britain's Channel 4 aired an interview with two "charity workers" in Syria – Tauqir Sharif and his wife, Racquell Hayden-Best. Sharif and his wife work with a number of different charities involved with "aid convoys" to Syria, including One Nation, which is also presently funding a Hamas-run charity in Gaza.
Channel 4 did provide a little bit of background, noting that Sharif has:
...a long history of activism – he was one of those aboard the Gaza aid flotilla which was raided by Israeli forces in 2010. He has campaigned to raise awareness about Syria and met the former Guantanamo detainee Moazzam Begg when Mr Begg visited Syria last year. They were due to speak at a live online "webinar" event about the conflict, but it was cancelled after Mr Begg was arrested and charged with Syria-related offences.
The full truth is a bit more chilling: Sharif and his wife are supporters of the Islamic State of Iraq and al-Sham (ISIS), the leading Al Qaeda-aligned group in Syria. ISIS evolved from a group called Al Qaeda in Iraq, which was known for "its butchery and oppression, which included killing Sunni and Shiite civilians with spectacular suicide attacks, bombing Shiite mosques, uploading videos of beheadings on jihadist forums, and forcing local Sunnis to abide by its interpretation of Islamic law."
ISIS is at least as violent as its predecessor. Al Jazeera reports that in areas under ISIS control, "men [have]...been beheaded, their heads mounted on spikes. Children...slaughtered."
Unlike its predecessor, however, ISIS has supplemented its violence with dawa'h programs – a system of social provision, or "soft-power outreach" – in areas under its control. A key component of this dawa'h, the Hudson Institute reports, is providing educational outreach initiatives "as part of its wider strategy to foster a new generation of Syrians in support of its ideological agenda. ... ISIS runs a number of schools in areas where it has consolidated its presence... [and] offers other services to complement their educational outreach, such as their school-bus services in the Aleppo town of al-Bab."
Sharif and his wife appear to be part of this dawa'h effort. As Channel 4 reported, the couple "work with a number of different charities, including a project to build an Islamic school for women and children." Channel 4 failed to report, however, that the logo of the school project, named the Akhwaat Ash Shaam [Sisters of Syria], is the flag of ISIS.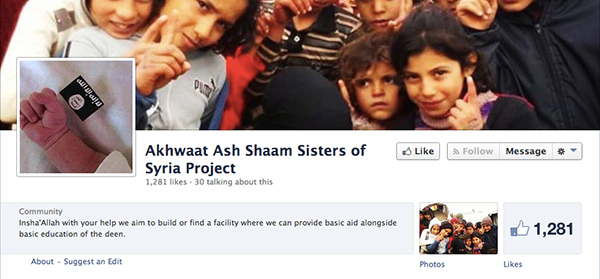 Other Facebook pages established and managed by the couple also prominently display ISIS flags.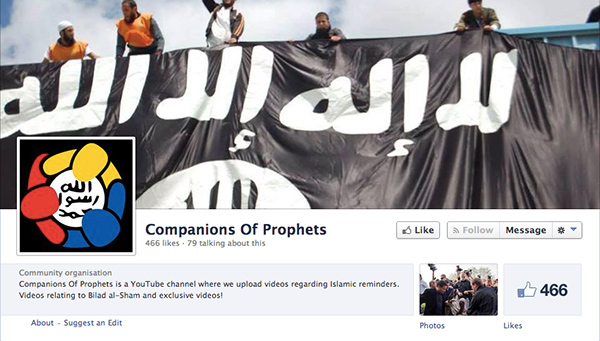 Posts found on the couple's Facebook pages include: videos glorifying jihadi fighters; praise for late Al Qaeda leaders such as Abdullah Azzam and Anwar Al-Awlaki; a number of statements denouncing "Yahoodi" [Jewish] oppression of Muslims; openly anti-Semitic posters; and calls for an Islamic state.
Although Channel 4 broadcast the footage of Sharif and his wife, it was Bilal Abdul-Kareem, an "American Muslim activist living in Syria," who filmed the interview itself. In 2009, it was reported that Abdul-Kareem defended the killing spree carried out by Major Nidal Malik Hasan, at Fort Hood in Texas, as an act against an enemy in a state of war.
The British Charity Commission is already struggling to keep track of charities that are moving money and people into Syria. Tackling the possible misuse of charitable initiatives for anti-democratic ideological purposes is made harder if the media continues to portray extremists as champions fighting against all odds.
Related Topics: United Kingdom | Samuel Westrop receive the latest by email: subscribe to the free gatestone institute mailing list
Reader comments on this item
Comment on this item
Subscribe To Mailing List
Tweets by @GatestoneInst
Latest Articles
by Khaled Abu Toameh
"Armed robbery in broad daylight." — Palestinians, after Hamas "seized" $750,000 from Gaza bank.
Fatah accused Hamas of "squandering" $700 million of financial aid earmarked for the Palestinian victims of war. Fatah wants to ensure that the millions of dollars intended for the Gaza Strip will pass through its hands and not end up in Hamas's bank accounts. Relying on Fatah in this regard is like asking a cat to guard the milk.
The head of the Palestinian Authority's Anti-Corruption Commission revealed that his group has retrieved $70 million of public funds fund embezzled by Palestinian officials. Arab and Western donors need to make sure that their money does not end up (once again) in the wrong hands. Without a proper mechanism of accountability and transparency, hundreds of millions of dollars are likely to find their way into the bank accounts of both Hamas and Fatah leaders.
by Mudar Zahran
"If Hamas does not like you for any reason all they have to do now is say you are a Mossad agent and kill you." — A., a Fatah member in Gaza.
"Hamas wanted us butchered so it could win the media war against Israel showing our dead children on TV and then get money from Qatar." — T., former Hamas Ministry officer.
"They would fire rockets and then run away quickly, leaving us to face Israeli bombs for what they did." — D., Gazan journalist.
"Hamas imposed a curfew: anyone walking out in the street was shot. That way people had to stay in their homes, even if they were about to get bombed. Hamas held the whole Gazan population as a human shield." — K., graduate student
"The Israeli army allows supplies to come in and Hamas steals them. It seems even the Israelis care for us more than Hamas." — E., first-aid volunteer.
"We are under Hamas occupation, and if you ask most of us, we would rather be under Israeli occupation… We miss the days when we were able to work inside Israel and make good money. We miss the security and calm Israel provided when it was here." — S., graduate of an American university, former Hamas sympathizer.
by Ben Cohen
Now, with the Islamic State's self-proclaimed caliphate having captured key oil wells in the Middle East this year, foreign oil has become an even more lethal financial weapon-of-choice for those seeking to destroy democracy and further escalate the War on Terror.
That President Barack Obama failed even to mention oil as a critical factor in the war against IS during his speech to the nation on September 10, is an omission both revealing and dangerous in terms of how his administration wants to depict the stakes involved in this latest confrontation with the jihadis.
by Lawrence A. Franklin
One Pakistani recruiter of child suicide bombers describes these children as "tools provided by God."
Another Muslim cleric in a madrassa [Islamic boys' school] describes child suicide bombers as "a gift from Allah that we have an unlimited number willing to be sacrificed to teach Americans a lesson."
Using children as suicide bombers will stop when... they stop "condoning the killing of innocents."
by Denis MacEoin
"No religion condones the killing of innocents." — U.S. President Barack Obama, September 10, 2014.
"Islam is a religion of peace." — U.K. Prime Minister David Cameron, September 13, 2014.
"There is a place for violence in Islam. There is a place for jihad in Islam." — U.K. Imam Anjem Choudary, CBN News, April 5, 2010.
Regrettably it is impossible to re-interpret the Qur'an in a "moderate" manner. The most famous modern interpretation by Sayyid Qutb (d. 1966), the Muslim Brotherhood ideologue, leads the reader again and again into political territory, where jihad is at the root of action.
If they deviated from the true faith -- as we are seeing in the Islamic State today -- "backsliders," like pagans, were to be fought until they either accepted Islam or were killed.
In India alone, between 60 and 80 million Hindus may have been put to death by Muslim armies between the years 1000-1525.
Most Shared
Most Viewed