UK: Jihadists as "Charity Workers"
The full truth is a bit more chilling, Sharif and his wife are supporters of ISIS, the leading Al-Qaeda-aligned group in Syria. Al Jazeera reports that in areas under ISIS control, "men [have]... been beheaded, their heads mounted on spikes. Children...slaughtered." Other posts found on the couple's Facebook pages include videos glorifying jihadi fighters; praise for late Al Qaeda leaders such as Abdullah Azzam and Anwar Al-Awlaki; and calls for an Islamic state.
The British media continues to label British Islamist volunteers who support jihadist movements in Syria as "charity workers."
In December, the BBC aired a documentary about aid convoys to Syria, but – as reported by Gatestone Institute – neglected to inform viewers of the convoy volunteers' support for jihadi "martyrs," Al Qaeda operatives and extremist preachers.
Although the UK Charity Commission subsequently started an investigation into these charities, the failure of the media to research their interviewees continues to impair efforts to tackle the abuse of British taxpayers' charitable initiatives.
On April 1, Britain's Channel 4 aired an interview with two "charity workers" in Syria – Tauqir Sharif and his wife, Racquell Hayden-Best. Sharif and his wife work with a number of different charities involved with "aid convoys" to Syria, including One Nation, which is also presently funding a Hamas-run charity in Gaza.
Channel 4 did provide a little bit of background, noting that Sharif has:
...a long history of activism – he was one of those aboard the Gaza aid flotilla which was raided by Israeli forces in 2010. He has campaigned to raise awareness about Syria and met the former Guantanamo detainee Moazzam Begg when Mr Begg visited Syria last year. They were due to speak at a live online "webinar" event about the conflict, but it was cancelled after Mr Begg was arrested and charged with Syria-related offences.
The full truth is a bit more chilling: Sharif and his wife are supporters of the Islamic State of Iraq and al-Sham (ISIS), the leading Al Qaeda-aligned group in Syria. ISIS evolved from a group called Al Qaeda in Iraq, which was known for "its butchery and oppression, which included killing Sunni and Shiite civilians with spectacular suicide attacks, bombing Shiite mosques, uploading videos of beheadings on jihadist forums, and forcing local Sunnis to abide by its interpretation of Islamic law."
ISIS is at least as violent as its predecessor. Al Jazeera reports that in areas under ISIS control, "men [have]...been beheaded, their heads mounted on spikes. Children...slaughtered."
Unlike its predecessor, however, ISIS has supplemented its violence with dawa'h programs – a system of social provision, or "soft-power outreach" – in areas under its control. A key component of this dawa'h, the Hudson Institute reports, is providing educational outreach initiatives "as part of its wider strategy to foster a new generation of Syrians in support of its ideological agenda. ... ISIS runs a number of schools in areas where it has consolidated its presence... [and] offers other services to complement their educational outreach, such as their school-bus services in the Aleppo town of al-Bab."
Sharif and his wife appear to be part of this dawa'h effort. As Channel 4 reported, the couple "work with a number of different charities, including a project to build an Islamic school for women and children." Channel 4 failed to report, however, that the logo of the school project, named the Akhwaat Ash Shaam [Sisters of Syria], is the flag of ISIS.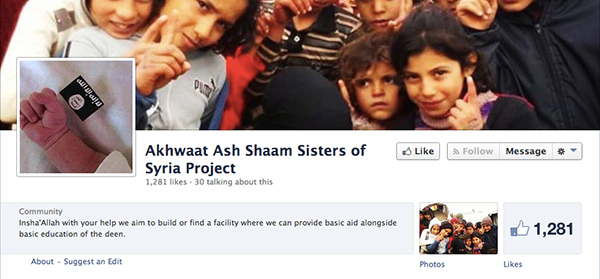 Other Facebook pages established and managed by the couple also prominently display ISIS flags.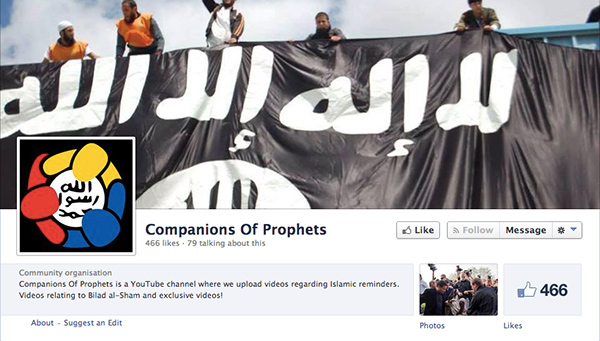 Posts found on the couple's Facebook pages include: videos glorifying jihadi fighters; praise for late Al Qaeda leaders such as Abdullah Azzam and Anwar Al-Awlaki; a number of statements denouncing "Yahoodi" [Jewish] oppression of Muslims; openly anti-Semitic posters; and calls for an Islamic state.
Although Channel 4 broadcast the footage of Sharif and his wife, it was Bilal Abdul-Kareem, an "American Muslim activist living in Syria," who filmed the interview itself. In 2009, it was reported that Abdul-Kareem defended the killing spree carried out by Major Nidal Malik Hasan, at Fort Hood in Texas, as an act against an enemy in a state of war.
The British Charity Commission is already struggling to keep track of charities that are moving money and people into Syria. Tackling the possible misuse of charitable initiatives for anti-democratic ideological purposes is made harder if the media continues to portray extremists as champions fighting against all odds.
Related Topics: United Kingdom | Samuel Westrop receive the latest by email: subscribe to the free gatestone institute mailing list
Reader comments on this item
Comment on this item
Subscribe To Mailing List
Tweets by @GatestoneInst
Subscribe To Mailing List
Latest Articles
by Bassam Tawil
What is sad is that the Gazans have not yet been able to free themselves from the yoke of Hamas.
The world seems not to understand that Hamas, like ISIS and the Muslim Brotherhood, does not exist in a vacuum. It is one cog in the radical Islamist wheel that threatens the Arab and Muslim world and the major cities of Europe.
The Western world also seems not to understand that it has to incapacitate or totally neutralize the countries funding terrorism, such as Iran, Qatar and Turkey, for whom the Palestinian problem is only a pretext on the way to destroying the Western world as we know it and replacing it with only Islam.
by Burak Bekdil
Hamas spokesman Sami Abu-Zuhri said: "All Israelis are legitimate targets." What would the Palestinian death toll have been if Mr. Netanyahu's spokesman declared all Palestinians as legitimate targets?
Underdog-nation romanticism tells us Israel should not respond when under rocket attack because it is capable of intercepting the rockets.
That there are fewer Israeli casualties does not mean Hamas does not want to kill; it just means, for the moment, Hamas cannot kill.
by Soeren Kern
Austria figures prominently in a map produced by the IS that outlines the group's five-year plan for expanding its caliphate into Europe, and has emerged as a central hub for jihadists seeking to fight in Syria.
"The spectrum of recruits for the conflict in Syria is ethnically diverse. The motivation, however, appears to be uniformly jihadist." — Austrian intelligence agency BVT.
"Allah also gives you the opportunity to wage jihad in Austria." — Austrian jihadist Firas Houidi.
"We are proud that Allah has chosen us. We feel like lions." — Austrian jihadist Abu Hamza al-Austria.
by Khaled Abu Toameh
What Khaled Mashaal forgot to mention was that Hamas and the Islamic State do have at least one thing in common: they both carry out extrajudicial executions as a means of terrorizing and intimidating those who stand in their way or who dare to challenge their terrorism.
According to Hamas's logic, all members of the Palestinian Authority government are "traitors" who should be dragged to public squares to be shot by firing squads. According to the same logic, Mahmoud Abbas himself should be executed for maintaining security coordination with and talking to Israelis.
As for the two executed women, the sources said that their only fault was that they had been observed asking too many questions about Palestinians who were killed in airstrikes.
by Stephen Blank and Peter Huessy
It now appears that the plan was for these terrorists to shoot down a Russian passenger flight over the Ukraine in order to create a casus belli [cause for war].
Putin repeatedly claims that Russia reserves the right to use nuclear weapons as a "de-escalatory measure" even against non-nuclear states.
The evidence that this war was preplanned is overwhelming. The planning for this Ukrainian operation started in 2006, when Putin offered to "guarantee Crimea's territory."
The forces fighting in Kiev consist not mainly of "separatists" or rebels, but of trained Russian army, intelligence and paramilitary officers, as well as Russian and some Ukrainian "volunteers" recruited by Moscow.
Putin would incite disturbances in Crimea, then graciously offer to take over Crimea to solve the problems.
For the Russians, and particularly for Putin, Ukraine can have no future other than as a Russian colony. This is indeed a phased invasion of Ukraine. The U.S. did not accept Russian aggression before; it should not accept it now.
Most Shared
Most Viewed