US Government Promoting Islam in Czech Republic
Critics say the project's underlying objective is to convert non-Muslim children to Islam by bringing proselytizing messages into public schools under the guise of promoting multiculturalism and fighting "Islamophobia."

The group recently ran an advertisement promising to pay 250 Czech korunas ($13 dollars) to any student aged 15 to 18 years who would attend a two hour presentation about Islam.

More recently, Muslims in the Czech Republic have tried to ban a book they say is Islamophobic, and have filed a ten-page criminal complaint against its formerly-Muslim author.
The Czech government has approved a new project aimed at promoting Islam in public elementary and secondary schools across the country.
The project—Muslims in the Eyes of Czech Schoolchildren—is being spearheaded by a Muslim advocacy group and is being financed by American taxpayers through a grant from the US Embassy in Prague. (The US State Department is also promoting Islam in other European countries.)
The group says the Czech Ministry of Education has authorized it to organize lectures and seminars aimed at "teaching Czech schoolchildren about Islamic beliefs and practices" and at "fighting stereotypes and prejudices about Muslims."
But critics—there are many—say the project's underlying objective is to convert non-Muslim children to Islam by bringing proselytizing messages into public schools under the guise of promoting multiculturalism and fighting "Islamophobia."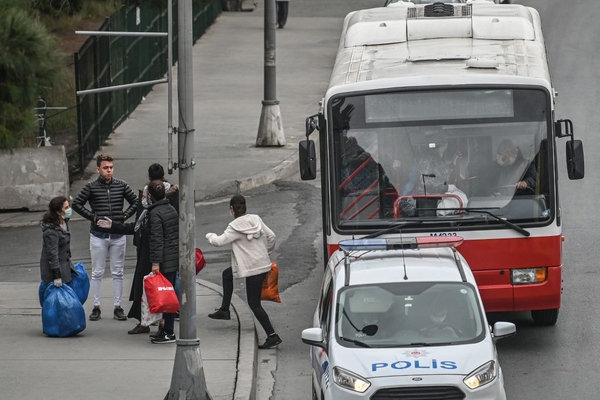 Image source: Website of "Muslims in the Eyes of Czech Schoolchildren".
The group's website says the first phase of the project involves "analyzing the accuracy of the information about Islam in Czech textbooks on history, geography and social sciences, and mapping the level of teaching about Islam in Czech grammar schools and other secondary schools."
The second phase of the project involves the implementation of a three-level program that will "acquaint both pupils and teachers with Islam and Muslims" and help them to develop better "critical reception skills" when analyzing supposedly Islamophobic information.
According to the group's website:
"The first level acquaints the reader with the history of Islam, the basic religious concepts of tradition and contemporary issues such as family [Sharia] law, the veiling of women and Islamophobia."

"The second level offers a deeper look at the issues and puts more emphasis on the involvement of the pupils.… Pupils will be divided into three groups within which they will study any of the following topics: the veiling of women, media coverage of Islam and Muslims in the Czech Republic. Each group will be led by an experienced tutor, who will acquaint students with the problems by means of prepared materials and subsequent debate."

"The third level provides schools with artistically oriented projects or discussions with Muslims and professionals dealing with Islam. Artistic activities would involve making a film or taking photographs focused on a day in the life of a Muslim or art workshops and competitions focused on the possibility of integrating Muslims into Czech society."
The group also organizes thematic lectures, workshops and debates for schools or groups of students, many of which are held at the Municipal Library in Prague—and which are more openly geared toward converting Czech youth to Islam.
One such lecture entitled "Paths of Young Czech Women to Islam" answers questions such as: What makes a young Czech woman want to become a Muslim? It is the main motive always falling in love with a Muslim man or are there other reasons? How does one convert to Islam? How can new Muslims cope with non-Muslim relatives?
Another lecture entitled "Koran, Sunna and the Internet: Where to Do Muslims Get Their Information?" answers questions such as: Where can one get information about the Muslim faith? Is the Koran the only source of information about Islam or are there other sources? Where can one find information that is not mentioned directly in the Koran? The lecture is supplemented by providing students with hands-on opportunities to work with various Islamic texts, including the Koran and the Hadiths [sayings of the Prophet Mohammed].
Students wanting to participate in the lectures but lacking previous knowledge of Islam are advised to attend a 15-minute introductory course that "represents the characteristics of Islam and advocates it in the context of Christianity and Judaism." The lectures are "suitable for children from about the age of 15, although it is possible to customize the program for younger pupils."
A statement on the group's website justifies the project this way:
"The Muslim community in the Czech Republic is small, but it raises strong emotions. Issues relating to Muslims or Islam appear almost daily in television news, newspapers and Internet debates. But the topic is discussed only marginally in regular school lessons. This condition leads to acceptance and subsequent consolidation of prejudices and stereotypes that are supported by latent Islamophobia. We would like this project to contribute to improving the situation. We provide information about Islam that is factually accurate. Students will also have the opportunity to meet with Muslims and get to know them before forming an opinion of them."
One of the co-founders of the project, a Czech-Palestinian named Sadi Shanaah, was quoted by the Prague Post as saying, "School lessons do not pay sufficient attention to Islam. Pupils want to learn more about it."
But the group recently ran an advertisement promising to pay 250 Czech korunas ($13 dollars) to any student aged 15 to 18 years who would agree to attend a two-hour presentation about Islam.
The ad—which indicates that the American embassy in Prague was financing the April 2 event—states: "Event will take place at a school in New Butovice (7 minutes' walk from the metro station). You get a brief introduction to Islam through which you can learn more about the veiling of Muslim women, media coverage and Muslims in the Czech Republic. Then you will have the opportunity to meet with Amirah, a Malaysian Muslim who is studying medicine in Prague, and to ask her everything you want about Islam or Muslim life in the Czech Republic."
The Czech Republic is home to a small but rapidly growing Muslim population. Although reliable figures do not exist, it is estimated that the number of Muslims in the country now exceeds 10,000 (some say the figure is closer to 5,000, while others say it exceeds 15,000), up from 3,699 in the 2001 census, and 495 in the 1991 census.
Using 10,000 as the baseline figure, the Muslim population currently comprises around 0.1% of the total Czech population of 10.4 million. This percentage is far lower than most European countries, but the rate of increase is nearly 2,000% since 1991, and 170% since 2001.
Most Muslims in the Czech Republic are immigrants from Afghanistan, Bosnia, Chechnya, Egypt, Iraq, Iran, Libya, Syria and Turkey. But a study produced for the Czech Interior Ministry in 2007 (it estimated there were a total of 11,235 Muslims in the country in 2005) found that there were also a large number of Czech converts to Islam.
It is estimated that at least 2,000 Czechs have converted to Islam since the end of Communist rule in 1989. Many are women who have married Muslims, but just as many are young males who are "looking to Islam in their search for spirituality," according to Radio Free Europe.
The Interior Ministry report says the majority of Muslims in the Czech Republic are well educated and economically successful. "Muslims who belong to the core of the community are often university-educated people. Among them are doctors, architects, teachers, economists, businessmen and others," the report says.
On the other hand, as the Muslim population grows, so do tensions with the population at large.
In November 2013, two Muslim women threatened to file an anti-discrimination lawsuit against a nursing school in Prague after they were asked to remove their hijab head covering in class.
"The principal summoned me and told me: 'If you want to be in the school, you must not wear the scarf.' I said this was against my religion as I am a Muslim," Nasra, one of the women, told Czech Television.
The school defended itself, saying that although Czech law does not regulate the wearing of headgear, the school's dress code bans the practice. The school also said the women, one from Somalia aged 23, and another from Afghanistan aged 25, disagreed with the compulsory physical education and the conditions of compulsory practice.
More recently, Muslims in the Czech Republic have tried to ban a book about Islam they say is Islamophobic.
The book, Islam and Islamism, was written by Lukas Lhot'an, a former Muslim who is now an apostate from Islam. Released in 2011, the book describes how some Muslims are abusing the ideology of multiculturalism to infiltrate Czech schools.
Lhot'an, who spent 12 years among Muslims in Brno, the second-largest city in the Czech Republic, says Muslim institutions in the country are now headed by Islamists who dominate the entire Islamic community. He accuses Muslim extremists of giving lectures aimed at recruiting converts and new jihad fighters, and alleges that Czech mosques are being controlled by Saudi Arabia.
The Islamic Center of Prague has filed a ten-page criminal complaint against Lhot'an, accusing him of promoting hatred, while the head of the Muslim community in Brno, Muneeb Hassan Alrawi has this to say about Lhot'an: "He is a hyperactive idiot, but also an unhappy man. He makes his living from doing harm. The police investigation will only provide publicity to him. He desires nothing but this."
But others say the objective of the criminal complaint is obvious: Its aim to prevent Lhot'an from disseminating his view of Islam. According to Týden, the book describes extremist tendencies inside the Czech Muslim community and tries to highlight their contempt for democracy and women's rights and their justification of suicide bombers.
Soeren Kern is a Senior Fellow at the New York-based Gatestone Institute. He is also Senior Fellow for European Politics at the Madrid-based Grupo de Estudios Estratégicos / Strategic Studies Group. Follow him on Facebook and on Twitter.
Related Topics: Soeren Kern receive the latest by email: subscribe to the free gatestone institute mailing list
Reader comments on this item
| | | |
| --- | --- | --- |
| Title | By | Date |
| Stop spending our money to promote Islamic religion in Czech Republic [133 words] | Tammy | Apr 21, 2014 19:07 |
| ↔ who gave you this right ? [75 words] | Badra Sid | Jul 3, 2014 05:23 |
| Honour Killing Legislation in ihe Czech Republic [56 words] | Marc Templer | Apr 18, 2014 05:17 |
| Keep Islam religion in countries of origin and stay away [174 words] | Peter Hosek | Apr 16, 2014 11:21 |
| ↔ Muslims in Czech Republic [39 words] | Badra Sid | Jul 3, 2014 08:14 |
| Islam's introduction towards another Arab Spring where there are no Arabs! [104 words] | Tom Lewis | Apr 15, 2014 11:23 |
| ↔ response to your comment [56 words] | Bada Sid | Jul 3, 2014 08:19 |
| US Embassy Prague response of 21/4/14 [201 words] | Clara | Apr 15, 2014 07:29 |
| Thank you for the truth [164 words] | Zuzana | Apr 14, 2014 21:36 |
| Paying to proselytize [22 words] | Alana Ronald | Apr 14, 2014 13:47 |
| Get out [28 words] | Daniel Kozák | Apr 14, 2014 13:42 |
| Fight Infidelophobia first [68 words] | Khushi | Apr 14, 2014 09:13 |
Comment on this item
Subscribe To Mailing List
Tweets by @GatestoneInst
Subscribe To Mailing List
Latest Articles
by Pierre Rehov
For terrorists, the death of innocent children is irrelevant. In a society that promotes martyrdom as the ultimate sign of success, the death of innocent children can sometimes even be seen as a public relations blessing.
In every action, intent is paramount. There should never be a moral equivalence painted between the deliberate killing of civilians, and a retaliation that tragically leads to casualties among civilians.
There is, however, one small difference: in the Middle East, reporters are threatened, except in Israel. Their choice becomes a simple one: promote the Palestinian point of view or stop working in the West Bank. Keep the eye of the camera dirty or lose your job. This show should not go on.
by Khaled Abu Toameh
Since 1948, the Arab countries and government have been paying mostly lip service to the Palestinians.
"They have money and oil, but don't care about the Palestinians, even though we are Arabs and Muslims like them. What a Saudi or Qatari sheikh spends in one night in London, Paris or Las Vegas could solve the problem of tens of thousands of Palestinians." — Palestinian human rights activist.
"Some Arabs were hoping that Israel would rid them of Hamas." — Ashraf Salameh, Gaza City.
"Some of the Arab regimes are interested in getting rid of the resistance in order to remove the burden of the Palestinian cause, which threatens the stability of their regimes." — Mustafa al-Sawwaf, Palestinian political analyst.
"Most Arabs are busy these days with bloody battles waged by their leaders, who are struggling to survive. These battles are raging in Yemen, Syria, Iraq, Egypt, Libya and the Palestinian Authority." — Mohammed al-Musafer, columnist.
"The Arab leaders don't know what they want from the Gaza Strip. They don't even know what they want from Israel." — Yusef Rizka, Hamas official.
by Soeren Kern
European elites, who take pride in viewing the EU as a "postmodern" superpower, have long argued that military hard-power is illegitimate in the 21st century. Unfortunately for Europe, Russia (along with China and Iran) has not embraced the EU's fantastical soft-power worldview, in which "climate change" is now said to pose the greatest threat to European security.
For its part, the European Commission, the EU's administrative branch, which never misses an opportunity to boycott institutions in Israel, has issued only a standard statement on the shooting down of MH17 in Ukraine, which reads: "The European Union will continue to follow this issue very closely."
The EU has made only half-hearted attempts to develop alternatives to its dependency on Russian oil and gas.
by Shoshana Bryen
Proportionality in international law is not about equality of death or civilian suffering, or even about [equality of] firepower. Proportionality weighs the necessity of a military action against suffering that the action might cause to enemy civilians in the vicinity.
"Under international humanitarian law and the Rome Statute, the death of civilians during an armed conflict, no matter how grave and regrettable does not constitute a war crime.... even when it is known that some civilian deaths or injuries will occur. A crime occurs if there is an intentional attack directed against civilians (principle of distinction) or an attack is launched on a military objective in the knowledge that the incidental civilian injuries would be clearly excessive in relation to the anticipated military advantage (principle of proportionality)." — Luis Moreno-Ocampo, Chief Prosecutor, International Criminal Court.
"The greater the military advantage anticipated, the larger the amount of collateral damage -- often civilian casualties -- which will be "justified" and "necessary." — Dr. Françoise Hampton, University of Essex, UK.
Most Shared
Most Viewed