Libya: Muslim Brotherhood's New Prime Minister
Translations of this item:
El Houni said that Maiteeg is not himself an Islamist, but that he is controlled by the Muslim Brotherhood, to which he owes his rise to power.

Islamist militants in Libya now feel free to act, and lead the country into becoming a safe haven for Muslim Brotherhood members from Egypt, and to becoming an Islamist emirate.
Libya's interim Congress on May 5 confirmed the appointment of new Prime Minister, Ahmed Maiteeg, a young businessman backed by the Muslim Brotherhood.
Maiteeg's election was controversial. As described by the Libyan Herald, Maiteeg was elected after Congress members persuaded the deputy President to re-run a vote of confidence in him. In the earlier vote of confidence, Maiteeg gained 113 votes, seven short of the figure needed to make him Prime Minister. The Libyan Herald explains that the second vote took place after a number of absent Congress members were summoned by colleagues to come and vote. At that point, apparently, members of Congress started shouting at each other. As a consequence, First Deputy President and independent Congressman from Cyrenaica, Ezzidden Al-Awami, who had chaired the session, decided to close proceedings and departed.
It was at this point that Muslim Brotherhood congressmen took advantage of the chaotic situation. Muslim Brotherhood member and Deputy President Saleh Makhzoum decided that it was wrong to end the session, so he continued with the election. Maiteeg passed the 120-vote threshold by one vote. The next day, Makhzoum administered the oath of office to Maiteeg.
The day of the PM's swearing in, Libyan writer Mohammed El-Houni gave an interview, translated by the Middle East Media Research Institute (MEMRI), to the Saudi-owned satellite channel Al-Arabiya, on the political situation in Libya.
In the interview, El-Houni stated that the Muslim Brotherhood is striving to establish a Libyan Islamic emirate. "I believe that they are on their way there," he said. In a second part of the interview, El-Houni said that Maiteeg is not himself an Islamist, but that he is controlled by the Muslim Brotherhood, to which he owes his rise to power.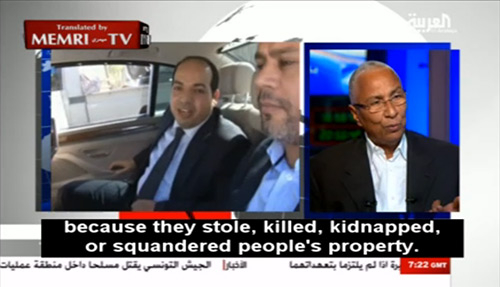 Mohammed El-Houni (right) opines on Libya's newly appointed Prime Minister Ahmed Maiteeg (left) in a TV interview. (Image source: MEMRI)
Islamist militants in Libya now feel free to act. The new government about to be formed and the religious institutions in Libya seem willing to lead the country into becoming an Islamist emirate. In the meantime, the jihadist movement Ansar Al-Sharia is becoming stronger, under the blessing of Libya's religious highest authority.
A few days before Maiteeg's appointment, Ansar Al-Sharia stormed the Benghazi security service headquarters before dawn, and slaughtered nine soldiers. Despite the attack, the Libyan grand mufti, Sheikh Sadiq Ghiryani, defended Ansar Al-Sharia. He stated that to condemn the movement is unacceptable; according to him, there is no proof of their responsibility for the attack.
Ghiryani, however, is known for his extremist positions. In 2012, Ghiryani also asked the Ministry of Education to remove passages related to democracy and freedom of religion from school textbooks. Recently, he urged Libya's government to stop importing overly racy lingerie and undergarments, as they contradict the virtue of Islamic modesty.
According to Mohammed El-Houni, "Libya cannot possibly see the light at the end of this dark tunnel unless hundreds of thousands of people take to the streets, and say to the Muslim Brotherhood and to Al-Qaeda: 'enough'. The simple people must take to the streets. Hundreds of thousands of people must take to the streets, demanding an end to this foolishness, and calling for the international community to protect them, and to help them establish their state."
The future of Libya looks grim now that the Muslim Brotherhood managed to put in power a man loyal to it. In neighboring Egypt, the ex-military chief and presidential candidate Abdel-Fattah al-Sisi has said that there would be no future for the Islamist Muslim Brotherhood if he wins in the upcoming presidential elections. In a recent interview, Sisi also declared that the Muslim Brotherhood was finished. "I want to tell you that it is not me that finished (the Brotherhood). You, the Egyptians, are the ones who finished it." However, Muslim Brotherhood members from Egypt now have just to cross the Libyan border to find a safe haven and from there build a new base, to threaten the whole of North Africa and the Middle East.
Related Topics: Anna Mahjar-Barducci receive the latest by email: subscribe to the free gatestone institute mailing list
Comment on this item
Subscribe To Mailing List
Tweets by @GatestoneInst
Subscribe To Mailing List
Latest Articles
by Burak Bekdil
So in the EU-candidate Turkey, a pianist should be punished for his re-tweets, but a pop-singer should be congratulated for her first-class racist hate-speech. This is contagious.
No reporter present at Mr. Ihsanoglu's campaign launch speech thought about asking him if his commitment to the "Palestinian cause" included any affirmation of the Hamas Charter, in particular a section that says, "…The stones and trees will say, 'O Muslims, there is a Jew behind me, come and kill him.'"
Turkey is also the country where a few years earlier, a group of school teachers (yes, school teachers!) gathered in a demonstration to commemorate Hitler.
by Debalina Ghoshal
Despite Chapter VII of the UN Charter and UNSC Resolutions, it seems that North Korea will continue developing its missiles -- and eventually weaponize them with nuclear warheads.
"North Korea's ballistic and nuclear threat is very much a near-term threat. ... Steady progression in their program is not harmless." — Victor Cha, Centre for Strategic and International Studies.
On March 26, 2014, North Korea reportedly test-fired medium-range ballistic Rodong missiles -- capable of reaching Japan and U.S. military bases in the Asia-Pacific region.
Since February, South Korean officials claim that North Korea has confirmed at least 90 test-firings, among which ten were ballistic missiles.
by Khaled Abu Toameh
It is important to note that these cease-fire demands are not part of Hamas's or Islamic Jihad's overall strategy, namely to have Israel wiped off the face of the earth.
Many foreign journalists who came to cover the war in the Gaza trip were under the false impression that it was all about improving living conditions for the Palestinians by opening border crossings and building an airport and seaport. These journalists really believed that once the demands of Hamas and the Palestinian Islamic Jihad are accepted, this would pave the way for peace between the Israelis and the Palestinians.
To understand the true intention of Hamas and its allies, it is sufficient to follow the statements made by their leaders after the cease-fire announcement this week. To his credit, Ismail Haniyeh, Hamas's leader, has never concealed Hamas's desire to destroy Israel.
Hamas and its allies see the war in the Gaza Strip as part of there strategy to destroy Israel. What Hamas and its allies are actually saying is, "Give us open borders and an airport and seaport so we can use them to prepare for the next war against Israel."
by Burak Bekdil
A front-page headline was particularly revealing: They (Israel) bombed a mosque in Gaza! Including the exclamation mark!
A quick internet search, if you typed "mosque bombing Shiite-Sunni," would give you 782,000 results on July 16.
Why did we not hear one single Turkish voice protest the death of 300,000 Muslims in Darfur?
Hamas's Charter is must-read fun.
by Bassam Tawil
What is sad is that the Gazans have not yet been able to free themselves from the yoke of Hamas.
The world seems not to understand that Hamas, like ISIS and the Muslim Brotherhood, does not exist in a vacuum. It is one cog in the radical Islamist wheel that threatens the Arab and Muslim world and the major cities of Europe.
The Western world also seems not to understand that it has to incapacitate or totally neutralize the countries funding terrorism, such as Iran, Qatar and Turkey, for whom the Palestinian problem is only a pretext on the way to destroying the Western world as we know it and replacing it with only Islam.
Most Shared
Most Viewed