Libya: Muslim Brotherhood's New Prime Minister
Translations of this item:
El Houni said that Maiteeg is not himself an Islamist, but that he is controlled by the Muslim Brotherhood, to which he owes his rise to power.

Islamist militants in Libya now feel free to act, and lead the country into becoming a safe haven for Muslim Brotherhood members from Egypt, and to becoming an Islamist emirate.
Libya's interim Congress on May 5 confirmed the appointment of new Prime Minister, Ahmed Maiteeg, a young businessman backed by the Muslim Brotherhood.
Maiteeg's election was controversial. As described by the Libyan Herald, Maiteeg was elected after Congress members persuaded the deputy President to re-run a vote of confidence in him. In the earlier vote of confidence, Maiteeg gained 113 votes, seven short of the figure needed to make him Prime Minister. The Libyan Herald explains that the second vote took place after a number of absent Congress members were summoned by colleagues to come and vote. At that point, apparently, members of Congress started shouting at each other. As a consequence, First Deputy President and independent Congressman from Cyrenaica, Ezzidden Al-Awami, who had chaired the session, decided to close proceedings and departed.
It was at this point that Muslim Brotherhood congressmen took advantage of the chaotic situation. Muslim Brotherhood member and Deputy President Saleh Makhzoum decided that it was wrong to end the session, so he continued with the election. Maiteeg passed the 120-vote threshold by one vote. The next day, Makhzoum administered the oath of office to Maiteeg.
The day of the PM's swearing in, Libyan writer Mohammed El-Houni gave an interview, translated by the Middle East Media Research Institute (MEMRI), to the Saudi-owned satellite channel Al-Arabiya, on the political situation in Libya.
In the interview, El-Houni stated that the Muslim Brotherhood is striving to establish a Libyan Islamic emirate. "I believe that they are on their way there," he said. In a second part of the interview, El-Houni said that Maiteeg is not himself an Islamist, but that he is controlled by the Muslim Brotherhood, to which he owes his rise to power.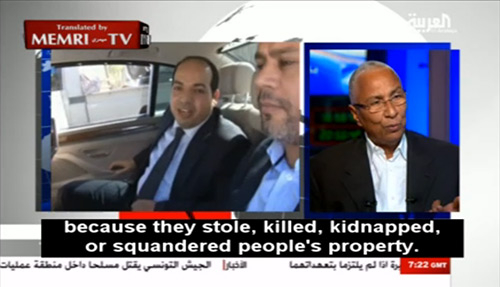 Mohammed El-Houni (right) opines on Libya's newly appointed Prime Minister Ahmed Maiteeg (left) in a TV interview. (Image source: MEMRI)
Islamist militants in Libya now feel free to act. The new government about to be formed and the religious institutions in Libya seem willing to lead the country into becoming an Islamist emirate. In the meantime, the jihadist movement Ansar Al-Sharia is becoming stronger, under the blessing of Libya's religious highest authority.
A few days before Maiteeg's appointment, Ansar Al-Sharia stormed the Benghazi security service headquarters before dawn, and slaughtered nine soldiers. Despite the attack, the Libyan grand mufti, Sheikh Sadiq Ghiryani, defended Ansar Al-Sharia. He stated that to condemn the movement is unacceptable; according to him, there is no proof of their responsibility for the attack.
Ghiryani, however, is known for his extremist positions. In 2012, Ghiryani also asked the Ministry of Education to remove passages related to democracy and freedom of religion from school textbooks. Recently, he urged Libya's government to stop importing overly racy lingerie and undergarments, as they contradict the virtue of Islamic modesty.
According to Mohammed El-Houni, "Libya cannot possibly see the light at the end of this dark tunnel unless hundreds of thousands of people take to the streets, and say to the Muslim Brotherhood and to Al-Qaeda: 'enough'. The simple people must take to the streets. Hundreds of thousands of people must take to the streets, demanding an end to this foolishness, and calling for the international community to protect them, and to help them establish their state."
The future of Libya looks grim now that the Muslim Brotherhood managed to put in power a man loyal to it. In neighboring Egypt, the ex-military chief and presidential candidate Abdel-Fattah al-Sisi has said that there would be no future for the Islamist Muslim Brotherhood if he wins in the upcoming presidential elections. In a recent interview, Sisi also declared that the Muslim Brotherhood was finished. "I want to tell you that it is not me that finished (the Brotherhood). You, the Egyptians, are the ones who finished it." However, Muslim Brotherhood members from Egypt now have just to cross the Libyan border to find a safe haven and from there build a new base, to threaten the whole of North Africa and the Middle East.
Related Topics: Anna Mahjar-Barducci receive the latest by email: subscribe to the free gatestone institute mailing list
Comment on this item
Subscribe To Mailing List
Tweets by @GatestoneInst
Latest Articles
by Richard Kemp
Would General Allen -- or any other general today -- recommend contracting out his country's defenses if it were his country at stake? Of course not.
The Iranian regime remains dedicated to undermining and ultimately destroying the State of Israel. The Islamic State also has Israel in its sights and would certainly use the West Bank as a point from which to attack, if it were open to them.
There can be no two-state solution and no sovereign Palestinian Arab state west of the Jordan, however desirable those things might be. The stark military reality is that Israel cannot withdraw its forces from the West Bank.
Fatah leaders ally themselves with the terrorists of Hamas, and, like Hamas, they continue to reject the every existence of the State of Israel.
If Western leaders actually want to help, they should use all diplomatic and economic means to make it clear to the Palestinians that they will never achieve an independent and sovereign state while they remain set on the destruction of the State of Israel.
by Louis René Beres
The Palestine Liberation Organization [PLO], forerunner of today's Palestinian Authority, was founded in 1964, three years before Israel came into the unintended control of the West Bank and Gaza. What therefore was the PLO planning to "liberate"?
Why does no one expect the Palestinians to cease all deliberate and random violence against Israeli civilians before being considered for admission to statehood?
On June 30, 1922, a joint resolution of both Houses of Congress of the United States endorsed a "Mandate for Palestine," confirming the right of Jews to settle anywhere they chose between the Jordan River and the Mediterranean Sea. This is the core American legacy of support for a Jewish State that President Obama now somehow fails to recall.
A sovereign state of Palestine, as identified by the Arabs -- a Muslim land occupied by "Palestinian" Arabs -- has never existed; not before 1948, and not before 1967. From the start, it was, and continues to be, the Arab states -- not Israel -- that became the core impediment to Palestinian sovereignty.
by Timon Dias
It looks as if this new law is meant to serve as a severe roadblock to parties that would like to dismantle the EU in a democratic and peaceful way from within.
A rather dull semantic trick pro-EU figures usually apply, is calling their opponents "anti-Europe."
by Soeren Kern
Austria has emerged as a major base for radical Islam and as a central hub for European jihadists to fight in Syria.
The proposed revisions would, among other changes, regulate the training and hiring of Muslim clerics, prohibit the foreign funding of mosques, and establish an official German-language version of the Koran to prevent its "misinterpretation" by Islamic extremists.
Muslims would be prohibited from citing Islamic sharia law as legal justification for ignoring or disobeying Austrian civil laws.
Leaders of Austria's Muslim community counter that the contemplated new law amounts to "institutionalized Islamophobia."
Official statistics show that nearly 60% of the inhabitants of Vienna are immigrants or foreigners. The massive demographic and religious shift underway in Austria, traditionally a Roman Catholic country, appears irreversible.
Most Shared
Most Viewed