Arabs: We Want Democracy - Like Israel
"How many Arab leaders would be left if they went on trial of similar cases of bribery and corruption?" — Zuhear al-Karim, Arabic CNN.

"If Olmert were in Kuwait, his case would have been shelved and he would have received a senior position in government." — Yasalam, Al-Aan.

"Law is above all and this is real democracy. Israel is the only real democracy in the Middle East." — Saad Sayad, Arabic CNN.
The Tel Aviv District Court's decision to send former Israeli Prime Minister Ehud Olmert to six years in prison for corruption has prompted calls in the Arab world for endorsing Israel's standards of accountability, transparency and justice.
Reacting to the sentencing of Olmert, many Arabs expressed hope that the day would come when their countries would learn from Israel that no one is above the law, even if he or she is a president or prime minister.
Sufian Abu Zayda, a leading Fatah official and former Palestinian Authority minister, praised the court verdict; he said it shows that in Israel, no one is above the law.
"This verdict provides further evidence that the judicial system in Israel is fully independent in the wake of the separation between the legislative, executive and judicial authorities, as well as total freedom of the media," said Abu Zayda, who is considered an expert on Israeli affairs.[1]
The praise for Israel's democratic system does not mean that Abu Zayda and other Arabs have become pro-Israel and are willing to recognize Israel's right to exist.
But while they continue to hate Israel and seek its destruction, many Arabs do not hesitate to express their admiration for the independence of Israel's judicial system.
Comments posted by Arabs and Muslims on the Internet this week revealed how eager they are for their countries to endorse Israeli democracy. Similar reactions were also published when an Israeli court sentenced former Israeli President Moshe Katzav to seven years in prison for sex-related offenses.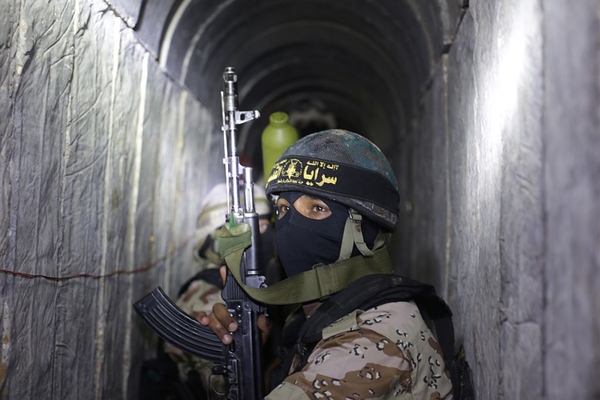 Soon to be reunited in prison? Israel's former President Moshe Katzav (l) and former Prime Minister Ehud Olmert (r) are pictured here during happier times.
Following are some of the comments posted on Arab media and social websites in response to the Olmert verdict:
---
[1] http://samanews.com/ar/index.php?act=post&id=200106
[2] http://www.alquds.co.uk/?p=167721
[3] Ibid.
[4] Ibid.
[5] Ibid.
[6] http://www.alquds.com/news/article/view/id/503904
[7] http://www.alwasatnews.com/4266/news/read/885026/1.html
[8] http://www.echoroukonline.com/ara/articles/204210.html
[9] http://www.alarabiya.net/ar/arab-and-world/2014/05/13/-الفساد-يدخل-أولمرت-إلى-السجن-6-سنوات.html
[10] http://alhayat.com/Articles/2324750/السجن-ست-سنوات-لرئيس-الوزراء-الإسرائيلي-السابق-ايهود-أولمرت
[11] http://www.alwasatnews.com/4266/news/read/885026/1.html
[12] http://www.alaan.cc/pagedetails.asp?nid=187579&cid=46
[13] Ibid.
[14] Ibid.
[15] Ibid.
[16] http://arabic.cnn.com/middleeast/2014/05/15
[17] Ibid.
[18] Ibid.
Related Topics: Israel | Khaled Abu Toameh receive the latest by email: subscribe to the free gatestone institute mailing list
Reader comments on this item
| | | |
| --- | --- | --- |
| Title | By | Date |
| Great compilation [142 words] | Israel L. M. Gonzalez | May 22, 2014 14:53 |
| Taqiyya, or schizophrenia [134 words] | Ron Thompson | May 20, 2014 23:14 |
| Following Israel's lead [22 words] | Ted | May 18, 2014 20:36 |
| You Muslim commenters have got that right... [11 words] | Ron B. | May 18, 2014 05:06 |
| Fatah Pro Isreal? [78 words] | Guy | May 17, 2014 08:27 |
| No, they don't [123 words] | Bart Benschop | May 16, 2014 23:01 |
| Arab democracy [171 words] | Horace Kindler | May 16, 2014 19:48 |
| ↔ The ability to concurrently hold diametrically opposed belief systems [290 words] | Craig | May 18, 2014 17:17 |
| Hurrah! [134 words] | A.T. Halmay | May 16, 2014 16:52 |
| Why focus on Arab comments to this event? [117 words] | Harry Taft | May 16, 2014 15:21 |
| Democracy grows from the bottom up [234 words] | Craig | May 16, 2014 14:44 |
| No such thing as a free lunch [245 words] | Doug Mayfield | May 16, 2014 13:46 |
| Confusion [53 words] | Jim | May 16, 2014 08:22 |
| Tell this to the disingenuous BDS movement [61 words] | Paul Randall | May 16, 2014 08:19 |
| Another informative paper from Khaled AT [29 words] | Yosef ben Israel | May 16, 2014 06:14 |
| A quote from the article: [44 words] | Fedup | May 16, 2014 05:56 |
Comment on this item
Subscribe To Mailing List
Tweets by @GatestoneInst
Subscribe To Mailing List
Latest Articles
by Bassam Tawil
What is sad is that the Gazans have not yet been able to free themselves from the yoke of Hamas.
The world seems not to understand that Hamas, like ISIS and the Muslim Brotherhood, does not exist in a vacuum. It is one cog in the radical Islamist wheel that threatens the Arab and Muslim world and the major cities of Europe.
The Western world also seems not to understand that it has to incapacitate or totally neutralize the countries funding terrorism, such as Iran, Qatar and Turkey, for whom the Palestinian problem is only a pretext on the way to destroying the Western world as we know it and replacing it with only Islam.
by Burak Bekdil
Hamas spokesman Sami Abu-Zuhri said: "All Israelis are legitimate targets." What would the Palestinian death toll have been if Mr. Netanyahu's spokesman declared all Palestinians as legitimate targets?
Underdog-nation romanticism tells us Israel should not respond when under rocket attack because it is capable of intercepting the rockets.
That there are fewer Israeli casualties does not mean Hamas does not want to kill; it just means, for the moment, Hamas cannot kill.
by Soeren Kern
Austria figures prominently in a map produced by the IS that outlines the group's five-year plan for expanding its caliphate into Europe, and has emerged as a central hub for jihadists seeking to fight in Syria.
"The spectrum of recruits for the conflict in Syria is ethnically diverse. The motivation, however, appears to be uniformly jihadist." — Austrian intelligence agency BVT.
"Allah also gives you the opportunity to wage jihad in Austria." — Austrian jihadist Firas Houidi.
"We are proud that Allah has chosen us. We feel like lions." — Austrian jihadist Abu Hamza al-Austria.
by Khaled Abu Toameh
What Khaled Mashaal forgot to mention was that Hamas and the Islamic State do have at least one thing in common: they both carry out extrajudicial executions as a means of terrorizing and intimidating those who stand in their way or who dare to challenge their terrorism.
According to Hamas's logic, all members of the Palestinian Authority government are "traitors" who should be dragged to public squares to be shot by firing squads. According to the same logic, Mahmoud Abbas himself should be executed for maintaining security coordination with and talking to Israelis.
As for the two executed women, the sources said that their only fault was that they had been observed asking too many questions about Palestinians who were killed in airstrikes.
by Stephen Blank and Peter Huessy
It now appears that the plan was for these terrorists to shoot down a Russian passenger flight over the Ukraine in order to create a casus belli [cause for war].
Putin repeatedly claims that Russia reserves the right to use nuclear weapons as a "de-escalatory measure" even against non-nuclear states.
The evidence that this war was preplanned is overwhelming. The planning for this Ukrainian operation started in 2006, when Putin offered to "guarantee Crimea's territory."
The forces fighting in Kiev consist not mainly of "separatists" or rebels, but of trained Russian army, intelligence and paramilitary officers, as well as Russian and some Ukrainian "volunteers" recruited by Moscow.
Putin would incite disturbances in Crimea, then graciously offer to take over Crimea to solve the problems.
For the Russians, and particularly for Putin, Ukraine can have no future other than as a Russian colony. This is indeed a phased invasion of Ukraine. The U.S. did not accept Russian aggression before; it should not accept it now.
Most Shared
Most Viewed