Arabs: We Want Democracy - Like Israel
"How many Arab leaders would be left if they went on trial of similar cases of bribery and corruption?" — Zuhear al-Karim, Arabic CNN.

"If Olmert were in Kuwait, his case would have been shelved and he would have received a senior position in government." — Yasalam, Al-Aan.

"Law is above all and this is real democracy. Israel is the only real democracy in the Middle East." — Saad Sayad, Arabic CNN.
The Tel Aviv District Court's decision to send former Israeli Prime Minister Ehud Olmert to six years in prison for corruption has prompted calls in the Arab world for endorsing Israel's standards of accountability, transparency and justice.
Reacting to the sentencing of Olmert, many Arabs expressed hope that the day would come when their countries would learn from Israel that no one is above the law, even if he or she is a president or prime minister.
Sufian Abu Zayda, a leading Fatah official and former Palestinian Authority minister, praised the court verdict; he said it shows that in Israel, no one is above the law.
"This verdict provides further evidence that the judicial system in Israel is fully independent in the wake of the separation between the legislative, executive and judicial authorities, as well as total freedom of the media," said Abu Zayda, who is considered an expert on Israeli affairs.[1]
The praise for Israel's democratic system does not mean that Abu Zayda and other Arabs have become pro-Israel and are willing to recognize Israel's right to exist.
But while they continue to hate Israel and seek its destruction, many Arabs do not hesitate to express their admiration for the independence of Israel's judicial system.
Comments posted by Arabs and Muslims on the Internet this week revealed how eager they are for their countries to endorse Israeli democracy. Similar reactions were also published when an Israeli court sentenced former Israeli President Moshe Katzav to seven years in prison for sex-related offenses.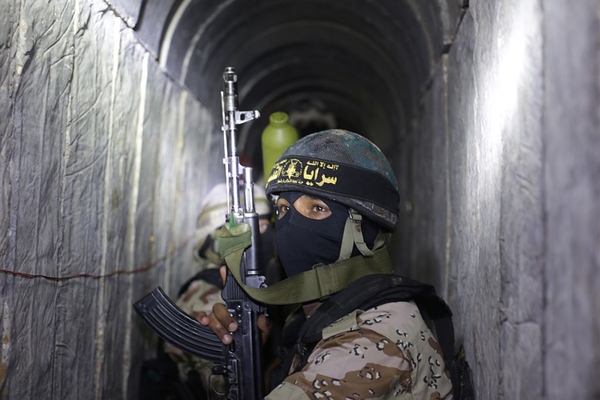 Soon to be reunited in prison? Israel's former President Moshe Katzav (l) and former Prime Minister Ehud Olmert (r) are pictured here during happier times.
Following are some of the comments posted on Arab media and social websites in response to the Olmert verdict:
---
[1] http://samanews.com/ar/index.php?act=post&id=200106
[2] http://www.alquds.co.uk/?p=167721
[3] Ibid.
[4] Ibid.
[5] Ibid.
[6] http://www.alquds.com/news/article/view/id/503904
[7] http://www.alwasatnews.com/4266/news/read/885026/1.html
[8] http://www.echoroukonline.com/ara/articles/204210.html
[9] http://www.alarabiya.net/ar/arab-and-world/2014/05/13/-الفساد-يدخل-أولمرت-إلى-السجن-6-سنوات.html
[10] http://alhayat.com/Articles/2324750/السجن-ست-سنوات-لرئيس-الوزراء-الإسرائيلي-السابق-ايهود-أولمرت
[11] http://www.alwasatnews.com/4266/news/read/885026/1.html
[12] http://www.alaan.cc/pagedetails.asp?nid=187579&cid=46
[13] Ibid.
[14] Ibid.
[15] Ibid.
[16] http://arabic.cnn.com/middleeast/2014/05/15
[17] Ibid.
[18] Ibid.
Related Topics: Israel | Khaled Abu Toameh receive the latest by email: subscribe to the free gatestone institute mailing list
Reader comments on this item
| | | |
| --- | --- | --- |
| Title | By | Date |
| Great compilation [142 words] | Israel L. M. Gonzalez | May 22, 2014 14:53 |
| Taqiyya, or schizophrenia [134 words] | Ron Thompson | May 20, 2014 23:14 |
| Following Israel's lead [22 words] | Ted | May 18, 2014 20:36 |
| You Muslim commenters have got that right... [11 words] | Ron B. | May 18, 2014 05:06 |
| Fatah Pro Isreal? [78 words] | Guy | May 17, 2014 08:27 |
| No, they don't [123 words] | Bart Benschop | May 16, 2014 23:01 |
| Arab democracy [171 words] | Horace Kindler | May 16, 2014 19:48 |
| ↔ The ability to concurrently hold diametrically opposed belief systems [290 words] | Craig | May 18, 2014 17:17 |
| Hurrah! [134 words] | A.T. Halmay | May 16, 2014 16:52 |
| Why focus on Arab comments to this event? [117 words] | Harry Taft | May 16, 2014 15:21 |
| Democracy grows from the bottom up [234 words] | Craig | May 16, 2014 14:44 |
| No such thing as a free lunch [245 words] | Doug Mayfield | May 16, 2014 13:46 |
| Confusion [53 words] | Jim | May 16, 2014 08:22 |
| Tell this to the disingenuous BDS movement [61 words] | Paul Randall | May 16, 2014 08:19 |
| Another informative paper from Khaled AT [29 words] | Yosef ben Israel | May 16, 2014 06:14 |
| A quote from the article: [44 words] | Fedup | May 16, 2014 05:56 |
Comment on this item
Subscribe To Mailing List
Tweets by @GatestoneInst
Subscribe To Mailing List
Latest Articles
by Soeren Kern
"There is no territory more occupied than the body of a Palestinian woman, or a strip... severed by the violent imposition of the superstitions of Allah and the followers of Mohammed. We had better not even mention the situation of Palestinian homosexuals. This selective outrage by top progressives when it involves Israel is indeed anti-Semitism." — Alberto Moyano, Spanish newspaper editor.
"It is possible legitimately to criticize Israel. But it smells fishy when all of the blame is attributed to Israel, without even mentioning the small detail that a terrorist and jihadist group that rules Gaza has infringed on every conceivable humanitarian principle, by using civilians as human shields, and launching missiles from apartment blocks, while their leaders are living comfortable in Qatar, guests of a sheik." — Ángel Mas, Spanish analyst.
There has been virtually no public outcry whatsoever in Spain over the deaths of more than 160,000 people during three years of fighting in Syria; the decimation of ancient Christian communities at the hands of Islamists in Iraq; the kidnapping of 300 girls by Islamists in Nigeria; or the downing of a civilian passenger plane in Ukraine.
"The most anti-Semitic people are supposedly the most educated and well-informed." — Spanish Ministry of Foreign Affairs report on anti-Semitism in Spain.
by Khaled Abu Toameh
There is growing concern in Ramallah, Cairo, Riyadh and Dubai that the U.S. Administration is working to prevent the collapse of Hamas.
"The Americans mistakenly think that moderate political Islam, which is represented by the Muslim Brotherhood, will be able to combat radical Islam. The Americans are trying to bring the Muslim Brotherhood back to the region." — Palestinian official, Ramallah.
The Iranians, with whom the U.S. is now negotiating on nuclear weapons -- amid fears in the Middle East that the U.S. will capitulate to Tehran's demands if it has not effectively capitulated to them already -- have now joined Qatar and Turkey in opposing any attempt to confiscate Hamas's weapons.
The Paris conference was actually a spit in the face to the anti-Hamas forces in the Arab world. By failing to invite the Palestinian Authority to the conference, Kerry indicated that he does not see any role for Abbas and his loyalists in a post-Hamas Gaza Strip.
Most Shared
Most Viewed