Arabs: We Want Democracy - Like Israel
"How many Arab leaders would be left if they went on trial of similar cases of bribery and corruption?" — Zuhear al-Karim, Arabic CNN.

"If Olmert were in Kuwait, his case would have been shelved and he would have received a senior position in government." — Yasalam, Al-Aan.

"Law is above all and this is real democracy. Israel is the only real democracy in the Middle East." — Saad Sayad, Arabic CNN.
The Tel Aviv District Court's decision to send former Israeli Prime Minister Ehud Olmert to six years in prison for corruption has prompted calls in the Arab world for endorsing Israel's standards of accountability, transparency and justice.
Reacting to the sentencing of Olmert, many Arabs expressed hope that the day would come when their countries would learn from Israel that no one is above the law, even if he or she is a president or prime minister.
Sufian Abu Zayda, a leading Fatah official and former Palestinian Authority minister, praised the court verdict; he said it shows that in Israel, no one is above the law.
"This verdict provides further evidence that the judicial system in Israel is fully independent in the wake of the separation between the legislative, executive and judicial authorities, as well as total freedom of the media," said Abu Zayda, who is considered an expert on Israeli affairs.[1]
The praise for Israel's democratic system does not mean that Abu Zayda and other Arabs have become pro-Israel and are willing to recognize Israel's right to exist.
But while they continue to hate Israel and seek its destruction, many Arabs do not hesitate to express their admiration for the independence of Israel's judicial system.
Comments posted by Arabs and Muslims on the Internet this week revealed how eager they are for their countries to endorse Israeli democracy. Similar reactions were also published when an Israeli court sentenced former Israeli President Moshe Katzav to seven years in prison for sex-related offenses.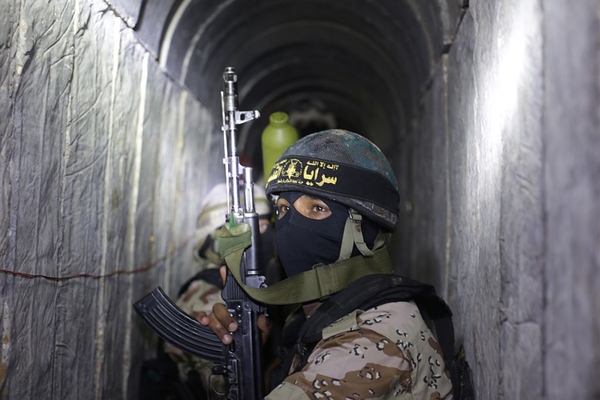 Soon to be reunited in prison? Israel's former President Moshe Katzav (l) and former Prime Minister Ehud Olmert (r) are pictured here during happier times.
Following are some of the comments posted on Arab media and social websites in response to the Olmert verdict:
---
[1] http://samanews.com/ar/index.php?act=post&id=200106
[2] http://www.alquds.co.uk/?p=167721
[3] Ibid.
[4] Ibid.
[5] Ibid.
[6] http://www.alquds.com/news/article/view/id/503904
[7] http://www.alwasatnews.com/4266/news/read/885026/1.html
[8] http://www.echoroukonline.com/ara/articles/204210.html
[9] http://www.alarabiya.net/ar/arab-and-world/2014/05/13/-الفساد-يدخل-أولمرت-إلى-السجن-6-سنوات.html
[10] http://alhayat.com/Articles/2324750/السجن-ست-سنوات-لرئيس-الوزراء-الإسرائيلي-السابق-ايهود-أولمرت
[11] http://www.alwasatnews.com/4266/news/read/885026/1.html
[12] http://www.alaan.cc/pagedetails.asp?nid=187579&cid=46
[13] Ibid.
[14] Ibid.
[15] Ibid.
[16] http://arabic.cnn.com/middleeast/2014/05/15
[17] Ibid.
[18] Ibid.
Related Topics: Israel | Khaled Abu Toameh receive the latest by email: subscribe to the free gatestone institute mailing list
Reader comments on this item
| | | |
| --- | --- | --- |
| Title | By | Date |
| Great compilation [142 words] | Israel L. M. Gonzalez | May 22, 2014 14:53 |
| Taqiyya, or schizophrenia [134 words] | Ron Thompson | May 20, 2014 23:14 |
| Following Israel's lead [22 words] | Ted | May 18, 2014 20:36 |
| You Muslim commenters have got that right... [11 words] | Ron B. | May 18, 2014 05:06 |
| Fatah Pro Isreal? [78 words] | Guy | May 17, 2014 08:27 |
| No, they don't [123 words] | Bart Benschop | May 16, 2014 23:01 |
| Arab democracy [171 words] | Horace Kindler | May 16, 2014 19:48 |
| ↔ The ability to concurrently hold diametrically opposed belief systems [290 words] | Craig | May 18, 2014 17:17 |
| Hurrah! [134 words] | A.T. Halmay | May 16, 2014 16:52 |
| Why focus on Arab comments to this event? [117 words] | Harry Taft | May 16, 2014 15:21 |
| Democracy grows from the bottom up [234 words] | Craig | May 16, 2014 14:44 |
| No such thing as a free lunch [245 words] | Doug Mayfield | May 16, 2014 13:46 |
| Confusion [53 words] | Jim | May 16, 2014 08:22 |
| Tell this to the disingenuous BDS movement [61 words] | Paul Randall | May 16, 2014 08:19 |
| Another informative paper from Khaled AT [29 words] | Yosef ben Israel | May 16, 2014 06:14 |
| A quote from the article: [44 words] | Fedup | May 16, 2014 05:56 |
Comment on this item
Subscribe To Mailing List
Tweets by @GatestoneInst
Latest Articles
by Khaled Abu Toameh
To understand what drives a young Palestinian to carry out such a deadly attack, one needs to look at the statements of Palestinian Authority leaders during the past few weeks.
The anti-Israel campaign of incitement reached its peak with Abbas's speech at the UN a few weeks ago, when he accused Israel of waging a "war of genocide" in the Gaza Strip. Abbas made no reference to Hamas's crimes against both Israelis and Palestinians.
Whatever his motives, it is clear that the man who carried out the most recent attack, was influenced by the messages that Abbas and the Palestinian Authority leadership have been sending their people.
by Richard Kemp
Would General Allen -- or any other general today -- recommend contracting out his country's defenses if it were his country at stake? Of course not.
The Iranian regime remains dedicated to undermining and ultimately destroying the State of Israel. The Islamic State also has Israel in its sights and would certainly use the West Bank as a point from which to attack, if it were open to them.
There can be no two-state solution and no sovereign Palestinian Arab state west of the Jordan, however desirable those things might be. The stark military reality is that Israel cannot withdraw its forces from the West Bank.
Fatah leaders ally themselves with the terrorists of Hamas, and, like Hamas, they continue to reject the every existence of the State of Israel.
If Western leaders actually want to help, they should use all diplomatic and economic means to make it clear to the Palestinians that they will never achieve an independent and sovereign state while they remain set on the destruction of the State of Israel.
by Louis René Beres
The Palestine Liberation Organization [PLO], forerunner of today's Palestinian Authority, was founded in 1964, three years before Israel came into the unintended control of the West Bank and Gaza. What therefore was the PLO planning to "liberate"?
Why does no one expect the Palestinians to cease all deliberate and random violence against Israeli civilians before being considered for admission to statehood?
On June 30, 1922, a joint resolution of both Houses of Congress of the United States endorsed a "Mandate for Palestine," confirming the right of Jews to settle anywhere they chose between the Jordan River and the Mediterranean Sea. This is the core American legacy of support for a Jewish State that President Obama now somehow fails to recall.
A sovereign state of Palestine, as identified by the Arabs -- a Muslim land occupied by "Palestinian" Arabs -- has never existed; not before 1948, and not before 1967. From the start, it was, and continues to be, the Arab states -- not Israel -- that became the core impediment to Palestinian sovereignty.
by Timon Dias
It looks as if this new law is meant to serve as a severe roadblock to parties that would like to dismantle the EU in a democratic and peaceful way from within.
A rather dull semantic trick pro-EU figures usually apply, is calling their opponents "anti-Europe."
Most Shared
Most Viewed