Arabs: We Want Democracy - Like Israel
"How many Arab leaders would be left if they went on trial of similar cases of bribery and corruption?" — Zuhear al-Karim, Arabic CNN.

"If Olmert were in Kuwait, his case would have been shelved and he would have received a senior position in government." — Yasalam, Al-Aan.

"Law is above all and this is real democracy. Israel is the only real democracy in the Middle East." — Saad Sayad, Arabic CNN.
The Tel Aviv District Court's decision to send former Israeli Prime Minister Ehud Olmert to six years in prison for corruption has prompted calls in the Arab world for endorsing Israel's standards of accountability, transparency and justice.
Reacting to the sentencing of Olmert, many Arabs expressed hope that the day would come when their countries would learn from Israel that no one is above the law, even if he or she is a president or prime minister.
Sufian Abu Zayda, a leading Fatah official and former Palestinian Authority minister, praised the court verdict; he said it shows that in Israel, no one is above the law.
"This verdict provides further evidence that the judicial system in Israel is fully independent in the wake of the separation between the legislative, executive and judicial authorities, as well as total freedom of the media," said Abu Zayda, who is considered an expert on Israeli affairs.[1]
The praise for Israel's democratic system does not mean that Abu Zayda and other Arabs have become pro-Israel and are willing to recognize Israel's right to exist.
But while they continue to hate Israel and seek its destruction, many Arabs do not hesitate to express their admiration for the independence of Israel's judicial system.
Comments posted by Arabs and Muslims on the Internet this week revealed how eager they are for their countries to endorse Israeli democracy. Similar reactions were also published when an Israeli court sentenced former Israeli President Moshe Katzav to seven years in prison for sex-related offenses.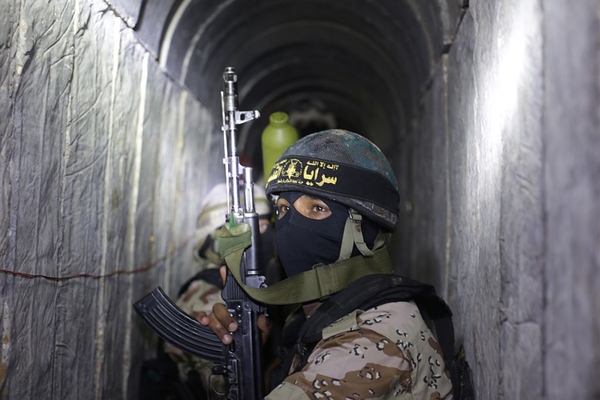 Soon to be reunited in prison? Israel's former President Moshe Katzav (l) and former Prime Minister Ehud Olmert (r) are pictured here during happier times.
Following are some of the comments posted on Arab media and social websites in response to the Olmert verdict:
---
[1] http://samanews.com/ar/index.php?act=post&id=200106
[2] http://www.alquds.co.uk/?p=167721
[3] Ibid.
[4] Ibid.
[5] Ibid.
[6] http://www.alquds.com/news/article/view/id/503904
[7] http://www.alwasatnews.com/4266/news/read/885026/1.html
[8] http://www.echoroukonline.com/ara/articles/204210.html
[9] http://www.alarabiya.net/ar/arab-and-world/2014/05/13/-الفساد-يدخل-أولمرت-إلى-السجن-6-سنوات.html
[10] http://alhayat.com/Articles/2324750/السجن-ست-سنوات-لرئيس-الوزراء-الإسرائيلي-السابق-ايهود-أولمرت
[11] http://www.alwasatnews.com/4266/news/read/885026/1.html
[12] http://www.alaan.cc/pagedetails.asp?nid=187579&cid=46
[13] Ibid.
[14] Ibid.
[15] Ibid.
[16] http://arabic.cnn.com/middleeast/2014/05/15
[17] Ibid.
[18] Ibid.
Related Topics: Israel | Khaled Abu Toameh receive the latest by email: subscribe to the free gatestone institute mailing list
Reader comments on this item
| | | |
| --- | --- | --- |
| Title | By | Date |
| Great compilation [142 words] | Israel L. M. Gonzalez | May 22, 2014 14:53 |
| Taqiyya, or schizophrenia [134 words] | Ron Thompson | May 20, 2014 23:14 |
| Following Israel's lead [22 words] | Ted | May 18, 2014 20:36 |
| You Muslim commenters have got that right... [11 words] | Ron B. | May 18, 2014 05:06 |
| Fatah Pro Isreal? [78 words] | Guy | May 17, 2014 08:27 |
| No, they don't [123 words] | Bart Benschop | May 16, 2014 23:01 |
| Arab democracy [171 words] | Horace Kindler | May 16, 2014 19:48 |
| ↔ The ability to concurrently hold diametrically opposed belief systems [290 words] | Craig | May 18, 2014 17:17 |
| Hurrah! [134 words] | A.T. Halmay | May 16, 2014 16:52 |
| Why focus on Arab comments to this event? [117 words] | Harry Taft | May 16, 2014 15:21 |
| Democracy grows from the bottom up [234 words] | Craig | May 16, 2014 14:44 |
| No such thing as a free lunch [245 words] | Doug Mayfield | May 16, 2014 13:46 |
| Confusion [53 words] | Jim | May 16, 2014 08:22 |
| Tell this to the disingenuous BDS movement [61 words] | Paul Randall | May 16, 2014 08:19 |
| Another informative paper from Khaled AT [29 words] | Yosef ben Israel | May 16, 2014 06:14 |
| A quote from the article: [44 words] | Fedup | May 16, 2014 05:56 |
Comment on this item
Subscribe To Mailing List
Tweets by @GatestoneInst
Latest Articles
by Ben Cohen
Now, with the Islamic State's self-proclaimed caliphate having captured key oil wells in the Middle East this year, foreign oil has become an even more lethal financial weapon-of-choice for those seeking to destroy democracy and further escalate the War on Terror.
That President Barack Obama failed even to mention oil as a critical factor in the war against IS during his speech to the nation on September 10, is an omission both revealing and dangerous in terms of how his administration wants to depict the stakes involved in this latest confrontation with the jihadis.
by Lawrence A. Franklin
One Pakistani recruiter of child suicide bombers describes these children as "tools provided by God."
Another Muslim cleric in a madrassa [Islamic boys' school] describes child suicide bombers as "a gift from Allah that we have an unlimited number willing to be sacrificed to teach Americans a lesson."
Using children as suicide bombers will stop when... they stop "condoning the killing of innocents."
by Denis MacEoin
"No religion condones the killing of innocents." — U.S. President Barack Obama, September 10, 2014.
"Islam is a religion of peace." — U.K. Prime Minister David Cameron, September 13, 2014.
"There is a place for violence in Islam. There is a place for jihad in Islam." — U.K. Imam Anjem Choudary, CBN News, April 5, 2010.
Regrettably it is impossible to re-interpret the Qur'an in a "moderate" manner. The most famous modern interpretation by Sayyid Qutb (d. 1966), the Muslim Brotherhood ideologue, leads the reader again and again into political territory, where jihad is at the root of action.
If they deviated from the true faith -- as we are seeing in the Islamic State today -- "backsliders," like pagans, were to be fought until they either accepted Islam or were killed.
In India alone, between 60 and 80 million Hindus may have been put to death by Muslim armies between the years 1000-1525.
by Yaakov Lappin
Hamas's long-term ambitions are indistinguishable from those of Islamic State and al-Qaeda.
Hamas will now focus on its next goal -- trying to strengthen its presence in the West Bank and eventually toppling the Palestinian Authority from power there, just as it did in Gaza. If Israel were to withdraw from the West Bank, Hamas would certainly find such a goal easier to accomplish.
Nothing keeps the flames of jihad alight, and Hamas's popularity secure, like frequent wars.
Most Shared
Most Viewed