Arabs: We Want Democracy - Like Israel
"How many Arab leaders would be left if they went on trial of similar cases of bribery and corruption?" — Zuhear al-Karim, Arabic CNN.

"If Olmert were in Kuwait, his case would have been shelved and he would have received a senior position in government." — Yasalam, Al-Aan.

"Law is above all and this is real democracy. Israel is the only real democracy in the Middle East." — Saad Sayad, Arabic CNN.
The Tel Aviv District Court's decision to send former Israeli Prime Minister Ehud Olmert to six years in prison for corruption has prompted calls in the Arab world for endorsing Israel's standards of accountability, transparency and justice.
Reacting to the sentencing of Olmert, many Arabs expressed hope that the day would come when their countries would learn from Israel that no one is above the law, even if he or she is a president or prime minister.
Sufian Abu Zayda, a leading Fatah official and former Palestinian Authority minister, praised the court verdict; he said it shows that in Israel, no one is above the law.
"This verdict provides further evidence that the judicial system in Israel is fully independent in the wake of the separation between the legislative, executive and judicial authorities, as well as total freedom of the media," said Abu Zayda, who is considered an expert on Israeli affairs.[1]
The praise for Israel's democratic system does not mean that Abu Zayda and other Arabs have become pro-Israel and are willing to recognize Israel's right to exist.
But while they continue to hate Israel and seek its destruction, many Arabs do not hesitate to express their admiration for the independence of Israel's judicial system.
Comments posted by Arabs and Muslims on the Internet this week revealed how eager they are for their countries to endorse Israeli democracy. Similar reactions were also published when an Israeli court sentenced former Israeli President Moshe Katzav to seven years in prison for sex-related offenses.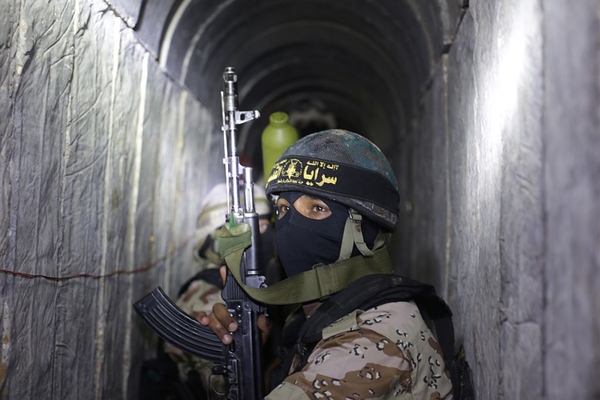 Soon to be reunited in prison? Israel's former President Moshe Katzav (l) and former Prime Minister Ehud Olmert (r) are pictured here during happier times.
Following are some of the comments posted on Arab media and social websites in response to the Olmert verdict:
---
[1] http://samanews.com/ar/index.php?act=post&id=200106
[2] http://www.alquds.co.uk/?p=167721
[3] Ibid.
[4] Ibid.
[5] Ibid.
[6] http://www.alquds.com/news/article/view/id/503904
[7] http://www.alwasatnews.com/4266/news/read/885026/1.html
[8] http://www.echoroukonline.com/ara/articles/204210.html
[9] http://www.alarabiya.net/ar/arab-and-world/2014/05/13/-الفساد-يدخل-أولمرت-إلى-السجن-6-سنوات.html
[10] http://alhayat.com/Articles/2324750/السجن-ست-سنوات-لرئيس-الوزراء-الإسرائيلي-السابق-ايهود-أولمرت
[11] http://www.alwasatnews.com/4266/news/read/885026/1.html
[12] http://www.alaan.cc/pagedetails.asp?nid=187579&cid=46
[13] Ibid.
[14] Ibid.
[15] Ibid.
[16] http://arabic.cnn.com/middleeast/2014/05/15
[17] Ibid.
[18] Ibid.
Related Topics: Israel | Khaled Abu Toameh receive the latest by email: subscribe to the free gatestone institute mailing list
Reader comments on this item
| | | |
| --- | --- | --- |
| Title | By | Date |
| Great compilation [142 words] | Israel L. M. Gonzalez | May 22, 2014 14:53 |
| Taqiyya, or schizophrenia [134 words] | Ron Thompson | May 20, 2014 23:14 |
| Following Israel's lead [22 words] | Ted | May 18, 2014 20:36 |
| You Muslim commenters have got that right... [11 words] | Ron B. | May 18, 2014 05:06 |
| Fatah Pro Isreal? [78 words] | Guy | May 17, 2014 08:27 |
| No, they don't [123 words] | Bart Benschop | May 16, 2014 23:01 |
| Arab democracy [171 words] | Horace Kindler | May 16, 2014 19:48 |
| ↔ The ability to concurrently hold diametrically opposed belief systems [290 words] | Craig | May 18, 2014 17:17 |
| Hurrah! [134 words] | A.T. Halmay | May 16, 2014 16:52 |
| Why focus on Arab comments to this event? [117 words] | Harry Taft | May 16, 2014 15:21 |
| Democracy grows from the bottom up [234 words] | Craig | May 16, 2014 14:44 |
| No such thing as a free lunch [245 words] | Doug Mayfield | May 16, 2014 13:46 |
| Confusion [53 words] | Jim | May 16, 2014 08:22 |
| Tell this to the disingenuous BDS movement [61 words] | Paul Randall | May 16, 2014 08:19 |
| Another informative paper from Khaled AT [29 words] | Yosef ben Israel | May 16, 2014 06:14 |
| A quote from the article: [44 words] | Fedup | May 16, 2014 05:56 |
Comment on this item
Subscribe To Mailing List
Tweets by @GatestoneInst
Subscribe To Mailing List
Latest Articles
by Soeren Kern
Hamas would likely resort to violence to thwart any attempts to disarm the group. It is therefore highly unlikely the Europeans would confront Hamas in any meaningful way.
Spanish intelligence agents met secretly with Hezbollah operatives, who agreed to provide "escorts" to protect Spanish UNIFIL patrols. The quid pro quo was that Spanish troops would look the other way while Hezbollah was allowed to rearm for its next war with Israel. Hezbollah's message to Spain was: mind your own business.
If the European experience with Hezbollah in Lebanon is any indication, not only will Hamas not be disarmed, it will be rearmed as European monitors look on and do nothing.
What is clear is that European leaders have never been committed to honoring either the letter or the spirit of UN Resolutions 1559, 1680 and 1701, all of which were aimed at preventing Hezbollah from rearming.
by Debalina Ghoshal
According to former Bush administration official Stephen Rademaker, for the United States to respond to Russian violations of the treaty by pulling out of it would be "welcome in Moscow," which is "wrestling with the question of how they terminate [the treaty]" and thus, the United States should not make it easier for the Russians to leave.
by Guy Millière
Belgian security services have estimated that the number of European jihadists in Syria may be over 4000.
European leaders have directed their nastiest comments against the Jewish state, none of them has asked why Palestinian organizations in Gaza put their stockpiles of weapons in hospitals, homes, schools and mosques, or their command and control centers at the bottom of large apartment buildings or underneath hospitals. None of them has even said that Hamas is a terrorist organization despite its genocidal charter.
The majority of them are wedded to the idea of redistribution. Their policies are anti-growth, do not afford people any economic opportunity, and are what caused these economic crises in Europe in the first place. The United States seems to be following these thoroughly failed policies as well.
"Europe could not stay the same with a different population in it." — Christopher Caldwell, Reflections on the Revolution in Europe.
by Raymond Ibrahim
"I abducted your girls. I will sell them on the market, by Allah... There is a market for selling humans. Allah says I should sell." — Abubakar Shekau, leader of Boko Haram.
Hillary Clinton repeatedly refused to designate Boko Haram a terrorist organization.
In Malaysia -- regularly portrayed in the West as a moderate Muslim nation -- any attempt to promote religions other than Islam is illegal.
"The reason they want to kill me is very clear -- it is because of being a convert to Christianity." — Hassan Muwanguzi, Uganda.
by Dexter Van Zile
Rev. Hanna Massad does not mention that perhaps Hamas actually wants the blockade to end so it can bring in more weapons and cement to build attack-tunnels so it can "finish the job."
Hamas does not just admit to using human shields, it brags about using human shields. Why does Massad have to inject an air of uncertainty about Hamas's use of human shields when no such uncertainty exists?
The problem is that any self-respecting journalist would confront Massad with a follow-up question about Hamas's ideology and violence, but not the folks at Christianity Today.
Most Shared
Most Viewed