Arabs: We Want Democracy - Like Israel
"How many Arab leaders would be left if they went on trial of similar cases of bribery and corruption?" — Zuhear al-Karim, Arabic CNN.

"If Olmert were in Kuwait, his case would have been shelved and he would have received a senior position in government." — Yasalam, Al-Aan.

"Law is above all and this is real democracy. Israel is the only real democracy in the Middle East." — Saad Sayad, Arabic CNN.
The Tel Aviv District Court's decision to send former Israeli Prime Minister Ehud Olmert to six years in prison for corruption has prompted calls in the Arab world for endorsing Israel's standards of accountability, transparency and justice.
Reacting to the sentencing of Olmert, many Arabs expressed hope that the day would come when their countries would learn from Israel that no one is above the law, even if he or she is a president or prime minister.
Sufian Abu Zayda, a leading Fatah official and former Palestinian Authority minister, praised the court verdict; he said it shows that in Israel, no one is above the law.
"This verdict provides further evidence that the judicial system in Israel is fully independent in the wake of the separation between the legislative, executive and judicial authorities, as well as total freedom of the media," said Abu Zayda, who is considered an expert on Israeli affairs.[1]
The praise for Israel's democratic system does not mean that Abu Zayda and other Arabs have become pro-Israel and are willing to recognize Israel's right to exist.
But while they continue to hate Israel and seek its destruction, many Arabs do not hesitate to express their admiration for the independence of Israel's judicial system.
Comments posted by Arabs and Muslims on the Internet this week revealed how eager they are for their countries to endorse Israeli democracy. Similar reactions were also published when an Israeli court sentenced former Israeli President Moshe Katzav to seven years in prison for sex-related offenses.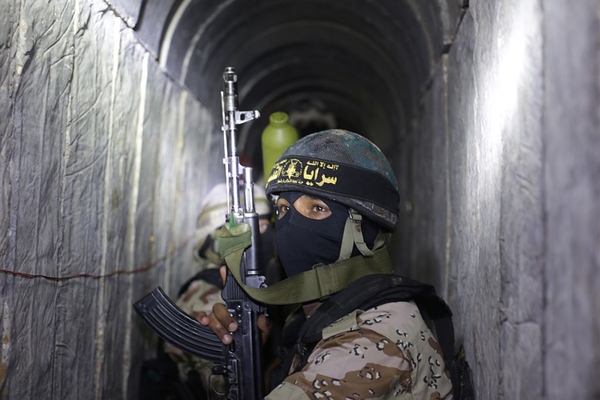 Soon to be reunited in prison? Israel's former President Moshe Katzav (l) and former Prime Minister Ehud Olmert (r) are pictured here during happier times.
Following are some of the comments posted on Arab media and social websites in response to the Olmert verdict:
---
[1] http://samanews.com/ar/index.php?act=post&id=200106
[2] http://www.alquds.co.uk/?p=167721
[3] Ibid.
[4] Ibid.
[5] Ibid.
[6] http://www.alquds.com/news/article/view/id/503904
[7] http://www.alwasatnews.com/4266/news/read/885026/1.html
[8] http://www.echoroukonline.com/ara/articles/204210.html
[9] http://www.alarabiya.net/ar/arab-and-world/2014/05/13/-الفساد-يدخل-أولمرت-إلى-السجن-6-سنوات.html
[10] http://alhayat.com/Articles/2324750/السجن-ست-سنوات-لرئيس-الوزراء-الإسرائيلي-السابق-ايهود-أولمرت
[11] http://www.alwasatnews.com/4266/news/read/885026/1.html
[12] http://www.alaan.cc/pagedetails.asp?nid=187579&cid=46
[13] Ibid.
[14] Ibid.
[15] Ibid.
[16] http://arabic.cnn.com/middleeast/2014/05/15
[17] Ibid.
[18] Ibid.
Related Topics: Israel | Khaled Abu Toameh receive the latest by email: subscribe to the free gatestone institute mailing list
Reader comments on this item
| | | |
| --- | --- | --- |
| Title | By | Date |
| Great compilation [142 words] | Israel L. M. Gonzalez | May 22, 2014 14:53 |
| Taqiyya, or schizophrenia [134 words] | Ron Thompson | May 20, 2014 23:14 |
| Following Israel's lead [22 words] | Ted | May 18, 2014 20:36 |
| You Muslim commenters have got that right... [11 words] | Ron B. | May 18, 2014 05:06 |
| Fatah Pro Isreal? [78 words] | Guy | May 17, 2014 08:27 |
| No, they don't [123 words] | Bart Benschop | May 16, 2014 23:01 |
| Arab democracy [171 words] | Horace Kindler | May 16, 2014 19:48 |
| ↔ The ability to concurrently hold diametrically opposed belief systems [290 words] | Craig | May 18, 2014 17:17 |
| Hurrah! [134 words] | A.T. Halmay | May 16, 2014 16:52 |
| Why focus on Arab comments to this event? [117 words] | Harry Taft | May 16, 2014 15:21 |
| Democracy grows from the bottom up [234 words] | Craig | May 16, 2014 14:44 |
| No such thing as a free lunch [245 words] | Doug Mayfield | May 16, 2014 13:46 |
| Confusion [53 words] | Jim | May 16, 2014 08:22 |
| Tell this to the disingenuous BDS movement [61 words] | Paul Randall | May 16, 2014 08:19 |
| Another informative paper from Khaled AT [29 words] | Yosef ben Israel | May 16, 2014 06:14 |
| A quote from the article: [44 words] | Fedup | May 16, 2014 05:56 |
Comment on this item
Subscribe To Mailing List
Tweets by @GatestoneInst
Latest Articles
by Douglas Murray
If Ayaan Hirsi Ali is not qualified to speak about Islam, then who is? The answer is that the only figure they might accept is someone who does not make any criticisms of Islam.
Her criticisms are often raw because they are true. Able to do nothing about the truth, they try to silence the truth-teller.
by Nir Boms and Shayan Arya
Acknowledging the new ISIS danger while ignoring Iran's role in fomenting sectarian conflict in Syria and Iraq is not only shortsighted but dangerous. ISIS is not about to acquire nuclear capability, at least yet. Iran is.
If ISIS, a 25,000-strong militia, poses a serious threat, how can one disregard the 550,000-strong military of the soon-to-be nuclear Iranian regime?
The International Atomic Energy Agency issued a confidential report, which states that "little progress is being made," and that the Iran has implemented only three out of five nuclear transparency steps to which it had committed to completing before August 25. Does the West actually no longer view a nuclear Iran as a pressing threat?
by Burak Bekdil
"Why are you running away, you sperm of Israel?" — President Recep Tayyip Erdogan, to a Muslim protestor.
"Being a sperm of Israel in Turkey means... to get used to living on hate speech, insults and curses every day; held accountable for every act of the Israeli government although you may never even have stepped foot in Israel; treated as a 'foreigner' in the country where you were born, served in the military and you pay taxes." — Vedat Haymi Behar, digital marketing solutions coordinator, in Radikal.
by Malcolm Lowe
The losers are declaring war on all who disagree with them. They have adopted Salmond's attempts to pit one part of the population against another: not just young against old, but manual workers against the middle classes, city slum dwellers against country people, men against women, any section of the population that preferred Yes against another section that did the opposite.
The foolish devotion of Labour councilors to Palestinian militancy paved the way for nationalist mania.
Most Shared
Most Viewed