ISIS Threatens to Invade Jordan, 'Slaughter' King Abdullah
Translations of this item:
The recent victories in Iraq and Syria by the terrorists of ISIS -- said to be an offshoot of al-Qaeda -- have emboldened the group and its followers throughout the Middle East. Now the terrorists are planning to move their jihad not only to Jordan, but also to the Gaza Strip, Sinai and Lebanon.

Failure to act will result in the establishment in the Middle East of a dangerous extremist Islamic empire that will pose a threat to American and Western interests.

"The danger is getting closer to our bedrooms." — Oraib al-Rantawi, Jordanian political analyst
Islamist terrorists in Iraq and Syria have begun creeping toward neighboring countries, sources close to the Islamic fundamentalists revealed this week.
The terrorists, who belong to The Islamic State of Iraq and Syria [ISIS -- known as DAESH in Arabic] and are said to be an offshoot of al-Qaeda, are planning to take their jihad to Jordan, Lebanon, the Gaza Strip and the Sinai Peninsula -- after having already captured large parts of Syria and Iraq, the sources said.
The capture this week by ISIS of the cities of Mosul and Tikrit in Iraq has left many Arabs and Muslims in the region worried that their countries soon may be targeted by the terrorists, who seek to create a radical Islamist emirate in the Middle East.
According to the sources, ISIS leader Abu Baker al-Baghdadi recently discussed with his lieutenants the possibility of extending the group's control beyond Syria and Iraq.
One of the ideas discussed envisages focusing ISIS's efforts on Jordan, where Islamist movements already have a significant presence. Jordan was also chosen because it has shared borders with Iraq and Syria, making it easier for the terrorists to infiltrate the kingdom.
Jordanian political analyst Oraib al-Rantawi sounded alarm bells by noting that the ISIS threat to move its fight to the kingdom was real and imminent. "We in Jordan cannot afford the luxury of just waiting and monitoring," he cautioned. "The danger is getting closer to our bedrooms. It has become a strategic danger; it is no longer a security threat from groups or cells. We must start thinking outside the box. The time has come to increase coordination and cooperation with the regimes in Baghdad and Damascus to contain the crawling of extremism and terrorism."
The ISIS terrorists see Jordan's Western-backed King Abdullah as an enemy of Islam and an infidel, and have publicly called for his execution. ISIS terrorists recently posted a video on YouTube in which they threatened to "slaughter" Abdullah, whom they denounced as a "tyrant." Some of the terrorists who appeared in the video were Jordanian citizens who tore up their passports in front of the camera and vowed to launch suicide attacks inside the kingdom.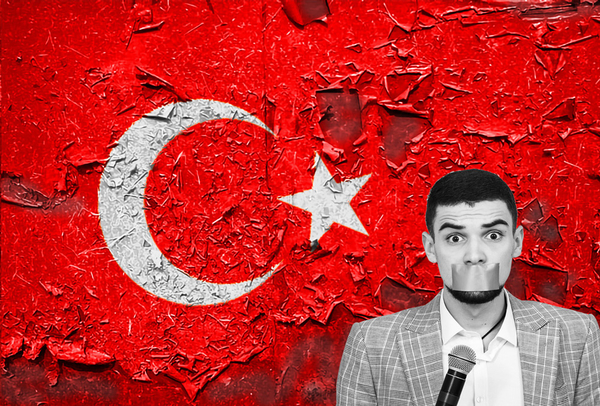 A Jordanian ISIS terrorist wearing a suicide bomb belt and holding his Jordanian passport declares his willingness to wage jihad in an ISIS video. (Image source: All Eyes on Syria YouTube video)
Security sources in Amman expressed deep concern over ISIS's threats and plans to "invade" the kingdom. The sources said that King Abdullah has requested urgent military aid from the U.S. and other Western countries so that he could foil any attempt to turn Jordan into an Islamist-controlled state.
Marwan Shehadeh, an expert on Islamist groups, said he did not rule out the possibility that ISIS would target Jordan because it views the Arab regimes, including Jordan's Hashemites, as "infidels" and "apostates" who should be fought.
The recent victories by ISIS terrorists in Iraq and Syria have emboldened the group and its followers throughout the Middle East. Now the terrorists are planning to move their jihad not only to Jordan, but also to the Gaza Strip, Sinai and Lebanon.
This is all happening under the watching eyes of the U.S. Administration and Western countries, who seem to be uncertain as to what needs to be done to stop the Islamist terrorists from invading neighboring countries.
ISIS is a threat not only to moderate Arabs and Muslims, but also to Israel, which the terrorists say is their ultimate destination. The U.S. and its Western allies need to wake up quickly and take the necessary measures to prevent the Islamist terrorists from achieving their goal.
Failure to act will result in the establishment in the Middle East of a dangerous extremist Islamist empire that will pose a threat to American and Western interests.
Related Topics: Palestinian Authority | Khaled Abu Toameh receive the latest by email: subscribe to the free gatestone institute mailing list
Reader comments on this item
| | | |
| --- | --- | --- |
| Title | By | Date |
| on ISIS threatening Jordan [71 words] | Sammy | Aug 13, 2014 15:54 |
| This is alarming [42 words] | Anonymous | Jun 14, 2014 16:01 |
| ↔ If you think ISIS can conquer the world [98 words] | Moishe Pippick | Jun 17, 2014 00:13 |
| Jihadists are just like Nazis: Jew-hating suprematists [38 words] | Aurora Aronsson | Jun 14, 2014 13:42 |
| Israel, Iran and the US will wait till they are all gathered and packed in nice and close [78 words] | Tex Tillis | Jun 14, 2014 03:21 |
| ↔ Political correctness [15 words] | STEVE | Oct 7, 2014 15:34 |
| Start of Sunni v Shia confrontation unavoidable ....let it run its course [284 words] | Steven Buckley | Jun 12, 2014 13:11 |
| Israel [35 words] | Michael | Jun 12, 2014 12:31 |
| ↔ Israel, but.. [73 words] | Moishe Pippick | Jun 17, 2014 00:09 |
| ↔ Reply to Moishe Pippick, Jun 17, 2014 00:09 [135 words] | Michael | Jun 19, 2014 01:55 |
| ↔ Moishe - something to consider [40 words] | Phillip Slepian | Jun 26, 2014 14:22 |
| ISIS threatens to invade Jordan [207 words] | Caroline Rausch | Jun 12, 2014 11:19 |
| Al Sisi [7 words] | Dorothy | Jun 12, 2014 09:36 |
| Don't hold your breath [82 words] | A.T. Halmay | Jun 12, 2014 07:15 |
| Yes, Mr. President, the jihadist supremacists want an end to mankind because Israel is building homes for its citizens on its own land (not)... [153 words] | Dean | Jun 12, 2014 07:08 |
| Un-answered questions about the ISIS Video [90 words] | Mudar Zahran | Jun 12, 2014 06:54 |
Comment on this item
Subscribe To Mailing List
Tweets by @GatestoneInst
Latest Articles
by Khaled Abu Toameh
To understand what drives a young Palestinian to carry out such a deadly attack, one needs to look at the statements of Palestinian Authority leaders during the past few weeks.
The anti-Israel campaign of incitement reached its peak with Abbas's speech at the UN a few weeks ago, when he accused Israel of waging a "war of genocide" in the Gaza Strip. Abbas made no reference to Hamas's crimes against both Israelis and Palestinians.
Whatever his motives, it is clear that the man who carried out the most recent attack, was influenced by the messages that Abbas and the Palestinian Authority leadership have been sending their people.
by Richard Kemp
Would General Allen -- or any other general today -- recommend contracting out his country's defenses if it were his country at stake? Of course not.
The Iranian regime remains dedicated to undermining and ultimately destroying the State of Israel. The Islamic State also has Israel in its sights and would certainly use the West Bank as a point from which to attack, if it were open to them.
There can be no two-state solution and no sovereign Palestinian Arab state west of the Jordan, however desirable those things might be. The stark military reality is that Israel cannot withdraw its forces from the West Bank.
Fatah leaders ally themselves with the terrorists of Hamas, and, like Hamas, they continue to reject the every existence of the State of Israel.
If Western leaders actually want to help, they should use all diplomatic and economic means to make it clear to the Palestinians that they will never achieve an independent and sovereign state while they remain set on the destruction of the State of Israel.
by Louis René Beres
The Palestine Liberation Organization [PLO], forerunner of today's Palestinian Authority, was founded in 1964, three years before Israel came into the unintended control of the West Bank and Gaza. What therefore was the PLO planning to "liberate"?
Why does no one expect the Palestinians to cease all deliberate and random violence against Israeli civilians before being considered for admission to statehood?
On June 30, 1922, a joint resolution of both Houses of Congress of the United States endorsed a "Mandate for Palestine," confirming the right of Jews to settle anywhere they chose between the Jordan River and the Mediterranean Sea. This is the core American legacy of support for a Jewish State that President Obama now somehow fails to recall.
A sovereign state of Palestine, as identified by the Arabs -- a Muslim land occupied by "Palestinian" Arabs -- has never existed; not before 1948, and not before 1967. From the start, it was, and continues to be, the Arab states -- not Israel -- that became the core impediment to Palestinian sovereignty.
by Timon Dias
It looks as if this new law is meant to serve as a severe roadblock to parties that would like to dismantle the EU in a democratic and peaceful way from within.
A rather dull semantic trick pro-EU figures usually apply, is calling their opponents "anti-Europe."
Most Shared
Most Viewed