ISIS Threatens to Invade Jordan, 'Slaughter' King Abdullah
Translations of this item:
The recent victories in Iraq and Syria by the terrorists of ISIS -- said to be an offshoot of al-Qaeda -- have emboldened the group and its followers throughout the Middle East. Now the terrorists are planning to move their jihad not only to Jordan, but also to the Gaza Strip, Sinai and Lebanon.

Failure to act will result in the establishment in the Middle East of a dangerous extremist Islamic empire that will pose a threat to American and Western interests.

"The danger is getting closer to our bedrooms." — Oraib al-Rantawi, Jordanian political analyst
Islamist terrorists in Iraq and Syria have begun creeping toward neighboring countries, sources close to the Islamic fundamentalists revealed this week.
The terrorists, who belong to The Islamic State of Iraq and Syria [ISIS -- known as DAESH in Arabic] and are said to be an offshoot of al-Qaeda, are planning to take their jihad to Jordan, Lebanon, the Gaza Strip and the Sinai Peninsula -- after having already captured large parts of Syria and Iraq, the sources said.
The capture this week by ISIS of the cities of Mosul and Tikrit in Iraq has left many Arabs and Muslims in the region worried that their countries soon may be targeted by the terrorists, who seek to create a radical Islamist emirate in the Middle East.
According to the sources, ISIS leader Abu Baker al-Baghdadi recently discussed with his lieutenants the possibility of extending the group's control beyond Syria and Iraq.
One of the ideas discussed envisages focusing ISIS's efforts on Jordan, where Islamist movements already have a significant presence. Jordan was also chosen because it has shared borders with Iraq and Syria, making it easier for the terrorists to infiltrate the kingdom.
Jordanian political analyst Oraib al-Rantawi sounded alarm bells by noting that the ISIS threat to move its fight to the kingdom was real and imminent. "We in Jordan cannot afford the luxury of just waiting and monitoring," he cautioned. "The danger is getting closer to our bedrooms. It has become a strategic danger; it is no longer a security threat from groups or cells. We must start thinking outside the box. The time has come to increase coordination and cooperation with the regimes in Baghdad and Damascus to contain the crawling of extremism and terrorism."
The ISIS terrorists see Jordan's Western-backed King Abdullah as an enemy of Islam and an infidel, and have publicly called for his execution. ISIS terrorists recently posted a video on YouTube in which they threatened to "slaughter" Abdullah, whom they denounced as a "tyrant." Some of the terrorists who appeared in the video were Jordanian citizens who tore up their passports in front of the camera and vowed to launch suicide attacks inside the kingdom.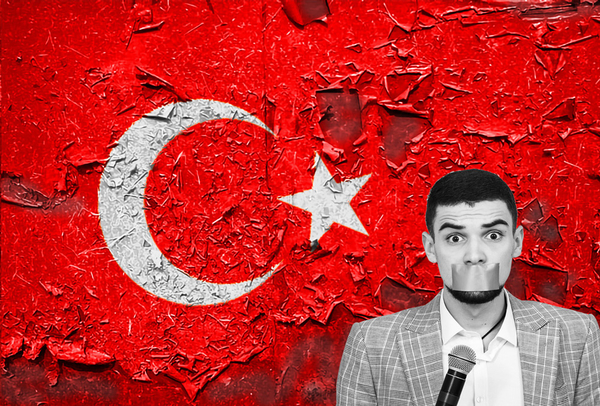 A Jordanian ISIS terrorist wearing a suicide bomb belt and holding his Jordanian passport declares his willingness to wage jihad in an ISIS video. (Image source: All Eyes on Syria YouTube video)
Security sources in Amman expressed deep concern over ISIS's threats and plans to "invade" the kingdom. The sources said that King Abdullah has requested urgent military aid from the U.S. and other Western countries so that he could foil any attempt to turn Jordan into an Islamist-controlled state.
Marwan Shehadeh, an expert on Islamist groups, said he did not rule out the possibility that ISIS would target Jordan because it views the Arab regimes, including Jordan's Hashemites, as "infidels" and "apostates" who should be fought.
The recent victories by ISIS terrorists in Iraq and Syria have emboldened the group and its followers throughout the Middle East. Now the terrorists are planning to move their jihad not only to Jordan, but also to the Gaza Strip, Sinai and Lebanon.
This is all happening under the watching eyes of the U.S. Administration and Western countries, who seem to be uncertain as to what needs to be done to stop the Islamist terrorists from invading neighboring countries.
ISIS is a threat not only to moderate Arabs and Muslims, but also to Israel, which the terrorists say is their ultimate destination. The U.S. and its Western allies need to wake up quickly and take the necessary measures to prevent the Islamist terrorists from achieving their goal.
Failure to act will result in the establishment in the Middle East of a dangerous extremist Islamist empire that will pose a threat to American and Western interests.
Related Topics: Palestinian Authority | Khaled Abu Toameh receive the latest by email: subscribe to the free gatestone institute mailing list
Reader comments on this item
| | | |
| --- | --- | --- |
| Title | By | Date |
| on ISIS threatening Jordan [71 words] | Sammy | Aug 13, 2014 15:54 |
| This is alarming [42 words] | Anonymous | Jun 14, 2014 16:01 |
| ↔ If you think ISIS can conquer the world [98 words] | Moishe Pippick | Jun 17, 2014 00:13 |
| Jihadists are just like Nazis: Jew-hating suprematists [38 words] | Aurora Aronsson | Jun 14, 2014 13:42 |
| Israel, Iran and the US will wait till they are all gathered and packed in nice and close [78 words] | Tex Tillis | Jun 14, 2014 03:21 |
| Start of Sunni v Shia confrontation unavoidable ....let it run its course [284 words] | Steven Buckley | Jun 12, 2014 13:11 |
| Israel [35 words] | Michael | Jun 12, 2014 12:31 |
| ↔ Israel, but.. [73 words] | Moishe Pippick | Jun 17, 2014 00:09 |
| ↔ Reply to Moishe Pippick, Jun 17, 2014 00:09 [135 words] | Michael | Jun 19, 2014 01:55 |
| ↔ Moishe - something to consider [40 words] | Phillip Slepian | Jun 26, 2014 14:22 |
| ISIS threatens to invade Jordan [207 words] | Caroline Rausch | Jun 12, 2014 11:19 |
| Al Sisi [7 words] | Dorothy | Jun 12, 2014 09:36 |
| Don't hold your breath [82 words] | A.T. Halmay | Jun 12, 2014 07:15 |
| Yes, Mr. President, the jihadist supremacists want an end to mankind because Israel is building homes for its citizens on its own land (not)... [153 words] | Dean | Jun 12, 2014 07:08 |
| Un-answered questions about the ISIS Video [90 words] | Mudar Zahran | Jun 12, 2014 06:54 |
Comment on this item
Subscribe To Mailing List
Tweets by @GatestoneInst
Latest Articles
by Soeren Kern
"My son and I love life with the beheaders." — British jihadist Sally Jones.
Mujahidah Bint Usama published pictures of herself on Twitter holding a severed head while wearing a white doctor's jacket; alongside it, the message: "Dream job, a terrorist doc."
British female jihadists are now in charge of guarding as many as 3,000 non-Muslim Iraqi women and girls held captive as sex slaves.
"The British women are some of the most zealous in imposing the IS laws in the region. I believe that's why at least four of them have been chosen to join the women police force." — British terrorism analyst Melanie Smith.
by Khaled Abu Toameh
"Armed robbery in broad daylight." — Palestinians, after Hamas "seized" $750,000 from Gaza bank.
Fatah accused Hamas of "squandering" $700 million of financial aid earmarked for the Palestinian victims of war. Fatah wants to ensure that the millions of dollars intended for the Gaza Strip will pass through its hands and not end up in Hamas's bank accounts. Relying on Fatah in this regard is like asking a cat to guard the milk.
The head of the Palestinian Authority's Anti-Corruption Commission revealed that his group has retrieved $70 million of public funds fund embezzled by Palestinian officials. Arab and Western donors need to make sure that their money does not end up (once again) in the wrong hands. Without a proper mechanism of accountability and transparency, hundreds of millions of dollars are likely to find their way into the bank accounts of both Hamas and Fatah leaders.
by Mudar Zahran
"If Hamas does not like you for any reason all they have to do now is say you are a Mossad agent and kill you." — A., a Fatah member in Gaza.
"Hamas wanted us butchered so it could win the media war against Israel showing our dead children on TV and then get money from Qatar." — T., former Hamas Ministry officer.
"They would fire rockets and then run away quickly, leaving us to face Israeli bombs for what they did." — D., Gazan journalist.
"Hamas imposed a curfew: anyone walking out in the street was shot. That way people had to stay in their homes, even if they were about to get bombed. Hamas held the whole Gazan population as a human shield." — K., graduate student
"The Israeli army allows supplies to come in and Hamas steals them. It seems even the Israelis care for us more than Hamas." — E., first-aid volunteer.
"We are under Hamas occupation, and if you ask most of us, we would rather be under Israeli occupation… We miss the days when we were able to work inside Israel and make good money. We miss the security and calm Israel provided when it was here." — S., graduate of an American university, former Hamas sympathizer.
by Ben Cohen
Now, with the Islamic State's self-proclaimed caliphate having captured key oil wells in the Middle East this year, foreign oil has become an even more lethal financial weapon-of-choice for those seeking to destroy democracy and further escalate the War on Terror.
That President Barack Obama failed even to mention oil as a critical factor in the war against IS during his speech to the nation on September 10, is an omission both revealing and dangerous in terms of how his administration wants to depict the stakes involved in this latest confrontation with the jihadis.
by Lawrence A. Franklin
One Pakistani recruiter of child suicide bombers describes these children as "tools provided by God."
Another Muslim cleric in a madrassa [Islamic boys' school] describes child suicide bombers as "a gift from Allah that we have an unlimited number willing to be sacrificed to teach Americans a lesson."
Using children as suicide bombers will stop when... they stop "condoning the killing of innocents."
Most Shared
Most Viewed