Hamas Mega-Attack Planned through Gaza Terror Tunnels
IDF Excavation of the tunnels has resulted in the seizure of tons of Hamas supplies as well as the discovery of plans for future operations.
Hamas had apparently been preparing a murderous assault on Israeli civilian targets for the coming Jewish New Year Holiday, Rosh Hashanah, which begins on September 24, according anonymous sources in the Israeli security services, as reported today by the Israeli daily Maariv.
The Hamas plan consisted of what was to be a surprise attack in which 200 fighters would be dispatched through each of dozens of tunnels dug by Hamas under the border from Gaza to Israel, and seize kibbutzim and other communities while killing and kidnapping Israeli civilians.
Israeli soldiers already frustrated a surprise assault by Hamas through one tunnel from Gaza into the Eshkol district of Israel on July 19. The Hamas fighters escaped back into the tunnel, but the clash cost the lives of two Israel Defense Force [IDF] troops.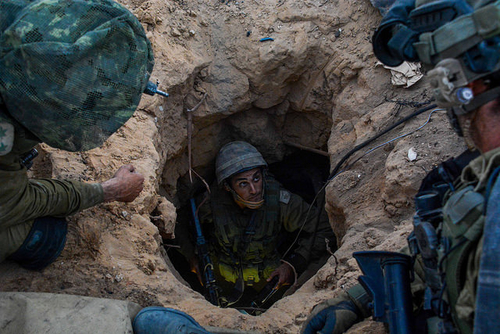 An IDF paratrooper officer emerges from a Hamas cross-border tunnel that his unit discovered, July 20, 2014. (Image source: IDF)
Israel has reportedly discovered at least 30 tunnels, and has destroyed several of them by employing bulldozers. IDF excavation of the tunnels has resulted in the seizure of tons of Hamas supplies, as well as the discovery of plans for future operations. Clearly, the network of tunnels -- using hundreds of tons of concrete that might otherwise have been used by the Palestinians for building homes, shopping malls, parks, schools, hospitals and libraries -- indicates that Hamas had been preparing for an ongoing conflict for at least a year. According to the reports, each tunnel has arteries, veins, offshoots, and offshoots of the offshoots in intricate and complex arrangements. As one Israeli spokesman said, "There are two Gazas, one above ground and one below ground: an underground terrorist city."
Related Topics: Israel, Palestinian Authority | Lawrence A. Franklin receive the latest by email: subscribe to the free gatestone institute mailing list
Reader comments on this item
| | | |
| --- | --- | --- |
| Title | By | Date |
| Politically correct my foot. [86 words] | Hanna | Jul 28, 2014 06:21 |
| Hamas continuing to work for long time for war. [40 words] | rodney allsworth | Jul 27, 2014 19:09 |
| Teaching hate [61 words] | robbie | Jul 27, 2014 02:05 |
| Blindness or political agenda. [579 words] | James | Jul 26, 2014 13:35 |
| ↔ People are stupid [125 words] | Miroslava Jurcik | Jul 28, 2014 22:21 |
| tunnels [84 words] | Dean Jones | Jul 26, 2014 13:33 |
| Negotiate! How? [130 words] | Terence Curry | Jul 26, 2014 08:11 |
| Flood the tunnels [8 words] | Alec Berg | Jul 26, 2014 04:39 |
| ↔ divert sewers to tunnels [17 words] | mikeh420 | Jul 27, 2014 23:16 |
| Making productive use of tunnels [18 words] | andrew | Jul 25, 2014 21:13 |
| Where are they? [276 words] | Jim | Jul 25, 2014 18:38 |
| Taxpayer money being sent to Hamas? [69 words] | Clement Osunbade | Jul 25, 2014 17:06 |
| let Israel do its job once and for all.. [34 words] | Myron | Jul 25, 2014 12:30 |
| Destroy Hamas [91 words] | Anonymous | Jul 25, 2014 11:46 |
| Hamas Mega-Attack Planned Through Gaza Terror Tunnels [447 words] | Caroline Rausch | Jul 25, 2014 11:39 |
| Israel and Gaza [115 words] | Markus E Brajtman | Jul 25, 2014 11:31 |
| God bless the IDF [41 words] | Bo | Jul 25, 2014 11:15 |
| How did they conceal the building [37 words] | Ivan Lubash | Jul 25, 2014 11:10 |
| ↔ Who could have known where Hamas used the concrete? [70 words] | Leonard Bustin | Jul 27, 2014 09:06 |
| ↔ how [21 words] | Raymond Babcock | Aug 3, 2014 08:02 |
| Disengagement to Sanctuary for HAMAS [58 words] | Kenneth Mathews | Jul 25, 2014 10:52 |
| War Tunnels [72 words] | DockyWocky | Jul 25, 2014 10:27 |
| Take back Gaza [59 words] | Rita | Jul 25, 2014 10:21 |
| ↔ God Bless Israel [143 words] | Jim Stupple | Jul 26, 2014 18:34 |
| ↔ Defending Your Family [85 words] | James Brown | Jul 31, 2014 15:32 |
| Command & Control. Or the lack there of. [49 words] | EthanP | Jul 25, 2014 10:15 |
| Israel is for peace; Hamas is for war [299 words] | Mike Ramirez | Jul 25, 2014 10:05 |
| Time for The Bunker Bombs [72 words] | Carl | Jul 25, 2014 10:00 |
Comment on this item
Subscribe To Mailing List
Tweets by @GatestoneInst
Latest Articles
by Khaled Abu Toameh
To understand what drives a young Palestinian to carry out such a deadly attack, one needs to look at the statements of Palestinian Authority leaders during the past few weeks.
The anti-Israel campaign of incitement reached its peak with Abbas's speech at the UN a few weeks ago, when he accused Israel of waging a "war of genocide" in the Gaza Strip. Abbas made no reference to Hamas's crimes against both Israelis and Palestinians.
Whatever his motives, it is clear that the man who carried out the most recent attack, was influenced by the messages that Abbas and the Palestinian Authority leadership have been sending their people.
by Richard Kemp
Would General Allen -- or any other general today -- recommend contracting out his country's defenses if it were his country at stake? Of course not.
The Iranian regime remains dedicated to undermining and ultimately destroying the State of Israel. The Islamic State also has Israel in its sights and would certainly use the West Bank as a point from which to attack, if it were open to them.
There can be no two-state solution and no sovereign Palestinian Arab state west of the Jordan, however desirable those things might be. The stark military reality is that Israel cannot withdraw its forces from the West Bank.
Fatah leaders ally themselves with the terrorists of Hamas, and, like Hamas, they continue to reject the every existence of the State of Israel.
If Western leaders actually want to help, they should use all diplomatic and economic means to make it clear to the Palestinians that they will never achieve an independent and sovereign state while they remain set on the destruction of the State of Israel.
by Louis René Beres
The Palestine Liberation Organization [PLO], forerunner of today's Palestinian Authority, was founded in 1964, three years before Israel came into the unintended control of the West Bank and Gaza. What therefore was the PLO planning to "liberate"?
Why does no one expect the Palestinians to cease all deliberate and random violence against Israeli civilians before being considered for admission to statehood?
On June 30, 1922, a joint resolution of both Houses of Congress of the United States endorsed a "Mandate for Palestine," confirming the right of Jews to settle anywhere they chose between the Jordan River and the Mediterranean Sea. This is the core American legacy of support for a Jewish State that President Obama now somehow fails to recall.
A sovereign state of Palestine, as identified by the Arabs -- a Muslim land occupied by "Palestinian" Arabs -- has never existed; not before 1948, and not before 1967. From the start, it was, and continues to be, the Arab states -- not Israel -- that became the core impediment to Palestinian sovereignty.
by Timon Dias
It looks as if this new law is meant to serve as a severe roadblock to parties that would like to dismantle the EU in a democratic and peaceful way from within.
A rather dull semantic trick pro-EU figures usually apply, is calling their opponents "anti-Europe."
Most Shared
Most Viewed