The Gaza War: Appearance vs. Reality
Why is Hamas putting its weapons in the middle of homes, schools, hospitals and mosques in the first place?

Palestinian violence has been persistent in violating all rules of engagement, despite the signed Oslo II Interim Agreement of 1995, Article XIV of which states that the West Bank and the Gaza Strip shall be completely demilitarized.
Now that the dust has begun to settle in Gaza after Israel's Operation Protective Edge, it is again easy to feel sorry for the beleaguered Palestinians. As everyone knows who looks at The New York Times and CNN, the lingering images are incontestably painful, and continue to look "asymmetrical" and "disproportionate."
How could Hamas have been the aggressor when so many more Arabs than Israelis were killed? Surely the side with greater civilian losses must always be in the right. How could it be otherwise?
The people of Gaza (together with those many Israelis still forced to live under terrorist rocket attacks) are indeed victims of regional violence. But their victimization was not caused by any outside enemy. On the contrary, Palestinian suffering remains the direct result of a criminal Hamas leadership. Why is Hamas putting its weapons in the middle of homes, schools, hospitals and mosques in the first place?
Moreover, this Palestinian leadership sits safely away from Gaza, either tucked away in Qatar or the comfortable parts of Europe. "Martyrdom" is always welcomed, as long as it is someone else's.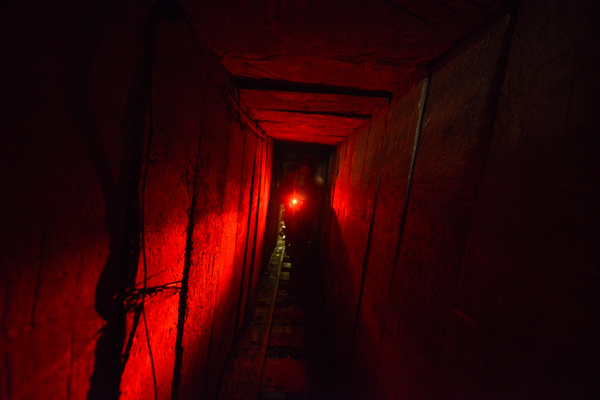 Israeli soldiers inspect a concrete-reinforced tunnel that was dug by Hamas from Gaza to Israel, in preparation for a terror attack, August 3, 2014. (Image source: IDF)
Contrary to carefully scripted outbursts from Hamas, Israel's defensive responses were never gratuitous or contrived. Unlike their adversaries, Israelis receive absolutely no joy from killing others. Hamas, Islamic Jihad and related terror groups operating from Gaza, on the contrary, always seem to take calculated steps to ensure that Israeli reprisals will kill or injure Palestinian noncombatants. By directing elderly women and young children to those areas in Gaza from which lethal rockets will intentionally be launched into Israeli homes, hospitals, and schools -- with the knowledge that the Israelis will have to return fire to the places from which the fire originated -- Palestinian leaders openly violate the most elementary restrictions of the laws of war. Under international law, holding civilians in front of one as a shield is specified as a crime.
Ironically, these criminals are now proposing to bring Israel's leaders before the International Criminal Court.
Now, after an expectedly inconclusive end to Operation Protective Edge, several major Palestinian terror groups will begin to prepare for expanded attacks on Israel. Such attacks, possibly in cooperation with certain allied jihadist factions (perhaps even with the Islamic State, [IS], which is now slaughtering its way across Iraq), could include chemical or biological weapons of mass destruction. Over time, especially if Iran transfers some of its growing inventory of nuclear materials to terror groups, Israel could even face Palestinian-directed nuclear terrorism, perhaps launched from trucks and ships, as well as from nuclear-tipped rockets and missiles.
Should Iran be permitted to become nuclear-capable, as now seems a certainty, it could send ballistic missiles armed with nuclear warheads against Israel, as it has repeatedly threatened to do, despite the stipulations in the UN Charter that member states are prohibited from threatening each other. Israel's Arrow ballistic missile defense system would require a 100% rate of success, but no such system of perfect reliability is possible.
Israel has always tried during war to keep its essential counterterrorism operations in Gaza consistent with the established rules of international humanitarian law. By contrast, Palestinian violence has been persistent in violating all rules of engagement, despite the signed Oslo II Interim Agreement of 1995, Article XIV of which states that the West Bank and the Gaza Strip shall be completely demilitarized. [1]
Furthermore, although the word "occupation" has been tirelessly repeated in the media for a month, there is no "occupation" of Gaza. Every last Israeli left Gaza in 2005, in the hope that the Palestinians, reciprocally, would finally cease their self-destructive excursions into terror and instead use the opportunity to build a productive state. All restrictions on how goods could enter Gaza grew out of the concern, now seen as justified, that instead of building a productive state of its own, Hamas was using the material it imported to build a city of terror tunnels from which to attack Israel. What country could possibly permit that of a neighbor who keeps pledging to destroy it?
Louis René Beres was educated at Princeton (Ph.D., 1971), and is the author of many books and articles dealing with terrorism and international law. His most recent legal writings can be found in the Harvard National Security Journal (Harvard Law School); Israel Journal of Foreign Affairs; The International Journal of Intelligence and Counterintelligence; The Brown Journal of World Affairs; and Oxford University Press. Professor Beres' popular writings are published in US News & World Report; The Jerusalem Post; The New York Times; and The Atlantic. Dr. Beres was born at the end of World War II in Zürich, Switzerland.
---
[1] 3. Except for the Palestinian Police and the Israeli military forces, no other armed forces shall be established or operate in the West Bank and the Gaza Strip.
4. Except for the arms, ammunition and equipment of the Palestinian Police described in Annex I, and those of the Israeli military forces, no organization, group or individual in the West Bank and the Gaza Strip shall manufacture, sell, acquire, possess, import or otherwise introduce into the West Bank or the Gaza Strip any firearms, ammunition, weapons, explosives, gunpowder or any related equipment, unless otherwise provided for in Annex I.
Related Topics: Israel, Palestinian Authority | Louis René Beres receive the latest by email: subscribe to the free gatestone institute mailing list
Reader comments on this item
| | | |
| --- | --- | --- |
| Title | By | Date |
| Why does Hamas put missiles, tunnels with the public? [173 words] | julea bacall | Aug 20, 2014 05:05 |
| The Hamas Urban Warfare Manual encourages use of civilians to stop the IDF [124 words] | Moll | Aug 19, 2014 21:00 |
| Reality is unimportant [25 words] | Sylvia Quastel | Aug 19, 2014 13:49 |
| Hamas is not alone [302 words] | Franck Prissert | Aug 19, 2014 11:22 |
| We are Not living in a world Governed by Reason [176 words] | Elisheva | Aug 19, 2014 11:11 |
| Media Gumption Outdoes Chutzpah [51 words] | Holy Shirt | Aug 19, 2014 11:01 |
| A lot of Victims [110 words] | Andrew T. Halmay | Aug 19, 2014 10:25 |
| Wake up, world! [39 words] | Martin Bookspan | Aug 19, 2014 10:22 |
| Revolution [106 words] | Ugh | Aug 19, 2014 10:02 |
| appeasement 80 years on [117 words] | jane | Aug 19, 2014 09:28 |
| What the West believes [60 words] | Gabby Klein | Aug 19, 2014 09:18 |
| PR campaign [73 words] | Len Sive | Aug 19, 2014 08:56 |
| fabricated evidential photos [119 words] | DockyWocky | Aug 19, 2014 08:38 |
| The Gaza War [16 words] | Ariane Hechter | Aug 19, 2014 06:46 |
| Those that defame and incite should be brought to task [135 words] | fiorella massey | Aug 19, 2014 06:39 |
| Why does the West support Hamas at the expense of the people of Gaza? [251 words] | Nomi Benari | Aug 19, 2014 06:27 |
| ↔ Truth versus personal safety. [136 words] | Laura | Aug 20, 2014 09:46 |
Comment on this item
Subscribe To Mailing List
Tweets by @GatestoneInst
Latest Articles
by Soeren Kern
Austria has emerged as a major base for radical Islam and as a central hub for European jihadists to fight in Syria.
The proposed revisions would, among other changes, regulate the training and hiring of Muslim clerics, prohibit the foreign funding of mosques, and establish an official German-language version of the Koran to prevent its "misinterpretation" by Islamic extremists.
Muslims would be prohibited from citing Islamic sharia law as legal justification for ignoring or disobeying Austrian civil laws.
Leaders of Austria's Muslim community counter that the contemplated new law amounts to "institutionalized Islamophobia."
Official statistics show that nearly 60% of the inhabitants of Vienna are immigrants or foreigners. The massive demographic and religious shift underway in Austria, traditionally a Roman Catholic country, appears irreversible.
by Samuel Westrop
Over 800 Iranians were executed during President Rouhani's first year in office.
Leading politicians, British government officials and businessmen nevertheless seemed happy to attend and speak at the Europe-Iran Forum.
by Khaled Abu Toameh
The "Arab Spring" did not erupt as a result of the Israeli-Palestinian conflict. Rather, it was the outcome of decades of tyranny and corruption in the Arab world. The Tunisians, Egyptians, Libyans and Yemenis who removed their dictators from power did not do so because of the lack of a "two-state solution." This is the last thing they had in mind.
The thousands of Muslims who are volunteering to join the Islamic State [IS] are not doing so because they are frustrated with the lack of progress in the Israeli-Palestinian peace talks.
The only solution the Islamic State believes in is a Sunni Islamic Caliphate where the surviving non-Muslims who are not massacred would be subject to sharia law.
What Kerry perhaps does not know is that the Islamic State is not interested in the Israeli-Palestinian conflict at all. Unlike Kerry, Sunni scholars fully understand that the Islamic State has more to do with Islam and terrorism than with any other conflict.
by Steven J. Rosen
Palestinian officials have generally been silent about security cooperation with Israel. They are loath to acknowledge how important it is for the survival of the Palestinian Authority [PA], and fear that critics, especially Hamas, will consider it "collaboration with the enemy."
"You smuggle weapons, explosives and cash to the West Bank, not for the fight with Israel, but for a coup against the Palestinian Authority. The Israeli intelligence chief visited me two weeks ago and told me about the [Hamas] group they arrested that was planning for a coup... We have a national unity government and you are thinking about a coup against me." — Mahmoud Abbas, PA President, to Khaled Mashaal, Hamas leader.
According to Israeli Defense Minister Moshe Ya'alon, if the IDF leaves the West Bank, Hamas will take over, and other terrorists groups such as the Islamic Jihad, Al-Qaeda and Islamic State would operate there.
In recent months, Abbas has been making a series of threats against Israel. If Abbas becomes another Arafat, it could be the Israeli side that loses interest in security cooperation.
Most Shared
Most Viewed