What could possibly be said against a leader who supports and encourages art, especially music, singing and dancing of youths? A leader who does so, particularly one from the Arab world, should be commended for such efforts.
The catch: except when a leader says that supporting singers and musicians takes precedence over solving basic problems facing hundreds of thousands of his people.
Take, for example, the case of Palestinian Authority (PA) President Mahmoud Abbas, who recently visited Beirut for talks with Lebanese leaders on a wide range of issues pertaining to bilateral relations and the status of more than 500,000 Palestinians living in extremely harsh conditions in numerous refugee camps throughout Lebanon. Many of the camps have long been "no-go zones" for the Lebanese security forces; this situation has turned them into bases for anarchy, lawlessness and a home for various rival armed gangs, which sometimes kill each other.
During his three-day visit to Lebanon, President Abbas held a series of meetings with Lebanese President Michel Aoun and scores of Lebanese government officials and politicians. He also met with some representatives of the Palestinian community in Lebanon. Abbas, however, steered clear of any of the refugee camps, where Palestinians are deprived of basic rights, particularly employment.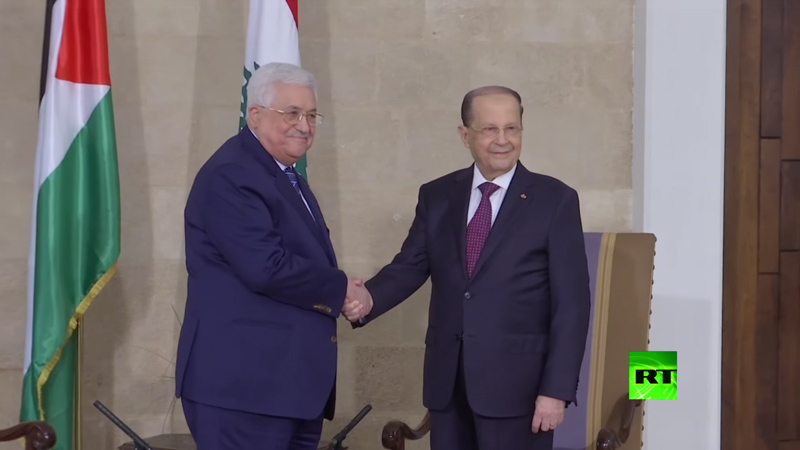 Palestinian Authority President Mahmoud Abbas (left) meets in Beirut with Lebanon's President Michel Aoun (right), on February 23, 2017. (Image source: RT video screenshot)
Striking to many Palestinians was that Abbas did find time to meet with three young men participating in the hugely popular Arab Idol show, based on the British show Pop Idol. One of the contestants, Yacoub Shaheen, is from Bethlehem, while the second, Ameer Dandan, is an Arab citizen of Israel, from the Galilee. The third contestant, Mohammed Alazaki, is from Yemen. (Shaheen, a Palestinian Christian, won the television song contest).
It was not Abbas's meeting with the Arab Idol contestants that sparked a wave of denunciations from Palestinians. Rather, it was his failure to set foot in any of the refugee camps surrounding Beirut or in other parts of Lebanon. Many Palestinians suspect that Abbas timed his visit to Lebanon so that he could meet with the Arab Idol contestants and be there when the identity of the winner was announced. They noted that Abbas is a big fan of the television show and has been closely following it for the past few years. His son, Yasser, and several senior Palestinian figures often travel to Beirut to attend Arab Idol. On his visit to Beirut, Abbas also found time to meet and exchange jokes with the famous Emirati singer Ahlam, who is also one of the judges on the Arab Idol show.
Abbas's enthusiasm for the singers and the Arab Idol show is downright heartwarming. Many Palestinians, however, were left wondering about compassion for the hundreds of thousands of Palestinians living in Lebanon and who are being exposed to apartheid, discriminatory laws and severe restrictions that have turned their refugee camps into ghettos. Time on these diplomatic visits is rather limited: how, they wonder, did Arab Idol contestants and Ahlam the singer and judge make the cut, and the suffering compatriots did not?
Sufian Abu Zayda, a top Fatah official from the Gaza Strip, commented:
"From my point of view, there is no problem with President Abbas's care for art and singers, including following the Arab Idol show or any other program. Nor is there a problem if President Abbas devotes time for a meeting with the esteemed singer, Ahlam. The problem is that Abbas is not the president of Sweden or Norway that he can afford so much time on a television show. Is it conceivable that a Palestinian president would visit Lebanon for talks with Lebanese officials without going to see his people in the refugee camps, some of which are very close to the studios of Arab Idol?"
Abu Zayda's views have since been echoed by a large number of Palestinians, who see Abbas's intentional ignoring of the Palestinian refugees in Lebanon as part of the Palestinian leadership's long-standing policy of turning its back on the plight of its people and preferring to deal with "trivial" issues. While Abbas was in Lebanon, armed clashes erupted between Abbas loyalists and followers of his chief rival, Mohammed Dahlan, in the Ain Al-Hilweh refugee camp. At least one person was killed and three wounded in the confrontation.
Abbas, in fact, had no time to deal with the deteriorating security situation in the refugee camp because he was too busy thinking about who would win the Arab Idol contest (Palestinians argue his preferred candidate was Yacoub Shaheen from Bethlehem).
"We thought President Abbas and the entire Palestinian leadership came to Beirut to discuss the tragic conditions of the Palestinians in the refugee camps," wrote a number of Palestinians on social media. "But we soon discovered that the real purpose of the visit was to attend Arab Idol. What a disgrace!"
Referring to Abbas's obsession with Arab Idol, other Palestinians launched a hashtag on Twitter: #AbbasFollowUsToo. The goal of the campaign is to express Palestinians' disappointment with their leaders' carelessness and disdain.
Palestinian leaders have long ignored the plight of their people in Lebanon and other Arab countries. In Lebanon, the living conditions of the Palestinians are unquestionably inhumane. According to the United Nations Relief and Works Agency for Palestine Refugees (UNRWA), Palestinians in Lebanon
"do not enjoy several important rights; for example, they cannot work in as many as 20 professions... Around 53 percent of the Palestinians in Lebanon live in 12 refugee camps, all of which suffer from serious problems, including poverty, overcrowding, unemployment, poor housing conditions and lack of infrastructure."
Abbas, however, is nothing if not savvy. He knows very well that if he had so much as set foot in a refugee camp in Lebanon, it might have been the last step he would ever take. So he was smart to stay away from the refugee camps, where his people bleed and which have become militia bases for armed gangs that are affiliated with so many groups, including his own Fatah faction.
Yet, it is not only Lebanese refugee camps in which Abbas feels a bit edgy. Similar camps in the West Bank and the Gaza Strip are also teeming with bitterness. The residents are furious with their leaders, who have kept them there for decades, lying to them about a mythical return to their forbears' homes in Jaffa, Haifa, Acre and Ramle. That is the real reason Abbas and other Arab leaders stay as far as possible from these miserable holding-pens. That is also why Palestinian leaders do not care if Lebanon or any other Arab country treats Palestinians as second- or third-class "citizens" (Palestinians in any case cannot be citizens because, with the exception of Jordan, Arab countries deny them the right to citizenship). And that is why Abbas would rather spend time with Arab singers and Arab Idol contestants than confront those he betrays on a daily basis -- people being subjected to real apartheid and discrimination in Lebanon.
Khaled Abu Toameh, an award-winning journalist, is based in Jerusalem.