Turkey, officially, is a candidate for full membership in the European Union. It is also negotiating with Brussels a deal which would allow millions of Turks to travel to Europe without visa. But Turkey is not like any other European country that joined or will join the EU: The Turks' choice of a leader, in office since 2002, too visibly makes this country the odd one out.
Turkish President Recep Tayyip Erdogan, who is now campaigning to broaden his constitutional powers, which would make him head of state, head of government and head of the ruling party -- all at the same time -- is inherently autocratic and anti-Western. He seems to view himself as a great Muslim leader fighting armies of infidel crusaders. This image, with which he portrays himself, finds powerful echoes among millions of conservative Turks and [Sunni] Islamists across the Middle East. That, among other excesses in the Turkish style, makes Turkey totally incompatible with Europe in political culture.
Yet, there is always the lighter side of things. Take, for example, Melih Gokcek, the mayor of Ankara and a bigwig in Erdogan's Justice and Development Party (AKP). In February Gokcek claimed that earthquakes in a western Turkish province could have been organized by dark external powers (read: Western infidels) aiming to destroy Turkey's economy with an "artificial earthquake" near Istanbul. According to this conspiracy theory, the mayor not only claims that the earthquake in western Turkey was the work of the U.S. and Israel, but also that the U.S. created the radical Islamic State (ISIS). In fact, according to him, the U.S. and Israel colluded to trigger an earthquake in Turkey so they could capture energy from the Turkish fault line.
Matters between Turkey and Europe are far more tense today than ridiculous statements from politicians who want to look pretty to Erdogan. The president, willingly ignoring his own strong anti-Semitic views, recently accused Germany of "fascist actions" reminiscent of Nazi times, in a growing row over the cancellation of political rallies aimed at drumming up support for him among 1.5 million Turkish citizens in Germany.
The Dutch, Erdogan apparently thinks, are no different. In a similar diplomatic row over Turkish political rallies in the Netherlands, Erdogan described the Dutch government as "Nazi remnants and fascists". After barring Turkish Foreign Minister Mevlut Cavusoglu from entering the country by airplane, the Dutch authorities also escorted another Turkish minister out of the country. Quite a humiliation, no doubt. An angry Erdogan promised the Netherlands would pay a price for that.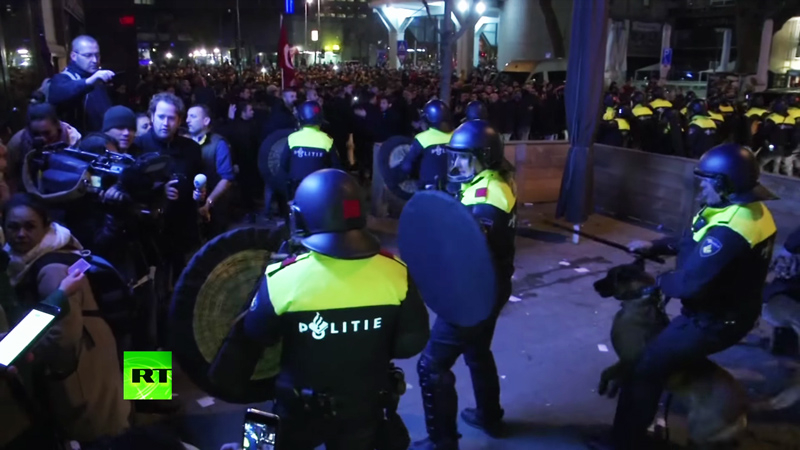 Dutch police in Rotterdam use batons, dogs and water cannon to control a riot that broke out when pro-Erdogan crowds violently protested the Dutch government's refusal of entry to Turkish government ministers, on March 11, 2017. The Turkish ministers had planned to address political rallies of Turks in the Netherlands. (Image source: RT video screenshot)
Europe, not just Germany and the Netherlands, looks united in not allowing Erdogan to export Turkey's highly tense and sometimes even violent political polarization into the Old Continent. There are media reports that the owner of a venue in the Swedish capital, Stockholm, has now cancelled a pro-Erdogan rally, although Sweden's foreign ministry said it was not involved in the decision.
Europe's anti-Erdogan sentiment is going viral. Denmark's prime minister, Lars Loekke Rasmussen, said that he asked his Turkish counterpart, Binali Yildirim, to postpone a planned visit because of tensions between Turkey and the Netherlands. Although Turkey thanked France for allowing Foreign Minister Cavusoglu to address a gathering of Turkish "expats" in the city of Metz, French Foreign Minister Jean-Marc Ayrault called on Turkish authorities to "avoid excesses and provocations".
None of the incidents that forcefully point to Europe's "Turkish awakening" happened out of the blue. At the beginning of February, German Chancellor Angela Merkel and Erdogan held a tense meeting in Ankara. Erdogan clearly rejected Merkel's mention of "Islamist terror" on grounds that "the expression saddens Muslims because Islam and terror cannot coexist". The row came at a time when a German investigation into Turkish imams in Germany spying on Erdogan's foes made signs of reaching out to other parts of Europe. Peter Pilz, an Austrian lawmaker, said that he was in possession of documents from 30 countries that revealed a "global spying network" at Turkish diplomatic missions.
At the beginning of March, after Turkey said it would defy opposition from German and Dutch authorities and continue holding rallies in both countries, Austrian Chancellor Christian Kern called for an EU-wide ban on campaign appearances by Turkish politicians.
In response, further challenging Europe, Turkey arrested Deniz Yucel, a Turkish-German reporter for a prominent German newspaper, Die Welt, on charges of "propaganda in support of a terrorist organization and inciting the public to violence." Yucel had been detained after he reported on emails that a leftist hacker collective had purportedly obtained from the private account of Berat Albayrak, Turkey's energy minister and Erdogan's son-in-law.
Erdogan's propaganda war on "infidel" Europe has the potential to further poison both bilateral relations with individual countries and with Europe as a bloc. Not even the Turkish "expats" are happy. The leader of Germany's Turkish community accused Erdogan of damaging ties between the two NATO allies. Gokay Sofuoglu, chairman of the Turkish Community in Germany, which is an umbrella for 270 member organizations, said: "Erdogan went a step too far. Germany should not sink to his level".
The most recent wave of tensions between Erdogan's Turkey and Europe, which it theoretically aspires to join, have once again unveiled the long-tolerated incompatibility between Turkey's predominantly conservative, Islamist and often anti-Western political culture and Europe's liberal values.
Turkey increasingly looks like Saddam Hussein's Iraq. During my 1989 visit to Iraq a Turkish-speaking government guide refused to discuss Iraqi politics, justifying his reluctance as: "In Iraq half the population are spies... spying on the other half." Erdogan's Turkey has officially embarked on a journey toward Western democracy. Instead, its Islamist mindset is at war with Western democracy.
Burak Bekdil, one of Turkey's leading journalists, was just fired from Turkey's leading newspaper after 29 years, for writing what was taking place in Turkey for Gatestone. He is a Fellow at the Middle East Forum.