Seventy years ago, a defeated and devastated Japan, fed and clothed by America, organized itself to put together a new constitution that enshrined the famous "Article 9":
"Aspiring sincerely to an international peace based on justice and order, the Japanese people forever renounce war as a sovereign right of the nation and the threat or use of force as means of settling international disputes.

"In order to accomplish the aim of the preceding paragraph, land, sea, and air forces, as well as other war potential, will never be maintained. The right of belligerency of the state will not be recognized."
Little known, but outlined in a recently published book in Japanese, The Special Country, the Japanese constitution was written by a secret group of legal scholars and lawyers, hidden during the war, and then adopted by the administration of General Douglas McArthur as the new Japanese constitution.
Article 9 came about when the Japanese Prime Minister, Kijuro Shidehara, arriving back by train through the utterly destroyed city of Tokyo, went straight from the station to meet with General McArthur and requested that an article be put in the Japanese Constitution forbidding not only a military but war itself.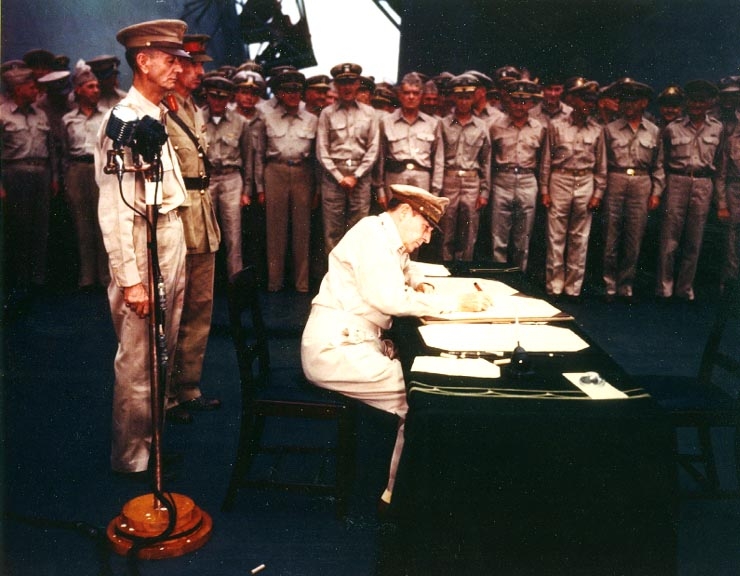 U.S. General Douglas McArthur signs the Japanese Instrument of Surrender on board USS Missouri, on September 2, 1945.
Contrary to views that the concept of not having a standing army is foolish, the Japanese constitution rested its future on a functioning United Nations to fulfill its responsibility for collective defense; in other words, the UN would provide the "force" needed to begin a new system in which nations meeting and working together would be able to head off conflicts such as those that had led to two world wars.
Japan, a warmonger of a nation that had trampled across much of Asia and the Pacific rim, leaving up to 20 million dead, including an estimated two million of its own, was transformed by an eight-year program.
The Japanese people fell in love with peace.
From cigarettes named "Peace" and "Hope" to a complete cultural change, Japan rebuilt itself, and set an example to a war-weary world that, in fact, national prosperity could be accomplished without violence.
In return, the United States guaranteed peace and stability in Japan, Korea and to a lesser degree in various areas of the Pacific, in place of a not-yet-functioning United Nations.
In each country, the host-nation pays the costs of the US military, and it is less expensive for American taxpayers to have troops stationed overseas than in the US. The rewards in trade have far outweighed the costs.
A new U.S. Secretary of State, Rex Tillerson, perhaps unintentionally suggested upsetting this arrangement, which has worked so well for so many years. According to reports, Tillerson "refused to rule out increased weaponization and even nuclearization of America's East Asian allies to deter North Korean aggression."
The absolute worst possible thing to happen in a finally peaceful Asia would be a nuclear arms race to rekindle the flames of the past.
Nearly a half million brave Americans and many Japanese gave their lives in World War II: the world has had 70 years of peace and prosperity. It is to their memory and the many who suffered so terribly that the world owes a debt of gratitude.
On the 70th anniversary of the most precious gift America could give to Japan, which she fed, clothed and rebuilt, is the time to reaffirm the role of America as the guardian, the "United Nations", whose role is to keep alive freedom in the world.
Amir George, based in Japan, is author of the book, "Liberating Iraq."