In January, 2015, a week after the attack on the satirical magazine Charlie Hebdo, the American television channel Fox News created a scandal in France by claiming that Islamic "no-go zones" were established in the heart of Paris. For the French media, the existence of no-go zones -- where non-Muslims are unwelcome and Islamic law, sharia, holds sway -- in the heart of the capital was pure nonsense and horrifying "fake news." Paris's mayor, Anne Hidalgo, said she planned to sue Fox News and that the "honor of Paris" was at stake.
By May 2017, however, the tone had changed. The French daily, Le Parisien, disclosed that, in fact, no-go zones are in the heart of the capital. It seems that the district of Chapelle-Pajol, in the east of Paris, has become very much a no-go zone. Hundreds of Muslim migrants and drug dealers crowd the streets, and harass women for wearing what many of these migrants apparently regard as immodest clothing:
"Women in this part of eastern Paris complain that they cannot move about without being subjected to comments and insults from men.

"There are several hundred square meters of pavement abandoned to men alone; women are no longer considered entitled to be there. Cafés, bars and restaurants are prohibited to them, as are the sidewalks, the subway station and the public squares. For more than a year, the Chapelle-Pajol district (10th-18th arrondissements) has completely changed its face: groups of dozens of lone men, street vendors, aliens, migrants and smugglers harass women and hold the streets."
Natalie, a 50-year-old resident of the area said: "The atmosphere is agonizing, to the point of having to modify our routes and our clothing. Some [women] even gave up going out."
Aurélie, 38, who has lived in the area for 15 years, said that the café-bar below her apartment had been a pleasant place, but has turned into an exclusively male establishment. "I have to listen to a lot of remarks when I pass by, especially since they drink a lot," she said. A local 80-year-old woman is reported to have totally stopped leaving her apartment after being sexually assaulted one day as she was returning home. Another woman is said to suffer a flood of insults simply by standing at her window.
Mayor Hidalgo is not talking about suing the media for defaming the honor of Paris anymore. She even said that this security issue has been "identified for several weeks", and proposed launching an "exploratory process" to combat discrimination against women and a "local delinquency treatment group". It was slightly hollow, Orwellian "newspeak," and aroused mockery and indignation on social networks.
Mentioning no-go zones in France was, until recently, taboo. It was regarded as "racist" or "Islamophobic" -- most of the time both -- to talk about that. In May 2016, Patrick Kanner, France's Minister for Urban Areas, harassed by journalists, finally acknowledged the truth : "There are today, we know, a hundred neighborhoods in France that present potential similarities with what has happened in Molenbeek." He was referring to the infamous neighborhood in Brussels, under Salafist control, which has become the epicenter of jihad in Europe.
What is new, is that no-go zones are no longer relegated to the suburbs, where migrants and Muslims have usually been concentrated.
No-go zones, through mass migration, have been emerging in the heart of Paris, Bordeaux, Toulouse, Marseille, Grenoble, Avignon -- districts "privatized" here and there by a mix of drug traffickers, Salafist zealots and Islamic youth gangs. The main victims are women. They are -- both Muslim and non-Muslim -- sexually harassed; some are sexually assaulted.
Politicians, as usual, are fully informed of the situation imposed upon women. A 2014 report from the High Commissioner on Equality revealed that in the so-called "sensitive urban areas," nearly one in ten women has suffered physical or sexual violence.
Another report handed to the government, in September 2016, by the organization "France Médiation" revealed significant details, albeit written in chastened terms:
Public areas are "occupied" exclusively by men who "park" there, and women are merely authorized to pass through them...

It's not unique to this city: in the past 10 years, women have been seen public spaces desert them.

"You have to stay away, not provoke. I always go out with my children so there is no problem."

In some places, male groups "monopolize" public spaces and sometimes block the access to the entrances of buildings

Women are obliged to avoid the elevator in order to flee glances and remarks that are sometimes unpleasant. They have go up the stairs -- dirty, unlit and several stories high.

Cafés are occupied exclusively by men; women do not dare to enter them; they even avoid passing by.
The newly elected French president, Emmanuel Macron, ostensibly avoided security questions during the election campaign. No doubt, security questions will overtake him sooner than he thinks.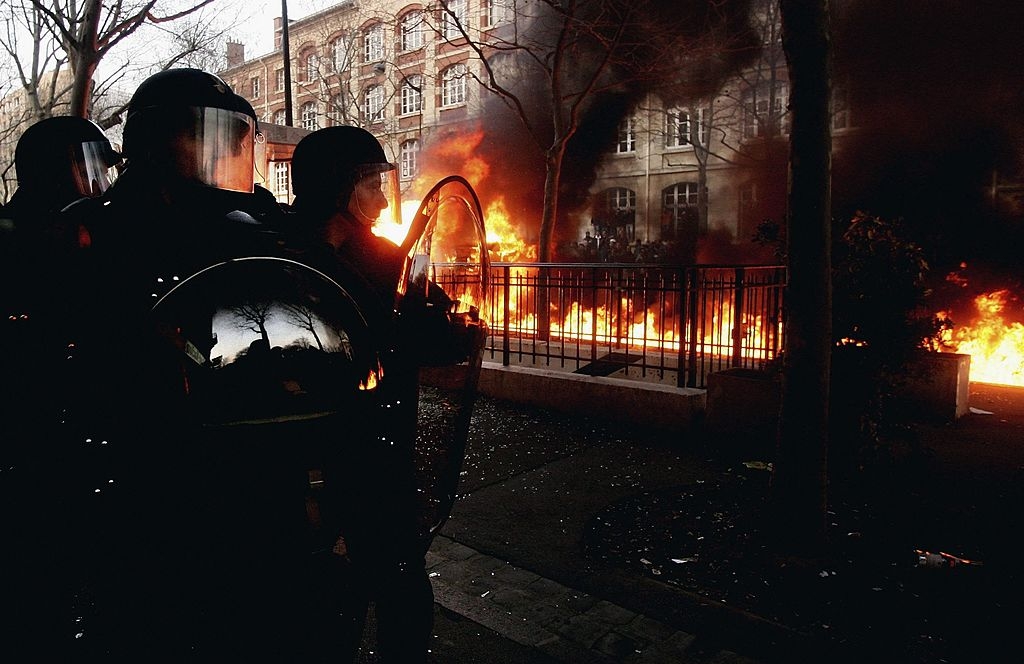 (Image source: Pascal Le Segretain/Getty Images)
Yves Mamou, author and journalist, based in France, worked for two decades as a journalist for Le Monde.