Turkish President Recep Tayyip Erdogan is in an odd mood: He is trying to convince the international community that he is not Hitler. Most recently, Erdogan's government ordered Google to de-list more than 40 URLs that reported about the Turkish government's recent crackdown on journalists and other critics that compared Turkey's president to Hitler.
Instead of trying to silence the global voice against his increasingly autocratic governance, and oppressing millions who do not respect him, he could try to earn respect by having a little mercy on dissidents. That is probably too much to expect from someone who once infamously said that "If you pity you will be pitied".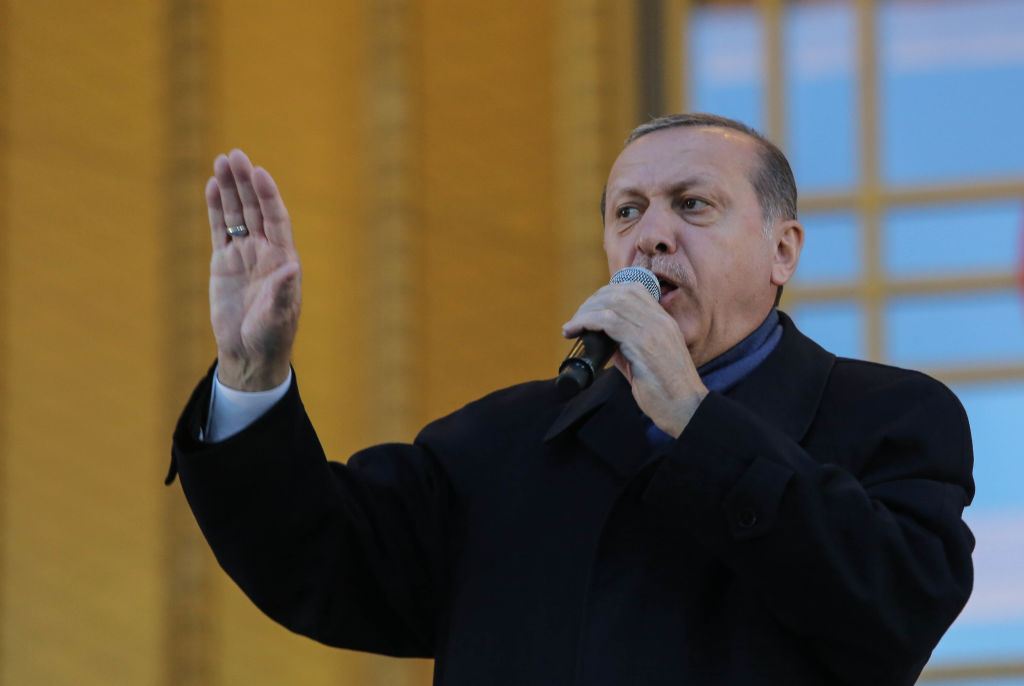 Turkish President Recep Tayyip Erdogan is trying to convince the international community that he is not Hitler. (Photo by Elif Sogut/Getty Images)
In the aftermath of a failed coup against his government in July 2016, Erdogan has dismissed 150,000 public employees, citing their alleged links with Fethullah Gulen, a Muslim cleric in self-exile in Pennsylvania, whom Erdogan claims was the mastermind behind the attempted putsch. The Ankara government also has arrested more than 50,000 people on the same charges.
Although there has been no ruling so far that Gulen was, in fact, the mastermind behind the attempted coup, 150,000 people have been purged, and they, their families and perhaps a million Turks are decrying Erdogan's unjust behavior. The victims are not only the "Gulenists": The purge has targeted a wide spectrum of dissidents including anti-Islamist leftists of different views. In just one week in May, Turkey's Interior Ministry said, 1,284 suspects were detained in "counter-terrorism raids".
In March, a professor of literature, Nuriye Gulmen, and a primary school teacher, Semih Ozakca, both victims of the purge, started protesting by going on a hunger strike: a liquid diet of lemon, saltwater and sugar solutions. They have lost weight and doctors say their health is deteriorating.
What to do? Let the teachers die a slow and painful death? Listen to their plea and rethink if, without guns and bombs, they really are "terrorists"? Erdogan's government chose a third way: On May 22, the 76th day of their hunger strike, the police broke down their door and detained them. The reason for their arrest? The police feared "that their protest could turn into death fasts and new protests".
So, at around the same time that Erdogan's government was trying to convince world opinion that he is not Hitler, his police detained two protesters on hunger strike.
"I've been a lawyer for a long time and have never seen such a reason for an arrest," said Selcuk Kozagacli, a lawyer representing the teachers. When Kozagacli met them in jail, he said they "looked tired and knocked about a bit".
Amnesty International said that the dismissals of state employees in Turkey had been carried out arbitrarily and had a catastrophic impact on their lives:
"The failure of the authorities to set out clear criteria for the dismissals or provide any individualized evidence of wrongdoing blows a hole in their claim that all the dismissals are necessary to counter terrorism ... Instead, evidence suggests widespread abusive and discriminatory motives behind the purge".
In a letter to Turkish Justice Minister Bekir Bozdag, 62 members of the European Parliament condemned the arrests and called for the hunger-strikers' immediate release. The letter said:
"We, the undersigned members of the European Parliament, wish to express our deepest concern about the ongoing state of emergency and disproportionate effects thereof on democracy and human rights in Turkey".
Ankara looks entirely indifferent, even remorseless. Suleyman Soylu, the interior minister, said that the two teachers had lost their jobs because of links to the leftist militant group Revolutionary People's Liberation Party/Front (DHKP/C). "There are organic ties between these two persons and the DHKP-C terrorist organisation... It is very clear," the minister said. And it all fell on deaf ears when the teachers' lawyer, said that they had both been acquitted of the charges mentioned by the minister in 2012. So, they remain "terrorists", even though they were acquitted of charges of terrorism: Guilty without verdict. Minister Soylu also claimed that the teachers were "on a hunger strike from 9 am until the evening but then went home to eat".
Didem Engin, an opposition MP, said that at least 37 people who had been purged have committed suicide. Messrs Erdogan and Soylu must be sorry about that. They might be thinking: If only we had detained them first, before they killed themselves in "terrorist activity"...
Burak Bekdil, one of Turkey's leading journalists, was just fired from Turkey's leading newspaper after 29 years, for writing what was taking place in Turkey for Gatestone. He is a Fellow at the Middle East Forum.