Historically, relations between India and Israel, with a few exceptions, have been warm. In January 1992, then Indian Prime Minister P. V, Narsimha Rao established full diplomatic ties with the Jewish state. Since then, economic, technological, military and diplomatic relations between New Delhi and Jerusalem have moved from strength to strength.
During the last few years Jerusalem has sold to New Delhi advanced military equipment.[1]
Prime Minister Narendra Modi's recent visit (July 4-6) to Israel was the first by a prime minister of India to the Jewish state. After the meeting between Modi and his Israeli counterpart, Benjamin Netanyahu, India and Israel signed seven agreements in the fields of water, agriculture, and space, including a $40 million joint fund for research and development in innovation. Netanyahu and Modi also upgraded the current bilateral relationship to a "strategic partnership," and agreed that "strong measures must be taken against terrorists, terror organisations, their networks and all those who encourage, support and finance terrorism, or provide sanctuary to terrorists and terror groups." Netanyahu said the India-Israel relationship today could be described as "I-square T-square"—that is "Indian Talent and Israeli Technology."
Modi held a meeting with CEOs of various companies, leading to the signing of agreements worth about $4.3 billion between the participating companies. The forum intends to take current bilateral trade of about $4-5 billion to $20 billion in five years. High-tech Israeli companies produce robotic waterless cleaners for solar panels and portable desalination units, which could help India solve its water and energy crises.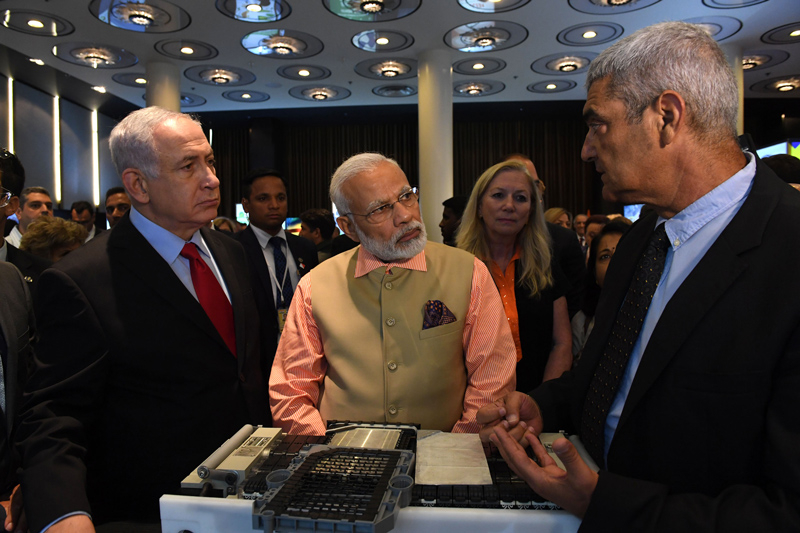 Israeli Prime Minister Benjamin Netanyahu and Indian Prime Minister Narendra Modi attend an Israel-India innovation exhibition, on July 6, 2017. (Image source: Kobi Gideon, Israel Government Press Office)
Indian and Israeli companies entered into agreements to bid jointly for defence contracts for the Indian military and locally build the systems under "Made in India." India and Israel also agreed to increase their air linkages, with Air India expected to commence flights to Tel Aviv.
Both nations face several common threats, including radical Islamist terrorism. Both nations have faced major conventional wars with their neighbours and continue to experience low‐intensity conflict. And both are confronted with weapons of mass destruction in the hands of their rivals -- real and potential.
Israel has been a time-tested ally of India in combating all kinds of threats to its security. New Delhi, too, must be sensitive to Jerusalem's security. The Jewish state's existence has been under threat from radical Islamist forces in the region. Threats by Iran, with the its growing nuclear potential, to annihilate the Jewish state cannot be overlooked.
Noted Indian parliamentarian Subramanian Swamy rightly suggests:
"The time has come to bring together countries to fight against the enemies of Israel....Israel never needs to fear that they are only seven or eight million people standing against 150 million Arabs. They have 1.2 billion Indians backing them."
New Delhi should have a military pact that would treat any attack on either by a third nation or group as an attack on both.
New Delhi also must move its embassy to Jerusalem from Tel Aviv. All embassies are located in a given state's capital. Jerusalem is Israel's capital. One wonders why Prime Minister Modi said in a recent media interview: "We will take a decision on that [embassy location] after both sides [Israel and the Palestinians] have come to an agreement on Jerusalem." India should have its embassy in West Jerusalem, which is not "occupied territory."
Modi's position on Jerusalem is already close to the realities on the ground today. He is for "the realization of a sovereign, independent, united and viable Palestine, co-existing peacefully with Israel." Modi makes no reference to East Jerusalem as the capital of a future Palestine state. During Palestinian Authority President Mahmoud Abbas's visit to India in May, New Delhi, while expressing its support for a Palestinian State, dropped any reference to Jerusalem. Modi seems to be aware that Israel's religious, historical, and archaeological claims to the eastern part of Jerusalem also deserve due attention.
Ties between New Delhi and Jerusalem can be said to have attained new heights, and look set to go even higher.
The author is a senior journalist based in New Delhi.
---
[1] New Delhi also signed a contract for the purchase of two additional Phalcon/IL‐76 AWACS valued at $1 billion during the visit of Israel's President Reuven Rivlin to India in November 2016. In April 2017, India signed a contract worth about $2 billion to procure anti‐tank missiles and air defense systems from Israel Aerospace Industries (IAI). In May 2017, IAI secured another contract for $630 million to supply Barak‐8 missiles to the Indian Navy. Both deals involve technology transfer and production in India.