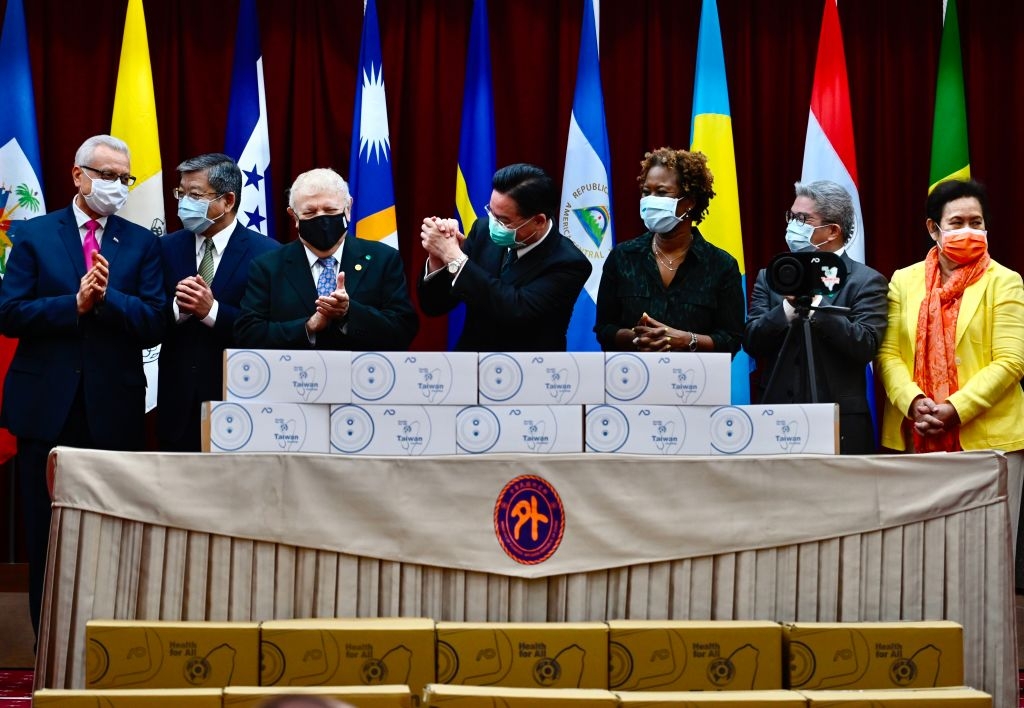 All democratic governments need to come together to develop a strategy to see to it that China is no longer able to stop Taiwan's entry into the World Health Organization. Pictured: Taiwan's Minister of Foreign Affairs Joseph Wu (center) presides over a ceremony to donate Taiwanese-made thermal scanner devices to 15 of its diplomatic allies, in Taipei on April 15, 2020. (Photo by Sam Yeh/AFP via Getty Images)
Recently, 127 European parliamentarians backed a bid by Taiwan (The Republic of China) to join the Geneva-based World Health Organization (WHO). All democratic governments -- in fact, every government: 184 have been ravaged by Covid-19 and its economic ravages -- need to make Taiwan's WHO membership a reality.
The WHO was founded in 1948 with a mandate to ensure that all peoples of the world attain the highest possible level of health. Ironically, the WHO excludes Taiwan and its more than 23.8 million people from its care. WHO shares little of its biomedical and health research information with Taiwan, which is not invited even to its emergency meetings.
Taiwan nevertheless has one of the best medical systems in the world. It is equipped [1] with technology and big data it gathered during its traumatic 2003 experience with Severe Acute Respiratory Syndrome (SARS, another coronavirus), and it was probably an advantage for Taiwan in handling the current pandemic at home. To date, Taiwan has reported only about 427 cases of Covid-19.
Taiwan, in addition to warning WHO of the lethality of Covid-19 on December 31, 2019 -- warnings which were ignored -- immediately adopted vigorous measures for screening, testing, contact tracing, and enforcing quarantines.
Taiwan also donated masks to countries in need and has been working with U.S. experts to develop more rapid diagnostic test kits and vaccines. Although Taiwan has also continually shared coronavirus data with the WHO, the organization never released that information to the public.
The main hurdle in the inclusion of Taiwan into the WHO has been the communist People's Republic of China (PRC), which claims that Taiwan is one of its provinces and that mainland China alone has the right to represent what it regards as all of China at the United Nations and other international organizations.
With a permanent seat on the UN Security Council, China has so far been able to impose its will and deny Taiwan entry into the WHO. Perhaps China should no longer be on the UN Security Council? Several efforts were made for Taiwan's inclusion into the WHO, but failed.[2] At the 2004 annual meeting of the World Health Assembly (WHA), the WHO's decision-making body, only Japan and the United States voted in favour of Taiwan's observer status in the WHO -- without success.
All democratic governments need to come together to develop a strategy to see to it that China is no longer able to stop Taiwan's entry into the WHO. Taiwan has all the elements of statehood required by the contemporary international law: land, population, government and sovereignty, as well as full diplomatic relations with over 15 other nations.
Thankfully, the U.S. administration of President Donald J. Trump recently enacted the Taiwan Allies International Protection and Enhancement Initiative Act, aimed at supporting Taiwan's international presence. U.S. Secretary of State Mike Pompeo has assured the public that the State Department would "do [its] best to assist" Taiwan in efforts to join the WHO. Other democratic governments could also strengthen Taiwan's case.
Democratic states could also take steps aimed at removing the current WHO Director General Dr. Tedros Adhanom Ghebreyesus (he is not an medical doctor; he holds a PhD in Public Health from the University of Nottingham and a Master of Science in Immunology of Infectious Diseases from the University of London). He seems under the control of China too thoroughly to risk displeasing it in any way. His conduct, which has been called criminally negligent [3] -- in addition to his having covered up three cholera outbreaks in Ethiopia earlier in the century -- indicates that it would be best for everyone if he were to resign.
At the upcoming 73rd Session of the WHA (May 17-21, 2020), all democratic governments could initiate steps aimed at relieving Tedros of his position at WHO, as well as others there in leadership positions who were also complicit in the in the Covid-19 coverup. The WHO's current 34-member executive board should help. The current chairman of the board is from Japan, a democracy. The vice chairman is from Finland, another democracy. Other members of board are also from democracies, including the United States, Austria, Germany, Italy, Israel, Australia and Singapore.
As a member of the WHO, China had an obligation to provide accurate data to help the world learn more about the virus. China, however, still refuses to be transparent. According to a report, Chinese authorities recently admitted that more than 4,632 people have died from coronavirus in Wuhan, but even those claims are suspect.
Needless to say, the U.S. government, which donates far more than any other country -- roughly $400 million each year to China's $40 million -- has a moral responsibility as well to see to it that the WHO is effective. The U.S. contributes more than 15% of the WHO budget out of its taxpayer funds. No democratic government can afford to let a public fund wreak such global devastation -- both medical and economic, then, now, or ever again.
It would also undoubtedly be better for the world if all 184 countries afflicted with Covid-19 and its ruinous economic aftermath would stop doing business with China: it has proven that it is not friend.
Jagdish N. Singh is a senior journalist based in New Delhi.
---
[1] Jagdish N Singh, "Filling the gap in the fight against bird flu," Taiwan Journal, Taipei, May 12, 2006.
[2] Ibid
[3] On December 31, Taiwan informed the WHO that the coronavirus was able to be transmitted human-to-human. The Chinese government suppressed the news. As director general of the WHO, Tedros must have known of the coronavirus outbreak in Wuhan. Instead, without even bothering to investigate, he evidently chose to say what China wanted him to. As late as January 14, the WHO wrote in a tweet that "preliminary investigations conducted by the Chinese authorities have found no clear evidence of human-to-human transmission" of the coronavirus.