Within days after the Islamic State conquered the city of Sirte in Libya two years ago, enormous billboards appeared in the Islamist stronghold warning women they must wear baggy robes that cover their entire bodies, and no perfume. These "sharia stipulations for hijab" included wearing dense material and a robe that does not "resemble the attire of unbelievers".
Two years later, Europe's three most important cities -- London, Paris and Berlin -- are adopting the same sharia trend.
Paris has said au revoir to "sexist" ads on public billboards. The Paris city council announced its ban after the Socialist Mayor Anne Hidalgo said the move meant that Paris was "leading the way" in the fight against sexism. London Mayor Sadiq Khan also banned advertisements that promote "unrealistic expectations of women's body image and health". Now Berlin is planning to ban images in which women are portrayed as "beautiful but weak, hysterical, dumb, crazy, naive, or ruled by their emotions". Der Tagesspiegel's Harald Martenstein said the policy "could have been adopted from the Taliban manifesto".
The irony is that this wave of morality and "virtue" is coming from cities governed by uninhibited leftist politicians, who for years campaigned for sexual liberation.
There is a reason for this grotesque campaign banning these images. These cities host significant Muslim populations; and politicians -- the same who frantically are enacting mandatory multiculturalism -- want to please "Islam". It is now a "feminist" talking point to advocate sharia policy, as does Linda Sarsour. The result is that, today, few feminists dare to criticize Islam.
It is happening everywhere. Dutch municipalities are "advising" their employees to not wear mini-skirts. There are women-only hours at Swedish swimming pools. German schools are sending letters to parents asking children to avoid wearing "revealing clothes".
The first to suggest calling for a ban on posters or advertisements that "reduce women or men to sexual objects" was German Justice Minister Heiko Maas, a Social Democrat.
"To demand the veiling of women or taming of men," said Free Democratic Party leader Christian Lindner, "is something known among radical Islamic religious leaders, but not from the German minister of justice."
In 1969, Germany was overwhelmed by a debate on introducing into schools the "Sexualkundeatlas", an "atlas" of sexual science. Now the effort is to desexualize German society. The newspaper Die Welt commented:
"Thanks to Justice Minister Heiko Maas we finally know why on New Year's Eve, at Cologne Central Station, about a thousand women were victims of sexual violence: because of sexist advertising. Too many eroticized models, too much naked skin on our billboards, too many erotic mouths, too many miniskirts in fashion magazines, too many wiggling rear-ends and chubby breasts in television spots. It is another step in the direction of a 'submission'".
Instead of nipples and buttocks, Die Welt concludes, "should we urge the use of burqa or veil, as Mrs. Erdogan does?"
The same German élites who suggest banning "sexist" billboards censored the crude details of the mass sexual assaults in Cologne. Meanwhile, a liberal Berlin mosque, which banned burqas and opened its door to gays and to unveiled women, is now under police protection after threats from Muslim supremacists.
Europe's élites have adopted a double standard: they are proud to host an exhibit of a Christian crucifix submerged in urine, but quickly capitulate to Muslim demands to censor cartoons of the Islamic Prophet Mohammed. The Italian authorities went to great efforts to spare Iran's President Hassan Rouhani a view of nudity on ancient sculptures in the Capitoline Museums of Rome.
The Western public appears fascinated by Islamic veils. Ismail Sacranie, a founder of Modestly Active, the manufacturer that designs burkinis, told the New York Times that 35% of their clients are non-Muslim. Aheda Zanetti, a Lebanese woman living in Australia who invented the burkini, claims that 40% of her sales are to non-Muslim women. The Western public, which has been romanticizing Islam, is apparently absorbing the pieties of Islamic law. The Spectator called it "a new puritanism" and "why some feminists make common cause with Islam".
To paraphrase the American writer Daniel Greenfield, the irony of women celebrating their own suppression is both heartbreaking and stupefying.
Europe might soon have to apologize to the Mayor of Cologne, Henriette Reker. She was criticized -- denounced -- for advising women to keep "at an arm's length" from strangers to avoid sexual harassment.
If the West keeps on betraying the democratic value of individual freedom on which Western civilization is based, Islamic fundamentalists, like those who imposed burqas on Libyan women, will start imposing them on Western women. They may even begin with those feminist élites who first created the sexual revolution to emancipate women in the 1960s, and who are now infatuated with an obscurantist garment that hides women in a portable prison.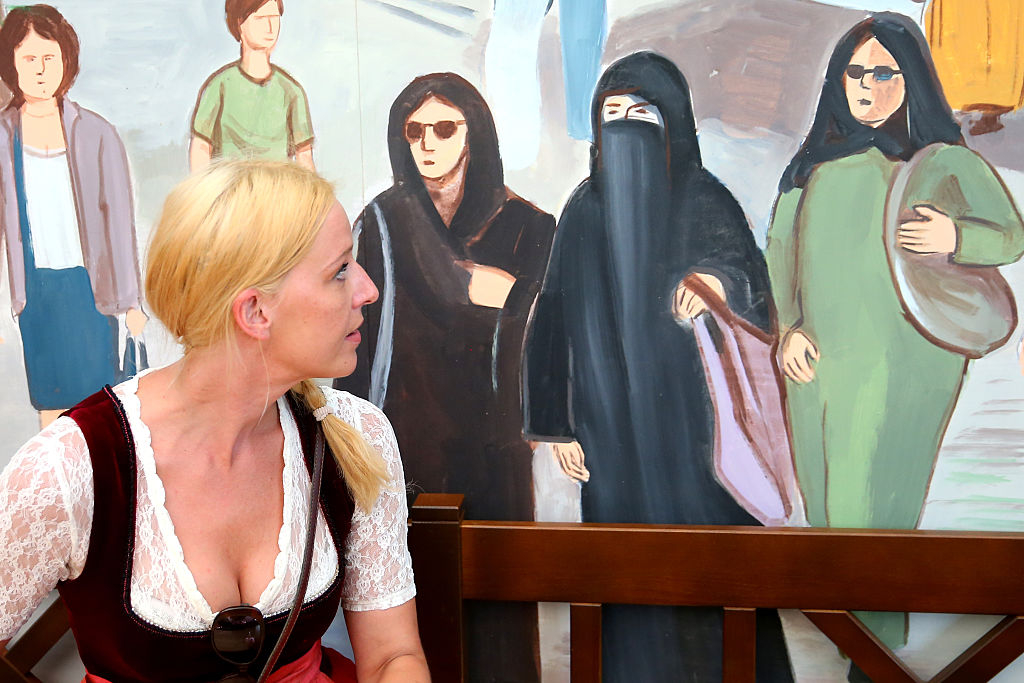 If the West keeps betraying the democratic value of individual freedom, Islamic fundamentalists, like those who imposed burqas on Libyan women, will do the same to Western women. (Photo by Alexander Hassenstein/Getty Images)
Giulio Meotti, Cultural Editor for Il Foglio, is an Italian journalist and author.