One of the most important chapters in the war on terror is being rewritten -- with a moral inversion. Islamic terrorists who were arrested and deported have become "liberal causes célèbres", while agents of the CIA who questioned them are not only being condemned but also financially crushed by punishment and legal bills -- for having tried, legally, to save American lives.
Guantanamo Bay has supposedly become "the Gulag of our time"; the psychologists who interrogated the murderer who sawed off Daniel Pearl's head have been charged with working "for money"; the "black sites" in the Polish and Lithuanian forests have been compared to Nazi concentration camps, and the U.S. jurists and officials who conducted the war on terror have been compared to the Germans hanged in Nuremberg.
"In just a few months, Obama had sent the CIA back to the September 10 culture of risk aversion and timidity that had contributed to the disaster of 9/11", Bruce Thornton wrote in his book, The Wages of Appeasement. A few examples of Obama's policy include a directive to release Justice Department memos on the process of vetting interrogation techniques for legality. The attorney general at the time, Eric Holder, appointed a special prosecutor to determine if the CIA officers involved in the interrogation program had been guilty of breaking the law.
A judicial condemnation, however, has begun only now. A federal judge in Spokane, Washington, has opened one of the most important trials in the recent U.S. history. For the first time after September 11, three American citizens involved in interrogating Islamic terrorists have been called to answer to a judge. The New York Times released the video of their testimony. The federal court in Spokane, Washington, heard Bruce Jessen, James Mitchell and Jose Rodriguez testifying on their role in the war on terror. They are among the heroes who prevented another 9/11; now they are on the bench.
"I'll tell you a story," Bruce Jessen testified.
"Two Christmases ago, I get a call from the CIA; my grandchildren and my daughter and son-in-law are living with us. You have 15 minutes to get out of your house because ISIS has found someone to come and kill you and your family... Now, those -- that isn't the only threat I've received over the years, I've received lots of them. And I'm not afraid, and I did my duty and I stood up and I went to war, and I'll stand up to any of them again, but I don't want them messing with my family... And when you stick your face in the public eye, you get people like the SSCI and [Senator Dianne] Feinstein and the ACLU and other people who accuse you of things you didn't do, who out your name, who give them your address, who print articles that are full of crap about you, and it makes it difficult."
Jose Rodriguez, the former head of the CIA clandestine service, told the court what was at stake:
"George Washington did not face an enemy like Al Qaeda. These are people who want to die as martyrs and see the killing of thousands of innocent men, women, and children as justifiable to promote their cause. Making a few of the worst terrorists on the planet uncomfortable for a few days during their first month of imprisonment is worth it in order to save thousands of lives".
John Rizzo also testified. In 2002, when George W. Bush signed the executive order in which he argued that the Geneva Convention does not apply to terrorists, Rizzo was an interim legal advisor. "No, I can't honestly sit here today and say I should have objected to that", Rizzo said.
Now, Judge Justin L Quackenbush of the U.S. District Court for the Eastern District of Washington, cleared the way for the case to move to the trial phase, rejecting the psychologists' lawyers request for summary judgement. "This is a historic day for our clients and all who seek accountability for torture," ACLU attorney Dror Ladin said in a press release. "The court's ruling means that for the first time, individuals responsible for the brutal and unlawful CIA torture program will face meaningful legal accountability for what they did".
These officials should have never be prosecuted in a court; they should be protected from such actions. This prosecution is a betrayal of those who worked hard to prevent more massacres and to cripple the infrastructure of jihad.
Many former CIA directors explained that the program of enhanced interrogation techniques worked extremely well:
"It led to the capture of senior al Qaeda operatives, thereby removing them from the battlefield; it led to the disruption of terrorist plots and prevented mass casualty attacks, saving American and Allied lives; it added enormously to what we knew about al Qaeda as an organization and therefore informed our approaches on how best to attack, thwart and degrade it".
The CIA claimed the demonstrable successes of the interrogation program: the raid in which Osama bin Laden was killed; the capture of José Padilla, accused of wanting to commit an attack in the United States with a dirty radiological bomb; preventing an attack on the US consulate in Karachi, Pakistan; a second wave of attacks after September 11 with a plan to hijack a plane and crash it into Library Tower in Los Angeles.
Jessen and Mitchell are not the only psychologists now in trouble for their involvement in this program. There are also the military psychologist Morgan Banks; Stephen Behnke, a former director of the American Psychological Association's ethics office; Joseph Matarazzo, a former chairperson of the Psychologist Association, who allegedly wrote an opinion for the CIA in which the deprivation of sleep would not constitute "torture".
One of the most important cases of rendition took place in the Italian city of Milan against Abu Omar; the verdict ended by condemning CIA agents. Robert Seldon Lady, the former head of the CIA in Milan, and involved in the Abu Omar case, was arrested and released in Panama. In a rare interview, the Wall Street Journal wrote:
"Mr. Lady, who had planned to retire and become a security consultant from a farm house he bought with his life savings in Italy's Piedmont region, received the stiffest sentence — eight years in prison, increased to nine on appeal. Before the case went to trial, Magistrate Armando Spataro sued to seize Mr. Lady's house and use the proceeds to pay damages to Abu Omar. Mr. Lady fled Italy in 2005 but lost his property. His 30-year marriage, he says, was another casualty".
Sabrina De Sousa, another CIA agent involved in the Milan rendition, avoided the jail only thanks to being pardoned by the Italian authorities.
The European Court of Human Rights has condemned Macedonia for the rendition of a German citizen. The European judges also condemned Poland for hosting one of the CIA's secret sites. Spanish judges opened a criminal file against some senior Bush administration officials, including John Yoo and Jay S. Bybee of the Justice Department, and William Haynes, a former senior Pentagon jurist. John Yoo, now a professor at University of California, Berkeley, wrote the 2003 memorandum authorizing the CIA's interrogation techniques. The German attorney Wolfgang Kaleck filed a criminal complaint against Yoo; Erwin Chemerinsky, dean of the Law School at the California University, asked to prosecute Yoo, who was also sued by José Padilla, a convicted American terrorist.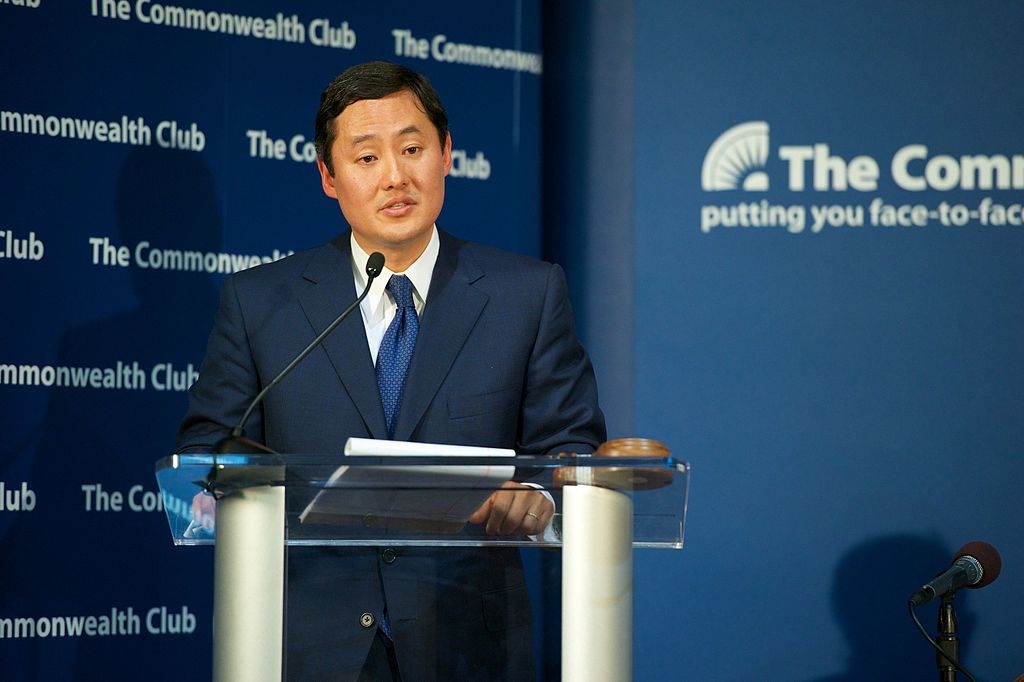 In 2009, Spanish judges opened a criminal file against some senior Bush administration officials, including John Yoo (pictured) of the Justice Department. Yoo, now a professor at University of California, Berkeley, wrote the 2003 memorandum authorizing the CIA's interrogation techniques. (Image source: Commonwealth Club/Wikimedia Commons)
Recently, attorneys of the European Center for Constitutional and Human Rights (ECCHR) in Berlin, filed a criminal complaint against Gina Haspel, now the CIA's number-two person under Director Mike Pompeo, and charged her with being involved in directing a secret CIA detention facility near Bangkok, Thailand. Will U.S. officials fear that traveling in Europe might expose them to arrest?
The Wall Street Journal wrote last year, regarding the De Sousa case:
"The threat from terrorism is worse than at any time since 9/11, even as the West has limited its capacity for self-defense... Those who work as spies know the risks from America's enemies, but they shouldn't have to worry about politicized retribution from its friends. Sabrina De Sousa's abandonment by the U.S. government sends a demoralizing message to all who serve in the shadows, even as the war on terror enters a dangerous new phase."
That is the most important lesson: our brave spies and officials involved in the war against Islamic terrorism, like those who prevented another 9/11, now fear not only the wrath of the jihadists, but also the witch hunt of a Western media and judicial system.
As James E. Mitchell said, by prosecuting what the U.S. and the West have done in the war on terror, "we will be standing on the moral high ground, looking down into a smoking hole that used to be several city blocks".
Giulio Meotti, Cultural Editor for Il Foglio, is an Italian journalist and author.