Well before Donald J. Trump was elected to the U.S. presidency, many have been claiming that more Americans have been killed by "right-wing extremists" than by Islamic terrorists.
A study released in June 2015 by the New America Foundation on "Terrorism in America After 9/11" ostensibly gave credence to this assertion. Focusing on one graph in the study and the authors' summary of the statistics – that the "death toll [from attacks since September 11, 2001] has been quite similar to other forms of political, and even non-political, violence that Americans face today" -- a number of media outlets and progressive groups pounced on the data.
Referring to the New America Foundation findings, Time magazine's Joanna Plucinska reported:
"Since 9/11, white right-wing terrorists have killed almost twice as many Americans in homegrown attacks than radical Islamists have... [During this period], 48 people were killed by white terrorists, while 26 were killed by radical Islamists."
In March 2017, the self-described "multi-media network for the latest Progressive news, commentary and analysis," The Ring of Fire, also referred to the New America Foundation study. In a program titled "Right Wing Extremist Have Killed More Americans than Terrorists," broadcaster Farron Cousins said:
"In terms of people from Muslim countries coming to the United States committing any kind of act of terror, 50 people have died in the United States since 9/11 attacks. 254 have died since the 9/11 attack from right-wing extremists violence and acts of terror here in the United States."
He went on to state that right-wing extremists "are killing five times more American citizens than anyone from any Muslim country... coming into the United States."
More recently, on August 14, 2017 -- two days after a deranged white supremacist killed a woman and wounded 19 other demonstrators in Charlottesville, Virginia -- MSNBC also pointed to the New American Foundation study. The network's Stephanie Ruhle announced, "Between 2001 and now, we have seen three times more deaths caused by right-wing extremists than Islamic terrorists."
This repeated assertion is both disingenuous and politically motivated. Far more reliable is the United States Government Accountability Office (GAO) report, released on April 6, 2017. Titled "Countering Violent Extremism: Actions Needed to Define Strategy and Assess Progress of Federal Efforts," the report illustrates that while Islamist terrorists have committed fewer attacks in America since 9/11 than "far-right-wing violent extremists," they have killed more victims.
Both right-wing and Islamic extremists are the enemies of Western civilization; all must be investigated and penalized. The attempt by the Left to minimize the dangers of the jihadists among us is not only counter-productive; it is immoral.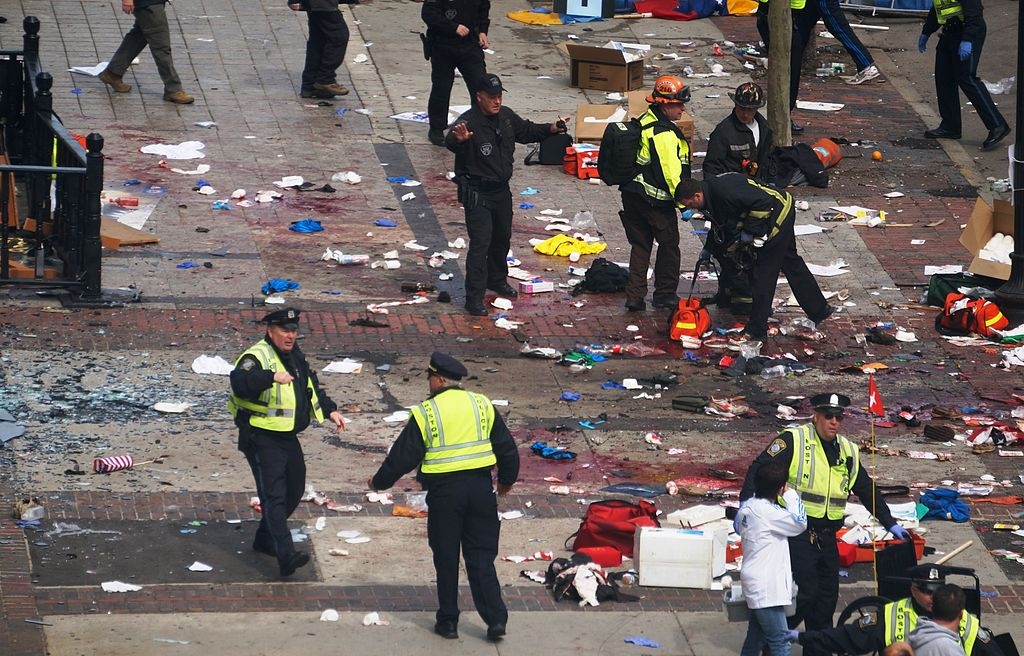 On April 15, 2013, Islamic terrorists detonated two bombs at the Boston Marathon, killing three people and injuring several hundred others. (Image source: Aaron Tang/Wikimedia Commons)
A.Z. Mohamed is a Muslim born and raised in the Middle East.