On Feb. 6, 1935, Turkish women were allowed to vote in national elections for the first time, and eighteen female candidates were elected to parliament – a decade or more before women even in Western countries such as France, Italy and Belgium. Eight decades later, Turkish women look like unwilling passengers on H.G. Wells' Time Machine traveling back to their great-grandmothers' Ottoman lives.
Turkey's strongman, President Recep Tayyip Erdogan, once proudly said that "Women should know their place," and that "Gender equality is against human nature". His deputy prime minister said that women not to laugh in public. It was not shocking to anyone when Turkey's Ministry of Family and Social Policies found in 2016 that no fewer than 86% of Turkish women have suffered physical or psychological violence at the hands of their partners or family. According to the ministry's findings, physical violence is the most common form of abuse: 70% of women reported they have been physically assaulted.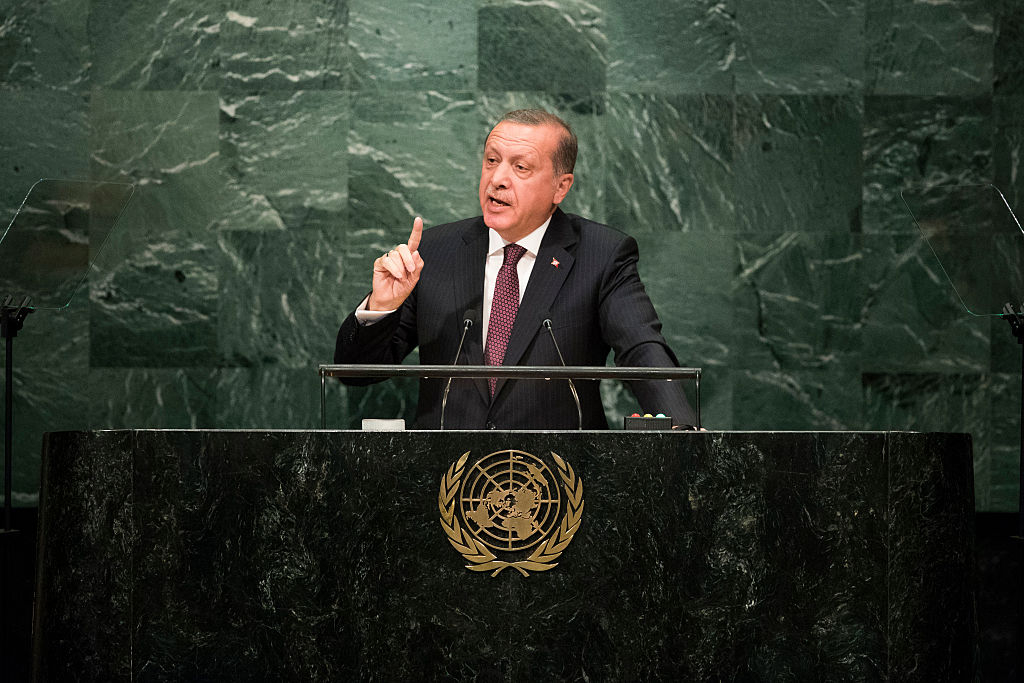 Turkish President Recep Tayyip Erdogan once proudly said that "Women should know their place," and that "Gender equality is against human nature". (Photo by Drew Angerer/Getty Images)
More recently, Kadin Cinayetlerini Durduracagiz Platformu, a women's rights organization, reported that 28 women were murdered by men in July 2017 alone. The same month, eight other -- luckier -- women were physically assaulted for "wearing shorts or 'indecent' outfits or smoking in public." The report concluded by saying, "The state remains silent."
Turkey increasingly features all possible social and political reflections of Islamism: authoritarianism, majoritarianism and officially-tolerated intolerance to everything Islamists may deem "un-Islamic." Women are often the target group, and might not avoid intimidation even if they dress in line with the Islamic code. Hayrettin Karaman, an Islamic scholar and the darling of Turkey's pro-Erdogan Islamists, recently argued that smoking cigarettes sends signals about women's morals. He wrote in his Aug. 3 column:
"When I see a woman who wears a headscarf but also smokes in public, I get the impression that she's saying: 'Don't mind the fact that I am covering my head. Don't give up on me, I have a lot more to share with you.'"
Naturally, many Turkish men took the cleric's words as a message of sexual availability. This kind of thinking is common in conservative Muslim societies. It did not used to be that way in secular Turkey. It is simply an outcome of Turkey's top-down government-induced social Islamization. That has two disturbing aspects: willing social participation of people who comply, and inequality before law.
In 2014, 17-year-old K.C. was raped and beaten by two men. She filed a complaint with the police, and the two suspects were detained. All normal, up to this point. One of the suspects made a deal with K.C.'s family: he paid a sum of about $5,700 to the family and agreed to marry K.C. The family arranged a bogus wedding ceremony, took pictures and presented them to the court to save the man. Under pressure from her family, K.C. changed her testimony and said she was not raped. The rapist had suddenly become her fiancé. Both suspects were released, an Islamic religious ceremony was arranged and the rapists were acquitted. Not really a happy ending. K.C.'s "husband" started to beat her regularly and the girl once again went to the police and told her real story. Her husband was her rapist and she had been forced to marry him.
Not every woman, however, who seeks protection from law enforcement authorities is so lucky.
On August 10, two women, Derya Kilic, 19, and Seray Gurer, 22, were sexually harassed by two unidentified men. According to their testimonies, the women then asked for help from two police officers in the street. Security footage shows a police officer starting to beat one of the women. In her later testimony, filing a complaint against the police, Kilic said the officer who hit her tried to "justify" the sexual harassment by saying they were "dressed inappropriately." She said:
"We wanted help from them because we could not see the license plates of the motorbikes that harassed us. But one of the police officers said the harassers were right because we were 'dressed inappropriately'".
This is where creeping Islamization has brought us. Better days are not ahead.
Burak Bekdil, one of Turkey's leading journalists, was recently fired from Turkey's leading newspaper after 29 years, for writing what was taking place in Turkey for Gatestone. He is a Fellow at the Middle East Forum.