In its latest violation of the International Olympic Committee's Code of Ethics in particular and the spirit of sports in general, Palestinian boxer Sultan Abu Al-Haj recently forfeited a match because it was against an Israeli -- Druze contender, Amit Madah.
When asked recently by an interviewer on official Palestinian Authority television why he had "refused" to compete in the August 8, 2017 match at the Youth Muaythai World Championships in Bangkok, Abu Al-Haj replied:
"I didn't make the decision. It's my coaches and the [Palestinian] Olympic Committee that made the decision, and as an athlete, I cannot oppose them...The decision was reached that it is forbidden to compete with [Israelis] because it's beneath my dignity and dishonorable to compete with them and recognize them [sic] the State of Israel."
The Palestinian Olympic Committee (POC) is headed by Fatah Central committee Secretary Jibril Rajoub, a senior Palestinian Authority (PA) leader. As the research organization Palestinian Media Watch (PMW) has documented extensively, Rajoub -- who also heads the Palestinian Football Association (PFA) -- does not use sports as a means to building bridges or establishing peaceful relations between the PA and Israel, but rather as an additional tool to demonize the Jewish people and the Jewish state.
One flamboyant instance of this took place during the launch of the first Forum for Arab women sports journalists, when Rajoub referred to Jews and Israelis as "Satans" and "Zionist sons of bitches," adding, "Normalization with the occupation is impossible, impossible, impossible, with no exceptions..."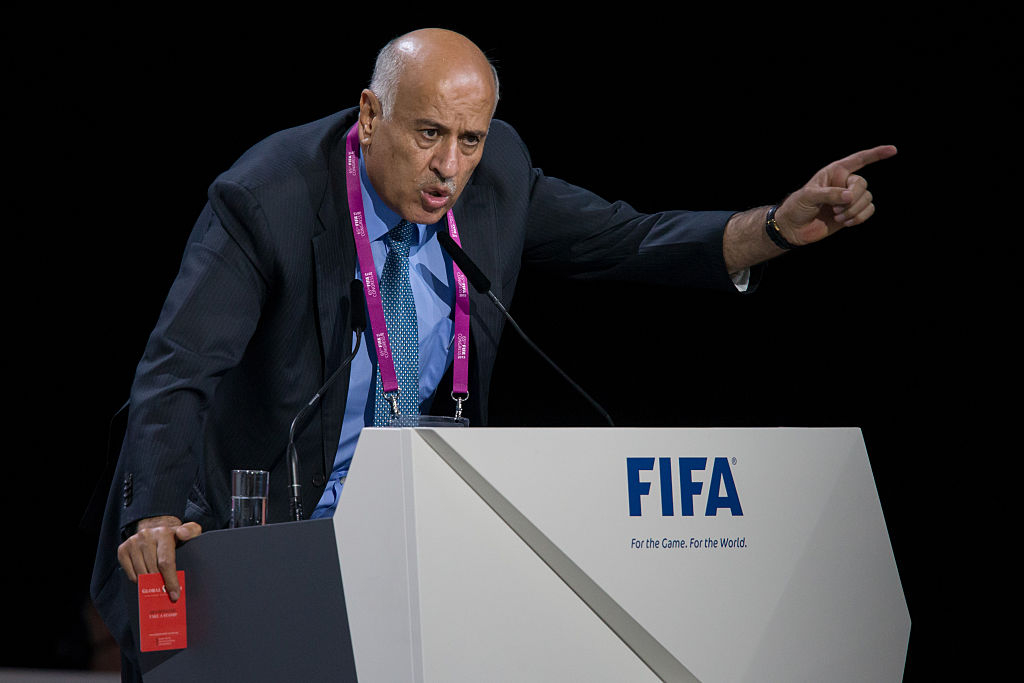 Jibril Rajoub, President of the Palestinian Football Association and the Palestinian Olympic Committee, has referred to Jews and Israelis as "Satans" and "Zionist sons of bitches." Pictured: Rajoub giving a speech at the 65th FIFA Congress on May 29, 2015 in Zurich, Switzerland. (Photo by Philipp Schmidli/Getty Images)
Rajoub's sentiments are not infrequent among PA leaders. On the contrary, a key element of brainwashing each new generation in the PA has been the dehumanization of Jews and rejection of Israel's right to exist. These have been carried out by messages conveyed through the education system, the media, the mosques, and even in the names of summer camps and crossword puzzles.
No medium is too small.
Schools, sports arenas and competitions in the PA are repeatedly named after terrorists "martyred" while killing Jews.
Because of Rajoub's history of unethical behavior, particularly in his sports-related roles, PMW submitted a complaint to the Disciplinary and Ethics Committees of FIFA (Fédération Internationale de Football Association) in April against him and the Palestinian Football Association. The complaint includes examples of the glorification of terrorism and Jew-hatred. It provides evidence that the PFA is in violation of the FIFA Statutes and Disciplinary Code. According to PMW, although the complaint was acknowledged to have been received by FIFA, and in spite of inquiries about the progress of the review, no action has been taken by the international body as of yet.
PMW stated:
"FIFA has a clear double standard when responding to violations of its statutes. PMW has reviewed hundreds of decisions of the Court of Arbitration for Sports (CAS) (the highest court for sport) and has learned that FIFA and the football community act forcefully to punish even minor violations when committed by other football clubs or even their fans. Yet the PFA's and Rajoub's racism and terror promotion, all serious violations, are being ignored by FIFA."
Swift action must be taken to remove Rajoub from his posts, and the PA needs to be pressured to replace him with someone whose passion for sports and sportsmanship exceeds that of his lust for Jewish blood. If this is not undertaken, FIFA should oust the PFA from its ranks.
The same applies to the International Olympic Committee, which has a duty to remain true to its mission – "to contribute to building a peaceful and better world by educating youth through sport practiced without discrimination of any kind and in the Olympic spirit, which requires mutual understanding with a spirit of friendship, solidarity and fair play." It has to threaten the POC that it will be ousted unless it rids itself of dangerous radicals such as Rajoub.
A. Z. Mohamed is a Muslim born and raised in the Middle East.