A months-long confrontation between China and India over an obscure piece of land -- the Doklam plateau in the Himalayas -- has serious implications that should not be minimized or ignored.
China's decision to pick a fight with India near their mutual border with the Buddhist kingdom of Bhutan is not just a local issue: the regional altercation could have global repercussions.
The crisis was sparked early in the summer of 2017, when China constructed a road inside Bhutan, an ally of India's. (Bhutan's border is internationally recognized, but China rejects its legitimacy, claiming that the area is really part of southern Tibet.) In response, Indian troops entered the disputed territory on June 12 and faced off with Chinese soldiers and road construction crews. No shots were fired, however brawling ensued.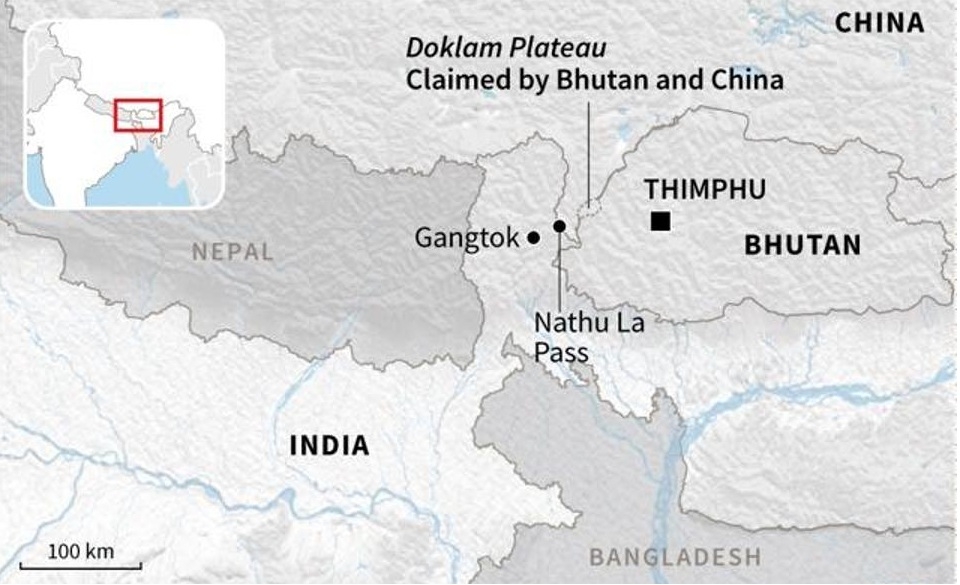 (Image source: Nilesh shukla/Wikimedia Commons)
China's behavior, which reflects its ultimate objective of achieving hegemony in the Pacific, runs counter to the U.S. policy imperative to protect freedom of navigation on the high seas, through which one-third of the world's commerce passes. To this end, the U.S. Pacific Fleet conducts regular and frequent multilateral naval exercises to keep these waters free of Chinese control. One such exercise was conducted jointly with the Indian Navy during the recent standoff with China.
The upshot of the standoff was that India backed down. On August 28, New Delhi withdrew its troops from Doklam, a move that China has touted as a victory and deployed as a warning. As a Chinese Defense Ministry spokesman triumphantly announced, "We remind the Indian side to learn the lesson from this incident."
India portrayed the temporary resolution to the conflict differently, claiming the crisis was defused as a result of a mutually agreed-upon diplomatic decision, which it called an "expeditious disengagement of border personnel." In any event, as no territorial issues were resolved along the 3,500-kilometer China-India border, future incidents are likely to erupt.
In the meantime, India's withdrawal already has served China's interest: to pressure Bhutan and Nepal to resist seeking help from New Delhi to defend their sovereignty. China wants these Himalayan countries to view India as an unreliable ally, and probably hopes they will begin looking to Beijing for protection and leadership.
Where the wider region is concerned, China most likely considers India's capitulation as a signal to other countries engaged in territorial disputes with it -- such as Vietnam, Indonesia, Malaysia, the Philippines, Brunei and Japan -- to succumb to bilateral negotiations with Beijing, rather than solicit international or multilateral organizations to negotiate for them. All of these states, which are either U.S. allies or have friendly relations with America, are keenly aware of their vulnerability in the face of China's growing military power. If they become disillusioned and weaken their resistance to Beijing's ambitions, the United States' standing in the Pacific will be damaged irrevocably.
This is precisely the indirect message that China has been conveying to the powers-that-be in Washington, while warning India not to participate in any possible U.S. strategy to contain Chinese influence. Speaking on August 1 at an event to mark the 90th anniversary of the founding of the People's Liberation Army, Chinese President Xi Jinping hinted at this when he said, "We will never permit anybody, any organization, any political party to split off any piece of Chinese territory from China at any time in any form."
The United States must not allow China to intimidate India and other friendly regional states. Rather, it must support the banding together of those countries to defy Beijing and contain Chinese expansionism. American influence in the Pacific is at stake, which should be of great concern to the rest of the free world.
Dr. Lawrence A. Franklin was the Iran Desk Officer for Secretary of Defense Rumsfeld. He also served on active duty with the U.S. Army and as a Colonel in the Air Force Reserve, where he was a Military Attaché at the U.S. Embassy in Israel.