In a remarkable decision taken at the end of August, Germany's Interior Ministry declined to bar the Popular Front for the Liberation of Palestine (PFLP) -- listed as a terrorist organization by the US, Canada, the European Union, and Australia -- "from campaigning as a political party in the September general election to the Bundestag."
Yes, the PFLP -- on a joint list with the Marxist-Leninist Party -- plans to field candidates in this month's elections in Germany and run for Parliament.
What is the PFLP? Formed shortly after Israel's Six-Day War through the merger of three militant groups -- The Young Avengers (Palestinian nationalists), The Heroes of the Return (based in Lebanon), and the Palestinian Liberation Front (which operated largely out of Syria and the West Bank) -- it is today, after Fatah, the second largest faction in the Palestine Liberation Organization (PLO). Described variously as a blend of "Palestinian nationalism with Marxist ideology" and as "a Palestinian nationalist organization with different ideological outlooks at different times (from Arab nationalist, to Maoist, to Leninist)," it has called for Israel's destruction and international communist revolution.
Considered more radical than Fatah, it has, ever since its founding, routinely targeted civilians without remorse. During its early days, it was on friendly terms with Germany's Red Army Faction (the Baader-Meinhof Gang) and received funding from the USSR and China. In recent years the PFLP has been chummy with Iran.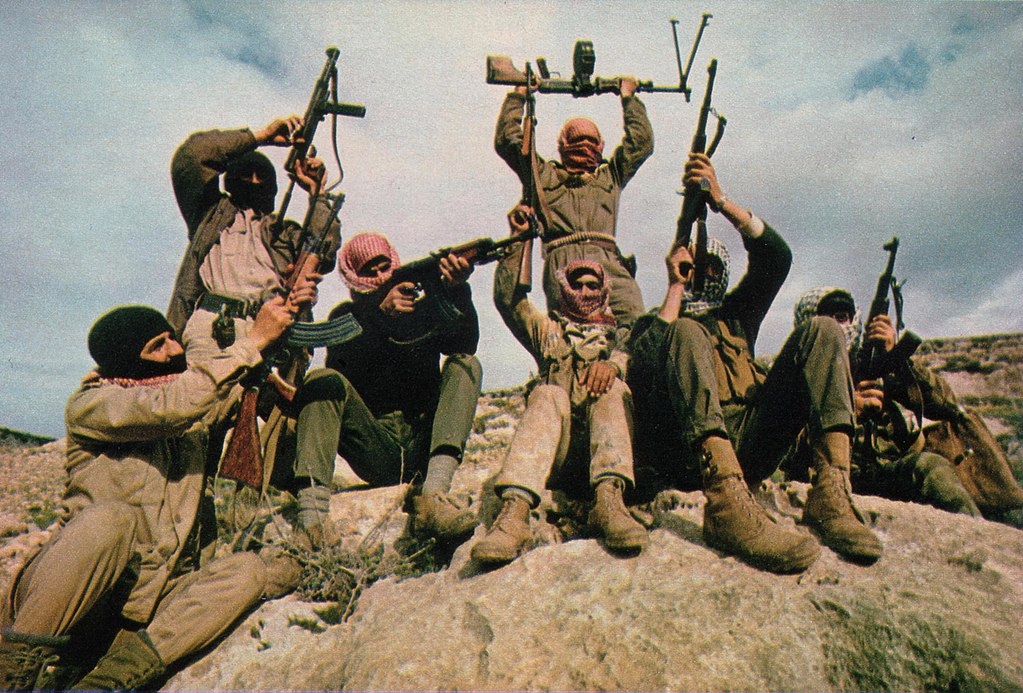 Coming soon to Germany's Parliament?
Pictured: Terrorists of the Popular Front for the Liberation of Palestine (PFLP) in Jordan, in 1969. (Image source: Library of Congress/Thomas R. Koeniges/LOOK/Wikimedia Commons)
Half a century ago, the PFLP specialized in hijacking planes -- it was the first Palestinian group to do so, and the first successfully to commandeer an El Al plane. That act, in 1968, is widely considered to mark the beginning of the modern era of international Islamic terrorism. On a single day in September 1970, its members hijacked three passenger flights headed from European airports to New York. In 1972, a PFLP member took part in the Lod Airport Massacre, in which 28 people were murdered at what is now called Ben Gurion International Airport. In October 2001, it assassinated Israeli Tourism Minister Rehavam Ze'evi in retaliation for Israel's killing of its top leader at the time, Abu Ali Mustafa (after whom the group's militant wing is now named).
During the next few years, the PFLP focused on suicide bombings in Israel; more recently, it has kept busy firing rockets into Israel from the Gaza Strip.
In November 2014, two PFLP associates murdered six people in a synagogue massacre in Jerusalem. On June 16 of this year, it collaborated with Hamas on a fatal attack in East Jerusalem; on July 14, it murdered two Israeli police officers in Jerusalem's Old City and bragged that its "heroic operation" had successfully broken through "the security cordon imposed by the Israeli occupation forces on the city of Jerusalem and Al-Aqsa, breaking the arrogance of the Zionist security which sees in the city and in Al-Aqsa an impenetrable fortress."
Perhaps the PFLP's most famous operative is Carlos the Jackal, the legendary Venezuelan terrorist, currently serving a life sentence in France. Another high-profile member is Leila Khaled, who has been called "the first woman hijacker in history" and who has been allowed in recent years to enter many Western countries, including Germany, Sweden, Austria, and South Africa, to deliver speeches, meet with fellow communists, and confer with supporters of movements that try to destroy Israel economically.
If it seems exceedingly inappropriate for these countries' governments to afford Khaled such treatment, consider that the UN, the EU, and a number of European countries, including Germany, France, Britain, Ireland, the Netherlands, Switzerland, Spain, Sweden, Denmark, and Norway, have funded non-governmental organizations with links to PFLP -- among them Addameer, Al-Haq, the Alternative Information Center, the Health Work Committee, Stop the Wall, the Palestinian Center for Human Rights, and the Union of Agricultural Work Committees. At least one of the groups in question, according to NGO Monitor, was founded and is run by the PFLP; others have convicted terrorists on their payrolls and/or have abetted PFLP and its members in one way or another. There has, however, been remarkably little media attention paid to the fact that at least some of taxpayer money donated by these Western countries has found its way into the PFLP's coffers, and more than $300 million annually to the salaries of terrorists.
But of all the actions taken by Western governments and international organizations that have benefited the PFLP, none has come as close to legitimizing it as Germany's decision to let it field candidates in this month's elections. "For observers of terrorism in Germany," wrote Benjamin Weinthal in the Jerusalem Post, "it is unclear why the ministry is reluctant to outlaw the Palestinian organization." After all, it is not as if the Federal Republic of Germany has no power to ban parties; it outlawed the Volkssozialistische Bewegung Deutschlands/Partei der Arbeit (People's Socialist Movement of Germany) in 1982 and the Freiheitliche Deutsche Arbeiter Partei (Free German Workers Party) in 1995.
Nor are today's German authorities shy about silencing individuals for holding views they consider inappropriate. Gatestone Institute's Soeren Kern noted in 2012 that German authorities were "monitoring... websites that are critical of Muslim immigration" and were prepared to shut them down. In 2014, Bavarian officials sought to gag critics of a new mega-mosque; in January of last year, the Washington Post reported that Germany had "reached a deal with Facebook, Google and Twitter to get tougher on offensive [read: anti-Islamic] content." German police even raided the home of a critic of Muslim refugees.
A German court had given five months' probation to a woman for her online comments "about an alleged rape of a German woman by an asylum seeker." In June 2016, German police raided the homes of thirty-six additional people guilty of "hate posting" online; in July, they raided about sixty more homes.
It is hard not to see this as a strange, ironic, and tragic historical moment. In living memory, Germany was transformed from a fearsome totalitarian power, bent on conquest and genocide, into a cornerstone of liberal democracy. Now, even more than many of its similarly misguided European neighbors, it is plainly headed in a direction that should give pause to every lover of Western freedom: even as it is increasingly cracking down on criticism of Islam, it appears prepared to give a genuine Islamic terrorist group the opportunity to win seats in its national legislature.
Bruce Bawer is the author of the new novel The Alhambra (Swamp Fox Editions). His book While Europe Slept (2006) was a New York Times bestseller and National Book Critics Circle Award finalist.