Bombings and other terrorist attacks are now a common feature of life in modern Europe. On just one day (September 15, 2017), an improvised explosive device was placed on a London Underground train, a man wielding a knife and shouting "Allah" attacked a soldier in Paris, and a man with a hammer shouting "Allahu Akbar" badly wounded two women in Lyon. As the former Prime Minister of France and the present Mayor of London have put it, perhaps this is all just a price we have to pay for living in big cities in Europe in the 21st century: we have traffic congestion, great restaurants and terrorist attacks.
Of course, the public are all the time worrying about other things -- not just whether all this is just a taste of something worse to come, but whether anything might be done to stop it. While our political leaders continue to view this as a narrow security-related question, the public can see that it is also a border-security and mass-immigration issue. Across the continent, poll after poll shows the European public continuously calling for migration into Europe to be slowed down. This plea is not due to some atavistic urge or distasteful racist instinct, but something that the public seems to intuit better than their politicians -- which is that if you do not have control of your borders, with a meaningful set of immigration laws and the right to keep people out of your country then you do not really have a country.
Since the upsurge in Europe's migration crisis in 2015, when Germany's Chancellor Angela Merkel unilaterally decided to suspend normal border checks and turn an already existing flow of migrants into a tidal wave, politicians and the public have divided from each other over this issue. While the public want their representatives to control their borders, politicians seem to see only political capital in running the other way. In part this is because there appears to be some kind of "bonus" to be achieved by looking welcoming and kindly in contrast to the unwelcoming and mean things that borders now appear to represent.
Politicians such as Prime Minister Justin Trudeau in Canada have used the opportunity of Europe's migration catastrophe to grandstand and present themselves as offering a different way. In the wake of Donald Trump's campaign rhetoric on building a wall along the US-Mexican border, Trudeau in particular has presented himself as the yin to Donald Trump's yang. In January, when President Trump was sworn into office, Trudeau sent out a Tweet reading, "To those fleeing persecution, terror and war, Canadians will welcome you, regardless of your faith. Diversity is our strength." To which he added the hashtag, #WelcomeToCanada. In March of this year, in another clear response to the US President, Trudeau tweeted, "Regardless of who you are or where you come from, there's always a place for you in Canada" -- a tall order, given the existence of 7.5 billion people on this earth, many of whom are not already Canadian.
The movement which the Canadian Prime Minister appears to be auditioning to lead is one which seeks (as protestors often put it) to "build bridges not walls". It is an attractive slogan, although anyone who utters it cannot have been to London recently where (after attacks on Westminster and London Bridge within just a few weeks) the city's bridges are covered in security walls and barricades. Which might suggest that the "walls and bridges issue" is not, after all, an either/or business, or even the central issue at all.
Yet, given this considerable grandstanding in the early part of the year, it would take a heart of stone not to laugh now at the situation in which Prime Minister Trudeau finds himself. In recent months, thousands of migrants, most of them from Haiti, have crossed the border -- illegally -- from the US into Canada. This influx -- tiny by European standards -- has already started to buckle the Canadian immigration system. Hundreds of migrants have had to be housed in emergency tent villages set up by the Canadian army and many have been temporarily housed at the old Olympic stadium in Montreal.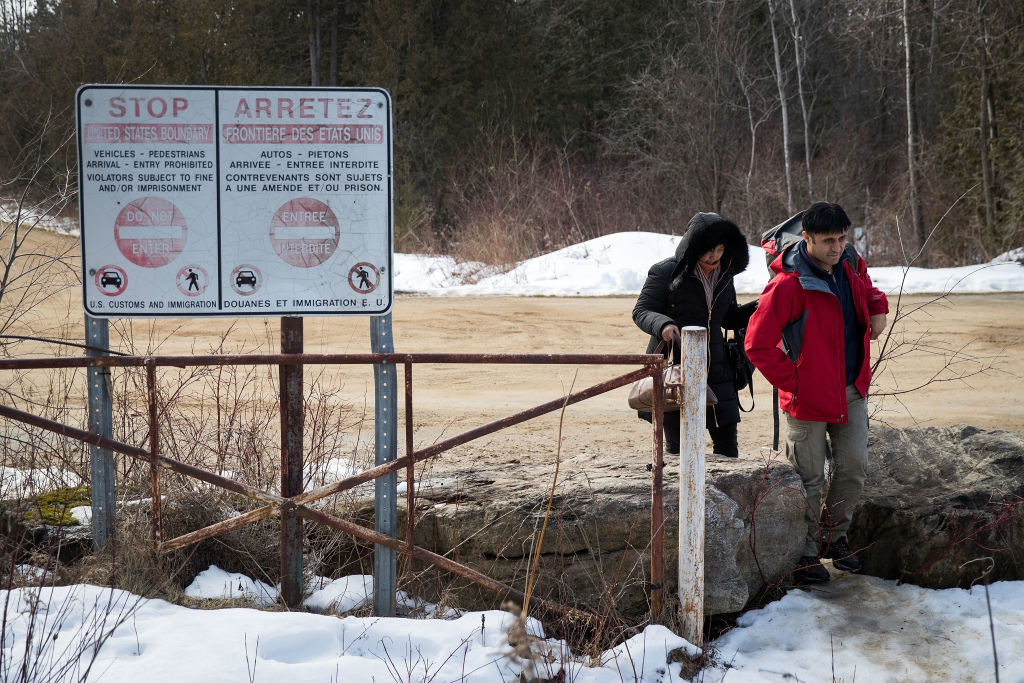 Pictured: Two people, who claimed to be from Turkey, illegally cross the U.S.-Canada border into Canada, on February 23, 2017, near Hemmingford, Quebec. (Photo by Drew Angerer/Getty Images)
Unlike many of the migrants still daily moving into Europe, the migrants arriving in Canada are not fleeing war, persecution or poverty. They are simply people who are not keen to end up on the wrong side of America's immigration laws now that there is a president who may (though may just as likely not) enforce those laws. As a Washington Post report has put it, "Though they've been lazily framed as 'fleeing Trump,' most of the Haitians appear motivated by a desire to dodge American laws they don't care to obey."
By the end of August, it was estimated that almost 12,000 people had arrived in Canada through this route so far this year. It is a number that constitutes little more than an averagely busy week in Italy at any time over recent years. But even this comparatively tiny movement across an entire year has proven too much for Canada. At the end of last month Trudeau told reporters:
"For someone to successfully seek asylum it's not about economic migration. It's about vulnerability, exposure to torture or death, or being stateless people. If they are seeking asylum we'll evaluate them on the basis of what it is to be a refugee or asylum seeker. You will not be at an advantage if you choose to enter Canada irregularly. You must follow the rules and there are many."
Of course, this is a very different tune to the one he had been advantageously -- perhaps even opportunistically -- playing to date. When he was trying to present a clear alternative to European and American leaders at the start of 2017, there was no talk of "irregular" or "regular" entry, or of the "many" rules. Before he experienced his own tiny trickle of migration, Trudeau spoke only of there always being a "place" for everyone in the world who wanted to come to Canada. How things can change when even the tiniest dose of reality hits.
Douglas Murray, British author, commentator and public affairs analyst, is based in London, England. His latest book, an international best-seller, is "The Strange Death of Europe: Immigration, Identity, Islam."