India's vote in favour of the recent UN General Assembly resolution critical of U.S. President Donald Trump's decision to recognize Jerusalem as the capital of Israel and shift its embassy to the holy city is most unfortunate. The resolution, adopted with 128 in favour to nine against, with 35 abstentions, expressed "deep regret" over this decision and stressed that Jerusalem "is a final status issue to be resolved through negotiations in line with relevant U.N. resolutions."
The Trump administration's decision on Jerusalem is very much in harmony with the morality of American democracy and the resolution of its Congress, and that if there are 56 Islamic states in the Organisation of Islamic Cooperation (OIC); seven officially Roman Catholic states (Argentina, Bolivia, Costa Rica, El Salvador, Liechtenstein, Malta and Monaco); four officially Protestant states (Denmark, Finland, Norway, Sweden); one Eastern Orthodox state (Greece), and one Anglican state (Great Britain), surely there is room for one Jewish state for a people who have continuously lived on that land for nearly 4,000 years.
Jerusalem has been in the heart of Jews. Israeli Ambassador to India Daniel Carmon repeated the claim to Jerusalem: "Jerusalem always was the capital of the Jewish people, is and will continue to be the capital of modern Israel. No vote at the General Assembly can change that."
Ironically, the holy city was not part of Israel in the original 1947 UN Palestine partition plan. Under this plan Jerusalem was to be ruled by an international trusteeship. Confronted with the opposition of many Arab and Muslim countries to the very idea of a Jewish state, (not to speak of Jerusalem), the Jews in 1948 declared Israel as an independent state with Jerusalem as its capital. Israel liberated so-called East Jerusalem in 1967 from Jordan, which had illegally captured in the 1948-49 war. In June 1980, the Israeli government passed a "Basic Law" declaring Jerusalem "complete and united" as its capital.
Aware of this reality, the United States Congress had already passed the Jerusalem Embassy Act in 1995, which urged the US to relocate its embassy from Tel Aviv to the Holy City. In June 2017, the US Senate reaffirmed Jerusalem as Israel's capital: "Israel is a sovereign nation with the right, like every other sovereign nation, to determine its own capital. Acknowledging this is a fact is a necessary condition for achieving peace."
New Delhi should now appreciate this American logic and refrain from opposing the current US administration's decision on relocating its own embassy wherever it likes. New Delhi would have done better to vote against the resolution and support Washington on the capital transfer also to improve its ties with its two important natural democratic allies -- the United States and Israel. In the post-Cold War landscape, relations between Washington and New Delhi have attained new heights. India today needs American support for defence platforms and membership of the Nuclear Suppliers Group. US President Donald Trump has already described India as a leading global power and expressed his readiness to support it in reaching this status.
After the establishment of full diplomatic ties between New Delhi and Jerusalem in January 1992, economic, technological, military and diplomatic relations between the two capitals have moved from strength to strength. During Prime Minister Narendra Modi's visit to Israel (July 4-6, 2017), India and Israel signed agreements in the fields of water, agriculture, and space. Netanyahu and Modi upgraded the current bilateral relationship to a "strategic partnership" and agreed to take "strong measures... against terrorists, terror organisations, their networks and all those who encourage, support and finance terrorism, or provide sanctuary to terrorists and terror groups."
Now, Israeli Prime Minister Benjamin Netanyahu is scheduled to visit India this month. He and Modi are expected to focus on taking cooperation on "the double T's" -- Technology, including agriculture and water conservation, and counter-terrorism to the "next level."
In the interest of growing Indo-Israeli ties, New Delhi would do well to join Guatemala and other nations, declare Jerusalem as Israel's capital and move its embassy to Jerusalem. The standard practice is to establish embassies only in a given state's capital. There should be no exception to this practice.
When, in 1948 Israel declared itself an independent state with Jerusalem as its capital, India was among the first nations to recognize the Jewish state.
India, as the US, could locate its embassy in West Jerusalem. A Middle East expert, Raphael Cohen-Almagor, founder and director of the Middle East Study Group (MESG) at Britain's University of Hull, recently stated:
"All nations respect fellow nations and establish their embassies in the nation's chosen capital. Israel should not be an exception. All nations should establish their embassies in West Jerusalem. This move does not undermine the idea of two-state solution. According to the vision of two-state solution, East Jerusalem will be the capital of Palestine and West Jerusalem the capital of Israel."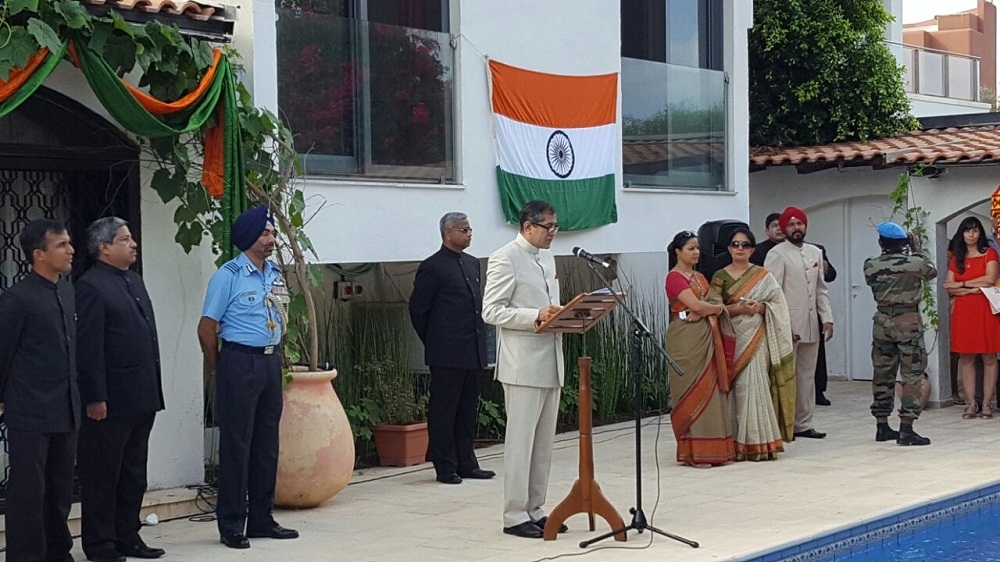 Pictured: Officials and staff celebrate India's 70th Independence Day on the grounds of the Indian Embassy in Tel Aviv, on August 15, 2016. (Image source: Indian Embassy in Tel Aviv)
The author is a senior journalist based in New Delhi.