Egyptian President Abdel Fattah el-Sisi responded to U.S. President Donald Trump's official recognition of Jerusalem as Israel's capital with cautious pessimism. He warned his ally in the White House not to take measures that would undermine prospects for peace in the Middle East. The delicate balancing act he has been performing, to avoid jeopardizing his relationship with Washington, and at the same time not antagonize the Palestinians and much of the Egyptian public, was probably to be expected.
Not expected was the depth of extremist anti-American and anti-Israel sentiment spread by Egypt's state-run media. Two particularly jarring examples illustrate this disturbing trend.
The first was from television host Ahmed Moussa, on the Sada Elbalad network, who proceeded to denounce the United States as the world's bully, an international thug that supposedly both manages terrorism and manipulates it to justify its policies. He claimed that it was Egypt that led the world against Trump's Jerusalem declaration, and that the U.S. was trying to control Egypt by lodging false accusations of human rights violations and discrimination against Christians. He actually said this in spite of "what have now become regular assaults by Islamic militants on the country's Coptic community."
The second, and even more disturbing, example was a broadcast by Al Nahar TV's Gaber Al-Armouti. First, Al-Armouti celebrated a prayer delivered during the Friday sermon at Cairo's Al-Azhar Grand Mosque, by its imam, Mohammed Zaki: "May Allah doom Trump with defeat." Then he said he wished that the imam had cursed Israel, its prime minister, Benjamin Netanyahu, and all of its people. He subsequently praised the female teenage Palestinian provocateur, Ahed Tamimi, who slapped an Israeli soldier and called him a "moron and son of moron." When her father, during a phone interview with Al-Armouti, said that his daughter's attorney is Israeli and trustworthy, the host ignored the comment, and repeatedly yelled, "Zionist occupation," and "Zionist enemy," referring to Israelis as kelab (the derogatory Arabic word for "dog.")
Al-Armouti also decried that many Egyptians and other Arabs follow the IDF spokesman to the Arab press, Maj. Avichay Adraee, on social media, and share his "vicious" tweets, posts and news items. He then cursed Adraee, and expressed the wish that he be burned "in life and the afterlife." He also denounced all Israeli normalization initiatives as fake, claiming that their goal is to destroy Arabs and their countries; and said that ISIS has clear connections with Israel, which he called the "first, last, worst, and most dangerous enemy" and "son of bitch."
He concluded by stating, "Our enemies are not Qatar or Turkey; ultimately, we will reconcile with them. Only Israel will always be our enemy." He finished off with the prayer: "Allah, our God, kill Netanyahu and destroy his state!"
A few months ago, Israel's ambassador in Cairo, David Govrin, pointed to a shift in the Egyptian media's attitude towards Israel. "[The number of] poisonously critical articles and anti-Semitic cartoons has declined compared to the 1990s," Govrin said, during a lecture at the Institute for National Security Studies in Tel Aviv. This may be true, but it does not explain how it is that the state-run press persists in the practice of condemning the United States and Israel -- an attitude that contradicts el-Sisi's positions and vision for reforming Islam.
This is one of the conflicts that still beleaguer Egyptian society -- or perhaps signs of a growing power struggle. What is urgently needed -- to keep the next generation from being brainwashed by hate-filled, anti-Western propaganda -- is for all the pro-peace voices in the country's media to work together and in conjunction with the el-Sisi government, to report the news and present the facts in an objective and professional way.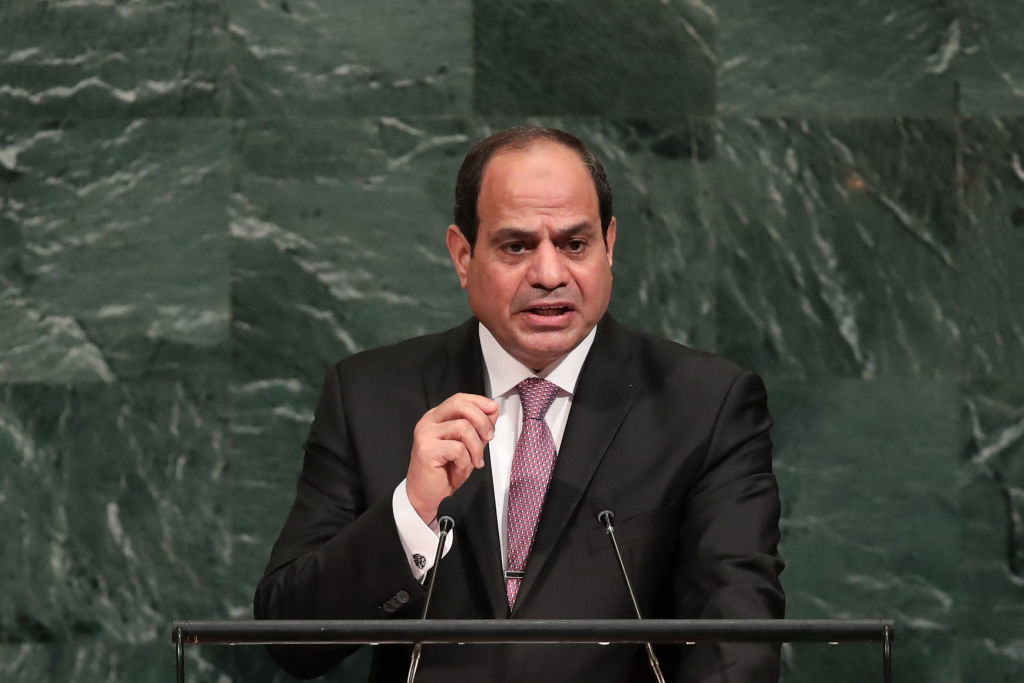 Egyptian President Abdel Fattah el-Sisi. (Photo by Drew Angerer/Getty Images)
A.Z. Mohamed is a Muslim born and raised in the Middle East.