There is nothing more delightful than watching two Islamic terror groups fight each other to the death. For several years now, Hamas in the Gaza Strip and ISIS in Sinai have been cooperating with each other, especially in smuggling weapons and terrorists over the border between Egypt and the Gaza Strip. It was a win-win: Hamas supplied ISIS with terrorists; ISIS supplied Hamas with weapons that were smuggled into the Gaza Strip.
It appears, however, that the honeymoon between the two terror groups is over.
Last week, ISIS published a video documenting the execution of one of its men after he was found guilty of smuggling weapons to Hamas in the Gaza Strip. The execution of Musa Abu Zmat, a former Hamas terrorist who fled the Gaza Strip to join ISIS, took place in Sinai.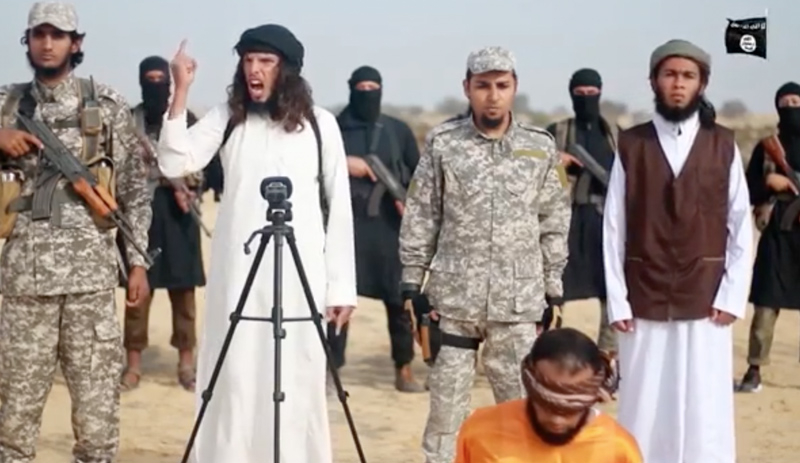 A screenshot from the ISIS video, showing Musa Abu Zmat, a former Hamas terrorist, blindfolded and awaiting execution.
In the video, the ISIS terrorists accuse Abu Zmat of being an "apostate" for smuggling weapons to Hamas's armed wing, Ezaddin Al-Qassam, in Gaza. They also accuse Abu Zmat of smuggling dozens of people from Al-Arish, in the Sinai, into the Gaza Strip.
The ISIS terrorist who carried out the execution by a single shot to the head has been identified as Mohammed Al-Dajni, who is also from the Gaza Strip but fled to Sinai to join ISIS. Al-Dajni's father, Abu Rashed, is a senior Hamas official who previously held a top position in the health services in the Gaza Strip.
Another ISIS operative who appeared in the execution video has been identified as Abu Kathem Al-Makdisi. In the video, Al-Makdisi is referred to as a "sharia judge." He is the one who read out verdict against Abu Zmat before the execution. Al-Makdisi also condemns Hamas in the video and calls on Palestinians in the Gaza Strip to join ISIS.
Palestinian sources say that Al-Makdisi's real name is Hamzeh Al-Zamli, a convicted thief who fled the Gaza Strip several years ago. The sources note that he had been convicted of robbing several businesses in Gaza before he crossed the border to Sinai.
The families of the two ISIS executioners (Al-Dajni and Al-Makdisi) have issued strong statements condemning and disowning their sons.
Here is what we need to learn from this video:
There are many Palestinians from the Gaza Strip who have joined ISIS in the past few years. It is worth noting that ISIS and its affiliates in Sinai have carried out many atrocities against Egyptian civilians and the Egyptian army.

Many of the Palestinians who have been joining ISIS are former members of Hamas and Palestinian Islamic Jihad. Some even held senior positions in the armed wings of those two terror groups.

The business of smuggling weapons and terrorists across the border between the Gaza Strip and Egypt has flourished for many years. Until recently, ISIS and Hamas were in full cooperation on the smuggling business and this has undoubtedly facilitated some of the major terror attacks carried out by ISIS in Sinai in recent years.

ISIS is making it clear that it now has its eyes set on the Gaza Strip. By calling on Palestinians to rebel against Hamas, ISIS is hoping to facilitate its mission of infiltrating the Gaza Strip. Previous attempts by ISIS to infiltrate the Gaza Strip have been successfully thwarted by Hamas. Hamas brooks no competition. Ever.

It shows that despite its denials, Hamas is involved in smuggling weapons from Sinai into the Gaza Strip. The man who was executed by ISIS last week was accused of smuggling weapons for Hamas's military wing inside the Gaza Strip. This means that he was either a double agent (for Hamas and ISIS) or that he did something to annoy his ISIS cohorts. Hamas has repeatedly assured the Egyptian authorities that it has no links to ISIS in Sinai and that it supports Egypt's war on terrorism. This is quite a statement from a terror group. The Egyptian authorities have taken the claim with a grain of salt and continue to impose a blockade on the Gaza Strip by keeping the Rafah border crossing shut.
To be clear: the latest dispute between Hamas and ISIS is not a power struggle between good guys and bad guys. This is a power struggle between bad guys and bad guys. It is a power struggle between two ruthless Islamic jihadi terror groups who even have much in common regarding strategy and ideology. Both groups want to spread sharia and eliminate the "infidels" and "apostates." Both groups are responsible for some of the most horrific terror attacks and atrocities in modern history.
While Hamas is probably the lesser of the evils in this instance, it is far from moderate. Ironically, it is probably Hamas's cooperation with ISIS that has brought Hamas to its current level of deterioration. Hamas wanted help from ISIS to smuggle weapons into the Gaza Strip and they got it. Hamas, in return, allowed ISIS terrorists to cross back and forth into the Gaza Strip and Sinai.
For now, no one knows where this ISIS-Hamas feud is headed. What is certain is that the ongoing attempts by ISIS to infiltrate the Palestinian arena should worry not only Palestinians, but Israel and Egypt as well. If ISIS manages to get a toehold in the Gaza Strip, they will be that much closer to Israel's doorstep, and their jihadis minutes from Israeli towns and cities. For the Egyptians, this means that one day they will have to fight ISIS not only in the Sinai, but also inside the Gaza Strip. The biggest losers, once again: the Palestinians.
Bassam Tawil is a Muslim based in the Middle East.