On his return from a recent two-day trip to Israel -- where he met with high-level officials -- Adonis Georgiadis, the vice president of Greece's opposition party, New Democracy, declared his support for recognizing Jerusalem as Israel's capital.
In an interview with Skai Radio on March 7, Georgiadis called it "almost funny to discuss whether Jerusalem is a Jewish city or not."
"[It] was founded by the Jews... in ancient times. You can read Flavius Josephus or read Diodoros Siceliotis and see the references to the city of Jerusalem, where there was the High Priest of Solomon's Temple and that it was the city of the Jews. This is the reality."
When challenged by the interviewer, who said, "But as time went by, many things happened in the city's history," Georgiadis, a historian, replied:
"I don't disagree, but this city is from the beginning a Jewish city. They [Jews] made it; they founded it; it's theirs... Now, President Trump's decision to transfer the US Embassy to Jerusalem is a little bit provocative... But I have to say... that I am in favor of this decision rather than against it."
Two days earlier, on March 5, MP Makis Voridis, a former minister from the New Democracy party, expressed a similar position in an op-ed in the Greek daily Kathimerini:
"President Trump's decision to recognize Jerusalem as the capital of Israel is right and fair. The country [Israel] deserves the full support of the US and Europe, because it is the only liberal democracy in the Middle East. Israel is neighboring states with authoritarian regimes that do not sufficiently safeguard human rights. Despite numerous external threats, this small country still retains its liberal and pluralistic character. Individual freedoms are constitutionally guaranteed; women's rights are fully respected; and Arab-Israeli citizens (20% of the population) have a high standard of living."
He continued:
"The Palestinian side has not shown any intention to negotiate seriously with the Jerusalem government. The positions of the Palestinians are maximalist and dangerous, since they actually propose the Islamization of the city. Palestinian Islamist organizations, like Hamas and Islamic Jihad, have repeatedly launched threats against the non-Muslim population of Jerusalem. Islamists visualize a Jerusalem without churches and synagogues. On the other hand, the Israeli Knesset has recognized since 1980 the multi-religious character of Jerusalem and is committed to the unimpeded access of all believers to places of worship (Basic Law 5740)."
Both Georgiadis and Voridis entered the New Democracy party at the behest of former Greek Prime Minister Antonis Samaras, who is reported to be a personal friend of Israeli Prime Minister Benjamin Netanyahu. During his term as prime minister, from 2012 to 2015, Samaras worked hard to enhance the Greece-Israel relationship, which had been stagnant for decades. Judging by the polls -- according to which the New Democracy party is almost certain to beat the ruling Syriza party, headed by Prime Minister Alexis Tsipras -- strengthening ties with Jerusalem and Washington is supported by a majority of the Greek public.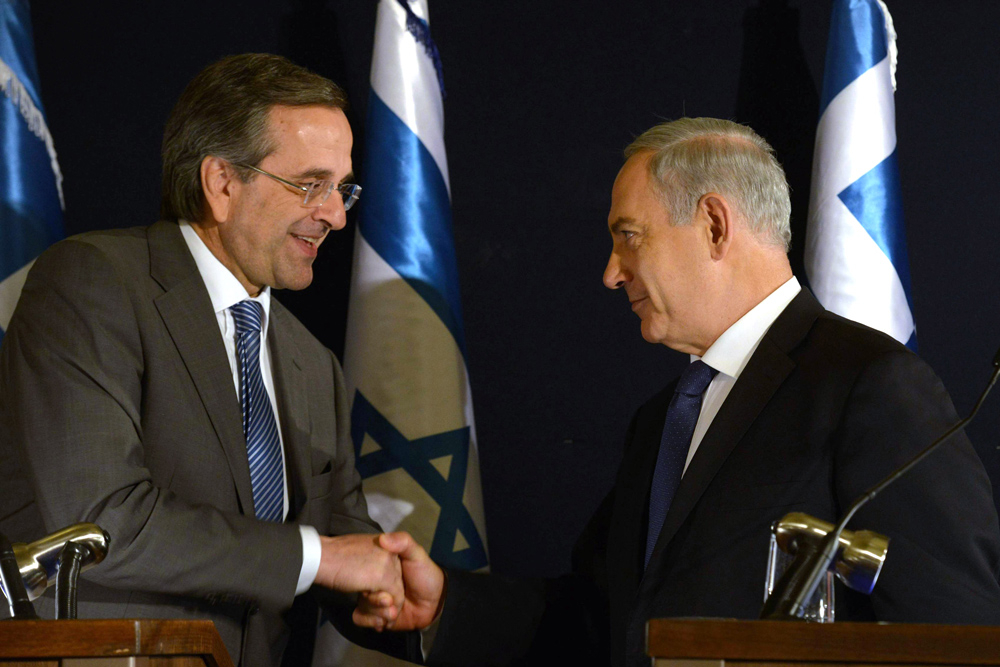 Prime Minister Benjamin Netanyahu (right) meets with then Greek Prime Minister Antonis Samaras on October 8, 2013 in Jerusalem, Israel. (Photo by Amos Ben Gershom/GPO via Getty Images)
Many political analysts are predicting that by autumn 2018, the Tsipras government will announce new elections; it has lost a large share of its base, due to exorbitant taxation, on the one hand, and a loss of voter confidence in the government's foreign policy and domestic security on the other.
It is very encouraging for the future of Greece that two distinguished parliament members, whose party has a good chance of defeating the current leadership, are breathing new life into the political system and reinvigorating crucial partnerships with Israel and the United States.
Maria Polizoidou, a reporter, broadcast journalist, and consultant on international and foreign affairs, is based in Greece. She has a post-graduate degree in "Geopolitics and Security Issues in the Islamic complex of Turkey and Middle East" from the University of Athens.