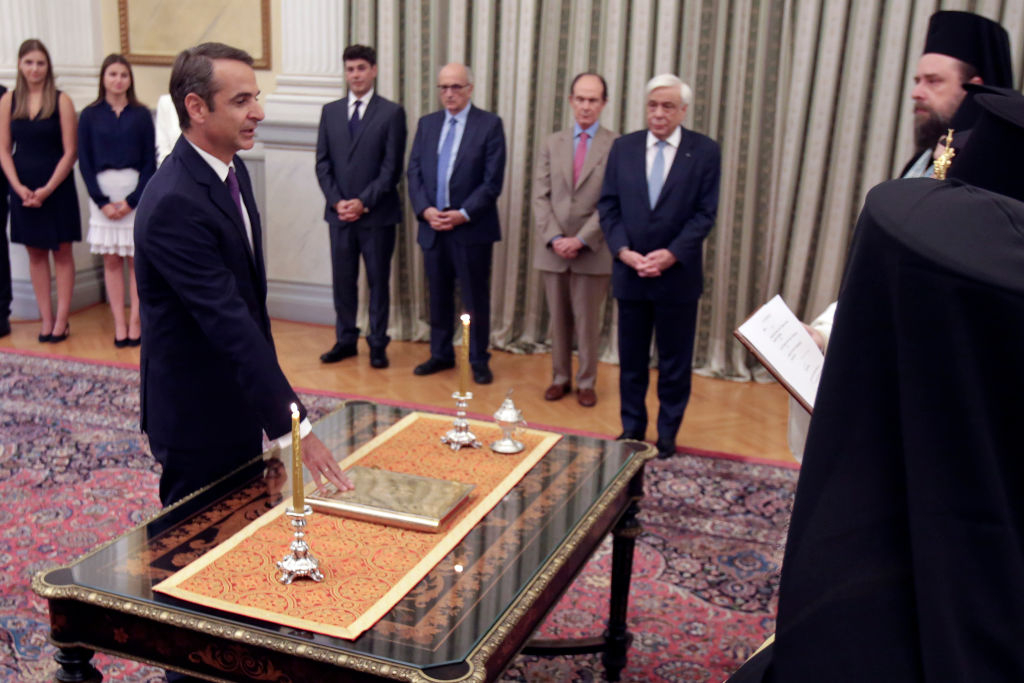 Greece's new prime minister, Kyriakos Mitsotakis, has the chance to prove that opening up the economy while clamping down on forces that threaten Greek democracy can undo the damage done by years of socialist rule. Pictured: Mitsotakis (foreground left) is sworn in as prime minister on July 8, 2019, at the Presidential Palace in Athens. (Photo by Milos Bicanski/Getty Images)
The July 7 elections in Greece have ushered in a new era of promise, with the victory of the center-right New Democracy Party leader, Kyriakos Mitsotakis, over the incumbent prime minister, Alexis Tsipras, head of the left-wing Syriza coalition.
The vote represented the Greek people's frustration and disgust not only with the failures of the Syriza-led government, which wreaked havoc on the economy and state institutions, but with the accompanying widespread corruption and anarchy that overtook the country.
The new government took office with an apparent sense of genuine purpose, seemingly intent on exacting immediate change. The new Minister for Citizen Protection, Michalis Chrysochoidis, for example, set to work with the encouraging pledge to reform the police force. He announced that he would make law enforcement more efficient, through better recruitment policies, backup for anti-crime units and by enabling raids into virtual "no-go" zones, such as Exarchia, a hotbed of drug-dealers, anarchists and illegal immigrants.
Speaking of which, the new government has transferred the handling of illegal immigration from the auspices of the Ministry for Migration Policy to that of the Ministry of Citizen Protection, treating the issue as a national-security threat.
The new government's stated economic reforms include a drastic reduction in taxes, a tough stance against the violation of workers' rights, the encouragement of major foreign investments and curing the ills of the health-care system -- the first step of which has been a surprise inspection of hospitals in Athens.
The Mitsotakis-led government is also reversing its predecessor's course where foreign policy is concerned, stressing a desire to enhance Greek-American relations. One step in illustrating a closer alliance with the administration of U.S. President Donald Trump is the recognition of Juan Guaidó as Venezuela's transitional president in his battle against Nicolás Maduro. Another step is strengthening ties with Israel. Members of the new government, in fact, are on record as having told Israeli Prime Minister Benjamin Netanyahu that they support moving the Greek Embassy from Tel Aviv to Jerusalem, as Trump has done with the U.S. Embassy.
Mitsotakis is encountering problems from Berlin and Brussels, however, over his seeking of a reduction in primary budget surplus targets.
Yet Germany and Eurozone leaders might do well to realize two important things: first, that Greece is no longer ruled by the insecure populists of Syriza; and second, that large surpluses are actually a safety valve for debt repayment.
Greece now has a single-party government that enjoys a wide parliamentary majority, which means that it will not be forced to compromise with Marxists and Social Democrats. This situation bodes well for the major economic and social reforms that Mitsotakis is planning and which he was elected to undertake. He deserves a chance at home and abroad to prove that opening up the economy while clamping down on forces that threaten Greek democracy can undo the damage done by years of socialist rule.
Maria Polizoidou, a reporter, broadcast journalist, and consultant on international and foreign affairs, is based in Greece. She has a graduate degree in "Geopolitics and Security Issues in the Islamic complex of Turkey and Middle East" from the University of Athens.