At an event held on April 11 to unveil the 2017 European Islamophobia Report -- released by the Foundation for Political, Economic and Social Research -- Turkish Foreign Minister Mevlut Çavuşoğlu called on EU governments to criminalize Islamophobia.
"There is no ideology or terminology called 'Islamism'; There is only one Islam and it means 'peace,'" he declared -- incorrectly: salaam means peace; Islam means submission. He also claimed that populist politicians are "increasingly engaging in extremist, anti-immigrant, xenophobic, and Islamophobic rhetoric to get a few more votes," and that "centrist politicians are... using a similar rhetoric to get back the votes they have lost."
Urging all politicians to recognize Islamophobia as "a hate crime and a form of racism" in their constitutions, Çavuşoğlu accused European judiciaries of applying a double standard by not paying as much attention to Islamophobia as they do to anti-Semitism. Using the Holocaust as an analogy, he continued: "There is no need to relive Auschwitz or wait for Muslims to be burned in gas chambers like Jewish people."
Çavuşoğlu's view is not new, but it is a gross distortion of past and contemporary history; it seems shaped by a notion that Islam is superior to other religions, as well as from surah 9:33 of the Quran:
"It is He who has sent His Messenger with guidance and the religion of truth to manifest it over all religion..." (Sahih Translation)
Çavuşoğlu's views also echo those of the Turkish government, headed by President Recep Tayyip Erdoğan.
Non-Muslims, as we all have been seeing, are persecuted throughout the Islamic world. Muslims in Europe, on the other hand, enjoy equal rights and religious liberty. Unfortunately, many radical imams use the freedoms granted to them by European democracies to preach Jew-hatred and violent jihad, to recruit fighters and to establish sharia (Islamic) law courts in their neighborhoods.
Some Muslims, inspired by the teachings of and atmosphere created by these imams, engage in gruesome, religiously motivated crimes against non-Muslims. A disabled 85-year-old Holocaust survivor, for instance, was recently raped, tortured and murdered in her Paris apartment by an extremist Muslim.
Çavuşoğlu, in his talk against Islamophobia, did not mention the atrocities committed by radical Islamists in Europe. Those abuses are at the root of the debate about how to tackle the calls to violence in Islam without hampering the civil liberties of law-abiding Muslims. By proposing to block all criticism of Islam on the grounds that it is "extremist, anti-immigrant, xenophobic and Islamophobic," Çavuşoğlu is revealing that he would welcome banning free speech to protect a religious ideology.
Given Turkey's inhospitable treatment of non-Muslims throughout the ages, it is the height of hypocrisy for its foreign minister to complain about Europe's attitude towards Muslims, which has been the opposite of Islamophobic. To refresh Çavuşoğlu's memory, a review of Turkey's record is in order.
Non-Muslims in Turkey have been exposed to severe persecution and attempts at annihilation, such as the 1914-1923 Christian genocide; the 1941-1942 conscription of the "twenty classes," of all male Christians and Jews, including the elderly and mentally ill; and the 1942 Wealth Tax, which aimed to impoverish non-Muslims and transfer their wealth to Muslims.
Today, only 0.2 percent of Turkey's population of nearly 80 million is Christian or Jewish. The following is a brief account of how Turkish governments have rid the country of its non-Muslim citizens:
Greeks: There are fewer than 2,000 Greeks left in Istanbul, which, until the 15th century Ottoman Turkish invasion, was the Greek city of Constantinople. Even despite its tiny size, the community still suffers from violations of its rights. Among these was the forced closure in 1971 of the Orthodox Halki Seminary, the only school for training the leadership of Orthodox Christianity. Since that time, the Ecumenical Patriarchate of Constantinople, the spiritual center of Orthodox Christianity, based in Turkey, has been unable to train clergy and potential successors for the position of patriarch.
It is also important to note that the cities in Asia Minor or Anatolia, which were established by Greeks during the 9th and 8th centuries B.C., no longer have any Greeks. They were either murdered, deported or forced to flee severe persecution, including the anti-Greek pogrom of September 1955 in Istanbul, and the 1964 expulsion of Greeks from all over Turkey.
Armenians: Even after the 1915 genocide, in which 1.5 million Armenians perished, the persecution of Armenians in Turkey did not end. Since then, the remaining Armenians have witnessed the continued seizure of their property and other assets. In addition, verbal and physical attacks against Armenian community members, schools and the only Armenian newspaper in the country by the Turkish public and the media are still common.
Jews: Since 1923, when the Turkish Republic was established, Jews have been exposed to systematic discrimination and various pressures. The laws that excluded Jews and other non-Muslim citizens from certain occupations in the 1920s and blocked the Jews' freedom of movement; the 1934 anti-Jewish pogrom in eastern Thrace, and the continued anti-Jewish hate speech in the Turkish media and certain political circles are among the forms of persecution and discrimination against Jewish citizens of Turkey.
Assyrians: According to the Minority Rights Group International, Assyrian Christians in Turkey
"suffered forced evictions, mass displacement and the burning down of their homes and villages, abductions (including of priests,) forced conversions to Islam through rape and forced marriage, and murder. These pressures, and other insidious forms of persecution and discrimination, have decimated the community."
Today, there are only around 20,000 Assyrians left in the country. And they are still struggling to open an elementary school in Istanbul, as the government refuses to grant them any financial support. Meanwhile, both the government and some Muslim Kurdish locals in southeast Turkey continue to seize their lands and property illegally.
Protestants: The Turkish government does not recognize the Protestant community as a "legal entity." Hence, according to a 2017 human rights violations report by Turkey's Association of Protestant Churches, Protestants are still devoid of the right freely to establish and maintain places of worships. Other problems encountered by Protestants include but are not limited to hate crimes and speech, verbal and physical attacks and workplace discrimination.
Yazidis: The Turkish government does not recognize Yazidism as a religion. Therefore, the "religion" box on the ID papers of Yazidis in Turkey is either left blank or marked with an "X." Due to continued persecution and pressure from the government and society, many Yazidis from Turkey have fled to Europe. Their privately-owned lands were reportedly invaded and their owners threatened. Some of their abandoned villages have become uninhabitable. Most of the former Yazidi villages in Turkey have been completely Islamized. The estimated population of Yazidis in the country today is approximately 350 -- excluding the recent asylum-seekers from Iraq and Syria. Recently it was reported:
"The Yazidis, who were recently the target of massacre, rape and sex slavery by Isis, are now facing forcible conversion to Islam under the threat of death from Turkish-backed forces which captured the Kurdish enclave of Afrin on 18 March."
Alevis: The Turkish government does not recognize Alevism, another minority faith. Alevis in Turkey have been subjected to perpetual massacres and pogroms, including: the 1937-1938 Dersim (Tunceli) Massacres, the 1978 Malatya Massacre, the 1978 Sivas Massacre, the 1978 Maras Massacre, the 1980 Corum Massacre, the 1993 Sivas Massacre and the 1995 Gazi Massacre. Today's Alevis in Turkey are still often exposed to threats and arbitrary arrests.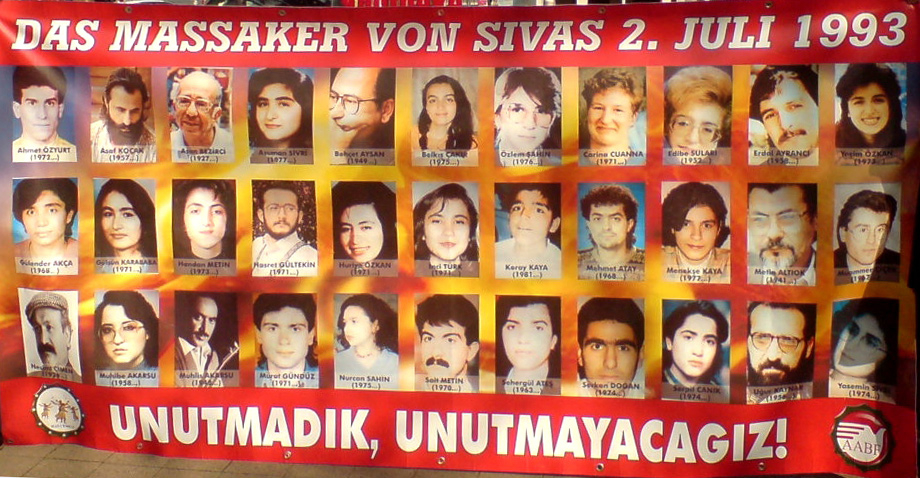 The faces of many of the victims who were murdered in the 1993 Sivas massacre of Alevis are featured on this poster, used in a 2012 commemoration in Germany. (Image source: Bernd Schwabe, Wikimedia Commons)
Since the 11th century -- when Turkic tribes originally from Central Asia, who had converted to Islam and began occupying cities in Asia Minor and the Armenian highland -- Turks seem to have had a tradition, as above, of being unneighborly to non-Muslims. The West needs to be reminded that this tradition is alive and well in modern Turkey.
Çavuşoğlu's critique of Europe may have been an attempt to cloud his country's sordid past and precarious present, but it should serve as a warning about the danger posed to liberal democracies the world over.
Uzay Bulut is a journalist from Turkey and a fellow with the news and public policy group Haym Salomon Center. She is presently based in Washington D.C.