US President Donald Trump was nominated for a Nobel Peace Prize by a group of 18 members of Congress. In a letter to the Norwegian Nobel Committee, dated May 2, Rep. Luke Messer (R-Ind.) and 17 other House lawmakers -- including Mark Meadows (R-N.C.), Marsha Blackburn (R-Tenn.), Matt Gaetz (R-Fla.), Diane Black (R-Tenn.) and Steve King (R-Iowa) -- wrote that Trump has worked "tirelessly to apply maximum pressure to North Korea to end its illicit weapons programs and bring peace to the region."
The letter further stated that the Trump administration
"successfully united the international community, including China, to impose one of the most successful international sanctions regimes in history. The sanctions have decimated the North Korean economy and have been largely credited for bringing North Korea to the negotiating table. Although North Korea has evaded demands from the international community to cease its aggression for decades, President Trump's peace through strength policies are working and bringing peace to the Korean peninsula. We can think of no one more deserving of the Committee's recognition in 2019 than President Trump for his tireless work to bring peace to our world."
Although the letter constituted a formal nomination, it was not the first suggestion that Trump might, or should, win a Nobel Peace Prize. On May 1 -- mere days after an historic summit between Moon and North Korean ruler Kim Jong-un, during which the two leaders vowed to work toward "complete denuclearization" of the Korean Peninsula -- Moon was quoted by a Blue House official as saying, "President Trump should win the Nobel Peace Prize. What we need is only peace."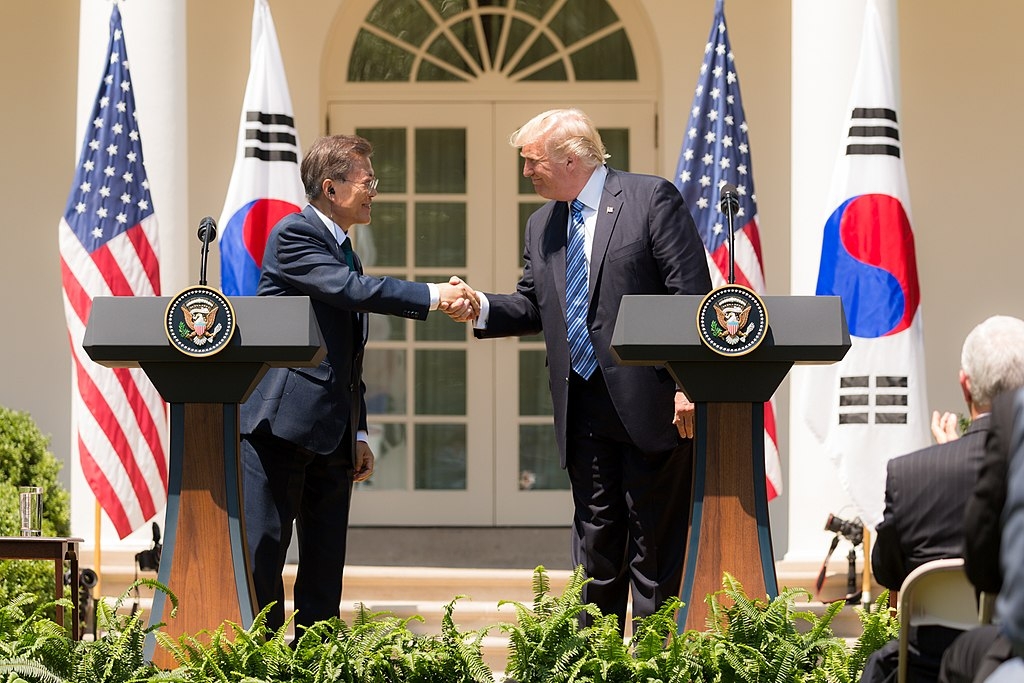 US President Donald Trump and President Moon Jae-in of the Republic of Korea in Washington, D.C., June 30, 2017. (Image source: White House/Shealah Craighead)
As she walked the red carpet of the White House Correspondents' dinner on April 30, House Minority Leader Nancy Pelosi (D-Calif.) was asked by a Pajamas Media reporter whether Trump would be eligible for a Nobel Peace Prize in the event that North Korea actually agrees to denuclearize, House Minority Leader Nancy Pelosi (D-Calif.) replied:
"We're a long way from that, but let's see. There's always an opportunity for a president of the United States to qualify. Let's see how it goes."
Pelosi and other Trump detractors are in an uncomfortable position where the Nobel Peace Prize is concerned. Former US President Barack Obama was awarded the prize in 2009, "for his extraordinary efforts to strengthen international diplomacy and cooperation between peoples. The Committee has attached special importance to Obama's vision of and work for a world without nuclear weapons."
In 2015, however, the non-voting Director of the Nobel Institute until 2014, Geir Lundestad, published a memoir -- "Fredens sekretær. 25 år med Nobelprisen" ("Secretary of Peace: 25 years with the Nobel Prize") -- in which he expressed regret about the decision to give the prize to Obama, "as it did not achieve what the committee had hoped for."
However the upcoming discussions between the US and North Korea turn out, regardless of whether one is Republican, Democrat or independent, the US president's historic initiative to denuclearize the Korean peninsula deserves this recognition.
Ruthie Blum is the author of To Hell in a Handbasket: Carter, Obama, and the 'Arab Spring.'"