On Apr. 16, 2017 Turks voted to give away their democracy when 51.4% of them endorsed constitutional amendments that made President Recep Tayyip Erdoğan head of state and head of the ruling party -- all at the same time.
Before the referendum, Erdoğan's powerful state apparatus systematically silenced the "No" campaign and its supporters while the "Yes" campaign enjoyed all possible government support, instrumentalized by means of public resources. The Turks went to the ballot box under a state of emergency – declared after a failed coup in July 2016. The co-leaders of a pro-Kurdish party who campaigned for 'No' had been imprisoned since November 2016 on charges of links with terror groups. In the 15 months leading up to the referendum the police had used violence to stop 264 peaceful demonstrations in favor of the 'No' campaign.
The witch-hunt included 47,155 people in jail, including 150 journalists; 113,260 under detention; and 135,000 people purged from government service. Jailed officials included 10,732 police officers, 168 military generals, 7,463 military officers, 2,575 judges and prosecutors and 208 governors and other public administrators.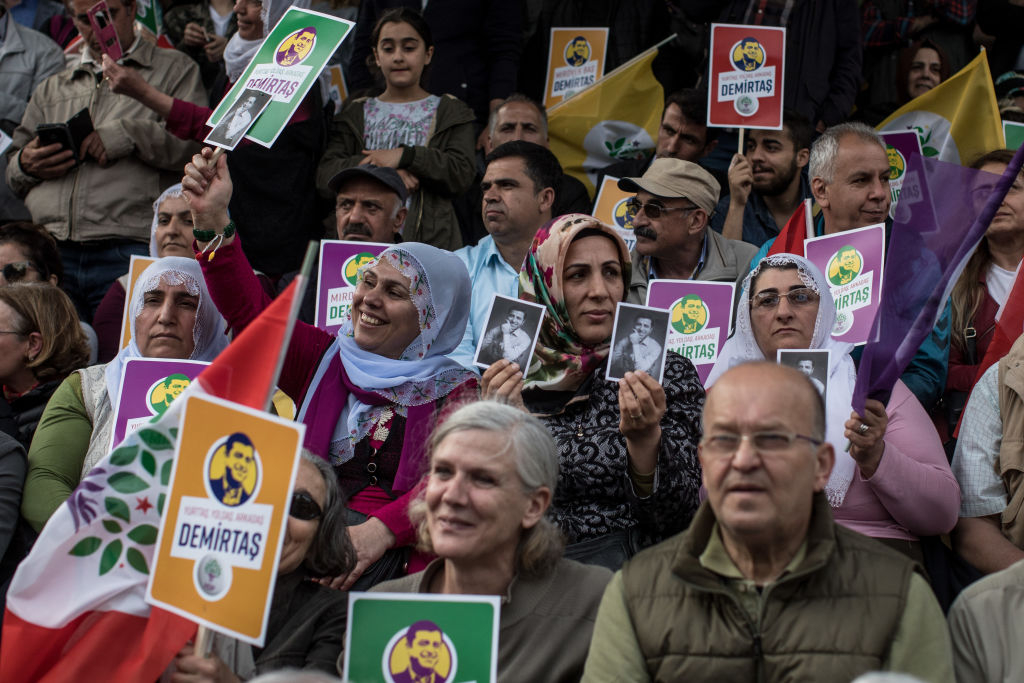 Supporters of the pro-Kurdish Peoples' Democratic Party (HDP) shout slogans and hold pictures of HDP's nominated presidential candidate Selahattin Demirtas, at a rally on May 4, 2018 in Istanbul, Turkey. Demirtas was arrested in 2016 for "spreading propaganda," and is still in prison. (Photo by Chris McGrath/Getty Images)
Observers from the Organization for Security and Cooperation in Europe (OSCE) confirmed cases of intimidation against the 'No' campaign across the country.
There were worse signs of an unfair election race on the day of the referendum. Only an hour into the vote count, the Supreme Board of Elections declared as valid voting papers without official seals, a practice clearly in violation of the election laws. The opposition bloc claimed that in some cities the election observers from the 'No' groups were removed from their polling stations.
Slightly more than a year after they voted to give Erdoğan unprecedented executive powers, the Turks will vote again, on June 24, in early polls orchestrated by Erdoğan and his nationalist foe-turned-ally, Nationalist Movement Party (MHP). The vote will be for both presidential and parliamentary elections. If any candidate fails to win more than 50% of the presidential vote a second round will be held on July 8, based on simple majority.
No doubt, this will be an existential election war for Erdoğan. He has done everything in his capacity to consolidate power and maximize chances for victory.
In January he launched a military incursion into northwest Syria and captured the Kurdish enclave of Afrin (still under Turkish military control), an operation largely aimed at winning nationalist/militaristic Turkish sympathies. Ninety percent of Turks said they supported Operation Olive Branch, indicating potential ballot box gains for Erdoğan in June elections.
In April, Erdoğan's government announced incentives for 135 billion lira (approximately $32 billion) worth of investment projects creating 134,000 new jobs. Also in April, Prime Minister Binali Yıldırım announced a 24 billion lira (approximately $5.7 billion) worth of tax breaks and social transfers.
In what appeared to be a government orchestration Turkey's biggest media group, Doğan Media Company (DMC), the last bastion of free journalism in the country, was sold to an Erdoğan crony in a $890 million deal. (In a leaked telephone conversation in 2014, DMC's new owner, Erdoğan Demirören was heard apologizing to Erdoğan for an article in Milliyet newspaper – which he had earlier bought from Doğan. "Did I upset you, boss?" Demirören asked Erdoğan, weeping and promising the then prime minister that he would find the source of the article in question.). With DMC's transfer to Demirören pro-Erdoğan media is estimated to account for 90% of all media outlets in Turkey.
All that electioneering may not guarantee a double-elections victory for Erdoğan. Four opposition parties have pledged to unite behind a common candidate against Erdoğan in the second round of the race. They will also ally in parliamentary elections against Erdoğan's conservative/nationalist bloc with MHP.
Enter the dark side of the moon. In March, Turkey's parliament, controlled by Erdoğan's Justice and Development Party and its ally, MHP, passed sweeping changes to electoral laws designed to help Erdoğan tighten his grip on power.
The overhaul allows parties to ally with others which means smaller parties could bypass the 10% national threshold and win parliamentary representation. Erdoğan's ally, MHP, is one of such smaller parties. The opposition's counter move to form a four-party alliance could in theory balance the government/opposition breakdown.
The opposition also warns of election fraud, reminiscent of the allegations in the 2017 referendum. Under the new electoral laws, authorities would be able to appoint government officials to run ballot stations, relocate election stations on security grounds, let law-enforcement officials monitor voting, and permit the counting of unstamped ballot papers. "The risk of holding elections under the shadow of guns could put voters under pressure," Uğur Bayraktutan, an opposition lawmaker, told a parliamentary committee, referring to the prospect of armed security forces in voting stations.
"The president knows that a small shift in votes could mean a defeat in a contest he cannot lose," Wolfango Piccoli, co-founder of Teneo Intelligence in London, told Bloomberg. "Further initiatives to maximize the chances of a positive outcome on ballot day are likely".
Shortly after the 2017 referendum, an Austrian member of the Council of Europe said that up to 2.5 million Turkish votes could have been manipulated. Since then Erdoğan has further consolidated power by legislation (see new electoral laws) and law enforcement (see police brutality) increasing the risk of election fraud on June 24.
Once again, in Turkey, who votes for whom will matter less than who counts the vote.
Burak Bekdil, one of Turkey's leading journalists, was recently fired from Turkey's leading newspaper after 29 years, for writing what was taking place in Turkey for Gatestone. He is a Fellow at the Middle East Forum.