Tens of thousands of Iranians, and non-Iranian human rights defenders from all across the world, recently gathered at a Free Iran rally in Paris, France, to further peace and extend human rights to every person. European, American, and Middle Eastern leaders, as well as many other influential people participated, including former Canadian foreign minister John Baird and other international leaders.
Suddenly, according to Reuters, an Iranian diplomat, along with six other individuals, was arrested in Europe over a plot to commit a terrorist attack at that rally.
First of all, please imagine the plot these men had in mind for their terrorist attack; it parallels so many other attacks that have occurred. If those men had been successful in this attack, many more people, including international leaders, could have been injured or killed.
Secondly, the Islamist state of Iran apparently orchestrated the attack with the intent to kill. Should this not this plan, even though it was aborted, be considered an act of terrorism and war against other nations and governments? Should this planned attack not urge European leaders to stop their policies of appeasement policies toward the Islamic Republic of Iran?
Third, if you have been following how this news item has been unfolding on various media outlets, you have reason to be concerned. Many waited far too long after initial reports by organizations such as Reuters, Euronews and the Guardian, to begin their own reports about the planned attack. This is information that should have been made available immediately. At the very least, it might have to generate the outrage needed to stop such terrorist attacks from continuing in the future, rather than having many media outlets seen as protecting the world's largest exporter of terrorism, Iran, from possible criticism. More importantly, this failed act of terrorism should lead governments around the world to be more careful about what is truly going on inside Iranian embassies and consulates in their countries. The Islamist state of Iran has shown that it uses ​its embassies in foreign countries as spy and terrorist cells. Recently, Kuwait expelled 15 Iranian diplomats after they were convicted of a running a terror cell there.
This again highlights the tendency of so many apologists for Iran's leaders -- not its people -- to be somehow soft on the Iranian regime. Why is it, when the Iran is listed as the world's leading state sponsor of terrorism? Why is it, when the ruling mullahs are ranked top in the world when it comes carrying out more than half the executions the world over, including those of children? Why would anyone want to shield or appease a government guilty of crimes against humanity?
This is not the first time that Iran has committed a terrorist attack against other nations. In 1994, it carried out the bombing of a Jewish community center in Argentina, which is still under investigation.
Examples of Americans killed by Iran's leadership include the suicide bombing in Lebanon that killed 241 American servicemen (220 Marines, 18 sailors, and three soldiers); the Khobar Towers bombing, the bombing of the USS Cole with the direct support and involvement of Hezbollah, Al Qaeda and Iran, as well as participation in the 9/11 attacks on the US mainland in 2001.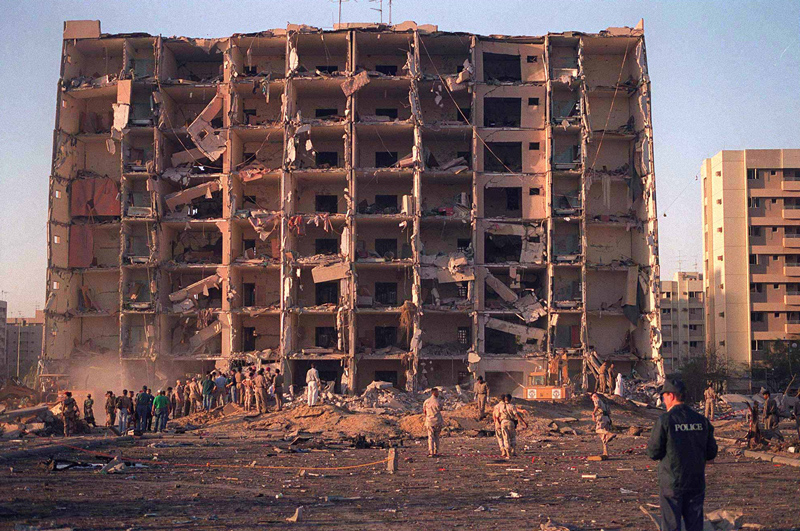 Pictured: U.S. and Saudi military personnel inspect the damage to Khobar Towers near Dhahran, Saudi Arabia, following the terrorist bombing of the building on June 25, 1996. (Photo By Getty Images)
Intriguingly, still under investigation, an Iranian MP recently leaked that the Obama administration had granted American citizenship to 2,500 Iranian citizens "to please" the Iranian regime. Who, if any, are these people who were granted citizenship -- the regime's spies and agents who are now going to live among us for decades? Why should the U.S. "please" any regime that is built on the slogan of "Death to America"? Why would a US president commit such an act -- if he did -- to satisfy the demands of an Islamist and terrorist regime?
These are questions that every Westerner should be ready to ask his politicians.
President Donald Trump is correct that the U.S. should stand against the aggressive and destructive behavior of the Iranian regime, or any other. To those that would seek to appease the Iranian regime, I put myself forward as a prime example of why this must not continue to happen.
If Iran's terrorist attack had been successful, countless people would have been killed. My message to those who continue to appease the Islamist state of Iran – such as many Europeans, (here, here and here) -- is that you are supporting a terrorist regime that is determined to terrorize your countries. You are supporting a regime that does not hesitate to commit some of the worst human rights abuses inside its own country and abroad. Where is your sense of decency and respect for human rights that you boast about so often?
Dr. Majid Rafizadeh, is a business strategic and advisor, Harvard-educated scholar, political scientist, board member of Harvard International Review, and president of the International American Council on the Middle East. He has authored several books on Islam and US Foreign Policy. He can be reached at Dr.Rafizadeh@Post.Harvard.Edu