A Palestinian electric engineer from the West Bank is facing up to one year in prison and a heavy fine. Ibrahim Al-Masri, who was arrested by the Palestinian Authority (PA) security forces on June 19, is the latest victim of the PA's continued crackdown on its political opponents and dissenters.
Al-Masri's lawyer said that his client was taken into custody under the PA's new controversial Cyber Crime Law, which targets Palestinian social media users. His family said they learned about his detention more than 24 hours after he was taken into custody. They pointed out that Al-Masri was arrested for posting comments on Facebook criticizing the PA security forces for beating him during a demonstration in Ramallah last month. The demonstration was organized by Palestinian activists to protest the economic sanctions imposed by the PA government on the Hamas-ruled Gaza Strip.
The Cyber Crime Law, which has drawn sharp criticism from Palestinian human rights and media organizations, states that, "Anyone who creates or manages or an information technology platform that aims to publish news that would endanger the integrity of the Palestinian state, the public order or the internal or external security of the State, shall be punished by imprisonment for a period of at least one year and no more than 5,000 Jordanian dinars (approximately $7,000) or by a combination of both punishments."
The law effectively authorizes the PA security forces to arrest Palestinians for their activities on social media, especially if their postings are deemed "offensive" to senior Palestinian officials or harmful to the "integrity of the Palestinian state" which, one might note, remains to be established.
Palestinians are now wondering whether the Ramallah-based PA leadership has created a "Facebook Police" to monitor their activities on the giant social media portal.
Reem Abu Laban, a Palestinian journalist, said she was summoned by the PA security forces about her Facebook postings. "I have the feeling that they had been following my Facebook page for some time," she said. Another journalist, Fadi Abu Sa'di, said that he, too, was convinced that the PA security agencies were closely following his Facebook postings. "Sometimes this affects what I publish on Facebook, and that can be very stressful," he said.
Since the law was approved last year by PA President Mahmoud Abbas, dozens of Palestinians, including journalists, have been arrested or summoned for interrogation for posting critical comments on Facebook.
According to the Committee for Supporting Palestinian Journalists, the journalists who were arrested by Abbas's security forces include Hazem Nasser, Islam Salem, Mustafa Sabri, Ala Rabi, Emad Abu Awwad, Rami Samarah, Tareq Abu Zeid, Thaer Al-Fakhouri, Shadi Badawneh, Ahmed Halaykeh, Mamdouh Hamamreh, Kutaiba Azem, Amer Abu Arafeh, Mohammed Abu Jheisheh, and Fahed Shaheen. The committee expressed "deep concern" about the PA's use of the new law to suppress public freedoms in the West Bank.
"If you want to be a journalist or work in the media in the West Bank, you need to be wary of the Israeli occupation forces that could target you at any moment; however, you need to be twice as careful about the Palestinian security forces," said Palestinian journalist and writer Nader Al-Safadi. "What the Palestinian security forces have committed against public freedoms and journalists exposes the true face of the freedom of expression that the Palestinian Authority has been boasting about."
Because of the new law and the subsequent crackdown by PA security forces on journalists and Facebook users, Palestinians say they are now afraid to post any critical comments on social media. "The Palestinian Authority wants us to become its spokesmen," complained a Palestinian journalist from Nablus. "The Cyber Crime Law allows the Palestinian security forces to arrest anyone who dares to express a different view on social media. This is a dangerous assault on public freedoms."
Palestinian journalists, however, are not the only ones to feel the heavy hand of the PA security forces. In recent weeks, the PA's campaign against its political critics reached several Palestinian university campuses, where scores of students have been arrested or summoned for interrogation.
The PA's tough security measures at university campuses are seen by Palestinians in the context of the PA leadership's ongoing effort to silence and intimidate its critics and political rivals.
Although these measures are not new, Palestinian sources say that the PA has recently stepped up its measures against university students, particularly those who are affiliated with Hamas and other Palestinian rival groups.
Last week, the PA security forces arrested university students Abdel Salam Kamil and Bilal Tamimi in Hebron. Earlier, they also arrested Adam Ziadeh, a student at the Al-Quds Open University, and Mohammed Turkeman, Rayan Kharyoush, Oday Khatib, Awies Al-Ouri, Yazan Tayyah, and Hamzeh Abu Qari, of Bir Zeit University. These are only a few of the dozens of university students who have been arrested or summoned for interrogation by the PA security forces in recent weeks and months.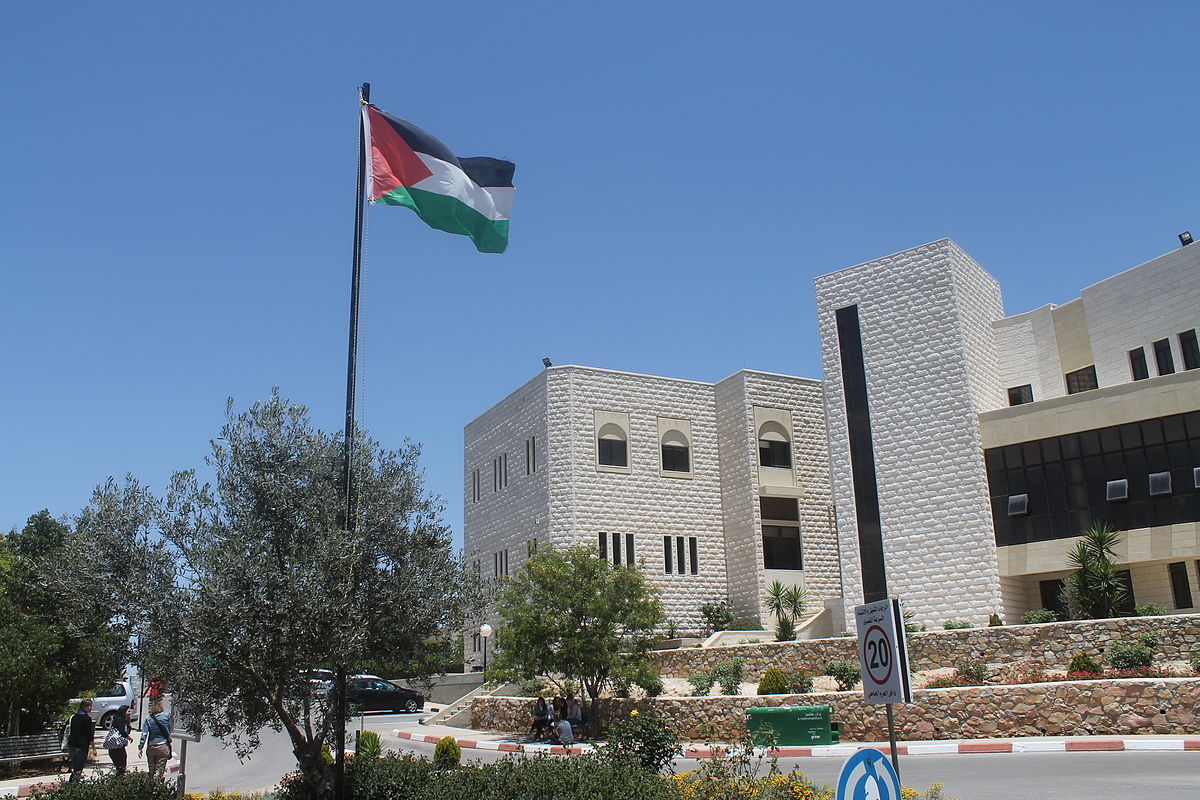 As part of the Palestinian Authority's ongoing effort to silence and intimidate its critics and political rivals, a number of students from Bir Zeit University (pictured) have been arrested or summoned for interrogation by PA security forces. (Image source: Oromiya321/Wikimedia Commons)
By targeting Palestinian journalists and university students, the PA shows that it has turned the territories under its control into a dictatorship that systematically grinds public freedoms into the ground. This does not come as a surprise, given the PA leadership's intolerance of criticism. Palestinians are permitted to badmouth Israel and the US – but that is where their "freedom of speech" ends. Let a Palestinian utter a bad word about his leaders – he will find himself (or herself) behind bars. This bodes rather poorly for the future of democracy and free speech in a Palestinian state. In fact, it discloses exactly what a Palestinian state would look like, if and when it is ever established. It would be a carbon copy of other Arab dictatorships, where journalists and academics are nothing but mouthpieces for their president and government.
The international community, which funds the PA, must wake up to the fact that this crackdown on public freedoms plays directly into the hands of Hamas and other radical Palestinian groups. It is precisely these groups that stand waiting to receive those who run, disillusioned and desperate, from the PA. Failing to hold the PA leadership accountable for its actions against journalists and university students drives Palestinians into the open arms of Hamas. Yet the international media remains mute in the face of the PA's flouting of the right to freedom of expression. Why? Because, for the foreign media, a story that does not serve to bash Israel is not "news that's fit to print."
Bassam Tawil, an Arab Muslim, is based in the Middle East.