In theory, the oil-rich sheikhdom of Qatar is an ally of the United States. The peninsula hosts more than 10,000 U.S. military personnel and approximately 72 F-15 fighter jets at its Al Udeid military base. In this turbulent part of the world, alliances, like enmities, can be treacherous. In March, the Foreign Affairs Committee of the US House of Representatives was already looking at four alternatives that could become the military headquarters when the Al Udeid contract with Qatar will expire in 2023. After "closely observing its [Qatar's] financial and banking system due to fears of support for terrorist organisations and individuals associated with them," Washington apparently decided it had to rethink Al Udeid and its Qatari "allies."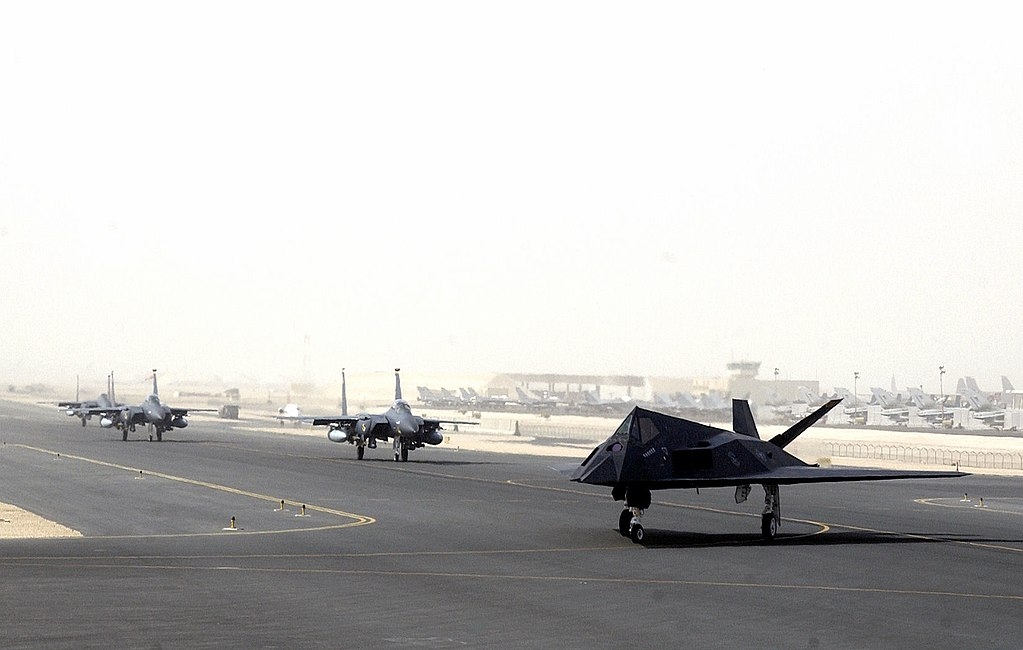 Pictured: An F-117 and F-15s prepare to launch from the U.S. Air Force base at Al Udeid, Qatar. (Image source: USAF/Wikimedia Commons)
Enter Turkey. The Qataris, not knowing that their grandchildren would one day be the best strategic allies of their Ottoman colonialists' grandchildren, fought the Ottomans to gain their independence in 1915, thereby ending the 44-year-long Ottoman rule in the peninsula. Independence had come at last. It lasted for about a year, until 1916, when Qatar became a British protectorate until 1971. Today, President Recep Tayyip Erdoğan's Turkey is Qatar's best ally. This alliance is structured on common ideology featuring pro-Hamas, pro-Muslim Brotherhood Islamism.
Ahmed Charai, in an article for The National Interest, has forcefully reminded the world that:
"As Qatar faces international pressure to stop harboring senior [Muslim] Brotherhood figures, there are clear indications that it will facilitate their migration to Turkey. So among the urgent challenges for the U.S. allies to address is the question of how to weaken this budding alliance."
Charai has a point. There is a "more-mature-than-emerging" anti-U.S. alliance among U.S.'s presumed Middle East allies.
The Qataris nevertheless seem not to want to disturb Washington's sweet sleep. According to O'Dwyer's, in June, Qatar signed a $12 million contract with Blueprint Advisors, "a firm that has close ties with president Trump's lawyer Rudy Giuliani." Under the deal, in an apparent lobbying effort, Blueprint Advisors "will assist Qatar's attorney general Ali Al-Marri to keep American decision-makers informed of his country's anti-terrorism and pro-peace policies."
When in 2017 four Arab countries -- Saudi Arabia, the United Arab Emirates, Egypt and Bahrain -- imposed a blockade on Qatar, accusing it of supporting terrorism and fostering ties with their rival, Iran, Erdoğan rushed to the aid of his Qatari friends. In a show of solidarity, Turkey sent cargo ships and hundreds of planes loaded with food to break the blockade. Turkey also deployed more troops at its military base in Qatar.
A year later, Turkey is being sanctioned by the U.S. and Qatar has rushed to its aid.
Turkey's troubles with its NATO ally has a multitude of reasons: divergences over the future of Syria; Turkey's decision to buy and deploy the Russian-made S-400 anti-aircraft and anti-missile system on its soil, a first for a NATO member state; U.S. sanctions on two Turkish government ministers due to Turkey's refusal to free Andrew Brunson, an American evangelical Christian pastor living in Turkey and facing bogus charges of terrorism and espionage; a U.S. congressional decision to block delivery of arms systems to Turkey, including the F-35 stealth fighter; potential U.S. sanctions on a Turkish state bank; and President Donald Trump's decision to double tariffs on Turkish steel and aluminum, which prompted retaliatory Turkish actions against U.S.-made goods, and prompting President Erdoğan's call for a national boycott on U.S. electronics, including Apple devices.
This diplomatic crisis between the U.S and Turkey comes at a time when the Turkish economy seems vulnerable, unable to endure the combination of economic and political warfare with a superpower.
Turkey's 12-month current account deficit was $57.4 billion in June, representing a record high of approximately 6% of the country's Gross Domestic Product (GDP). The annual interest rate on 10-year government bonds hovers around 21%. "Debt piled up elsewhere in the economy, too", according to Foreign Policy. "[T]he government, banks, factories, restauranteurs, and homeowners all binged on cheap credit from abroad—to the tune of $460 billion, more than half of Turkey's GDP."
On August 21, 2017, the U.S. dollar closed at 3.49 liras on the foreign currency markets. Exactly a year later, the dollar was being traded at 6.06 liras. The Turkish lira's value fell by almost a third against the dollar in the first three weeks of August alone.
On August 17, two international ratings agencies, Moody's and S&P, pushed Turkey's debt rating deeper into junk territory, now on par with Argentina and Greece. "The absence of an orthodox monetary policy response to the lira's fall, and the rhetoric of the Turkish authorities have increased the difficulty of restoring economic stability and sustainability," said Fitch, a third ratings agency, which had downgraded Turkey in July.
Erdoğan accused the U.S. of waging "economic war" against his nation. He warned that Turkey would "start looking for new friends and allies" if Washington did not give up the "misguided notion that our relationship can be asymmetrical."
Three "new friends" gave signs of solidarity with Turkey, a part-time NATO ally. Russia declared that "it will decrease its holdings of US assets in retaliation against crippling tariffs imposed by US President Mr Trump on Russia and Turkey."
Then Beijing came into the picture:
"China offered moral support to Turkey on Friday as Ankara reeled from a currency crisis and U.S. sanctions, saying it believed the country could overcome its 'temporary' economic difficulties, in Beijing's first comment on the issue."
Finally, Erdoğan's Gulf allies in Doha, Qatar, rushed to Ankara in a show of solidarity full of greenbacks. After meeting with Erdoğan in Ankara, Qatar's Emir Sheikh Tamim bin Hamad Al Thani pledged $15 billion in direct investment to help Turkey get through the crunch. In similar efforts to provide Turkey's ailing economy with a lifeline, the central banks of Qatar and Turkey signed a currency swap agreement, a deal that aims to enhance bilateral cooperation between the two banks through setting a "two-way currency exchange line."
The markets, however, have not been impressed. Ahmet Doğan, founder of Sigma Insight, an Ankara-based think tank, was quoted in the August 18-24 print edition of The Economist as saying: "That's too small an amount to stabilize Turkey's currency, markets and economy." The lira kept falling after the Qatari help was announced. As The Economist put it: "... promises of investment from allies like Qatar will provide dollars but not credibility."
What should matter to Washington in this Turkish soap opera is the fact that Turkey is getting support, in its confrontation with the U.S., from "like-minded" countries. Russia, it appears, would like cracks as large as possible inside the NATO bloc. Qatar, an ideological partner for Turkey, is united around anti-Semitic, Islamist sentiments so powerful that, based on the idea of a "common enemy" and despite its Sunni supremacism, it has allied itself with Shiite Iran.
It is clearly time for Washington to rethink its theoretical but fake alliance with Qatar, a tiny Gulf sheikhdom that is trying to neutralize U.S. efforts to sanction Turkey -- another theoretical ally that is more like-minded with Russia than with the West.
Burak Bekdil, one of Turkey's leading journalists, was recently fired from the country's most noted newspaper after 29 years, for writing in Gatestone what is taking place in Turkey. He is a Fellow at the Middle East Forum.