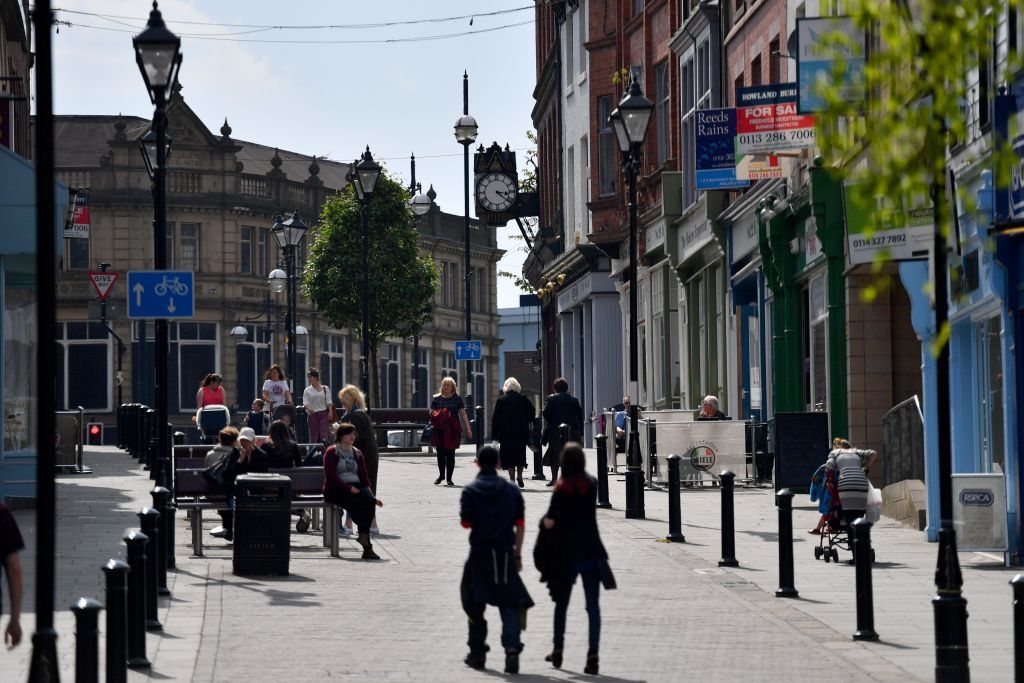 Rotherham, England was the first city to experience child sexual grooming gangs on a large scale, and the site of the UK's largest ever child sexual abuse scandal. (Photo by Anthony Devlin/Getty Images)
On July 24, 2018, Britain's Home Secretary, conservative MP Sajid Javid, issued orders for research into the ethnic origins of the country's many sexual grooming gangs that had involved large numbers of loosely-termed "Asian men", who, over many years, had taken vulnerable young white British girls to use or pass on for sexual purposes. Most of the men have, Javid has stated been of Pakistani extraction, which makes the Home Secretary's intervention significant. Javid's father came, as did many other Pakistani immigrants, from Punjab, and with only £1 to his name. He became a bus driver, then a clothing store owner. Yet his five sons have all become fully integrated Britons, with successful careers in business, politics and the public sector. They are all models of second-generation immigrant achievement, miles away from the men in the gangs. Reporting on the Javid family, The Times wrote:
"Javid's appointment as the first non-white person — and the first with a Muslim background — to hold one of Britain's great offices of state is the culmination of a six-decade family journey."
Given the great potential for controversy over identifying ethnicity as a factor in serious crimes, Javid showed courage in taking this move only months after his appointment in April to lead the Home Office. Criticism came quickly from the Labour Party. "Jeremy Corbyn denied there was any 'problem' with Pakistani men and abuse, saying: 'The problem is the crime that's committed against women from any community." His combined political and ethnic experience will have shown Javid, based on previous Home Office bans and academic reports, that any such investigation might be used by the far right to attack Pakistanis and Muslims.
Crossing party lines, Javid made his commitment to investigate the ethnic origins in a letter to Sarah Champion, the Labour Member of Parliament for Rotherham, the first city to experience grooming gangs on a large scale, and the site of the UK's largest ever child sexual abuse scandal. Just under a year before, Champion had come under fire for daring to draw public attention to the problem of the preponderance of Pakistanis in the gangs.
First elected to parliament in 2012, Champion, in 2015, served as the Shadow Minister for Preventing Abuse. She was awarded the post in recognition of her work on child sexual exploitation, notably by chairing a cross-party inquiry into child sexual exploitation. The inquiry was done in conjunction with the children's charity Barnardo's, which published a report in April 2014. Unfortunately, Champion had to resign briefly in 2016, when a number of MPs stood down in an attempt to remove Jeremy Corbyn. She was appointed Shadow Secretary of State for Women and Equalities in October 2016, a role for which she was well suited. In November, she launched a National Action Plan (Dare2Care) to prevent child abuse and violence in teenage relationships.
Then things went wrong. She remains an MP, but was forced to resign her shadow cabinet post nearly a year later, on August 16, 2017, after a major controversy. During an interview with BBC Radio 4, on August 10, she said, about a major grooming gang which had just been convicted in Newcastle upon Tyne:
All the towns where these cases have gone on, the majority of the perpetrators have been British Pakistanis.... One of the things that, for example, on the news last night, there was a picture of eighteen of the people who were convicted, that seventeen of those were clearly Asian men. And it just pains me that this is going on time and time and time again, and the government aren't researching – you know – what is going on. Are these cultural issues, some sort of message going out inside the [Pakistani] community? We have got now hundreds of men, Pakistani men, who have been convicted of this crime. Why are we not commissioning research on what's going on, and how we need to check and how we need to change what's going on?
On the same day, the less respectable tabloid newspaper, The Sun, published an article by Champion saying much the same. Entitled, "British Pakistani men ARE raping and exploiting white girls and it's time we faced up to it", the article argued in part:
For too long we have ignored the race of these abusers and, worse, tried to cover it up.

No more. These people are predators and the common denominator is their ethnic heritage.

We have to have grown-up conversations, however unpalatable, or in six months' time we will be having this same scenario all over again.

The irony of all of this is that, by not dealing with the ethnicity of the abusers as a fact, political correctness has actually made the situation about race.
Although Champion subsequently tried to distance herself from the article, it had done her no favours in the Labour Party, which has stressed its opposition to racism -- except against Jews. A cross-party group of MPs wrote to The Sun, condemning the article. Even though Champion had courageously stated that, "The perpetrators are criminals and we need to deal with them as such, not shy away from doing the right thing by fearing being called a racist", she was forced to resign on August 16.
Ironically, another Labour MP, Naz Shah, herself of Pakistani origin, tried to deflect Champion's comments by stating, no doubt correctly, that nearly 90% of child abusers (presumably in the UK) are white men. She added, "What I won't accept, or tolerate, is a narrative that demonizes every Pakistani man as a rapist." But, of course, Champion had not been talking about child abuse in general in a mainly white country, only about the specifics of the grooming gang situation, previously unheard of in Britain; nor had she claimed for a moment that all Pakistani men were rapists. Not surprisingly, Shah herself (who had just been suspended in an antisemitism dispute, but then reinstated) was appointed in July this year to be the Shadow Secretary of State for Women and Equalities, the very post Champion had held.
Champion, meanwhile, after death threats, had to be given increased security by the counter-terrorism police. So-called human rights activists, evidently caring nothing for the rights of little girls and teenagers in the North of England or presumably elsewhere, accused her of "industrial-scale racism."
Champion, incidentally, was not the first to draw attention to the crimes and the perpetrators. Another MP, Ann Cryer, had revealed details about grooming gangs in her Yorkshire constituency, Keighly, as far back as 2003. When she did so, she was "ridiculed, branded a racist, a liar and a fantasist [and] forced to install a panic button in her own home."
Champion's reputation was saved at an early stage by other MPs. Barry Sheerman, Labour MP for Huddersfield, a town where twenty-eight men of mostly Pakistani origin had been tried and sentenced only months earlier for the same offenses, declared that it was a "shameful and disgusting campaign against a courageous and remarkable woman". Most importantly, it was Sajid Javid, not yet Home Secretary, who spoke out in her defence. He tweeted, "Corbyn wrong to sack Sarah Champion. We need an honest open debate on child sexual exploitation, including racial motivation". It was an intention he fulfilled virtually as soon as he headed the Home Office.
Although the sexual abuse of children and young teenagers occurs around the world, the grooming gang crisis in the UK, certainly in its wide extent, appears to be unique in the West. As far back as 2013, Britain's Attorney General, Lord Morris of Aberavon, stated in the House of Lords that 27 police forces were then investigating no fewer than 54 alleged gangs involved in child sexual grooming. He asked:
"Is it collective amnesia that has blinded us to the underlying circumstances, whereby at least 27 police forces are investigating 54 alleged child grooming gangs?

"Why has investigating and prosecuting in so many different parts of the country taken so much time?

"Is it the fear of racialism, or is it the fact that many of these vulnerable girls come from care homes?"
Four years later, in August 2017, the Daily Express presented a map showing eight towns and cities where gangs had been active. An inquiry in April had, in fact, already brought 29 men from Huddersfield to court, prior to a January 2018 trial in which all were convicted, thereby making the total nine cities.
On September 15, 2018, what was described as "the most serious example of sex grooming yet to emerge in this country" was made public, following a speech in the House of Lords by Baroness Caroline Cox, a staunch defender of women's rights within Britain's Muslim communities.

The case involved a girl, Sarah, who was abducted by a Muslim gang when 15, held in captivity for twelve years, forced twice into marriage, repeatedly raped, beaten, and made to endure eight abortions. As in other cases, her family's pleas for help were ignored by the police to whom they had turned. "I know Sarah and her family," said Baroness Cox. "Every sex grooming case is terrible. But the length and cruelty of her abduction make it the worst I have known."
Sarah is a single victim, but it is likely that the gang involved will have dealt with more young women taken from the same streets.
In 2017, the English Defence League, which some disparage as racist -- to which the EDL responds, "The truth cannot be racist" -- published online a list of "Muslim grooming gangs and other rape jihad convictions". It provides a long, alphabetical list of "170 known completed trials with convictions for rape jihad offences at 68 main locations". The list may be of intrinsic interest, in that it provides links to news reports about these trials, but it is in reality, highly misleading.[1] First of all, there is no evidence that any of the men involved (most often one or two) had the least notion of conducting "rape jihad", a concept seemingly made up by the EDL.
The behaviour of the grooming gangs differs greatly from the rapes and sexual harassments -- often of people above the age of 16, by men in general in Britain and in other countries -- in its clannish and organized nature. Pakistanis seem almost unique in combining efforts to engage in this harassment. That is why Javid's inquiry must proceed even if it does upset parts of the Pakistani and wider communities -- given that large numbers of those community members are themselves keen to see the matter cleared up and their reputations restored. These include other prominent British Muslims such as Yasmin Alibhai Brown, Mohammed Shafiq, and Nazir Afzal.
Although Javid's inquiry will focus on the question of why it is Pakistani men who organize and dominate these gangs, it is important that this not be interpreted as a racist endeavour, as some have claimed it to be -- for example, when Sarah Champion was accused of "industrial scale racism". No one is claiming that the racial characteristics of the rapists are remotely a factor in their crimes, and no one should criticize the inquiry on such grounds.
The problem, then, seems to stem not from race but from culture. Many people, trapped by the inquiry's emphasis on multiculturalism, appear to deem it "racist" to comment negatively on any culture except for Western (including Israeli) culture. For some, it is even racist to borrow from another culture's dress, food, religion, architecture, art or music – which they term "cultural appropriation" or "cultural voyeurism" -- instead of what it might well be: admiration and respect.
The men in the grooming gangs are not proper representatives of many regular aspects of Pakistani culture and Muslim ethics. According to Ben Sixsmith:
"Quite apart from being abusively adulterous, these criminals drank, did drugs, and made their victims have abortions. These were not, in other words, devout Muslim men."
Speaking on the BBC's leading political debate show, Newsnight, Muhbeen Hussain, the founder of British Muslim Youth went so far as to deny that the men convicted were real Muslims:
These grooming gangs were individuals that were using alcohol, using drugs and actually having 'sessions' exploiting these young girls. I don't know what's Islamic about drinking alcohol, drugs and exploiting young girls.
Despite rising secularism in some cities, Pakistan remains a deeply religious society in which outward expressions of piety are ubiquitous, and blasphemy and heterodox allegiance are major social issues. So, the question comes to be: to what extent might some Pakistani values influence men like these?
A partial answer is that, despite tight regulations concerning the behaviour of women in Pakistan and restrictions on male-female relationships there, the country, like some other Muslim countries, has a reputation for a high level of sexual harassment, even if this harassment does not take the form of grooming underage girls. Pakistani social activist Muhammad Usman Awan, for instance, has written at length about various forms of harassment in Pakistan. In one 2016 article, he writes:
According to a research conducted by UNISON in 2008, more than 50% working women face sexual harassment in Pakistan. An increasing number of violence cases are filed every day and there is an even bigger number of incidents which go unreported. A total of 24119 of violence against women cases were reported during 2008-10 among which only 520 workplace harassment cases were filed...

7,733 cases of violence against women were reported in the media in 2013. 1,516 were murdered while 472 were killed for reasons of 'honor'. The country has notoriously failed to curb the flow of harassment cases.
Clearly, there is a predominance of physical violence here, but there are other forms of harassment, including the sexual harassment of women when they use public transport:
The condition of public transport in Pakistan is not even close to a satisfactory level. Daily commute for an average Pakistani woman is through public transport buses. But commuting through these public buses has become considerably difficult because of the unwanted attention and indecent remarks.
Harassment is especially experienced, it seems, in the workplace, as Pakistani journalist Nosheen Abbas has described in some detail. The bill on the harassment of women in the workplace that she writes about became an Act of Parliament in 2010, but has yet to make much of an impact. In a lengthy and detailed article in Dawn, published in May 2018, Nazish Brohi writes that things have improved since the 2010 law was passed, but that severe problems remain, particularly for women making complaints of harassment.
Last year, Shahid Javed Burki, a former Pakistani finance minister and vice-president of the World Bank, spoke out about the treatment of women in his country, arguing that the low status given to women has had serious social, demographic, educational, and financial effects. He compares it to neighbouring Bangladesh, which, he said, has improved women's lot considerably, especially through their engagement in the workforce:
"The main factor accounting for women's higher social status in Bangladeshi society is the rate of female participation in the labour force which, at 43.1 per cent, is almost double of Pakistan's 24.3 per cent."
This problem is, in some measure, reflected in the UK, where Muslim women (mainly of Pakistani origin) face limitations on their participation in the workplace, in higher education, and even knowledge of the English language -- matters examined by Dame Louise Casey in her 2016 government review into opportunity and integration. Bringing Pakistani attitudes into the UK, often within segregated communities, only serves to perpetuate the belief that women are intrinsically the inferiors of men in all respects. Once women as such are demeaned to this extent, some men may come to regard sexual mistreatment of non-Muslim women as their God-given right. It is important to note that all of the women treated in this way are Muslims.
One justification used for the UK grooming cases is that the girls involved are non-Muslims who may, as supposed inferiors, be attacked with impunity. Many victims of foreign rapists report that they have kept repeating that rape is permitted in the Quran.
In addition, a female professor from al-Azhar, has claimed that Allah allows "Muslims to rape non-Muslim women to 'humiliate' them."
The second part of this article will examine the roles played by an absence of integration combined with conservative or radical religious attitudes, as well as the Arab practice of taharrush jama'i (mass harassment), both of which may well be keys to why this abuse is happening in the first place.
Dr. Denis MacEoin, who holds a PhD from Cambridge in Persian Studies, taught Arabic-English translation at Mohammed V University in Fez, Morocco, and Arabic with Islamic Studies at Newcastle University in the UK. He is a Distinguished Senior Fellow at the Gatestone Institute.
---
[1] Another statistical list of the names of all the accused in joint cases, arranged chronologically and with full details of the towns, trials, and convictions may be found here.