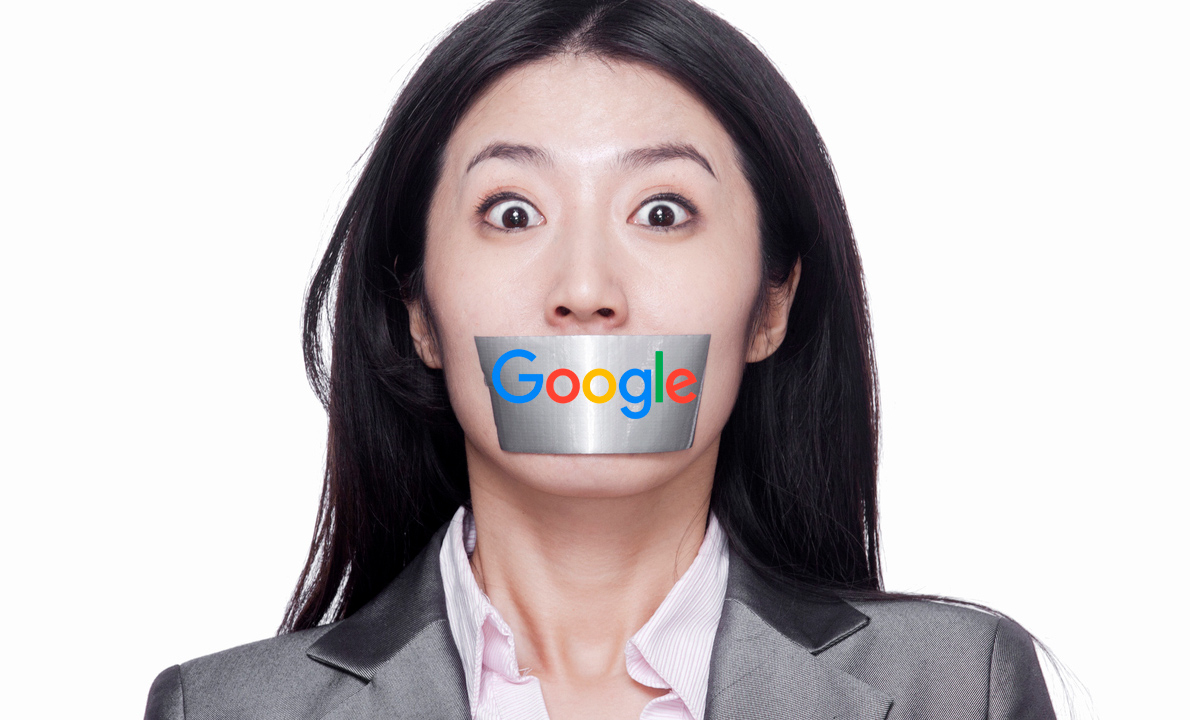 Google is reportedly planning to launch a censored version of its search engine in China, code-named "Dragonfly," which will aid and abet a totalitarian "Big Brother is watching you" horror state. (Image source: [Photo of woman] iStock)
The internet, especially social media, has become one of the primary places for people to exchange viewpoints and ideas. Social media is where a considerable part of the current national conversation takes place.
Arguably, big tech companies, such as Google, Twitter, Facebook and YouTube, therefore carry a responsibility to ensure that their platforms are equally accessible to all voices in that national conversation. As private commercial entities, the social media giants are not prima facie legally bound by the First Amendment to the US Constitution, and are free to set their own standards and conditions for the use of their platforms. Ideally, those standards should be applied equally to all users, regardless of political or other persuasion. If, however, these companies choose what to publish and what not to publish, they should be subject to the same licensing and requirements as media organizations.
The current media giants' favoring one kind of political speech over another -- progressive over conservative -- and even shutting down political speech that does not conform to the views of the directors, certainly skews the national political conversation in a lopsided way that conflicts with basic principles of democratic freedom of speech and what presumably should be the obligations of virtual monopolies.
The question of whether such discrimination against conservative viewpoints constitutes a breach of law is currently the subject of a number of lawsuits. In October 2017, PragerU, a conservative educational website, filed a lawsuit against YouTube and its parent company, Google, for "intentional" censorship of conservative speakers, saying that they were "engaging in an arbitrary and capricious use of their 'restricted mode' and 'demonetization' to restrict non-left political thought."
PragerU claimed that "Google and YouTube's use of restricted mode filtering to silence PragerU violates its fundamental First Amendment rights under both the California and United States Constitutions," YouTube, for instance, restricted a video by a pro-Israel Muslim activist, discussing how best to resist hatred and anti-Semitism, as "hate speech". The US District Court Judge in the case, Lucy Koh, however, dismissed PragerU's claims because Google, as a private company, is not subject to the First Amendment. "Defendants are private entities who created their own video-sharing social media website and make decisions about whether and how to regulate content that has been uploaded on that website," Koh wrote. PragerU has appealed the decision.
In August, Freedom Watch filed a $1 billion class-action lawsuit against Apple, Facebook, Google, and Twitter, claiming that they act in concert to suppress conservative speech online. Freedom Watch claims, among other things, that the four media giants have violated the First Amendment to the Constitution and that they have engaged "in a conspiracy to intentionally and willfully suppress politically conservative content."
PragerU and Freedom Watch are not the only conservatives to have experienced suppression of their voices on social media. In April, the conservative Media Research Center released a report detailing the suppression of conservative opinions on social media platforms.
The 50-page report, "Censored! How Online Media Companies Are Suppressing Conservative Speech," which looked at how conservative political speech fared on Google, Facebook, Twitter, and YouTube, found that the tech companies stifle conservative speech and that in some instances, staffers have admitted that doing so was intentional. The report found that Google showed a "tendency toward left-wing bias in its search results", and that Twitter (by admission of its own employees) had "shadow-banned" some conservative users. ("Shadow banning" means that their content did not appear to other users, but the account owners themselves had not been notified of this "banning" of their content).
The apparent leftist bias, however, not only shows itself in the suppression of conservative speech on social media giants' websites. Censorship and selective presentation of speech has also led to unfortunate policy decisions by some of the big tech companies. Google, for example, has decided it will not renew a contract with the Pentagon for artificial intelligence work when it expires next year, because Google employees were upset that the technology they were working on might be used for lethal military purposes.
Yet, according to leaked documents, Google is planning to launch a censored version of its search engine in China, code-named "Dragonfly," which will aid and abet a totalitarian "Big Brother is watching you" horror state. China, according to the Economist, is planning to become "the world's first digital totalitarian state." The Chinese government is in the process of introducing a "social credit" system by which to score its citizens, based on their behavior. Behavior sanctioned by the government increases the score; behavior of which the government disapproves decreases the score. Jaywalking, for example, would decrease the score. China is reportedly installing 626 million surveillance cameras throughout the country for the purpose of feeding the social credit system with information.
According to Gordon G. Chang, Chinese officials are using the social credit system for determining everything from being able to take a plane or a train, to buying property or sending your children to a private school. Officials prevented a journalist, Liu Hu, from taking a flight because he had a low score. According to China's state-owned Global Times, as of the end of April 2018, authorities had blocked individuals from taking 11.14 million flights and 4.25 million high-speed rail trips. "If we don't increase the cost of being discredited, we are encouraging discredited people to keep at it," said the former deputy director of the development research center of the State Council, Hou Yunchun. He added that an improved social credit system was needed so that "discredited people become bankrupt".
According to a legal expert at the Chinese Academy of Social Sciences in Beijing, Zhi Zhenfeng:
"How the person is restricted in terms of public services or business opportunities should be in accordance with how and to what extent he or she lost his credibility.... Discredited people deserve legal consequences. This is definitely a step in the right direction to building a society with credibility."
The goal, straightforwardly, is to control citizen behavior by aggregating data from various sources such as cameras, identification checks, and "Wi-Fi sniffers" so that Chinese citizens will end up being controlled completely. As Chinese officials have reportedly put it, the purpose of the score card system is to "allow the trustworthy to roam everywhere under heaven while making it hard for the discredited to take a single step."
It is, in other words, an excellent deliberate tool to suppress the human rights of the Chinese people.
Although Google has refused to comment on the concerns about Dragonfly, the leaked documents indicate that this censored version of Google's search engine will help the Chinese government do just that by blacklisting websites and search terms about human rights, democracy, religion, and peaceful protest. It will also, reportedly, link users' searches to their personal phone numbers, thereby making it possible for the Chinese government to detain or arrest people who search for information that the Chinese government wishes to censor.
"Linking searches to a phone number would make it much harder for people to avoid the kind of overreaching government surveillance that is pervasive in China," said Cynthia Wong, senior internet researcher with Human Rights Watch. Fourteen organizations, including Amnesty International, Human Rights Watch, Reporters Without Borders, Access Now, the Committee to Protect Journalists, the Electronic Frontier Foundation, the Center for Democracy and Technology, PEN International, and Human Rights in China, have demanded that Google stop its plans for a censored search engine. They say that such cooperation would represent "an alarming capitulation by Google on human rights" and could result in the company "directly contributing to, or [becoming] complicit in, human rights violations."
In a recent speech, US Vice President Mike Pence also asked Google to end Dragonfly: it "will strengthen Communist Party censorship and compromise the privacy of Chinese customers," he said.
So, while Google claims it has moral qualms about cooperating with the US government, the company evidently has no moral issues when it comes to cooperating with Communist China in censoring and spying on its billion citizens with a view to rewarding or punishing them via opportunities in real life. Google employees, according to the Intercept, have circulated a letter stating that the censored search engine raises "urgent moral and ethical issues," and saying that Google executives need to "disclose more about the company's work in China, which they say is shrouded in too much secrecy, according to three sources with knowledge of the matter".
Google is apparently all too eager to work with China on micromanaging its citizens, and there is plenty to work on, according to a recent Amnesty International report :
"China has intensified its campaign of mass internment, intrusive surveillance, political indoctrination and forced cultural assimilation against the region's Uighurs, Kazakhs and other predominantly Muslim ethnic groups."
Up to 1 million people have been detained in "China's mass re-education drive," many of them tortured, according to the report.
Eight years ago, Google co-founder Sergey Brin -- who was born in the highly repressive Soviet Union -- at least had the decency to hesitate on (if not turn down) doing business in China if it involved censorship. "[W]e have decided we are no longer willing to continue censoring our results," Google had announced two days before "company spokesman Scott Rubin started singing a different tune."
Perhaps totalitarian Communist repression is of no consequence to Google, so long as it gets still more market share?
Judith Bergman, a columnist, lawyer and political analyst, is a Distinguished Senior Fellow at Gatestone Institute.