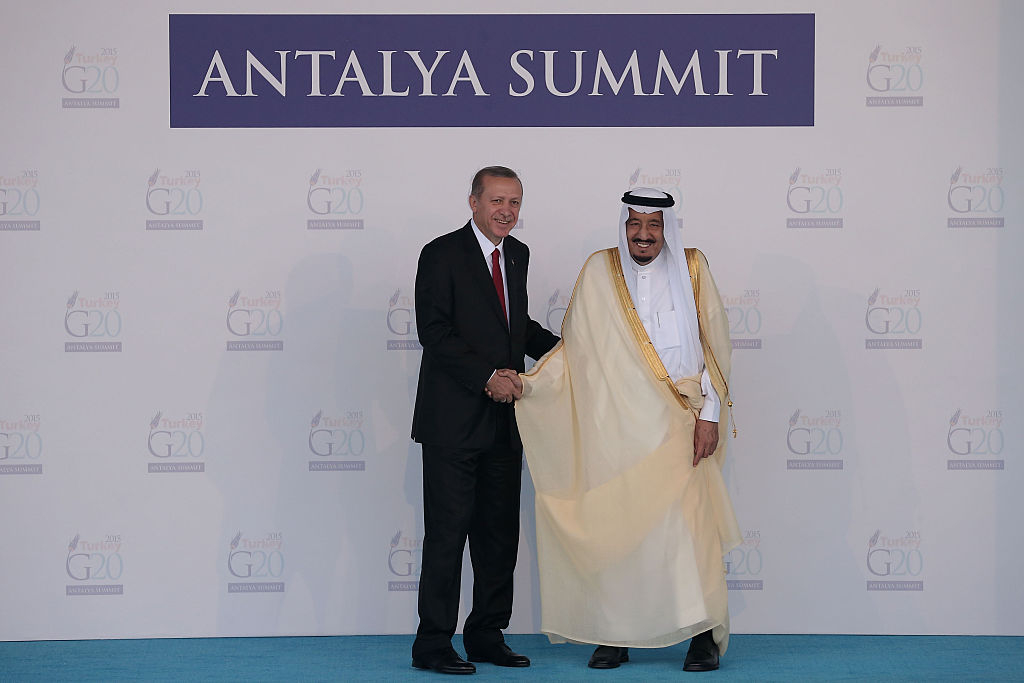 Turkey, pursuing its own Islamist agenda and trying to rival Saudi influence in the Sunni world, is just too happy to have discredited the Wahhabi royals in the wake of the Jamal Khashoggi killing. Pictured: Turkish President Recep Tayyip Erdoğan (left) greets Saudi Arabia's King Salman bin Abdulaziz on November 15, 2015 in Antalya, Turkey. (Photo by Chris McGrath/Getty Images)
It looked like a first-class spy thriller: A prominent writer enters the Saudi consulate in Istanbul but never leaves the building. Saudi officials said he left the building but could not offer footage from security cameras. When they did, the image was of a dark-haired body-double dressed in the writer's clothes.
Turkish police and intelligence start leaking evidence of the man's murder, drop by drop. The day before the Saudi journalist's disappearance, two private Saudi jets had arrived in Istanbul, with 15 passengers aboard belonging to security agencies in Riyadh. Both jets left for Saudi Arabia shortly after the consulate incident. Unnamed Turkish officials fed (mostly foreign) media stories of how the man had been killed, how his body was dismembered and disposed of after the murder -- all by the Saudi death squad. As the Saudi consul-general rushed to Riyadh, Turkish police searched the consulate. More unnamed Turkish officials tell the press that they found forensic evidence for the murder. Unsure if the Turkish police really have evidence, the House of Saud decides to admit that the man had been killed "in a brawl" at the consulate but Saudi officials claim to have no idea where his body was -- not convincing anyone in the world's more democratic parts.
The Saudis then said they fired five officials and arrested 18. In the latest episode, the Turkish President Recep Tayyip Erdoğan said:
"As this is a political murder, it should be investigated and put on trial independently and with no bias. The suspects' accomplices in other countries should also be included in the investigation. I have a call for Saudi Arabia: This happened in Istanbul. We propose to put these 18 suspects on trial in Istanbul".
Meanwhile, reports surfaced not only that bones of the writer have been found buried in the Saudi consul-general's lawn, but also that one the 18 hitmen has somehow died in a car accident.
A few years earlier, Saudi Arabia was on the world's agenda with funnier news. In 2015, UN Watch discovered that Faisal bin Hassan Trad, Saudi Arabia's ambassador at the UN in Geneva, was elected as chair of a panel of independent experts on the UN Human Rights Council. In 2017, the Saudi joke turned less funny after the country was elected to the UN's Commission on the Status of Women: The kingdom became one of 45 countries sitting on a panel "promoting women's rights, documenting the reality of women's lives throughout the world, and shaping global standards on gender equality and the empowerment of women". Saudi royals must have had spasms of laughter at the level of international gullibility.
In 1977, Princess Misha'al bint Fahd al Saud was in an arranged and unhappy marriage with an older cousin. She left for Beirut to pursue her studies where she met Khaled, the son of a Saudi diplomat, and began an affair, enraging the princess's conservative grandfather, Muhammad bin Abdul Aziz al Saud, brother of the Saudi king. She and her lover were taken to a parking lot in Jeddah, and 19-year-old Princess Misha'al was executed by a gunshot to the head while her lover watched. He would presently be dispatched by beheading.
In mid 2000s, authorities documented that the Saudi-sponsored King Fahad Academy in West London was using Saudi Ministry of Education textbooks that taught their pupils that Christians and Jews are apes and monkeys.
In 2017, a British investigation into the foreign funding and support of jihadi groups focused on Saudi Arabia, which has repeatedly been highlighted by European leaders as a funding source for Islamist jihadis.
Not all Westerners, however, were "Saudi-blind." In 2015 WikiLeaks publisher Julian Assange said:
"The Saudi Cables lift the lid on an increasingly erratic and secretive dictatorship that has not only celebrated its 100th beheading this year, but which has also become a menace to its neighbours and itself".
There were signs that the Saudis were privately growing impatient with their dissidents abroad. Recently two men who said they were carrying a personal message from Crown Prince Mohammed bin Salman met in Montreal with opposition activist Omar Abdulaziz to "offer him two choices:" go back to Saudi Arabia or to prison. Abdulaziz chose none and provided The Washington Post with clandestine recordings of conversations of more than 10 hours revealing a chilling depiction of how the Kingdom tries to lure opposition figures back to the country with promises of money and safety. Saudi agents also secretly installed spyware on Abdulaziz's smartphone. Interestingly, Abdulaziz is a close associate of Jamal Khashoggi, the journalist killed at the Saudi Consulate in Istanbul.
The Khashoggi murder has already gone beyond a simple spy thriller. Apparently, the Saudis wanted to embarrass Turkey by choosing Istanbul as the crime scene. They also wanted to tell Saudi dissidents across the world that they are not safe in whichever country they may live.
First mistake: The Saudis underestimated the professional capabilities of Turkish security and intelligence services and ridiculed themselves by initially claiming that the journalist had left the consulate building alive, and only later admitting to killing him.
Second mistake: The Saudis miscalculated how their reckless murder would ricochet around the world. Several world leaders, international economic organizations and corporations decided to boycott "Davos in the Desert," an otherwise prominent economic conference in Riyadh. Germany announced an arms embargo on Saudi Arabia.
True, international sanctions on the Kingdom may soon fade away in response to Saudi Arabia's huge "petro-dollar purchasing power." A harsh response, however, would also likely deter, or stop for a long time, any similar rogue operation, especially at a time when Crown Prince Mohammed bin Salman is keen to give a facelift to his country's international standing by at least cosmetically reforming the sharia state.
Turkey, pursuing its own Islamist agenda and trying to rival Saudi influence in the Sunni world, is just too happy to have discredited the Wahhabi royals. Turkey's message to the Western world was: See the difference between our peaceful Islamism and rogue-state Islamism? Stop discrediting us for our democratic deficit -- also, presumably, for "only" imprisoning more than 100 journalists there.
It will not work. Egypt, the United Arab Emirates, Jordan, Bahrain, Yemen, Lebanon, the Palestinian Authority and the Arab League have all declared their support for Saudi Arabia in the "Khashoggi Affair."
What that should tell Turkish President Erdoğan is that his neo-Ottoman aspiration for Turkish leadership in the Islamic world has once again hit the walls of Middle Eastern reality. All the same, it is fun to watch a Muslim country, the world's biggest jailer of journalists, condemning another Muslim country for the murder of a journalist.
Burak Bekdil, one of Turkey's leading journalists, was recently fired from the country's most noted newspaper after 29 years, for writing in Gatestone what is taking place in Turkey. He is a Fellow at the Middle East Forum.