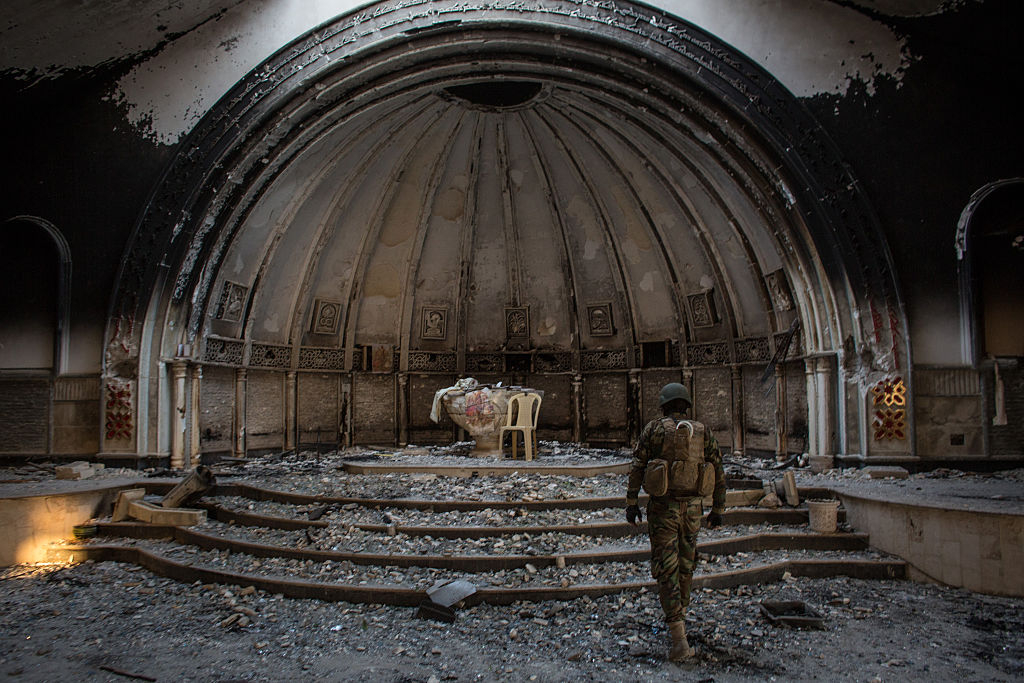 A fighter from the Nineveh Protection Units (NPU), a Christian militia, is pictured on November 8, 2016 in a church that was destroyed by the Islamic State in Qaraqosh, Iraq. (Photo by Chris McGrath/Getty Images)
QARAQOSH, Iraq — Christians are gradually returning to their historic homeland in northern Iraq, after three years of ISIS occupation.
The lucky ones managed to flee before the ISIS onslaught in the pre-dawn hours of August 6, 2014, and returned to find their houses intact. Most, however, are facing tremendous damage to their homes and families from a war that pitted neighbor against neighbor, community against community, tearing apart bonds forged over generations.
Yohanna Younis Towaya, 54, a prominent businessman and farmer, returned to find his home burned and looted. "One wall, next to my father's house, was completely blown out but we repaired it," he says. His father's house, next door, he says, has been flattened by an allied air strike: ISIS fighters turned it into a fighting post.
Towaya says he doubts he will ever rebuild his father's house, like the 116 such buildings in this once-thriving Christian economic center. "ISIS fighters are buried there beneath the rubble," he says. "Sometimes, you can smell them."
The smell of the unburied dead is pungent. You can smell it from here in the Christian heartland all the way into ancient Mosul, 12 miles to the west. The area was totally devastated in the final battle to crush ISIS hold-outs fighting from tunnels and underground bunkers.
No one really knows who provided ISIS with their tunneling machines, but there are many of them. On the outskirts of Qaraqosh, members of ISIS had dug a maze of tunnels beneath a Syriac Orthodox monastery at Qortaya to an ancient Assyrian mound 150 meters away. Those firing positions, high enough for an ordinary person to walk upright, allowed them to dominate the surrounding plains.
Most of the returnees have not visited these tunnels or want to visit them: they are visible reminders of the barbaric presence of the ISIS fighters who looted and burned their homes.
Instead, they seek to create new rituals and forge new bonds.
Father Behnam Benoka, 39, is the Syrian Catholic priest in nearby Bartella, another ancient Christian town in the Nineveh Plain outside Mosul.
Around one-third of the town's 3,000 Christian families have returned since ISIS transformed Bartella into a military compound for three years, from 2014-2016.
He invites us to a graduation ceremony for the church music school, where more than 100 students, from first grade to high school, will receive their diplomas.
"Our goal is to build an orchestra, the first Christian orchestra in Iraq," he says. "This is our third group of graduates."
The ceremony, which takes place in a church social hall, would be familiar to most Americans. Indeed, were it not for the languages spoken -- ancient Aramaic, the language of Jesus, and Arabic, the secular language of the region -- the ceremony could be taking place in Bethesda, Maryland, or Sewanee, Georgia.
"This gives us hope," Father Benoka says afterwards. "Instead of thinking all day about their problems, they think about music. Instead of carrying a gun, they carry a musical instrument."
The most astonishing thing about the visit to this area are the smiles. Despite the trauma, the destruction, the genocidal mania of the ISIS fighters who wanted to tear down every stone of one of Christianity's earliest communities, the people we meet on the streets and in the churches are smiling.
They are happy, they say, to be alive. They are happy to return. They are happy to start over again. They also, however, say they realize that their hold on this historic Christian homeland is tenuous, at best.
"If we don't get help now, we are finished," says Father Noel, 56, an aide to the Syrian Catholic Archbishop of Mosul and the Nineveh Plain. "We have local Shabak Shiites, supported by Iran, who have surrounded us. They are buying houses and changing the demography of this area."
Wissam Gedjo, 42, returned after the liberation in late 2017 to find his toy store in downtown Qaraqosh in ruins. "ISIS set everything on fire," he says, showing us pictures of the devastation. "They even took the floor tiles." All that survived was a group of painted Easter eggs, intact amid the rubble.
"This is how I found it in October 2017, when I returned. But I rebuilt this shop and reopened for business that Christmas."
As we are speaking, a young bride-to-be, her mother, and her fiancé are looking at a bridal bouquet of artificial white roses and angel spray. She says she is from nearby Karamles, and he is from Qaraqosh, which the local inhabitants also call Baghdeda.
She picks at the angel spray, so Gedjo keeps adding more. Finally, she seems happy and bursts into a big smile.
"Are you glad to be getting married and staying here in Qaraqosh," we ask.
She looks radiant. "Oh, yes!" she says.
Most of these Christian towns and villages are secured by armed guards from the Nineveh Protection Units (NPU), a Christian component of the Popular Mobilization Forces (PMF), who man checkpoints at the entries.
The Christian guards number fewer than two hundred, and are dwarfed by some 4,000 Shiite Muslim guards of Battalion 30, reportedly supported by Iran.
"I carry a gun but I do not feel secure," says 25-year old Ronay, an NPU security guard.
"It took us seven years to build my father's house." Ronay says. "When I returned, I saw it burned by ISIS. You do not know what I feel when I see that. We cannot live there."
Although Ronay has returned and has a job, he says he dreams of leaving for America. "We can do nothing here," he says. "We have no future, no hope."
Hope is the name of the game -- not just for local Christians, but for the U.S. government, the Iraqi government, and for aid agencies seeking to convince Iraqi Christians and Yazidis to return to their historic homelands.
U.S. Vice President Mike Pence has repeatedly announced that the American government is focused on making sure the aid it sends reaches Iraqi minorities targeted by ISIS genocide.
"Something specific occurred here that requires a specific response," said Max Primorac, Special Representative for Minority Assistance Programs at USAID, who is responsible for aiding Christians and Yazidis targeted by ISIS. "It is called genocide."
Primorac and his team say they have been given special authority to streamline USAID projects in ways never before seen in Iraq or elsewhere. "It is important for these communities to understand that they have a superpower behind them. This is a White House priority. Our goal is to help those communities return to their historic lands."
While roughly a third of the Christians who fled from ISIS in 2014 are returning, the future of their communities in northern Iraq needs political support and a surge of security and economic development if they are to flourish and attract others to join them in this ancient Christian land, proselytized by St. Thomas in the 1st Century AD.
For Christians worldwide, this is our homeland. This is where we began. These are the people we need to protect and help to prosper.
Kenneth R. Timmerman was jointly nominated with Ambassador John R. Bolton for the Nobel Peace Prize in 2006. His latest book is ISIS Begins: A Novel of the Iraq War