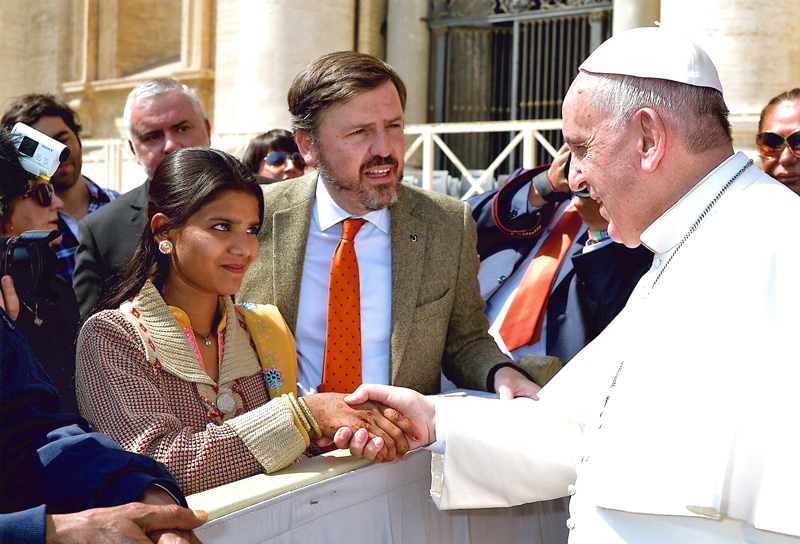 Asia Bibi's family has struggled for eight years to save her life, first to get her off of death row in Pakistan, where she was falsely imprisoned for "blasphemy," and now that she has been released, to try to get asylum for her in the West. Pictured: Eisham Masih, one of Asia Bibi's daughters, is greeted by Pope Francis in 2015. (Image source: HazteOir/Wikimedia Commons)
Asia Bibi's case looks as if it is coming from "another, medieval world."
Her "guilt," as an "unclean" Christian, was for drinking water from a communal well, used by Muslim neighbors. Two Muslim women alleged that because she, a Christian, had touched the water from the well, the entire well was now haram (forbidden by Islamic law). Bibi responded by saying "I think Jesus would see it differently from Mohammed," that Jesus had "died on the cross for the sins of mankind," and asked, "What did your Prophet Muhammad ever do to save mankind?" She was accused of insulting the Islamic prophet Muhammad and put on trial for "blasphemy." She was told to convert to Islam or die.
Bibi spent more than eight years in a Pakistani prison, in solitary confinement, much of that time on death row. On October 3, 2018, Pakistan's Supreme Court acquitted her. Then, for a whole week, her fate remained unclear. After violent protests by "hard-line Islamists call[ing] for her execution" that "paralyzed large parts of the country for two days," the government made "concessions" to the Islamists, and capitulated to their demands. The government pledged not to oppose adding Bibi to a "no-fly list," which would prevent her from leaving the country.
So, after being found not guilty and freed from prison, Bibi is still being held against her will in Pakistan -- ostensibly for her own "safety," but in reality, it seems the purpose is to allow a mob to murder her more easily. Now, amid government concerns that her departure would spur renewed violent protests by the Islamic extremists, Bibi is apparently in an secret location. "Fake" images on social media have been circulating, purporting to show Asia Bibi leaving the country or out of Pakistan.
"For four days, all the Christians stayed inside, enclosed in their homes in the principal cities of Pakistan", said Alessandro Monteduro, director of the Italian organization Aid to the Church in Need. Meanwhile, Bibi is expected to remain in Pakistan until her case is once again "reviewed in an appeal process" ordered by the Prime Minister. Bibi's judicial process now looks infinite. Meanwhile, thousands of Islamists fill the Pakistani streets, calling for her execution.
Western countries must offer Bibi a safe haven, and pressure Pakistan's government to free her and let her leave the country. Many of the values that make the West "the West" are now at stake in her fate: freedom of expression, religious freedom, freedom of movement, the rule of law, human dignity, and the separation of church and state. The leader of the French opposition party Les Républicaines, Laurent Waquieuz, has defined Asia Bibi's case as a one involving "our conception of civilization in the face of Islamist barbarism."
If the West does not fight for Asia Bibi, for whom should it fight?
After eight years of passivity and silence, some European countries are trying to help her. Italy said it would assist Asia Bibi in obtaining asylum.
Italy's deputy Prime Minister Matteo Salvini told Italian media Nov. 6 that he wants "women and children whose lives are at risk to be able to have a secure future, in our country or in other Western countries, so I will do everything humanly possible to guarantee that (for Asia).

"It is not permissible that in 2018 someone can risk losing their life" for a "hypothesis of blasphemy," he added.
Salvini also noted that if given asylum in Italy, Bibi and her family would be provided with the protection afforded to those under death threats by the Mafia. Now, Bibi must be protected from religious mobsters.
In addition, Antonio Tajani, president of the European Parliament and a leader in Italy's opposition party, Forza Italia, invited Asia Bibi to Strasbourg and called "on Pakistan's authorities to issue the necessary documents".
More than 60,000 Italians signed an appeal asking their authorities to give asylum to Asia Bibi, which said, in part:
"It is urgent that Italy, in the name of its humanistic tradition, immediately provide Asia Bibi with all the political and diplomatic protection she needs. Every day spent in this limbo is a risk to her life. Italy can not remain silent and defenseless in front of the fate of Asia Bibi, a symbol of the persecution of Christians throughout the world".
Michael Brand, a human rights expert for German Chancellor Angela Merkel's CDU party, urged that "every effort" be made so Bibi can "live in freedom and security". Bibi's lawyer, Saiful Malook, was quoted by CNN saying that "[a]n asylum application has been filed in the Netherlands" for her family and her. A Dutch Foreign Ministry spokesperson was quoted as saying "The case of Asia Bibi has the fullest attention of the Dutch government... We are working closely and are in contact with other countries on the matter."
Canadian Prime Minister Justin Trudeau said, "we are in discussions with the Pakistani government" about taking in Bibi.
Citing the "great danger" their family faces in Pakistan, Ashiq Masih, Bibi's husband, pleaded on November 4:
"I am requesting [U.S.] President Donald Trump to help us to leave [the country], and I am requesting the prime minister of the U.K. help us and as far as possible grant us freedom."
Other European countries, sadly, seem to have capitulated to the Islamists' threats.
The Sydney Morning Herald quoted Wilson Chowdhry, of the British Pakistani Christian Association, as saying: "The fact no offer has manifested is shocking. Hundreds of thousands of people have rioted and called for her death". The UK Telegraph quoted Chowdhry as saying:
"Britain was concerned about potential unrest in the country, attacks on embassies and civilians.

"They have not offered automatic asylum, whereas several countries have now come forward. They won't be coming to Britain. The family will definitely not be coming to Britain."
The UK's refusal to offer asylum to Bibi is why 19 British MPs and Peers wrote to Foreign Secretary Jeremy Hunt, urging him to allow her to go there. Member of Parliament John Woodcock said:
"The UK should be proud to be a sanctuary for those being persecuted because of their religion so it would be appalling if Asia Bibi is genuinely being denied asylum because of fears she could be targeted by Islamist hardliners over here."
"If Asia Bibi is denied asylum in the UK then what the heck is the point of the asylum system?" Ayaan Hirsi Ali, a refugee from Somalia, author of four best-selling books, human rights campaigner and a former member of the Dutch parliament tweeted from the US.
The UK gave asylum to Malala Yousafzai, the Pakistani schoolgirl shot by the Taliban. Why shouldn't Asia Bibi benefit from the same generous treatment? Britain has protected the writer Salman Rushdie since the Iranian regime's 1989 fatwa calling for his murder. Would it not be just and worthy for the UK to extend the same refuge and protection to this Pakistani Christian mother, another victim of Islamic sharia law?
Speaking to AsiaNews, Joseph Nadeem, executive director of the Renaissance Education Foundation, reported: "We have no news, we are unaware of the contacts between the [Pakistani] government and the foreign countries". However, he said, "there is a positive news: she was able to meet her husband after 10 years".
If European diplomacy is at least trying to react to the horrendous limbo in which Asia Bibi is imprisoned, most European "intellectuals', always the first to voice their "principles", have stayed extremely quiet.
A major, rare public appeal was published only by the French newspaper Le Figaro. More than 40 personalities, including Élisabeth and Robert Badinter, Luc Ferry, Robert Redeker, Pierre-André Taguieff and Jean-Claude Zylberstein, called for a mobilization to save her. These French intellectuals called Asia Bibi's situation an "abominable and retrograde sentence worthy of a different age than that of our modern democracies and of civilization in general". "We are honored to advocate religious tolerance, the plurality of ideas and, dare we also say in this circumstance, equality between the sexes", they wrote.
In an October 22 article, Andrea Picciotti-Bayer, legal advisor for the Catholic Association Foundation, wrote:
"It's time for all American women to focus their passion on the defense of a Pakistani woman waiting to be hanged for... drinking from the 'wrong' cup and speaking her mind".
Extremist Muslim vigilantes want to take "justice" into their own hands. While Britain fears for its "security", Asia Bibi risks being murdered.
There is a long history of such vigilante murders in Pakistan. Rashid Rehman, a lawyer in Pakistan who was defending a university professor accused of blasphemy, was shot dead. A Christian pastor charged with blasphemy, Zafar Bhatti, was murdered in jail by a policeman. A judge, Arif Iqbal Bhatti, who acquitted two individuals accused of blasphemy, was murdered in his chambers. Salman Taseer, a brave Muslim who was governor of Pakistan's Punjab province, was murdered by his own bodyguard, who said "he did this because Mr Taseer recently defended the proposed amendments to the blasphemy law." Pakistan's federal Minister for Minorities, Shahbaz Bhatti, was murdered for defending Bibi. Recently, Asia Bibi's lawyer, Saiful Malook, fled Pakistan and is seeking asylum in the Netherlands.
At this point, the most positive outcome for Asia Bibi's would be to follow the example of another Pakistani Christian woman, Rimsha Masih. After "spending months in hiding," she found asylum in Canada. To ensure that Asia Bibi can even reach the West, however, influential people in the West need to speak out as loudly as they can, and put all possible pressure on the Pakistani government. As the French intellectuals who signed their appeal for Bibi remarked, at stake in Bibi's case is not only the fate of persecuted Christians worldwide, but also "the spirit of Enlightenment."
A London where an ISIS-supporting preacher of Pakistani descent, Anjem Choudary, is free and comfortable, while a Pakistani Christian woman, Asia Bibi, would be unsafe and threatened, is the end of the West as we know it.
Giulio Meotti, Cultural Editor for Il Foglio, is an Italian journalist and author.