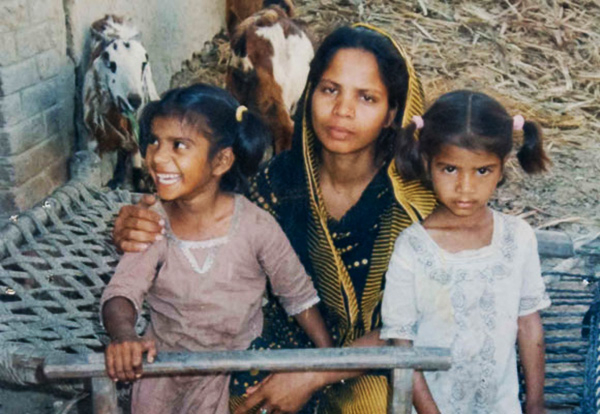 Asia Bibi and two of her five children, pictured prior to her imprisonment on death row in 2010 for "blasphemy."
After 3,422 days of cruel and unjustified imprisonment as "the first woman to be sentenced to death for blasphemy," the death penalty verdict against Asia Noreen Bibi has finally been overturned.
Pakistan's Supreme today set aside the death sentence against Bibi, a Roman Catholic mother of five. After being convicted in a trial in 2010 for false accusations of "blasphemy", now justice has actually prevailed. Killing Bibi because her Muslim co-workers were offended that she, an "unclean" Christian, drank water from a communal well, was too much even for Pakistan, where Christians are habitually persecuted.
Bibi is now being "held at an undisclosed location for security reasons." Islamist hardliners have already threatened the judges that if she is freed, those responsible would meet a "horrible" end.
On June 14, 2009, Asia Bibi drank water from a communal well on a hot day, while working in a field. Two Muslim women alleged that because she, a Christian, had touched the water from the well, the entire well was now haram (forbidden by Islamic law). Asia responded by saying "I think Jesus would see it differently from Mohammed," that Jesus had "died on the cross for the sins of mankind," and asked, "What did your Prophet Muhammad ever do to save mankind?" This enraged the other women, who pushed and spit on her.
Five days later, as she worked in another field, a crowd of "dozens of men and women," calling for Bibi's death, beat her savagely and carried her to the village, where police arrested her. Qari Muhammad Sallam, the village imam (who had not been present at the water dispute), and the women who said Bibi had defiled the well-water, told the police chief that Bibi had "insulted the Prophet Mohammed."
On November 8, 2010, after just five minutes of deliberation, Asia Noreen Bibi, under Article 295 of Pakistan's Penal Code, was sentenced to death by hanging.
Asia Bibi was sentenced to death because she is a Christian and because she was thirsty.
Islamists cheered the verdict. Asia Bibi was alone against an entire country ready to sacrifice its weak Christian minority to appease the Islamists. After Bibi's arrest, her family moved houses 15 times in five years. In the last weeks there have been reports of Asia suffering dementia. Eight years of solitary confinement, with the daily risk of being murdered in prison, have been a brutal form of psychological torture. For fear of being poisoned in prison, Bibi was allowed even to prepare her own meals.
A few days ago, during the plenary meeting in Strasbourg, the president of the European Parliament, Antonio Tajani, said:
"Asia Bibi enraged some women for having drunk from a well. According to those women, such contact with Christian lips would have contaminated the water. After being attacked and reported for blasphemy, Asia Bibi risks being hanged. I ask the Pakistani authorities... to make sure that woman can have a fair trial and to avoid any form of discrimination or religious prejudice."
Now, we must fear that when Bibi is released, she will be targeted for assassination. Islamists have placed a bounty on her head of 50 million rupees ($375,000).
Salman Taseer, a brave Muslim who was governor of Pakistan's Punjab province, paid with his life just for expressing support for Asia; he was murdered by his own bodyguard, who said "he did this because Mr Taseer recently defended the proposed amendments to the blasphemy law." In another example of justice prevailing, his murderer, Mumtaz Qadri, was executed.
However, lawyers defending Christians and others accused of blasphemy in Pakistan are sometimes murdered as well. Pakistan's federal Minister for Minorities, Shahbaz Bhatti, was also murdered for defending Bibi. Although no one has even been officially executed in Pakistan for the crime of blasphemy, "many have been murdered purely on the basis of accusations against them", Newsweek reported. According to Human Rights Watch, since 1990 at least 60 people accused of blasphemy have been murdered. Last year, a student was lynched by a mob for allegedly committing blasphemy.
Thousands of extremist Muslims rallied in Pakistan in the last few weeks in order to pressure judges to uphold the death sentence. They chanted "Hang infidel Asia" as they marched through the streets. Now Pakistani Islamists say that the judges who acquitted Asia Bibi "deserve death". That is why Bibi now needs to flee the country. Several countries have already offered her asylum.
Since Asia Bibi was condemned to death, Christians in Pakistan have suffered a string of especially deadly terror attacks. An Islamist suicide bomber even targeted and slaughtered Christian children at a playground in a public park. Where was the West?
French priest Pierre-Hervé Grosjean asked in Le Figaro:
"How could the country of human rights be silent in the face of this injustice? ... How can one want to save the Christians of Iraq from the barbarians of ISIS, if one is not able to save a Christian from the laws of an allied country?... Non-believing friends, her fate also concerns you: through her, it is the freedom and the dignity of each one that you defend. Your word is precious and courageous. Your silence would be terrible".
But the silence has been terrible.
No one took the streets of Europe to protest Asia Bibi's imprisonment. No major Western columnist penned articles proclaiming "Je Suis Asia Bibi." Western secular human rights groups, always ready and willing to embrace any cause, largely remained missing in action. The campaigners to free terrorists from a relatively comfortable prison in Guantanamo Bay, Cuba, had no time to ask for Asia Bibi's release. No feminist organization supported this Christian mother. The United Nations, which just condemned France for its law banning the niqab, also stood silent. It was a conspiracy of cowardice.
After years in a windowless cell, Asia Bibi has triumphed over her would-be executioners. Injustice against Christians will continue, however, along with the West's craven silence in the face of their persecution. Asia Bibi's case is also the story of the West's moral suicide.
Where have our philosophers, humanists and journalists been during these last nine years of injustice? It is this sad indifference that is devouring the West.
In the ultimate irony, just a few days ago, the so-called European Court of Human Rights (ECHR) upheld the same sort blasphemy law. The ECHR ruling is unspeakable. As Grégor Puppinck, head of the European Centre for Law and Justice, said, "the decision by the ECHR would have justified the conviction of Charlie Hebdo's cartoons..." It is time to remove the unelected judges of that unaccountable and unappealable court.
Giulio Meotti, Cultural Editor for Il Foglio, is an Italian journalist and author.