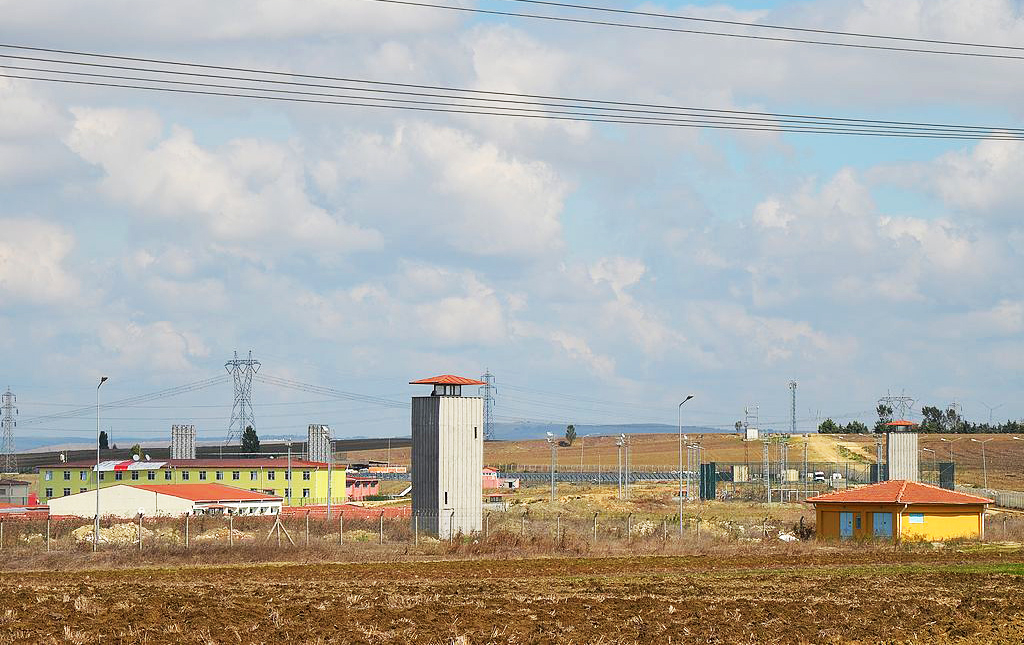 There are at least 170 journalists and media workers currently in Turkish jails and prisons, according to the Platform for Independent Journalism. Turkish President Recep Tayyip Erdogan's public expression of outrage over the killing of Jamal Khashoggi, then, is not merely hypocritical; it is utterly fake, and should be called out as such. Pictured: Silivri Prison, Turkey. (Image source: CeeGee/Wikimedia Commons)
Since the October 2 murder of Saudi Muslim Brotherhood political activist and Washington Post columnist Jamal Khashoggi at the Saudi consulate in Istanbul, Turkish President Recep Tayyip Erdogan has been condemning the perpetrators of the "ferocious murder," vowing that his government would "uncover what has happened" and portraying himself as a champion of human rights.
During a press conference at the G20 summit in Buenos Aires on December 1, Erdogan said:
"Through our intelligence organization, we have already informed the whole world of this incident [Khashoggi's death] and are still doing so. Particularly the American media and the Western media are following this matter and our intelligence organization answers all of their requests and conveys all required information to them."
This statement is tragically two-faced for several reasons. The first is that the Turkish government is the world's largest jailer and killer of journalists -- so much so that every year, April 6 is commemorated by Turkey's Journalists Association (TGC) as the "Day of Murdered Journalists". The event was initiated on April 6, 1909, when the first murder of a Turkish journalist, Hasan Fehmi, took place for criticizing the government. The Platform of Solidarity with Arrested Journalists (TGDP) reported that between 1909 and 2012 -- in 103 years -- 112 journalists and writers were murdered in Turkey.
The second reason is that the Turkish intelligence organization which Erdogan claimed is providing the Western media with information about Khashoggi's murder has provided no information to family members and others seeking the truth about the fate of Turkish journalists and activists who have disappeared without a trace.
Worse, the Erdogan government has been cracking down on a leading grassroots organization, "Saturday Mothers," that has been holding peaceful weekly vigils since 1995 on behalf of disappeared loved ones. On August 25, Istanbul police forcibly broke up one such vigil by using water cannons and tear gas against participants and detaining dozens of them, including veteran protester Emine Ocak, who is in her 80s. A week later, on September 1, police and anti-riot vehicles were once again deployed to put a stop to the demonstrations. Since then, the government has continued its weekly clampdown.
"Disappearances" were among the most horrific, yet commonplace, incidents of the 1980s and 1990s in Turkey. During those years, many people, mostly Kurdish civilians -- including activists, politicians, journalists and businesspeople -- were kidnapped and murdered. It was then that the group "Saturday Mothers" was formed.
To this day, the exact number of victims remains unknown, and no perpetrator has been brought to justice. Meanwhile, the Erdogan government does not even tolerate debate on the issue. In 2005, for instance, the Istanbul Criminal Court sentenced Fatih Taş, the head of the Aram Publishing House, to six months in prison for "openly insulting the Republic of Turkey," after he published a book entitled Kayıpsın diyorlar ("They Say You Disappeared"). The book was about the 1994 disappearance of a 19-year-old journalist, Nazım Babaoğlu, who was taken into police custody while working on an investigative report in southeast Turkey. In September this year, the European Court of Human Rights (ECHR) condemned Turkey for having violated Taş's freedom of expression.
Sadly, journalists and human-rights activists in Turkey continue to be murdered by "unknown assailants." In November 2015, for example, Tahir Elçi, a prominent Kurdish human-rights lawyer, was shot dead in broad daylight during a press conference. Three years later, the murderers remain "unidentified," and Turkish police recently prevented lawyers in Ankara from holding a memorial gathering in his honor.
Another noted case is the murder of the Armenian journalist, Hrant Dink, known for advocating minority rights. Dink, as editor-in-chief of the bilingual Turkish-Armenian newspaper, Agos, wrote about the Armenian Genocide. For this he was prosecuted under Article 301 of the Turkish Penal Code, which makes it illegal to insult Turkey or Turkish government institutions or to "denigrate Turkishness." Dink was shot dead outside his newspaper's office in Istanbul on January 19, 2007. Eleven years after the murder, the trial is still in progress. Out of the 85 defendants -- including police, intelligence and gendarmerie officials -- only six have been jailed pending trial. The next court hearing, the 83rd, will be held on December 18.
Assyrian (Syriac) intellectuals in Turkey have also been systematically targeted. Professor Ashur Yousuf, publisher of the Assyrian newspaper Mhadyono Dothuroye, and Bişar Hilmi Borucu, publisher of the newspaper Şifuro, were murdered during the 1915-1923 Assyrian genocide. Both newspapers folded after the murders. As the Turkish government still aggressively denies the genocide, no justice has been delivered for the descendants of the victims.
Murders of Assyrians did not end with the genocide. Many Assyrian Christian community leaders, such as Şükrü Tutuş, former mayor of the town of Idil, and Edvard Tanrıverdi, whom the locals called "the best medical doctor of the region" in Midyat, were murdered in the 1990s. Despite repeated calls by Assyrians for justice, the murderers of all these victims "remain unknown" and still freely wander about.
Today, almost all media outlets in Turkey are in the Turkish language; most of those belonging to minorities have been eliminated. The country's Greek-language press, for instance, is almost extinct. During the 1955 anti-Greek pogrom in Istanbul, Turks in the city attacked everything owned by Greeks, including newspapers. Professor Speros Vryonis Jr. writes:
"All three principal dailies, the Apoyevmatini, the Tachydromos, and the Embros suffered heavy losses. The first two had both their offices and printing establishments completely wrecked. In the case of the Embros only its offices were destroyed since it had no printing press of its own."
The Turkish government still has not officially recognized, apologized for, or made reparations on behalf of any of these and other such crimes at any time in its history; impunity for past injustices continues to lead to present injustices. There are at least 170 journalists and media workers currently in Turkish jails and prisons, according to the Platform for Independent Journalism.
Turkey has also exported its tradition of persecuting dissident journalists all the way to Cyprus, the northern part of which it has been illegally occupying since 1974. Şener Levent, a prominent Turkish Cypriot journalist, for instance, is being tried by both the "Turkish Republic of Northern Cyprus" (recognized only by Turkey) and by prosecutors in Ankara.
Erdogan's public expression of outrage over the killing of Khashoggi, then, is not merely hypocritical; it is utterly fake, and should be called out as such. It is high time for members of the Western media to stop relying on Turkish officials as sources of reliable information in their reports on Khashoggi, and start highlighting Turkey's ongoing deadly persecution of its own journalists.
Uzay Bulut, a Turkish journalist, is a Distinguished Senior Fellow at Gatestone Institute and is currently based in Washington D.C.