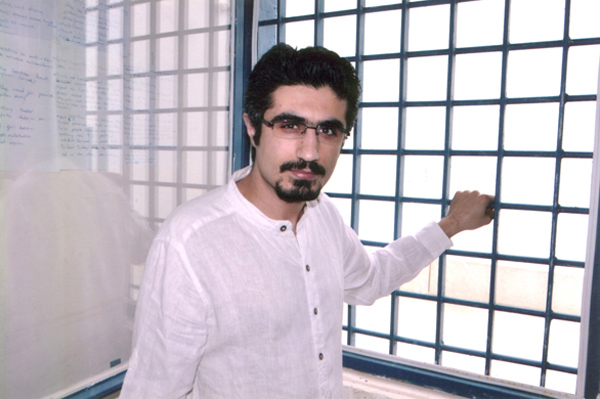 A mufti who works for Turkey's state religious authority, the Diyanet, recently insinuated that a massacre of the employees of the opposition news site OdaTV would be justified. Pictured: Barış Pehlivan, the editor-in-chief of OdaTV. (Image source: Jimkuras/Wikimedia Commons)
A mufti who works for Turkey's state religious authority, the Diyanet, recently insinuated that a massacre of the employees of the opposition news site OdaTV -- along the lines of the 2015 slaughter of the staff of the satirical French magazine Charlie Hebdo -- would be justified.
Ahmet Altıok, mufti of the Siirt Province, made this veiled threat of mass murder in an interview with the İLKHA news agency. ILKHA has ties to Turkey's Hizbullah ("party of Allah" in Arabic; not connected to Hezbollah in Lebanon), a Sunni terrorist organization responsible for many horrific murders in the country.
In his interview, Altıok said, in part:
"Be it Charlie Hebdo or Ka'b ibn al-Ashraf [an ancient Jewish poet assassinated for criticizing Mohammed] ... people who continually ridiculed, mocked and insulted Muslims... will be once again convicted in the society's conscience. I call on these gentlemen to apologize. For you know repentance before death is accepted."
According to Barış Pehlivan, the editor-in-chief of OdaTV, Altıok's warning was sparked by an article on the OdaTV website entitled "This is how jihad is being taught at schools." Pehlivan said, however, that the article was "just an excuse":
"We are a news website that draws attention to the new [Islamic] organizations whose members are being staffed in state institutions... We remind that illegal structures are once again being formed within the state... But how come a mufti whose salary is paid by the state brings up the Charlie Hebdo massacre and targets odaTV?

"The situation includes both terrorist propaganda and a call for a massacre. Why do the Ministry of Interior, the Ministry of Justice, and the Directorate of Religious Affairs stay silent?"
The answer lies, perhaps, in that since the 7th century, the brutal slaying of anyone publicly critical of Mohammed has been widespread throughout the Muslim world -- a practice that persists: the violent silencing of critics is sanctioned by Islamic scriptures. According to the Quran and the recorded sayings (hadith) and biographies (sira) of Islam's founder, "To leave Islam, to insult Muhammad or Allah, to deny the existence of Allah, to be sarcastic about Allah's name, to deny any verse of the Quran" or to commit other acts of blasphemy are all punishable by death. Such teachings have not only have become embedded in the culture of many Muslim communities, there are increasing attempts to export them to the West. The latest instance is the capitulation to Islam's blasphemy laws by the European Court of Human Rights (ECHR) in Strasbourg, France, in upholding a conviction against an Austrian woman, Elisabeth Sabaditsch-Wolff, for having correctly noted to a small private group that Mohammad married Aisha when she was six years old (Sahih-Bukhari, Vol. 5, Book 58, Nos. 234–236), although waited until she was 9 years old to consummate the marriage.
As the author Bruce Bawer has noted, "The point is not that these things are written in Islamic scripture, but that people still live by them."
Take the recent case of an 18-year-old Saudi woman, Rahaf Mohammed Alqunun, who fled her home country and barricaded herself inside an airport hotel room in Thailand to avoid being deported. She declared that she had renounced Islam and is fearful of her father's retaliation. "They will kill me," she said.
As the website The Religion of Peace puts it:
"While the rest of the world generally believes that if God wanted people dead over their religious beliefs then he would do the job himself, apostasy is taken so seriously by Muslims that it spawned the first of many serious internal wars.

"In 1400 years, there has never been a system of Islamic law that did not prescribe the death penalty for Muslims choosing to leave Islam. Even in modern, ostensibly secular Islamic countries with constitutions 'guaranteeing' freedom of religion, there is de facto enforcement of this law with intimidation and the vigilante murder of apostates.

"A sound philosophy never requires violence or threats to retain believers."
Many Muslim dissidents, ex-Muslims and non-Muslims who have engaged in disagreement have paid with their lives. Although OdaTV has not denounced or criticized Islam, it does oppose the indoctrination of school children with violent jihad. Apparently even this was sufficient cause for the Turkish mufti to threaten the outlet's journalists with death.
Is this what is coming to the West?
Uzay Bulut, a Turkish journalist, is a Distinguished Senior Fellow at Gatestone Institute. She is currently based in Washington D.C. NOTE: Full disclosure: odaTV has also targeted dissident Turkish journalists, including the present author.