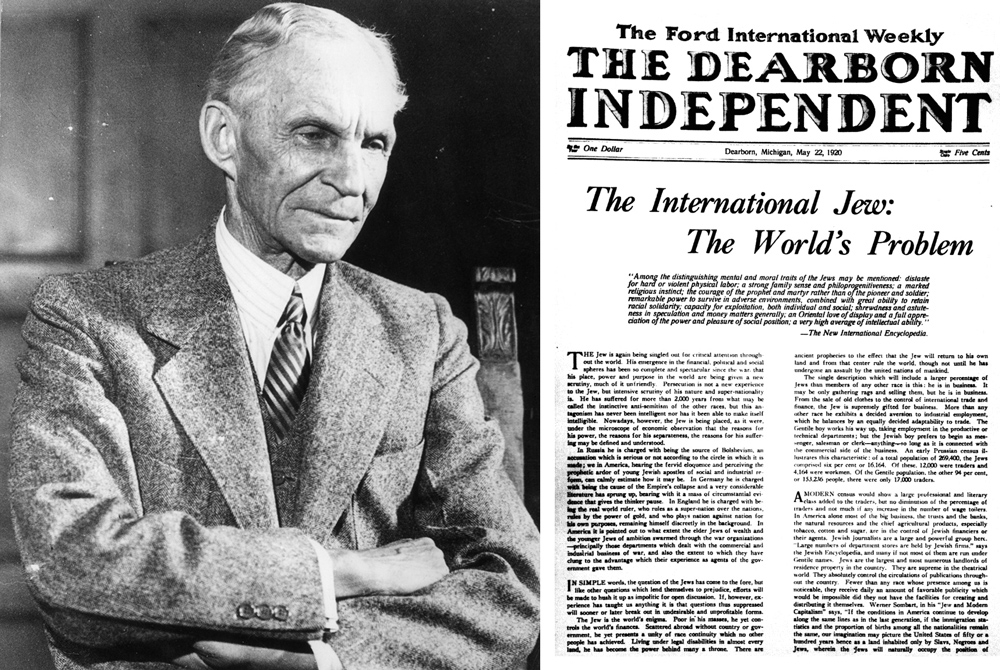 Henry Ford devoted his life to two passions: making cars and demonizing Jews. Pictured: Henry Ford (left) and the May 22, 1920 cover of Ford's anti-Semitic weekly periodical, The Dearborn Independent. (Image sources: Ford - Keystone/Getty Images; Dearborn Independent - Wikimedia Commons)
Imagine if an American city continued to celebrate a prominent businessman who had published newspapers and books advocating overt racism and racial discrimination against Black people. Imagine if the Grand Wizard of the KKK had a picture of this man in his office and credited him with inspiring him to kill African Americans. Imagine statues and photographs commemorating the life of such a bigot. Imagine if a performing arts center was named after him and African American performers who wanted to appear in the city had to walk into a building bearing the name of this racist. The reaction would be immediate and uncompromising: all glorification of this racist must stop; statues and pictures must be removed; history must treat him as a pariah despite his positive accomplishments as a businessman.
Well, the city Dearborn, Michigan is celebrating such a racist bigot today. But no one is demanding that his images must be removed or his despicable history and ideology publicized. His name is Henry Ford, the founder of Ford Motor Company.
Ford devoted his life to two passions: making cars and demonizing Jews. When Hitler said, "I regard Henry Ford as my inspiration," he wasn't referring to his car manufacturing. He was referring to Ford's anti-Semitic ideology that eventuated in the genocide of six million Jews. A large photograph of Ford was prominently displayed in Hitler's office. The periodical Ford published weekly -- The Dearborn Independent -- was a polite version of the Nazi newspaper, Der Stürmer. It was circulated throughout the U.S. and around the world.
Hitler believed that the popularity of Ford's anti-Semitic screeds in America would encourage American citizens to support his anti-Semitic policies in Germany and through Europe. Thankfully he was wrong. Although there were anti-Semitic movements in the United States in the run-up to World War II -- advocated by the likes of Father Charles Coughlin and to some degree Charles Lindbergh -- once Pearl Harbor was attacked and the United States declared war on both Japan and Germany, anti-Semitism of the kind advocated by Henry Ford dried up. But Ford himself never changed his dangerous views.
Ford's book, The International Jew, became a bestseller in many parts of the world and was cited at the Nuremberg trials as a work that turned many Germans and Austrians into anti-Semitic Nazi leaders and followers. Ford was the single most influential anti-Semite in the first quarter of the 20th century and beyond.
Yet, according to the New York Times, Ford's "name or likeness graces everything from the performing arts center to the manhole covers." Bill McGraw, a historian of Dearborn, has written that "Ford's attacks on Jews were distributed around the world before and after World War II and, alarmingly, they influence budding neo-Nazis today."
The New York Times continues: "But Mr. McGraw also included in his report an article on how Mr. Ford's descendants have consistently supported Jewish charities and cultural organizations..." These descendants should be praised for those contributions and not condemned for the sins of their ancestor. But the truth about Henry Ford must be told -- to the residents of Dearborn and to the world.
Many buildings are named after Henry Ford, who remains Dearborn's favorite son. It's difficult to go anywhere in Dearborn without encountering the Ford name. Even buildings carrying the generic name Ford are based on his deeply flawed legacy. There is too much honoring of Henry Ford and too little educating about the horrible influence he had on promoting anti-Semitism and Nazism.
I'm not one for destroying or removing statues or other historical works of art, but I strongly believe that these images must be accompanied by contemporary descriptions of the evil deeds committed by those portrayed in the art. Removing the Ford name from Dearborn's Ford Community & Performing Arts Center raises more difficult issues. There is no art, just honoring, in the selection of a name for a center. Henry Ford does not deserve to be honored. The question the good people of Dearborn should ask themselves is: What would you do if the center were named after Jefferson Davis? If the answer is that you would remove Davis's name, then you should remove Ford's. There cannot be differences between how anti-Black, anti-gay, anti-women and anti-Jewish practitioners of bigotry are treated. There must be a single standard for historical revisionism.
Alan M. Dershowitz is the Felix Frankfurter Professor of Law Emeritus at Harvard Law School and author of The Case against the Democratic House Impeaching Trump, Skyhorse Publishing, 2019.