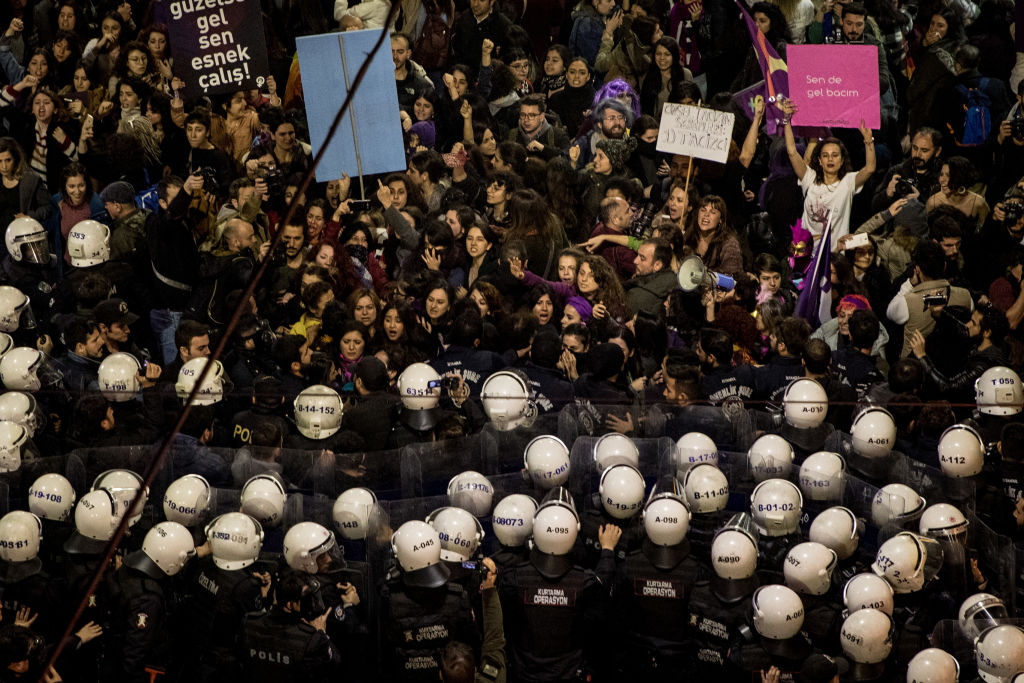 Police in riot gear move to disperse thousands of mostly female demonstrators participating in the "17th Feminist Night March," on March 8, 2019 in Istanbul, Turkey. (Photo by Chris McGrath/Getty Images)
International Women's Day kicked off in Istanbul with the murder of a woman by her boyfriend. A few hours later, thousands of mostly female demonstrators participating in the "17th Feminist Night March," were attacked with pepper spray by riot police attempting to disperse the annual March 8 event, launched in 2003. This year, however, Turkish police had declared the march "unauthorized," and closed off all streets leading to the avenue on which it was to take place. Scuffles ensued between the police and women who circumvented the barricades.
This incident gives an indication of the way in which the human rights of women are violated regularly in Turkey, not only by the government, but often at the hands of their own family members.
Last year alone, 440 women in Turkey were murdered by men, and at least 60% of these murders were committed by husbands, boyfriends, former husbands, former boyfriends, family members or relatives, according the 2018 report of the "We Will Stop Femicide Platform." The murderers of 37% of the dead women went unidentified.
These statistics were repeated in a different report, drafted by Sezgin Tanrıkulu, a deputy from the main opposition Republican People's Party (CHP). The findings of that report included findings such as:
15,034 women have been murdered in Turkey since President Recep Tayyip Erdoğan's Justice and Development Party (AKP) came to power in 2002.
66 women were murdered in Turkey in 2002; in 2018, the number of women murdered was 440.
Turkey ranks 131st among 144 countries in the field of women's participation in the workforce and politics.
Participation in the workforce among women aged 15-64 is 34.6%. Men's participation is 73.4%.
There has been an increase in the number of murders of women at or on the way to work.
According to the 2019 World Bank report on "Women, Business and the Law 2019: A Decade of Reform," Turkey ranks 85 out of 187 countries where equal economic rights for women are concerned.
The report examines the way in which women's employment and entrepreneurship prospects have been affected over the past 10 years by legal gender discrimination. Turkey scored 79.38 out of 100, receiving particularly low points on equal pay and retirement. Saudi Arabia ranked last, with a score of 25.6.
According to the "Women's Labor Report," conducted by Turkey's Confederation of Revolutionary Workers' Unions (DISK) -- and based on data from the Turkish Statistical Institute (TUIK), the Organization for Economic Co-operation and Development (OECD), the International Labor Organization (ILO), the Turkish Labor Ministry (ÇSGB) and the Turkish Employment Agency (İŞKUR) -- women's participation in the workforce in 2017 was 28.9%, while that of men was 65.1%.
Then there is also a recent report by the Committee to Protect Journalists (CPJ), which states:
"As the largest jailer of journalists in the world, it's no surprise that Turkey has the most female journalists behind bars. Fourteen of the 68 journalists jailed there are women; most detained on anti-state charges."
As if all the above were not bad enough, the Turkish government has put a "repentance" bill before the parliament that, if passed, will enable courts to "delay punishment or defer the announcement of a verdict" concerning men who marry underage girls.
Article 103 of the Turkish Penal Code states:
"Any person who abuses a child sexually is sentenced to imprisonment from three years to eight years. Sexual molestation [includes] sexual attempt[s] against children who are under the age of fifteen or against those [who] attained the age of fifteen but lack [the] ability to understand the legal consequences of such act[s]."
The new bill, expected to be voted on ahead of the March 31 local elections, aims to lower the age at which sexual relations with a child (under the cover of marriage) is considered a crime from 15-years-old to 12-years-old. If it passes, it will "pardon" the underage-marriage offenses of approximately 10,000 men currently serving prison sentences on sexual-abuse charges.
The Erdoğan government proposed a similar bill in 2016, but was withdrawn as a result of backlash from women's rights groups and the public. The current attempt to bring the bill before the parliament for a vote has also caused outrage among rights groups in Turkey. The "TCK (Turkish Penal Code) 103 Women's Platform," an umbrella organization for 157 women's and LGBT groups, released a statement in January calling on the government to withdraw the motion. The statement read in part:
"Such an amnesty would whitewash... and encourage... illegal 'marriages' with children... It would also discourage the victims from appealing to the legal mechanisms and reintroduce the concept of 'marriage with rape offenders' into law."
On March 10, two days after the women's march in Istanbul was broken up by police, Erdoğan -- who has said in the past that women are not equal to men -- accused participants of disrespecting Islam. This is not surprising, as Islamic scriptures teach that men are in charge of women and that women are worth less than men in matters such as inheritance and the ability to testify in court.
Islamic theology also sanctions violence against women, child marriages, sexual slavery and polygamy, while denying women the right to make even the most basic decisions about their own lives, such as those involving divorce or dress codes.
When the above attitudes are held and promoted by an authoritarian Islamist government such as Erdoğan's, the result is less gender equality and more abuse of women.
Nevertheless, Turkey organized a conference in New York on March 13 -- as part of the U.N.'s 63rd Session of the Commission on the Status of Women -- titled "The Role of Women-Friendly Policies in Empowerment of New Generations."
At the conference, Turkey's minister of labor, social services and family, Zehra Zümrüt Selçuk, boasted about her country's efforts to strengthen equality between men and women, which she claimed include legal reforms and a policy of "zero tolerance toward violence against women."
Selçuk went on to present her government's "Strategy Paper and Action Plan on Women's Empowerment."
The fact that this conference took place a mere five days after women in Istanbul were prevented from participating in International Women's Day -- and only a couple of weeks before the Turkish parliament is slated to vote on legislation to benefit men who marry little girls -- provides further evidence of the way in which the Erdoğan regime does not tell the truth to the Western world about Turkey's rampant rights violations.
Uzay Bulut, a journalist from Turkey, is a Distinguished Senior Fellow at Gatestone Institute. She is currently based in Washington D.C.